Instagram:
@ateliermave
Website:
www.ateliermave.com
1. What's your story? Where are you from?
I am a freelance illustrator and pattern designer based in Milan, Italy. I think I have always loved creating things with my hands; the only thing has changed during the time is how I embody my ideas. Both my graduate and master's degrees are different from what I'm doing right now. Before starting up my freelance journey, I was working in the marketing department for pharmaceutical and cosmetics products companies; back then, I was working closely with our in house creative team and always admired how they do their magic and turn those plastic packagings into alluring products. That's the point when I started to draw. I have learned a lot from working on the other side of the table but I was always feeling that I belong to this creative world.
2. Tell us about your aesthetic.
Atelier Mave is my playground where I freely draw my own lines that are playful yet feminine. My work reflects everyday life around me and my childhood memories, of course with a twist of fun, whimsy and delicious colors.
3. What is your favourite medium and why?
I love working with gouache paints and pastels. I usually combine them together to create different textures in my works.
4. What is your artistic process like?
I mostly start painting directly. But lately I also started to paint digitally, so for that kind of work, I do quick pencil sketches beforehand to use as guides.
5. Who and/or what inspires your work?
Travelling, visiting museums, art books, flea markets, spending time in nature, or time alone really stimulate me. I like watching wildlife documentaries to observe the animals, imagine their relationships like/with humans. I like creating humanoid expressions and personalities on animals where they are ruling the world and we are, as humans so small in their lands.
6. What role does art play in your life? How does it change the way you view the world?
I think art has created a kind of awakening in my own world which allows me to see the ordinary things & moments, redraw my own boundaries and expand the bridges that I have built. I feel like, what I do now is basically filtering what I see and my experiences and paint them with my gouaches.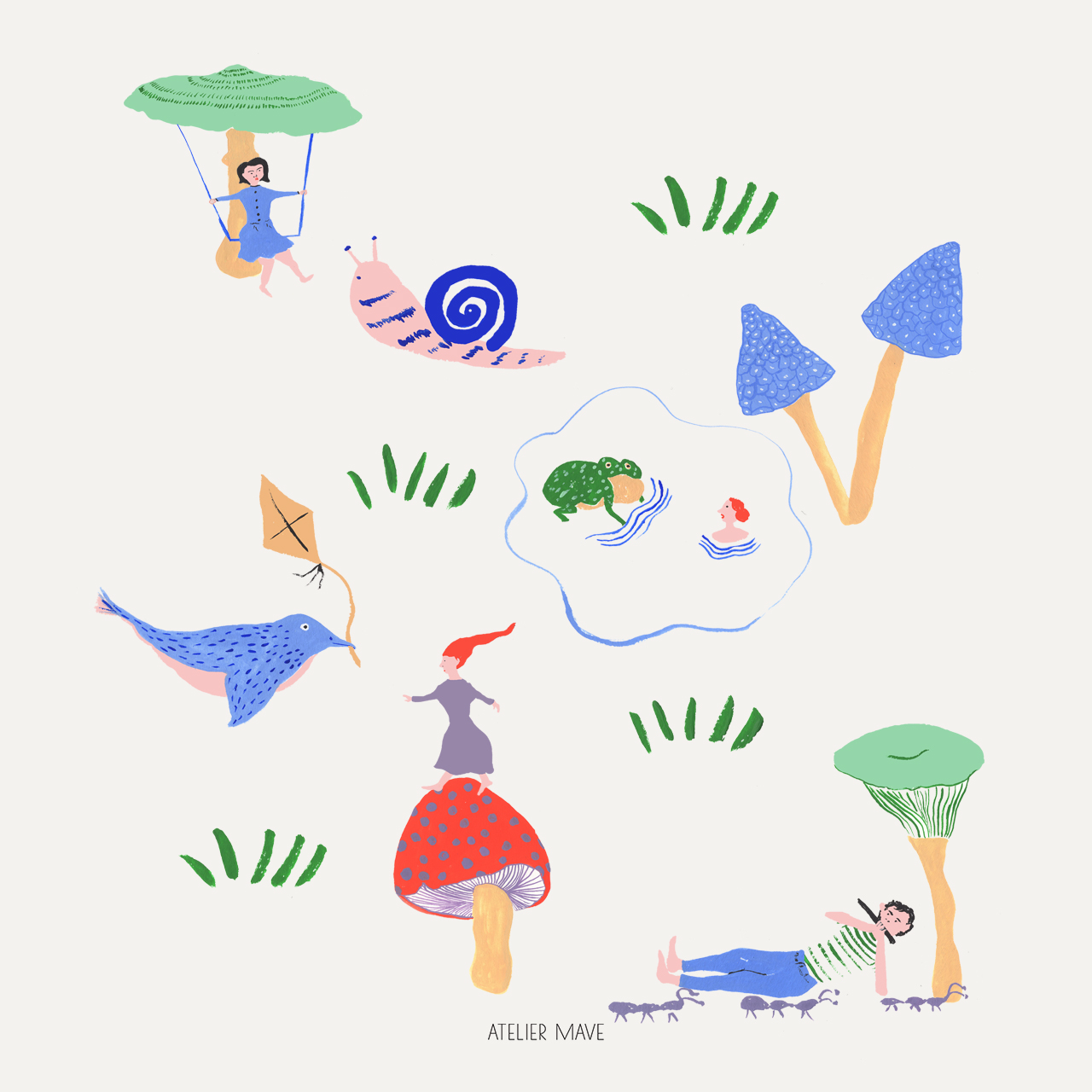 7. Where did you study?
I actually didn't study illustration, I graduated from Molecular Biology and Genetics. I teach myself to be an illustrator when I was working in dermo-cosmetics company almost 10 years ago and this is what I have been doing since then.
8. Where do you see yourself in five years?
Working in my garden-view studio, with my cat on my lap.
9. What about in ten?
Working in my garden-view studio, with my cat on my lap and my dog sitting close to my feet.
10. What do you hope to achieve with your art?
I hope to connect to more people, create invisible boundaries and bring joy in their lives.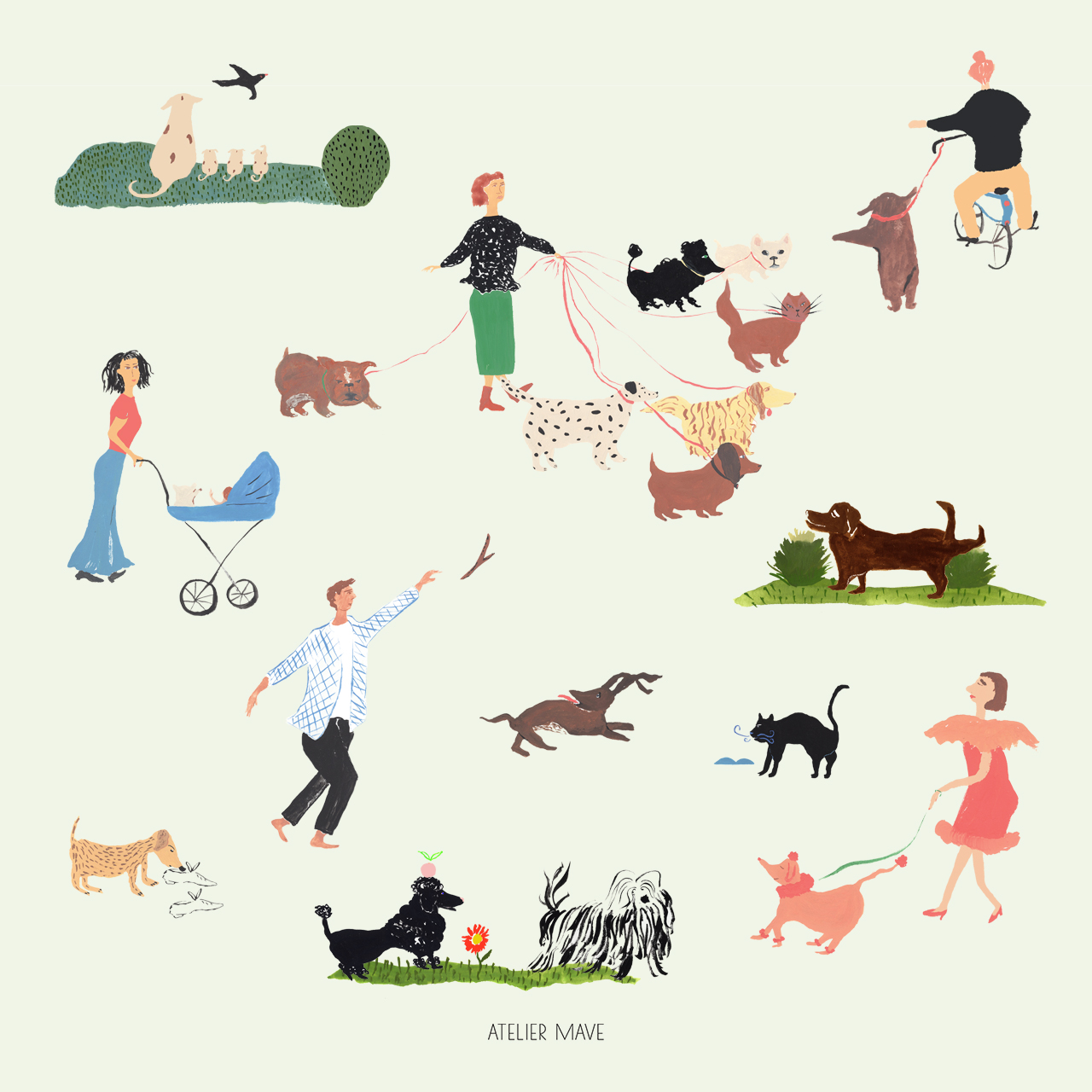 11. Now, tell us a little more about you as a person: what is your favourite food?
Hımm...this is the toughest question! I can't resist bread, butter, cheese, olives and a glass of good wine!
12. Favourite book?
"Women who run with wolves"
13. Favourite genre of music?
Jazz & Soul in the background while having friends over dinner; indie music when I would like to dance; some deep house (the Avener is fine!) when I want to daydream.
14. What are your hobbies?
I love knitting and crocheting. Lately, I also would like to dive into the ceramics world.
15. If you weren't an artist, what would you be?
I think I would be a cook! :)