Instagram:
@ateliertiti
Facebook:
www.facebook.com/lldebruijn
Website:
www.ellenbruijn.com
1. What's your story? Where are you from?
I'm living in Utrecht, where I recently moved into a studio / living complex at a cherry tree orchard, outside of the city centre. It is very nice and a little like a camping sometimes, with chickens walking around and trees full of cherries!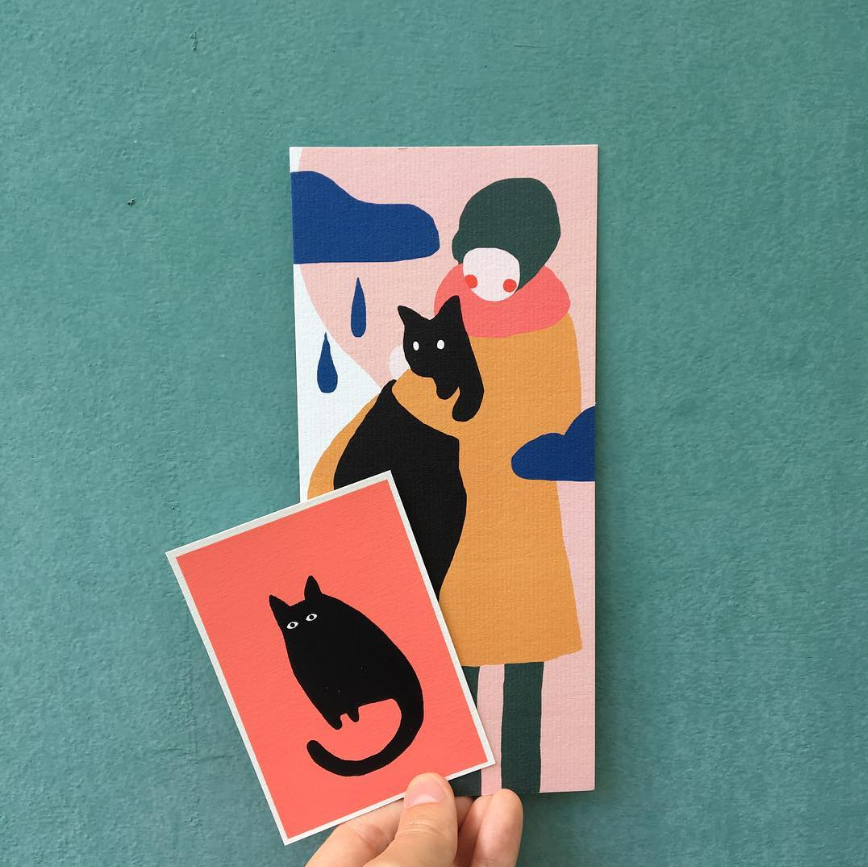 2. Tell us about your aesthetic.
I use lots of color, bold and minimalistic shapes, try to create worlds and I'm a bit obsessed with cats.
3. What is your favourite medium and why?
Screen printing! It's so much fun to mix your own colors, print your own work and be suprised by the result each and every time, it always comes out differently than the original design, because the colors are so bright and intense.
4. What is your artistic process like?
I like working with certain themes, so usually, I choose a theme I'd like to work on and start looking for sources of inspiration. I then choose a short story or poem or even just a sentence to capture the mood I want to work at. I force myself of picturing a situation. My work is very much a way of telling a story, but I also want others to be able to see it within their own interpretation or context.
5. Who and/or what inspires your work?
I'm A really big fan of Tove Jansson; Here worlds and creativity always give me so much inspiration. I also get lots of inspiration from children book writers like Astrid Lindgren and Roald Dahl.
6. What role does art play in your life? How does it change the way you view the world?
Art always shows me the beauty in life. Creating something out of nothing. Its like music, it can totally change your mood, make you happy, grateful of sad. You can learn something from art, see something differently. Let you understand more about history: It's powerful!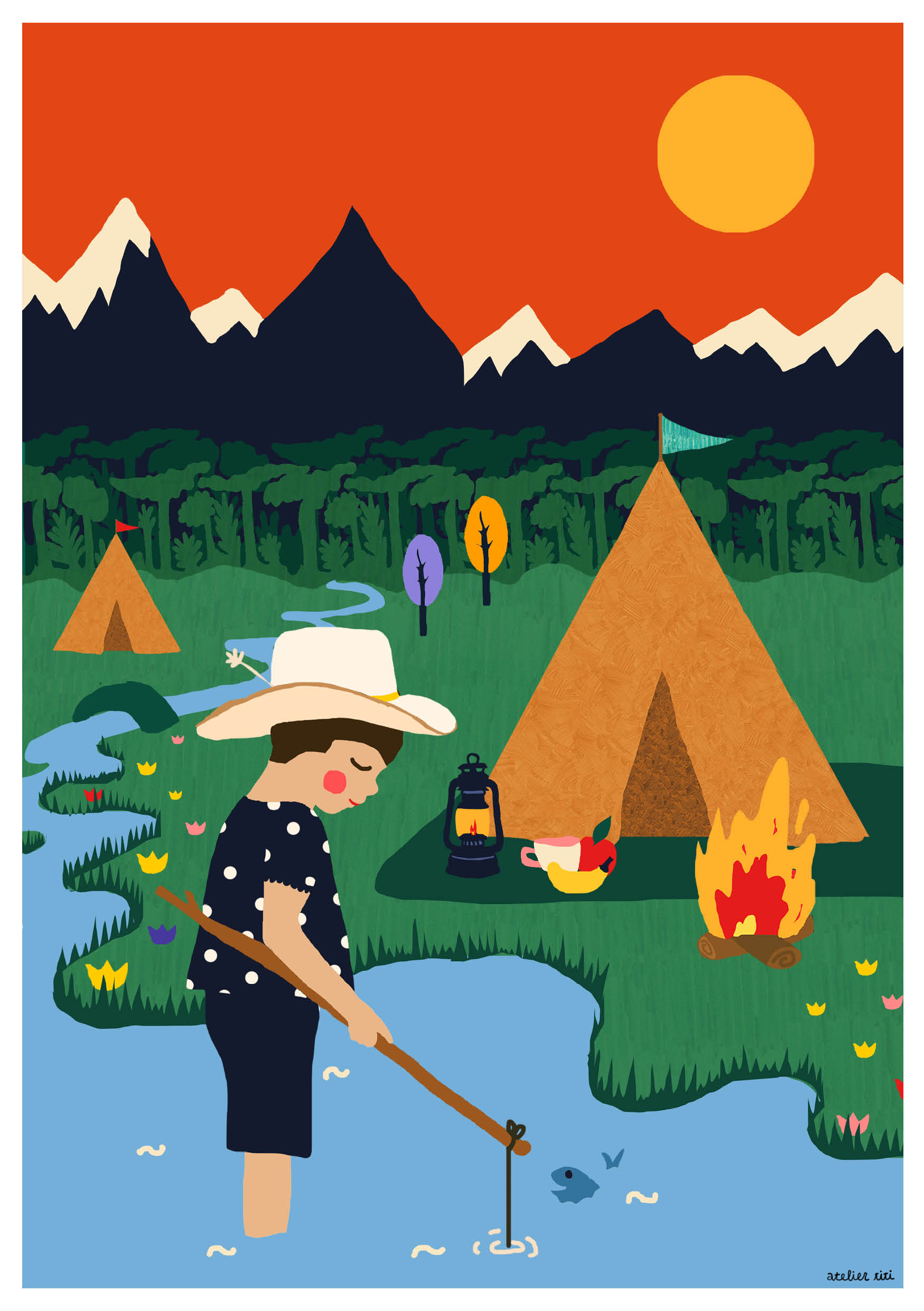 7. Where did you study?
I studied Illustration at Hogeschool voor de Kunsten in Utretcht.
8. Where do you see yourself in five years?
Make lots of illustrations, prints and products, continue to keep growing. Meet people, talk & learn & work with other artist/makers. work more, harder, be more confident. Maybe working in an agency!
9. What about in ten?
I would like to have illustrated a children's book by then.
10. What do you hope to achieve with your art?
My work is very much a way of telling a story, but I also want others to be able to see it within their own interpretation or context. I hope they get enjoyment out of my work.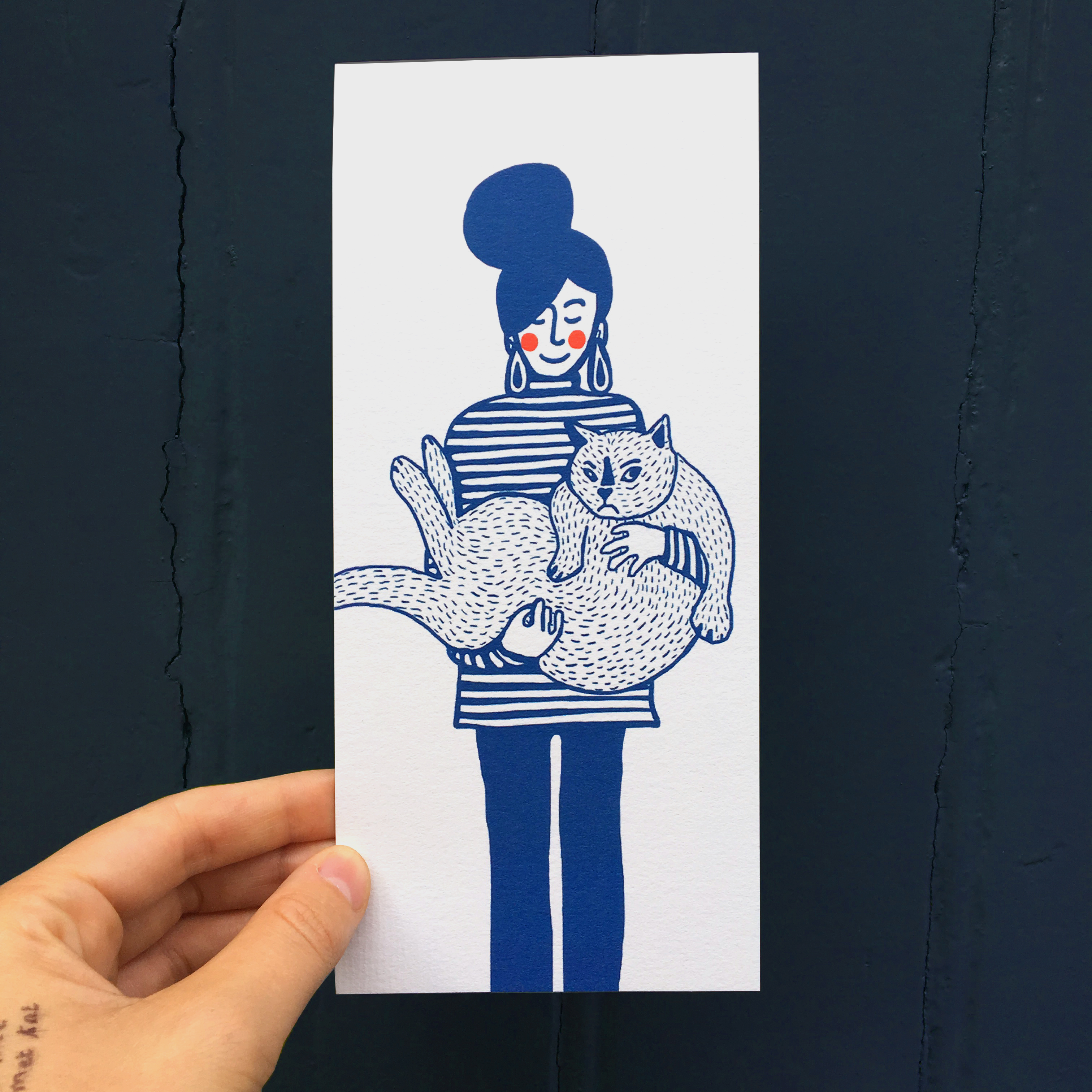 11. Now, tell us a little more about you as a person: what is your favourite food?
Food! I love food, all kind of food. European & Asian food are my favs. (I know that is quite a broad term haha)
12. Favourite book?
I have many's; The Man Who Mistook His Wife for a Hat from Oliver Sacks is a good one, and I love all Harry Potter books.
13. Favourite genre of music?
I don't have a favorite genre; My favorite music varies from hip hop like Gang starr & Biggie to Connan Mockasin, to Ethiopia's Mulatu Astatke and so on. Oh, and When I work I sometimes listen to Disney music, like the one's from 101 Dalmatiërs or the Aristocats; than I feel like I am in a world without sorrow.
14. What are your hobbies?
Illustration (haha) I collect illustrated books for children & I love to go to museums, expos and galleries.
15. If you weren't an artist, what would you be?
I think I will do something in care work, I really love to work with people who need a helping hand.