Instagram:
@azzurroscuro
Website:
www.sofiaromagnolo.com
1. What's your story? Where are you from?
Hello! My name is Sofia Romagnolo but I go by Azzurroscuro. It means Dark cerulean in Italian, my native language. It came from the state of mind I was in when I actually started putting my feelings on paper, as some sort of therapy. I come from a small town near Milan, Italy. I've travelled quite a bit but I've been settling down since three years ago and I'm a proud cat/dog mom.
Ciao! Mi chiamo Sofia Romagnolo ma il mio nome d'arte è Azzurroscuro. Il soprannome proviene dallo stato d'animo dal quale cercavo di uscire nel momento in cui ho cominciato a mettere giù i miei sentimenti su carta, come se fosse una forma di terapia. Provengo da un piccolo paesino vicino a Milano, Italia. Ho avuto la fortuna di viaggiare molto, ma ora sono fissa vicino al mio paese natale, dove svolgo a tempo pieno la professione di cat/dog mom.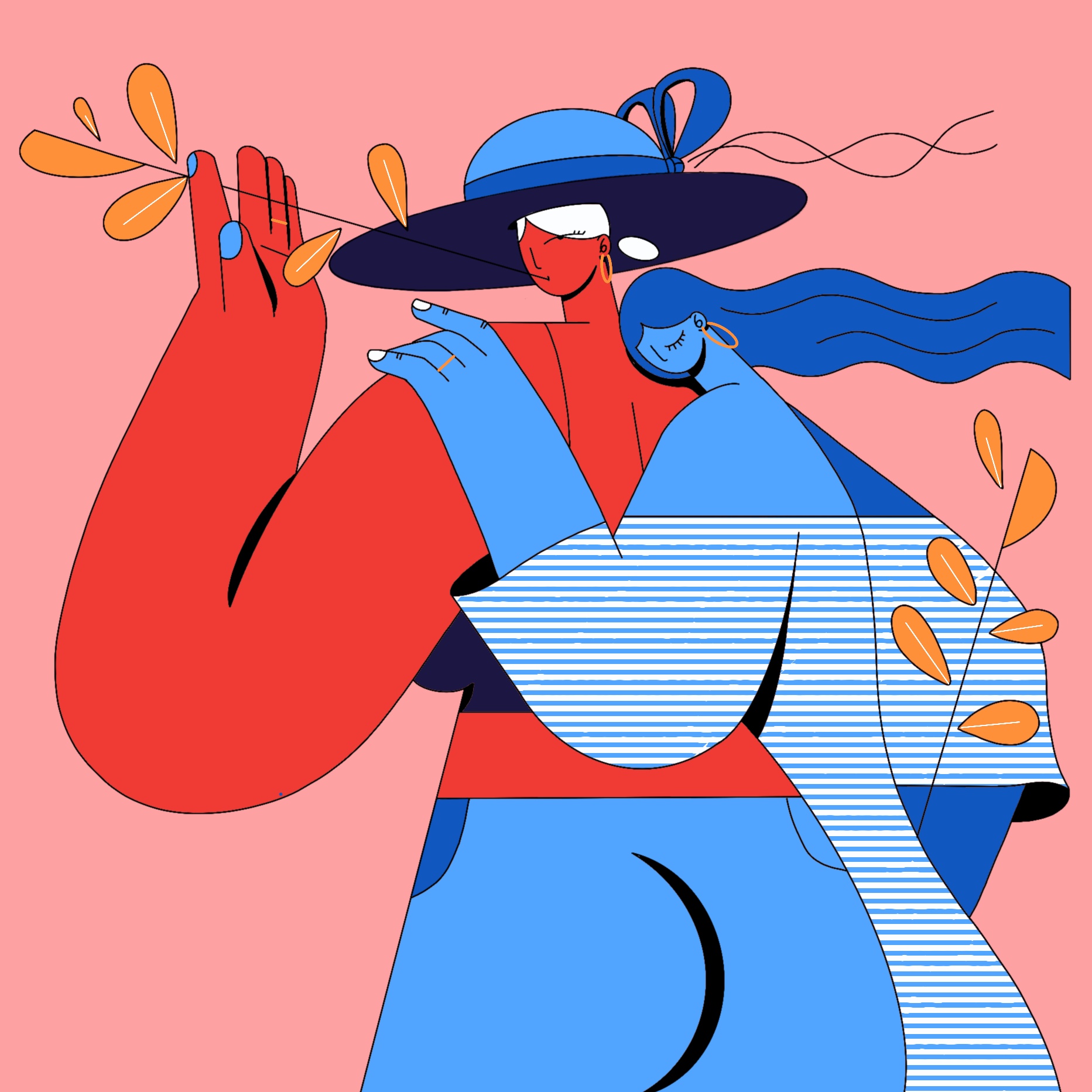 2. Tell us about your aesthetic.
I'd say the detail that distinguishes my art from others are colors. I usually go for bold, primary shades and thick outlines. Very simple in shapes and details, I try to strip down the illustration as much as possible, so I have just the necessary elements to make the point come across.
Direi che il particolare che contraddistingue la mia arte sono i colori. Uso solitamente tinte accese e primarie, accompagnate da bordi spessi e a contrasto. Le forme e i dettagli sono estremamente semplici: cerco di tagliare l'illustrazione il più possibile, così da avere rimanenti solo gli elementi necessari a far passare il messaggio.
3. What is your favourite medium and why?
If you asked me even just a year ago I would definitely say: Poscas! They're so versatile and high quality, you can mix them and have the most vibrant and consistent colors. But since I got myself an iPad, I'm just going with the convenience of having a canvas always with me. I actually use just one brush while creating, the standard Procreate "Studio Pen".
Se mi aveste fatto questa domanda anche solo un anno fa avrei risposto senza esitare: Uniposca! Sono versatili, possono essere mischiati e sfumati e ti danno la possibilità di creare campiture piene e brillanti. Da quando mi sono regalata un iPad però, preferisco la convenienza di avere una tela sempre con me. Per creare le mie illustrazioni uso un singolo pennello base, Procreate "Studio Pen".
4. What is your artistic process like?
I usually start with an idea and a color palette. Colors for me are everything, lines and details just come after. I'd love to be one of those amazing artists that have wonderful and clean sketches to show off, but unfortunately, my sketches are just a bunch of badly drawn lines that sometimes make my clients doubt my ability to draw at all ahah
Inizio sempre con un'idea e una palette colori. Le tinte per me sono tutto, linee e dettagli arrivano dopo. Mi piacerebbe molto essere uno di quei bravissimi artisti le quali bozze sono precise e perfette, così da poterle condividere con il mondo. Purtroppo però, le mie bozze sono sempre un ammasso di linee disordinate e sporche, che fanno spesso dubitare ai miei clienti la mia abilità di disegnare.
5. Who and/or what inspires your work?
I get inspiration from my art everywhere. Travelling and meeting different cultures was fundamental, as I grew up in a small town with not so much gender and ethnic diversity. Women are the main inspiration. I find the female body to be the most beautiful thing to ever exist and I want to celebrate and empower myself and my fellow sisters. I am daily inspired by my artist friends on social media and by my friends' stories on their dating/sex life.
Prendo ispirazione per la mia arte da qualsiasi cosa. Viaggiare e incontrare culture diverse è stato fondamentale per allargare le mie vedute: crescendo in un piccolo paese non è solito venire a contatto con molte differenze di genere ed etnia. Le donne sono le mie muse; trovo che il corpo femminile e la sua espressività sia la cosa più bella ed elegante che esista. Disegno donne indipendenti per emancipare me stessa e tutte le mie sorelle. Sono comunque quotidianamente ispirata dai miei talentuosissimi amici artisti su Instagram e dagli assurdi racconti di appuntamenti e vita sessuale delle mie amiche.
6. What role does art play in your life? How does it change the way you view the world?
Art has always been part of my life since I was very little, as my mom started dragging me to art galleries. As I said before, art in general me is a form of therapy. Either is mine or someone else's, a painting or a song or a novel, it has the ability to make you dig deeper into yourself. Helps you understand and realize stuff that was in front of your eyes all along. I love when art gets political and controversial too, I can proudly say that my illustrations caused some issues on what society considers "normal". When I draw a woman with a bigger figure or body hair I usually get asked "But why??" to which I reply to "Why not??"
L'arte ha sempre fatto parte della mia vita, cominciando da quando in giovanissima età venivo trascinata a mostre ed esibizioni da mia mamma. Come ho menzionato prima, per me l'arte è una forma di terapia: che sia mia, di qualcun altro, che sia un dipinto, una canzone o un poema, l'arte ha la capacità di scavare dentro di te. Ti guida in un'introspezione che ti permette di realizzare cose che sono sempre state davanti ai tuoi occhi. Adoro quando l'arte prende un tono controverso: posso dire con orgoglio che le mie illustrazioni hanno spesso sollevato domande o fatto storcere il naso. Quando disegno una donna formosa o con dei peli mi viene spesso chiesto "Ma perchè?!" al quale io rispondo "Perchè no?".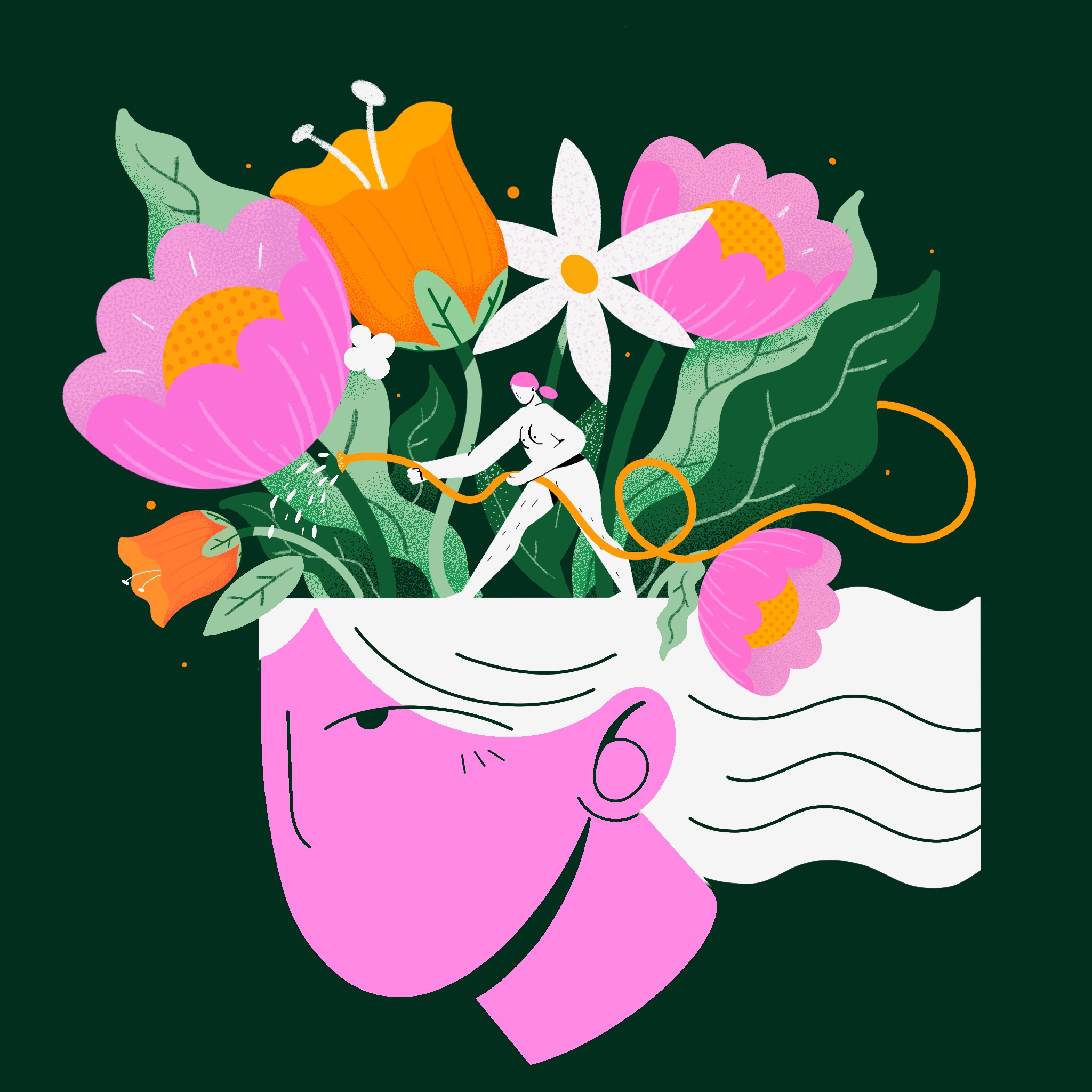 7. Where did you study?
I graduated in Illustration from IED Milano. I had the luck of having Olimpia Zagnoli as a teacher and a main source of inspiration. Since then, other artist's tutorials on IG, Skillshare or Youtube are my university.
Mi sono laureata in illustrazione presso lo IED Milano, dove ho avuto la fortuna di avere Olimpia Zagnoli come insegnante e principale fonte d'ispirazione. Da allora, ig, skillshare e youtube sono la mia università.
8. Where do you see yourself in five years?
I grew up surrounded by woods and helping my grandparents with their garden. Luckily my job allows me to be anywhere I want to be, as I have a strong desire to live in nature and grow my own food, surrounded by animals and love. I see myself getting up early to feed the chickens, water the tomatoes while still creating art and making a name for myself in the industry.
Sono cresciuta circondata da boschi e aiutando i miei nonni nell'orto. Fortunatamente il mio lavoro mi permette di mettere radici ovunque io voglia: ho un forte desiderio di vivere nella natura e coltivare il mio cibo, circondata da animali e amore. Mi vedo già ad alzarmi presto per dar da mangiare alle galline e innaffiare i pomodori, sempre continuando ad illustrare e crearmi un nome nell'industria.
9. What about in ten?
I really want to see where illustration takes me, there are so many different opportunities and I can't really tell what I'll be up to. One sure thing is that I'll be grateful for everything that comes my way, career and life wise, and I'll never stop creating art.
Voglio vedere dove l'illustrazione mi porterà: ci sono così tante alternative e opportunità che non saprei dire con precisione. Una cosa sicura è che sarò sicuramente grata di tutto quello che arriverà, sia riguardo alla carriera che alla vita in generale e che non smetterò mai di fare arte.
10. What do you hope to achieve with your art?
I want to contribute to liberating women from certain constraints: you can't be too skinny or too fat, you can't swear, you can't grow body hair, you can't dress like this or like that. In my art, the subjects are "just" bodies. They're so proportionally incorrect (I'd love to see what my anatomy teacher would say ahah) that they're not representing ONE body type or ONE genre, they're just meant to make a message of liberation come across.
Mi piace contribuire a liberare le donne da certe limitazioni: non puoi essere troppo magra o troppo grassa, non puoi essere volgare, non puoi scegliere di avere peli corporei, non ti puoi vestire in questa o quella maniera. Nella mia arte, i soggetti sono "solo" corpi: sono talmente sproporzionati (mi piacerebbe sentire cosa avrebbe da dire il mio professore di anatomia ahah) che non rappresentano una specifica corporatura o un genere, sono solo mezzi per comunicare un messaggio di liberazione.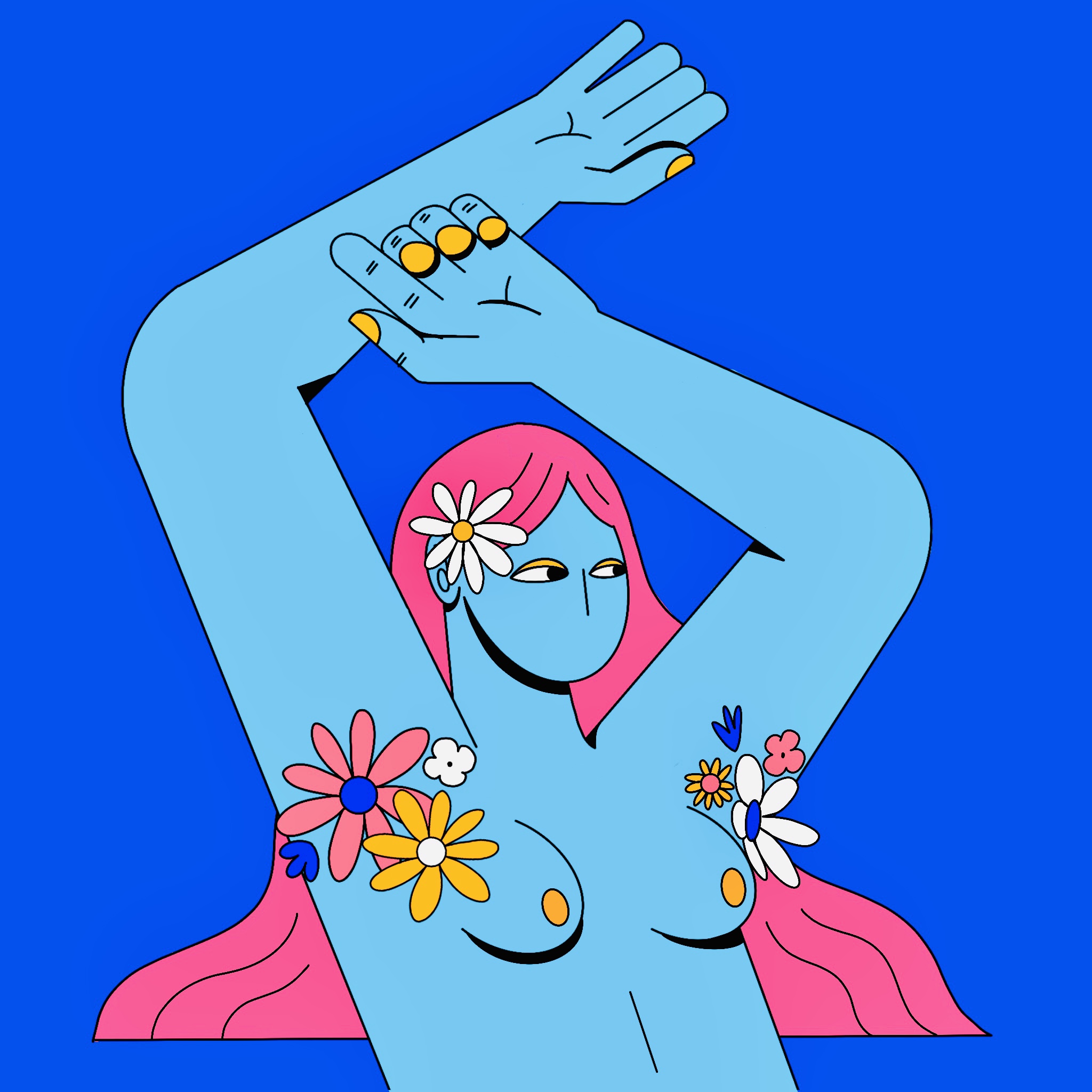 11. Now, tell us a little more about you as a person: what is your favourite food?
I'd say spaghetti with clams, a glass of white wine, the sea and my loved one next to me, but since I recently got gluten intolerant, I'm gonna stick with olives.
Direi gli spaghetti con le vongole, un bel bicchiere di vino bianco, con il mare e il mio compagno di fianco a me, ma visto che ho sviluppato recentemente un'intolleranza al glutine, la mia risposta definitiva è: le olive.
12. Favourite book?
I grew up with my dad reading me "The Lord of the Rings" so that one is definitely my N1, but apart from that, I'd say "Hard Boiled Wonderland and the end of the world" by Murakami. I read that one during the first quarantine in 2020 and I felt like it was getting the situation quite right ahah
Sono cresciuta con papà che mi leggeva "Il signore degli anelli" prima di andare a dormire, quindi è decisamente il mio N1. "La Fine del Mondo e il paese delle meraviglie" di Murakami è un buon secondo candidato. Mi ha tenuto compagnia durante la prima quarantena nel marzo 2020 e mi è sembrato rispecchiasse ironicamente la situazione attuale ahah
13. Favourite genre of music?
I literally listen and bop to ANYTHING, from Jazz to Kpop, from Doja Cat to gregorian chants. I blame my music being all over the place on my mom: I remember some Sundays she would vibe to "Return to Innocence" and on others, she was singing Pink Floyd out loud while doing the chores.
Ascolto e ballo veramente su tutto, dal jazz al Kpop, da Doja Cat ai canti gregoriani. Do la colpa (o il merito) dei miei disordinati gusti musicali a mia mamma: ricordo le domeniche mattine con "Return to Innocence" come sottofondo e altre dove casa sembrava un Karaoke Bar con tema Pink Floyd.
14. What are your hobbies?
Apart from drawing, the things I enjoy the most are gardening, yoga classes that leave you devastated and hosting aperitivi with my friends.
Oltre a disegnare, le cose che più preferisco sono il giardinaggio, le classi yoga che ti lasciano fisicamente debilitato e organizzare aperitivi con gli amici.
15. If you weren't an artist, what would you be?
I don't know, I often joke about drawing being the only thing that I'm actually good at, so even if I didn't want to, I wouldn't have that much of a choice. I'd open a plant shop or a cat cafè.
Non saprei, spesso scherzo sul fatto che disegnare sia l'unica cosa che so fare bene, quindi penso che anche non volendo non avrei avuto altra scelta. Aprirei un negozio di piante o un cat cafè.