Instagram:
@b_a_k_e_s__b_a_k_e_s
Shop :
www.stephenbakerstockroom.com
Website :
www.stephenbakerart.com
1. What's your story? Where are you from?
I'm an artist from Melbourne, Australia. I paint mainly in my studio on canvas but also work on murals outside in the urban environment.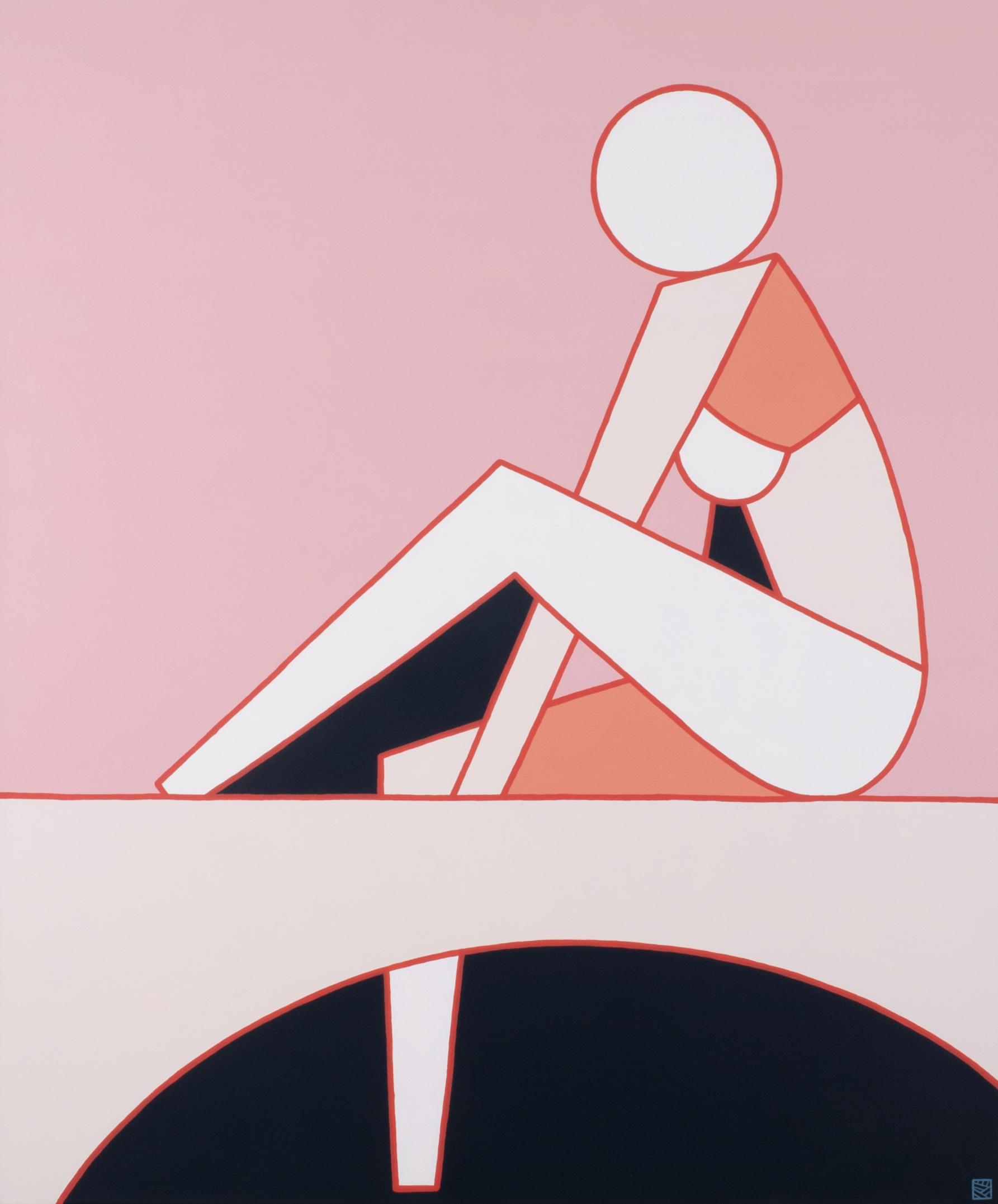 2. Tell us about your aesthetic.
I use minimal line use to describe my scenes, whether they are real or imagined, usually the latter. I then fill the spaces between the lines with flat bold colours based on a pre-determined colour palette. It could be described as geometric at times, abstract in areas but still fairly figurative. It's definitely mood orientated, a captured moment in time I suppose.
3. What is your favourite medium and why?
Acrylic paints are my go to medium for creating these works. They are fast drying and provide the even flatness I'm after for now.
4. What is your artistic process like?
Generally I'll work on a bunch of sketches based on inspired thoughts around a chosen theme. I tend to always go back to this idea of 'escapism' in my work, so most my sketches are developed from this single idea. When I have enough prep work done I'll work up colour palettes and apply these to refined drawings, this will then become the start of a show. I like to have a whole show planned out before I start painting, right down to sizes of work and where they will be positioned within the chosen space. I enjoy the process of creating a holistic event, designing every aspect of the show so you can almost see it before it happens.
5. Who and/or what inspires your work?
The female form, I find it more engaging and less awkward than the masculine form. I draw a lot of inspiration from various fashion photographers, it helps to collect fashion magazines to study the female figure. Lately I've been interested in creating imagined abstract worlds to place figures within, to create interactions between figure and form. Some of this has been inspired from reading the novels of J.G. Ballard and other writers of the dystopian craft.
6. What role does art play in your life? How does it change the way you view the world?
I believe it's an escape mechanism for me also as much as it is for the viewer. Creating artwork that allows me to step away from the real world is essentially what I'm doing. On the flip side however, it also allows me to capture specific feelings or emotions I've had and portray them in my work, almost as a reference tool. Painting up the works is also a very meditative process for me, especially since most of the creative side has been realised beforehand it becomes a more straight forward act of low intensity labour. I'm not sure how my work has changed my view of the world. I do remember earlier on seeing everything as geometric shapes which was pretty funny, apart from this though it's pretty much stayed the same. I do notice that if I decide to reference from the real world in a work, it becomes quite chaotic and busy. There's definitely a difference between the reimagined world the real one when it comes to painting them for me.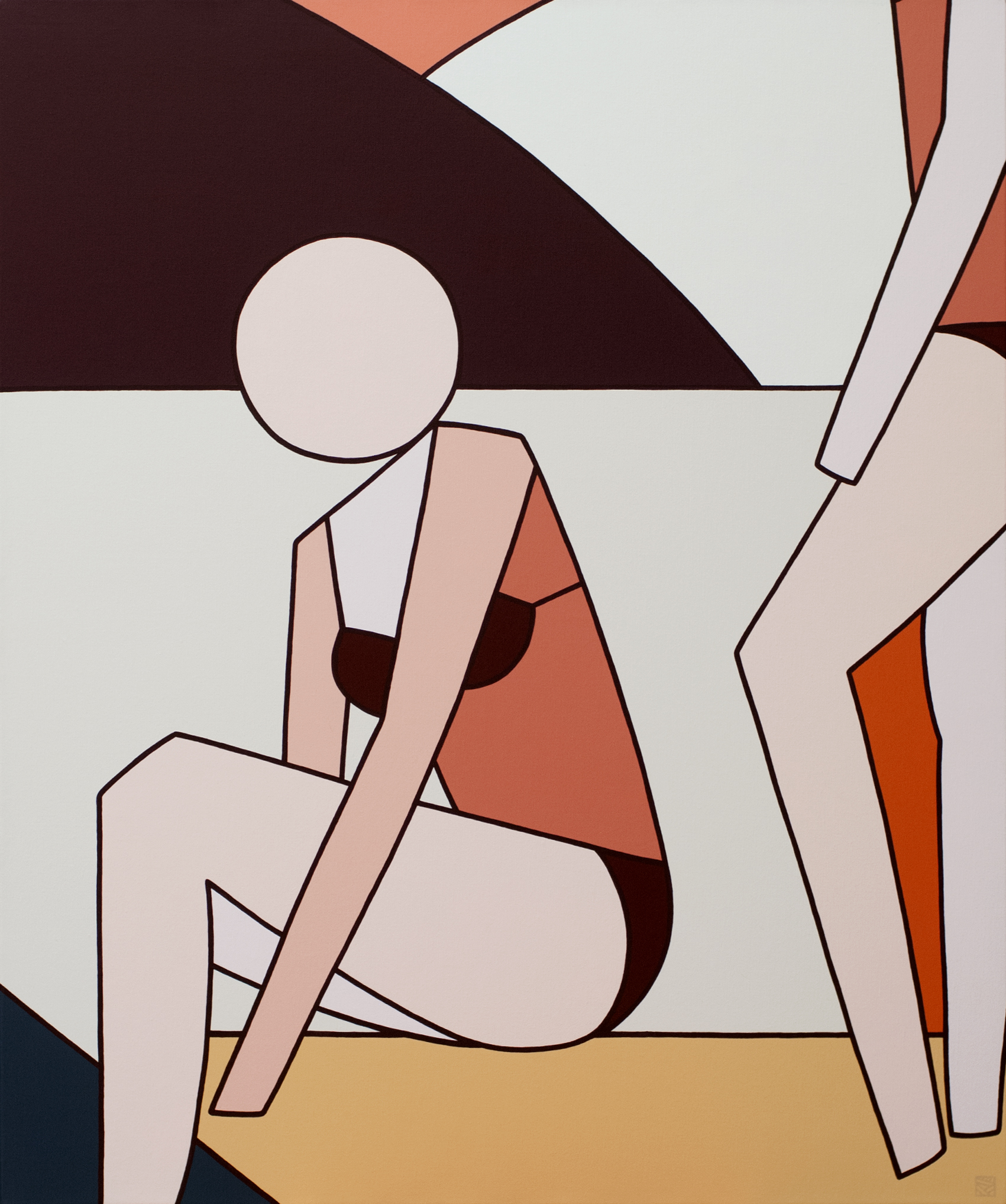 7. Where did you study?
I'm a self-taught painter but I completed a Bachelor degree at the Swinburne School of Design here in Melbourne.
8. Where do you see yourself in five years?
Hopefully evolving my practice and presenting more work across multiple mediums both nationally and internationally.
9. What about in ten?
Most likely more of the above! If I could travel more internationally with my art that would be the icing on top.
10. What do you hope to achieve with your art?
I want people to lose themselves just for a brief moment in my artwork, to be taken away from the everyday.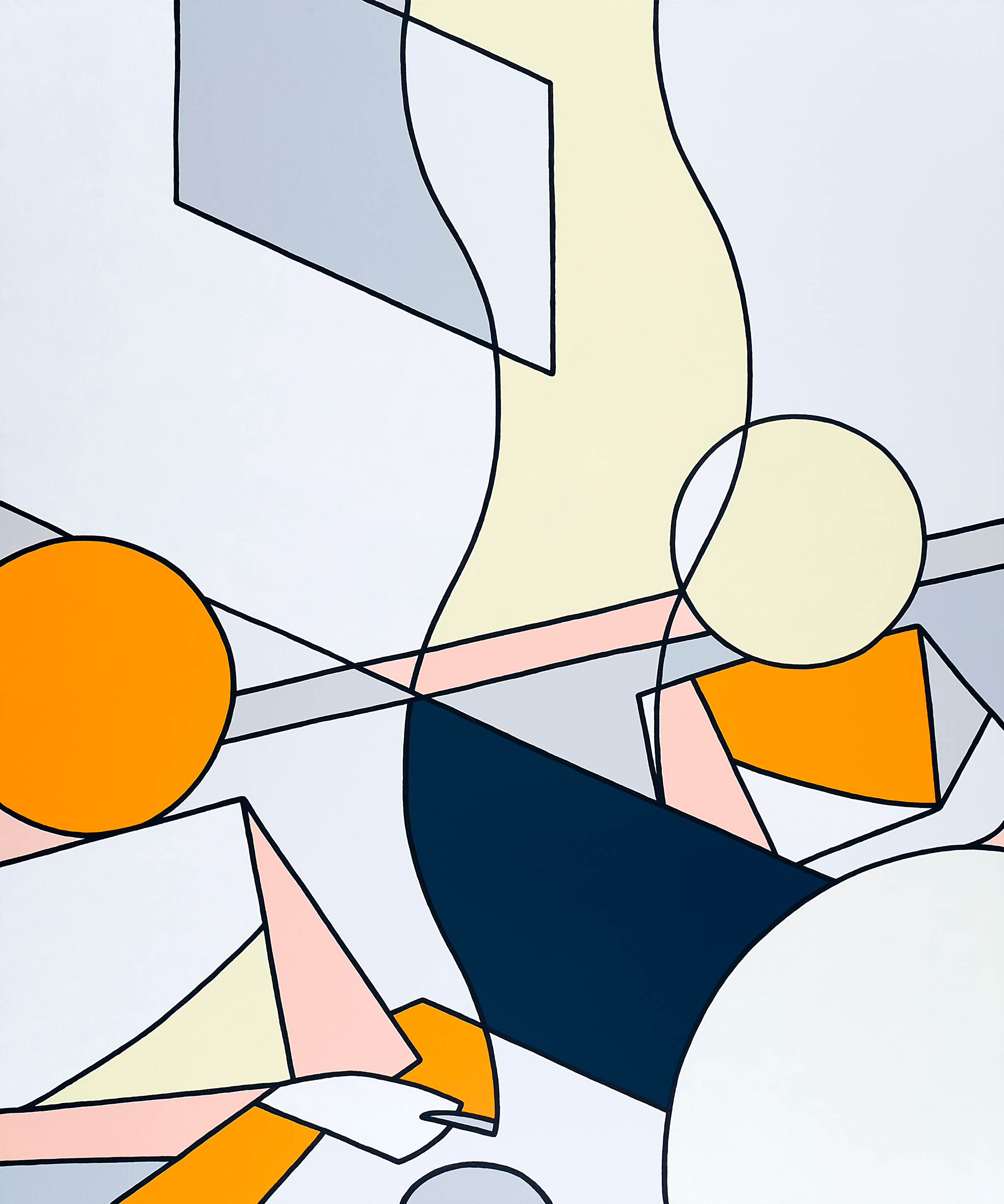 11. Now, tell us a little more about you as a person: what is your favourite food?
There's so much great food here in Melbourne it's hard to say! I eat a lot of Asian style food so I'd have to go with chilli oil dumplings, they're the best.
12. Favourite book?
Tough one! Jack Kerouac's The Dharma Bums perhaps? Too many to mention. I've always loved Fitzgerald's The Great Gatsby also.
13. Favourite genre of music?
When it comes down to it I guess it'd have to be rock n' roll. A classic four piece band that gets you kickin' ya feet around and banging your head I suppose.
14. What are your hobbies?
Photography, collecting records and books, the cinemas, drumming and I love ten-pin bowling.
15. If you weren't an artist, what would you be?
A drummer for sure! I quit drumming because my art career got in the way. I've always been in bands since I was 16 and only stopped a few years ago. I think that was the easiest question to answer! Ha!