Instagram:
@beadylou
Twitter:
@beadylou
Facebook:
www.facebook.com/beadylou
Tumblr:
beady-lou.tumblr.com
1. What's your story? Where are you from?
Hello I'm Lou Beady, or in real life, Louise Kim. I'm a Canadian illustrator of East Asian origin based in NYC. Mainly, I create drawings and illustrations of or relating to avant-garde, gender-fluid, or street fashion (skate culture). I grew up in various cities around the globe such as Hong Kong and Toronto. It was a very disconcerting childhood. Eleven years ago, I followed a friend who aspired to become a fashion designer - who now is one - to study in New York and settled here. Since then my interest and knowledge in fashion grew exponentially.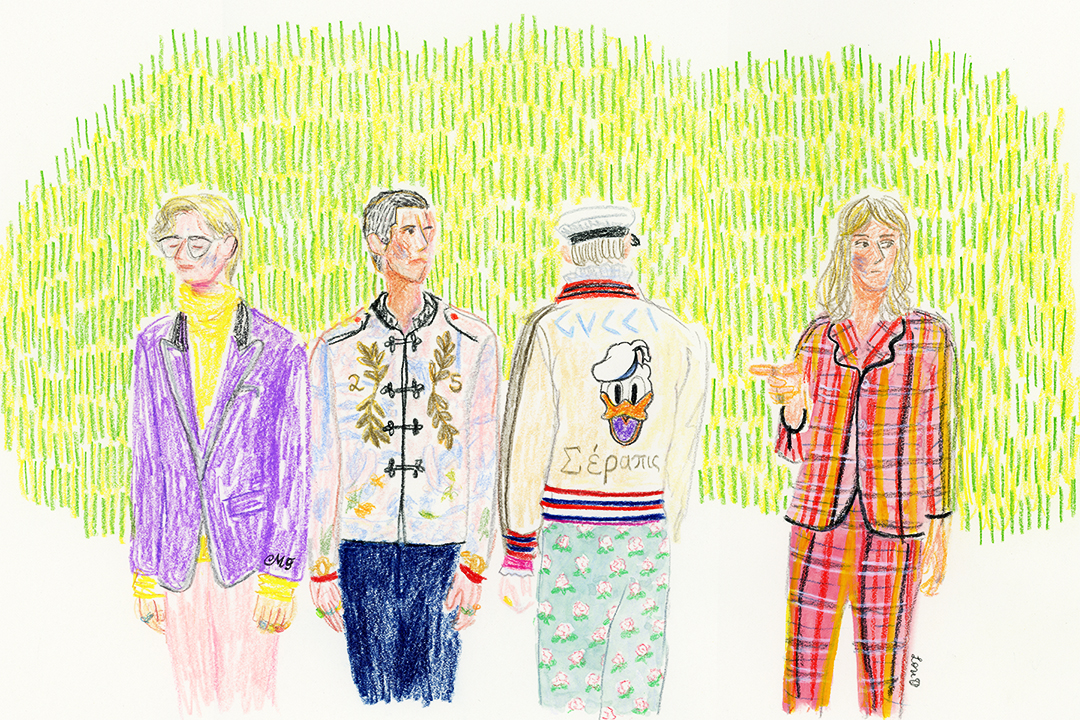 2. Tell us about your aesthetic.
My artistic style is "scribbly" and "painterly", I think. Somewhat rough and naive. Definitely retro and pop. However, the aesthetics I like is somewhat a combination of minimalism, mid-century, and quirkiness.
3. What is your favourite medium and why?
My favourite medium is colour pencils on paper. They don't make much mess like soft pastels or oil paints. Recently I bought an iPad Pro and am trying to get used to it.
4. What is your artistic process like?
Researching for photographs to use as references is always the step zero. For Foxy series, I start with a pencil sketch. Then on a light pad with a new piece of paper, I color in with color pencils with the sketch underneath. Sometimes I'd use watercolor and gouache for certain colors and/or effects. For Fashion Illustration series, I start casually sketching with soft pastels then finish it with watercolor, gouache, and or acrylic paints. I then may add another layer of soft pastels or other paints.
5. Who and/or what inspires your work?
There are many artists who inspire me. Since my educational background lies in fine art, I love many of the impressionist painters such as Van Gogh, Claude Monet, Édouard Manet, and Edgar Degas. Also I'm big on modern painters, Cy Twombly, Philip Guston, and Yoshitomo Nara. However, the main reason why I wanted to be an illustrator was because of Hergé, the author of Tintin. It is my favorite comic book / animation series since I was about 11 years old. I wanted to draw something that affects children and child-like minded adults. Also, I get inspired by architecture and industrial design.
6. What role does art play in your life? How does it change the way you view the world?
Every person on earth has a different way of seeing things. Artists, I believe have even more unique points of views. In my opinion, art's most important role is to teach people that there are people who see things completely different from you.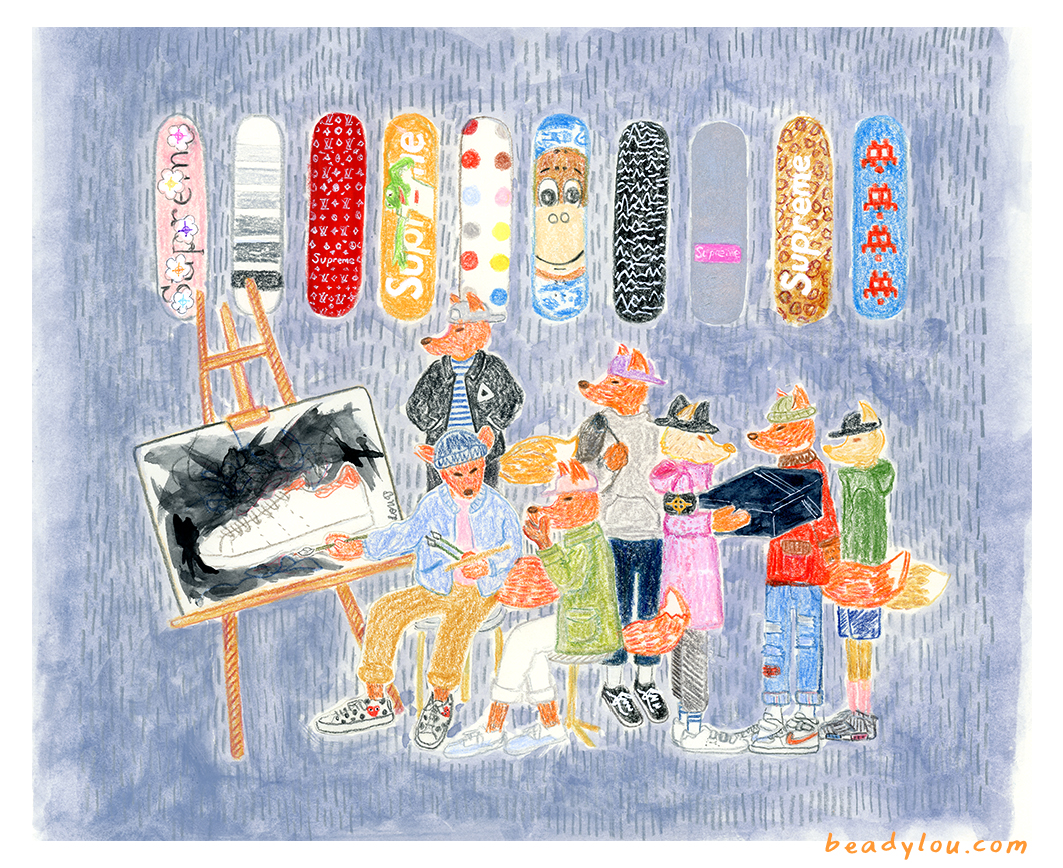 7. Where did you study?
For Bachelor's I studied at Marymount Manhattan College. For Masters I studied at Pratt Institute. Both in Fine Arts.
8. Where do you see yourself in five years? Working in an agency?
I'd like to sign with an agency now! I would like to see myself working freelance but on consistent basis for major name fashion magazines and other media outlets based in the US and EU. Also, I would like to collaborate with different designers in the world. My number one pick now is Maison Kitsune.
9. What about in ten?
I'd love to see my own picture book published by a major publishing company. Collaborate with big name street brands Supreme and Adidas Originals. Maybe my fox characters be made into animations and movies.
10. What do you hope to achieve with your art?
I hope to do all the things I've mentioned above and make a good living out of it and be able to work with creative people I admire.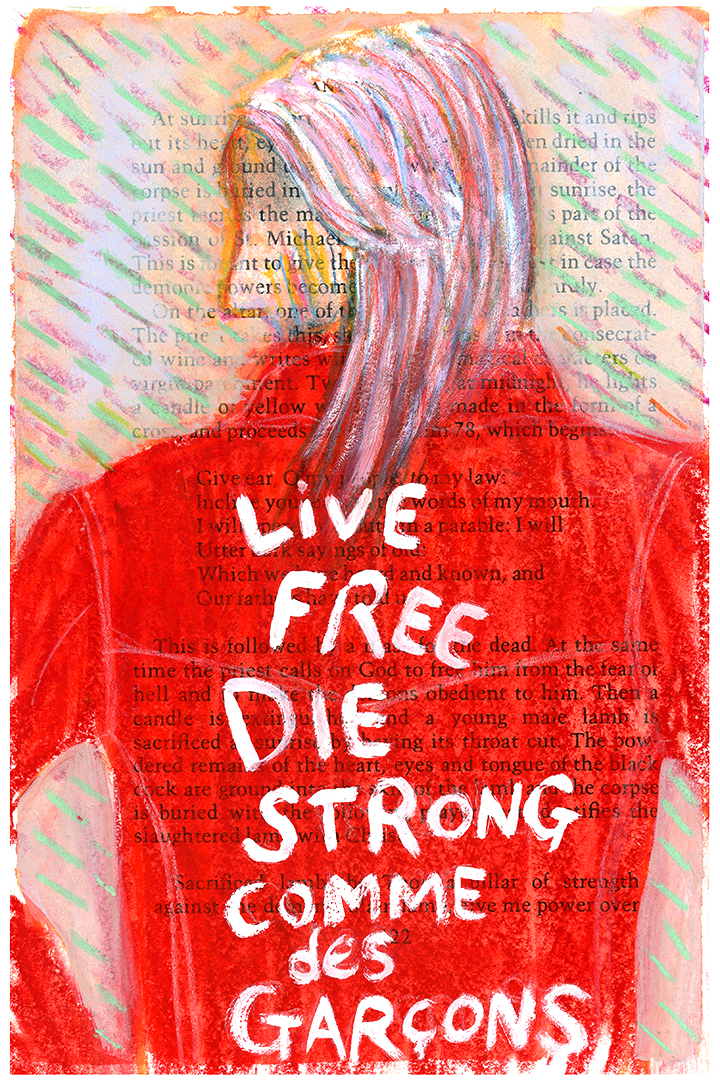 11. Now, tell us a little more about you as a person: what is your favourite food?
My favorite food is anything that pairs well with wine. And Japanese cuisine. I can't eat anything spicy.
12. Favourite book?
If comic books count, I'd always say Tintin. But mostly, I read biographies. I love reading about how others have lived their lives, what failures and successes they have had. I'm currently reading Vivienne Westwood's autobiography co-written by Ian Kelly.
13. Favourite genre of music?
I love a lot of British popular rock music such as Oasis, Blur, and Muse. I also listen to funk, blues, and jazz. My other half is sort of a music geek so I'm always exposed to something new.
14. What are your hobbies?
I love taking photographs and sort of hoard them. Seldomly, I play guitar.
15. If you weren't an artist, what would you be?
Ideally, I would be working for the whale-saving lady in New Zealand. There is a documentary on her on Netflix. Or for the otter sanctuary in California.