Instagram:
@beccajanestudio
Facebook:
www.facebook.com/beccajanestudio
Etsy:
beccajanestudio.etsy.com
Website:
www.beccajane.com
1. What's your story? Where are you from?
I'm originally from a small town called Monaca, PA that is located 25 miles northwest of Pittsburgh on the Ohio River. My father's company regularly relocated him, so I spent my childhood moving every 2-4 years. I began my career as an artist as a furniture design intern at Target Headquarters in Minneapolis, MN. I soon became known for my constant doodling, and was eventually hired as a full-time dinnerware designer at Target. After 6 years, I left Target in search of more freedom. I worked "from home" as a designer and illustrator for a dinnerware company for the next 6 years. I traveled as much a possible and learned to work on the road. It was a great time and I loved my job. I finally settled down in Nashville, TN in 2014 so I could live close to my family. At the end of 2015, I was told I no longer had a job designing dinnerware. I was devastated. I started 2016 lost, and looked for every freelance opportunity I could find. Work was slow, so I decided to invest in myself and take pottery classes. I fell in love with ceramics and never wanted to leave the studio. In August 2016, I joined an art co-op in Nashville at the Clay Lady's Campus. It wasn't until February 2017 that I got serious about selling my own ceramics as a way to make a living.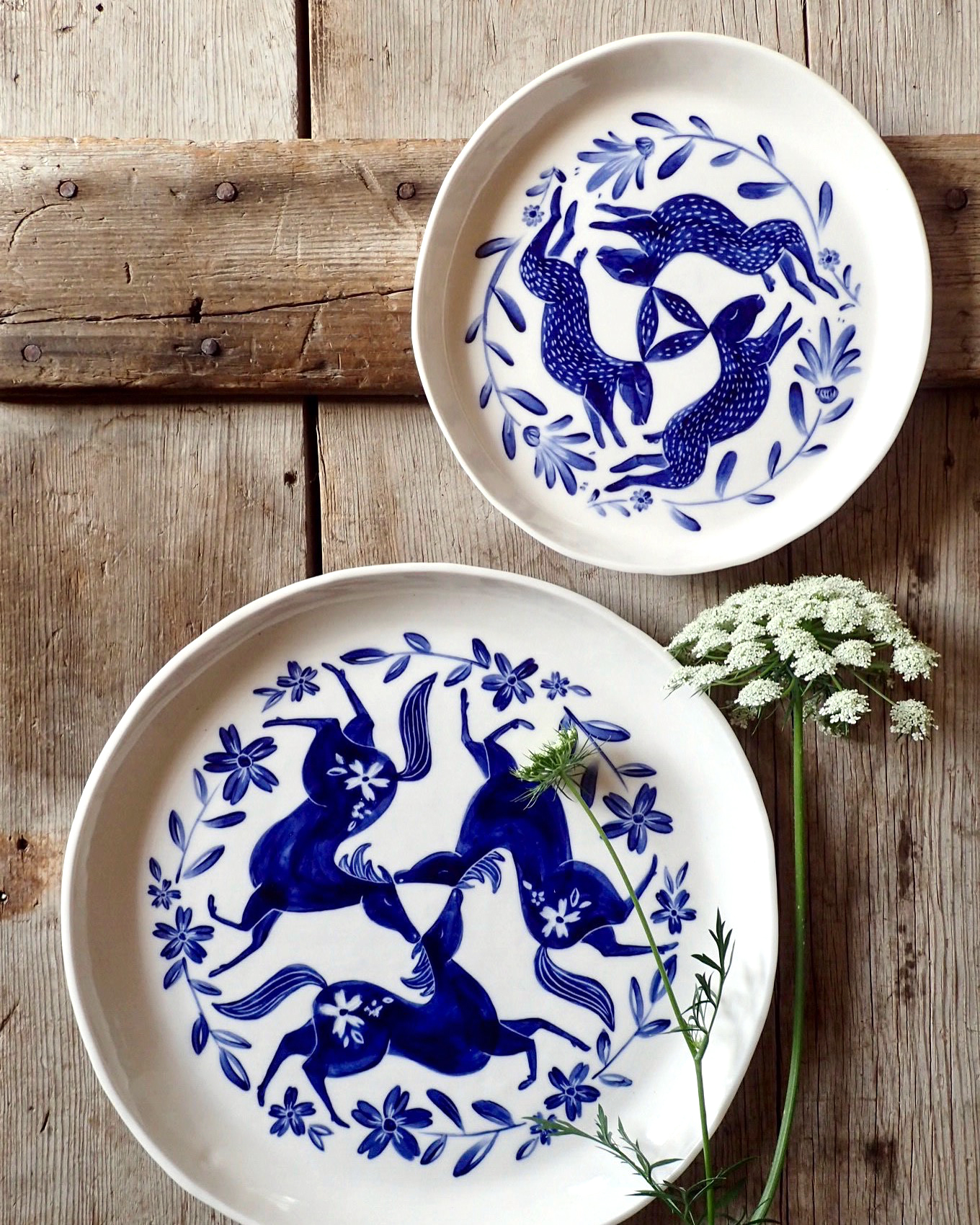 2. Tell us about your aesthetic.
When I was 7-8 years old I lived in Holland. I was enamored with Delft pottery. I kept a journal at the time and wrote in it that I wanted to be an artist when I grow up. The blue and white in my work is a tribute to that time in my life. The images in my work are often references to the cyclicality of life, femininity, and the connectivity of all living things.
3. What is your favourite medium and why?
I love working in porcelain. It is known to be a fussy and difficult clay, and I always feel a sense of pride when a piece doesn't crack. I paint on the wet clay with underglazes. After years of painting with watercolor on paper, I love the ability to wipe things away and start over.
4. What is your artistic process like?
My favorite way to work is without a plan. I let the moment guide me through my work. Other times, this isn't possible, so I have to start with sketches. Most of my pottery is hand built from porcelain. I paint on the pots while they are still wet, and then scratch through the color to expose the white clay to add detail. This technique is called sgraffito. The work is then fired once, glazed with a clear glaze and fired a second time in an electric kiln.
5. Who and/or what inspires your work?
My partner, Patrick, inspires me the most. He's a conservation biologist that studies endangered reptiles and amphibians. We go hiking together in wild places, and he teaches me about the animals he studies. It is through him that I found my love of snakes, and also my ability to live in my moment while I'm creating.
6. What role does art play in your life? How does it change the way you view the world?
Art is always on my mind. Every beautiful thing inspires new ideas. I have trouble turning that part of my mind off, and I have trouble keeping up with my lists and sketches of new things to make and paint.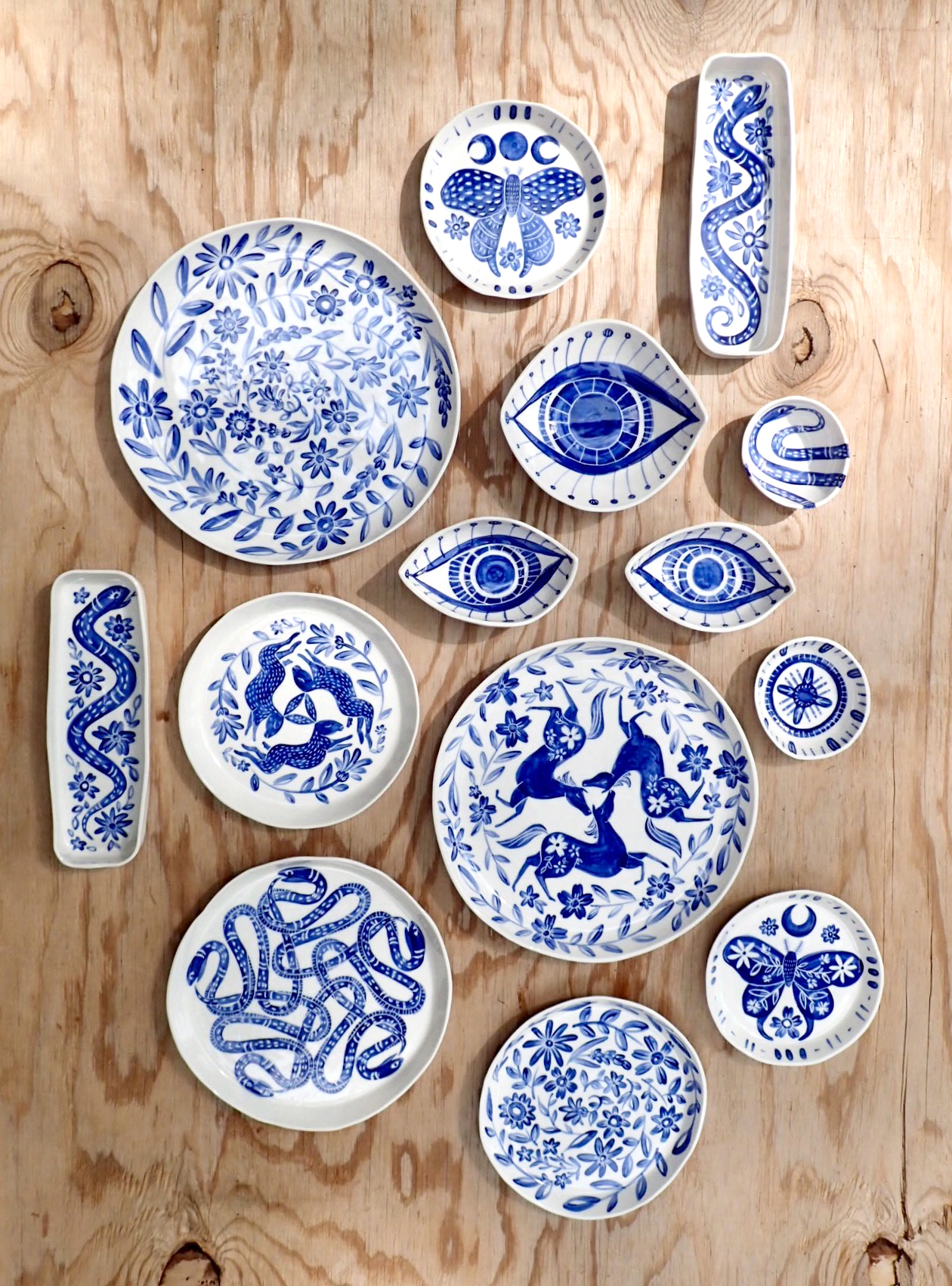 7. Where did you study?
I received a Bachelor in Fine Arts from Savannah College of Art and Design in Furniture Design. I graduated in 2005.
8. Where do you see yourself in five years?
I'm a terrible planner, so I have no idea. I made it this far without a plan! I know I'll still be making pottery.
9. What about in ten?
I can't tell you the future, but I'll keep working hard and things will keep changing.
10. What do you hope to achieve with your art?
I'd love for my art to bring joy to others, to provide me with an outlet for creative expression, and to earn a modest income.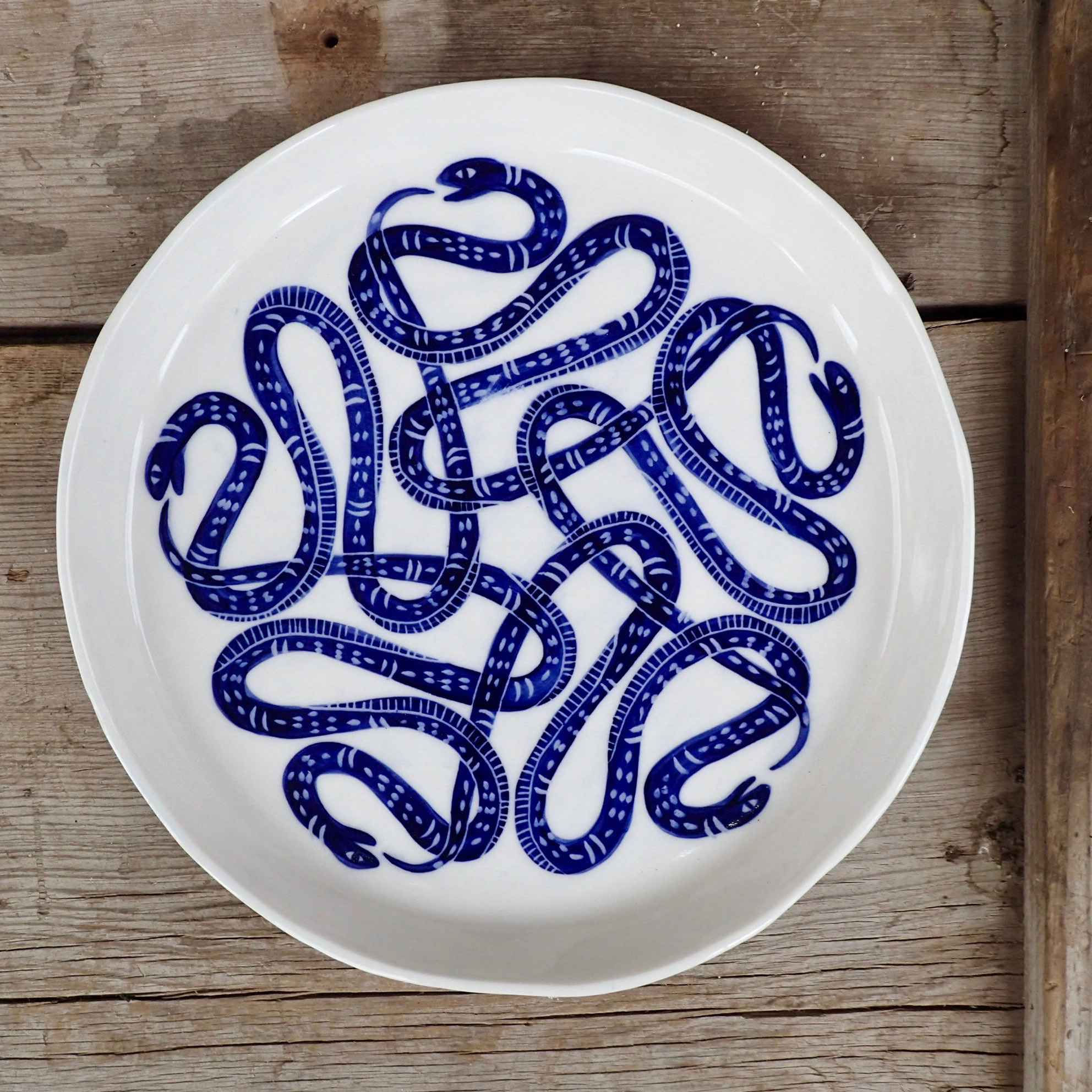 11. Now, tell us a little more about you as a person: what is your favourite food?
Watermelon
12. Favourite book?
I've been tucking my nieces into bed lately, and rediscovered my childhood favorite, "Go, Dog. Go!" Written and Illustrated By P. D. Eastman.
13. Favourite genre of music?
I like all genres, but I especially love music with female vocals.
14. What are your hobbies?
Hiking, camping, gardening, and cooking.
15. If you weren't an artist, what would you be?
I'd want to be a conservation biologist! Every time I tag along with Patrick on a work trip, I think about going back to school to save the endangered critters.