Instagram:
@beckystevensstitches
1. What's your story? Where are you from?
My name is Becky. I'm 25 years old, I grew up in Manchester, England and continue to live here to this day. It's an absolutely amazing city - in spite of the near constant rain - and would recommend that anyone visit! It's FULL of creativity.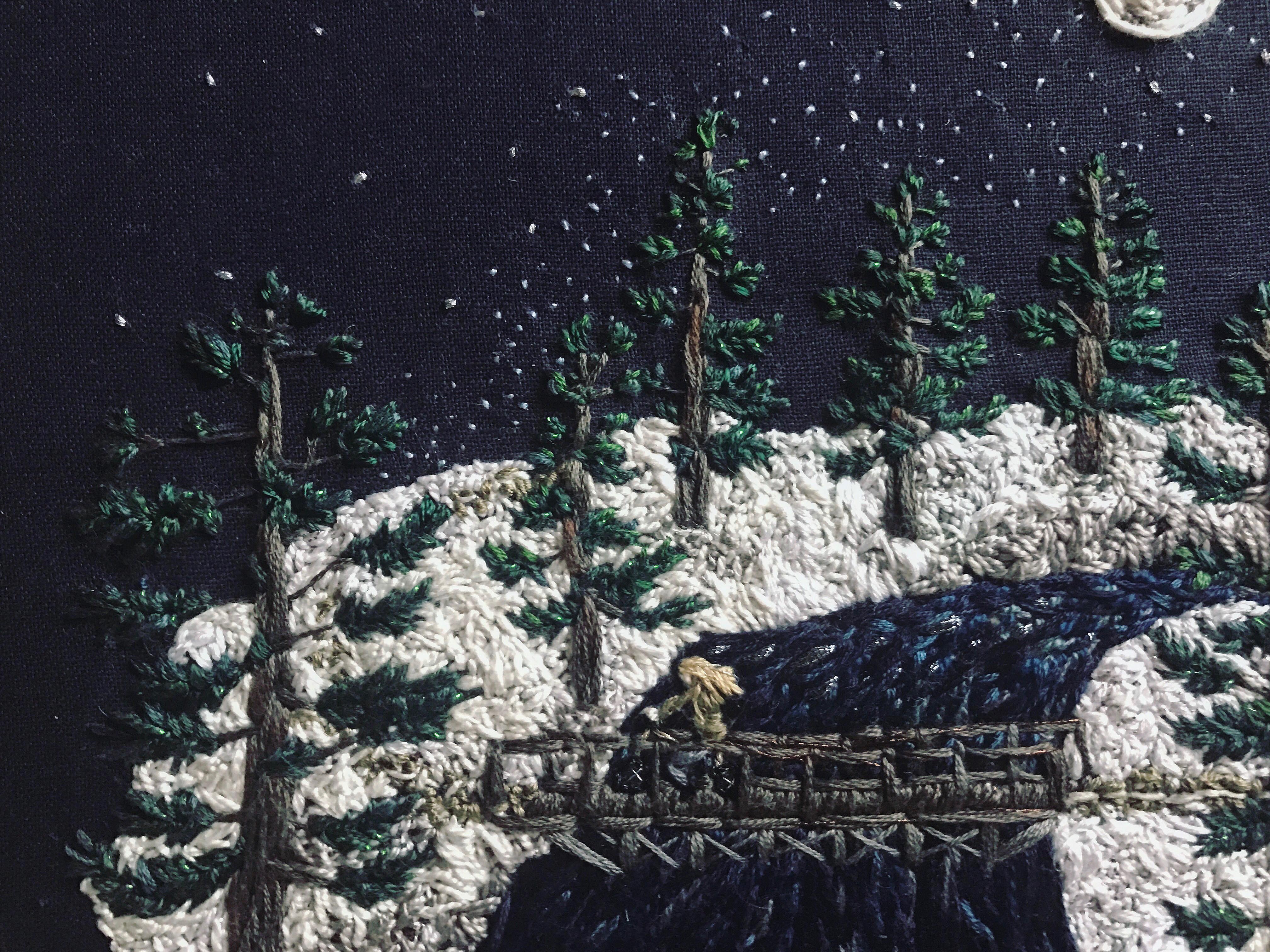 2. Tell us about your aesthetic.
I like to create a detailed and complicated forefront against a simple background. There's something really beautiful about the contrast. I never fill a whole hoop when embroidering, it's always confined to a certain amount of space. I also love blues and reds at the moment, my colour preferences change with the seasons though.
3. What is your favourite medium and why?
Embroidering! Until a few years ago I always thought that embroidery was confined to history as a hobby of the Victorians or restricted to pattern-ready cross-stitch sets. I worked at The Whitworth for a few years (renowned for its textile collection) and always appreciated the beauty and skill of working with fabric, but never considered it as an option open to me. I illustrated a lot back then, and still do occasionally! I then began seeing the work of fellow embroiderers on Instagram, and realised it was something that is being adapted by modern textile artists to create new and exciting work. I knew I had to join in, so I bought supplies and quickly fell in love with the process of creating a design, finding the right colours and method of creating it and seeing it come to life on beautiful fabric.
4. What is your artistic process like?
I tend to begin with sketching and painting my embroidery plans, rather than going straight to the fabric. That's not to say I'm a cautious worker - I'm VERY chaotic and don't have any sort of organised method when creating my work. Anyone who knows me can agree that I work best when all my hoops, fabric and thread are spread out around me in a disorganised mess. I don't think there is any shame in not being a highly methodical worker - this works for some, not for others. I can be swept away on a wave of creative inspiration and not able to put a hoop down for hours, or I can spend days on end where I try out loads of ideas and hate all of them.
5. Who and/or what inspires your work?
I grew up on a cultural diet of galleries so there are a number of artists whose work always inspires me including Georgia O'Keefe, Yves Klein and L.S.Lowry. I also love the work of Cornelia Parker, she's an absolute genius. And the textiles of William Morris are mesmerising! My own work is inspired purely by almost fairytale scenes I wish I could be in.
6. What role does art play in your life? How does it change the way you view the world?
It plays a huge role in my life and is something that has always shaped my interests. My grandparents were big art lovers and took me to some incredible exhibitions growing up, so it's something that I've been lucky enough to take for granted. I'm a big advocate of art as one form of medicine for mental illness, it's so cathartic and enables you to express feelings in a way you might otherwise not be able to do.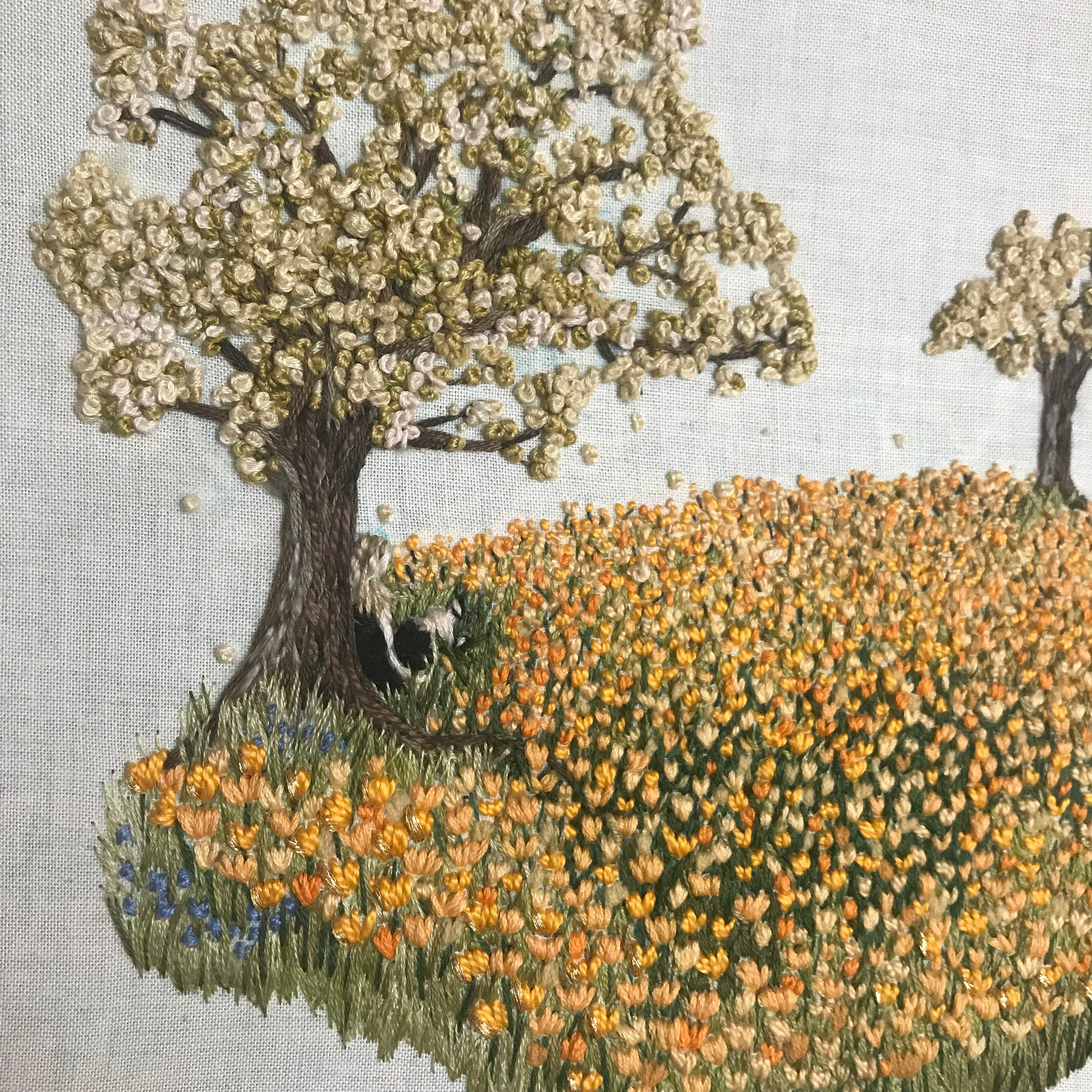 7. Where did you study?
I didn't actually study a creative topic at all - I first did a History degree and then went on to study Arts Management at The University of Manchester before getting my teaching qualification. I am completely self-taught and learned how to embroider with online tutorials and by a painstaking process of trial and error!
8. Where do you see yourself in five years?
I hope to be continuing my embroidery with a wider audience and reach. I would love to run textiles groups for children or vulnerable groups of people, it can be such a therapeutic activity. I would love to return to gallery work, particularly relating to education.
9. What about in ten?
Probably the same thing. The dream would be to exhibit my embroideries! I would also love to have more time to complete my work. As I embroider alongside working full time, it takes me about 4 times longer than it would usually take to finish a piece.
10. What do you hope to achieve with your art?
I want to create work that people enjoy and maybe relate to in some way. However one of the main reasons I love embroidery so much is because of the process of creating my art, rather than the reward of the final product. It's my way of staying creative and it's been hugely effective in staving off anxiety and stress.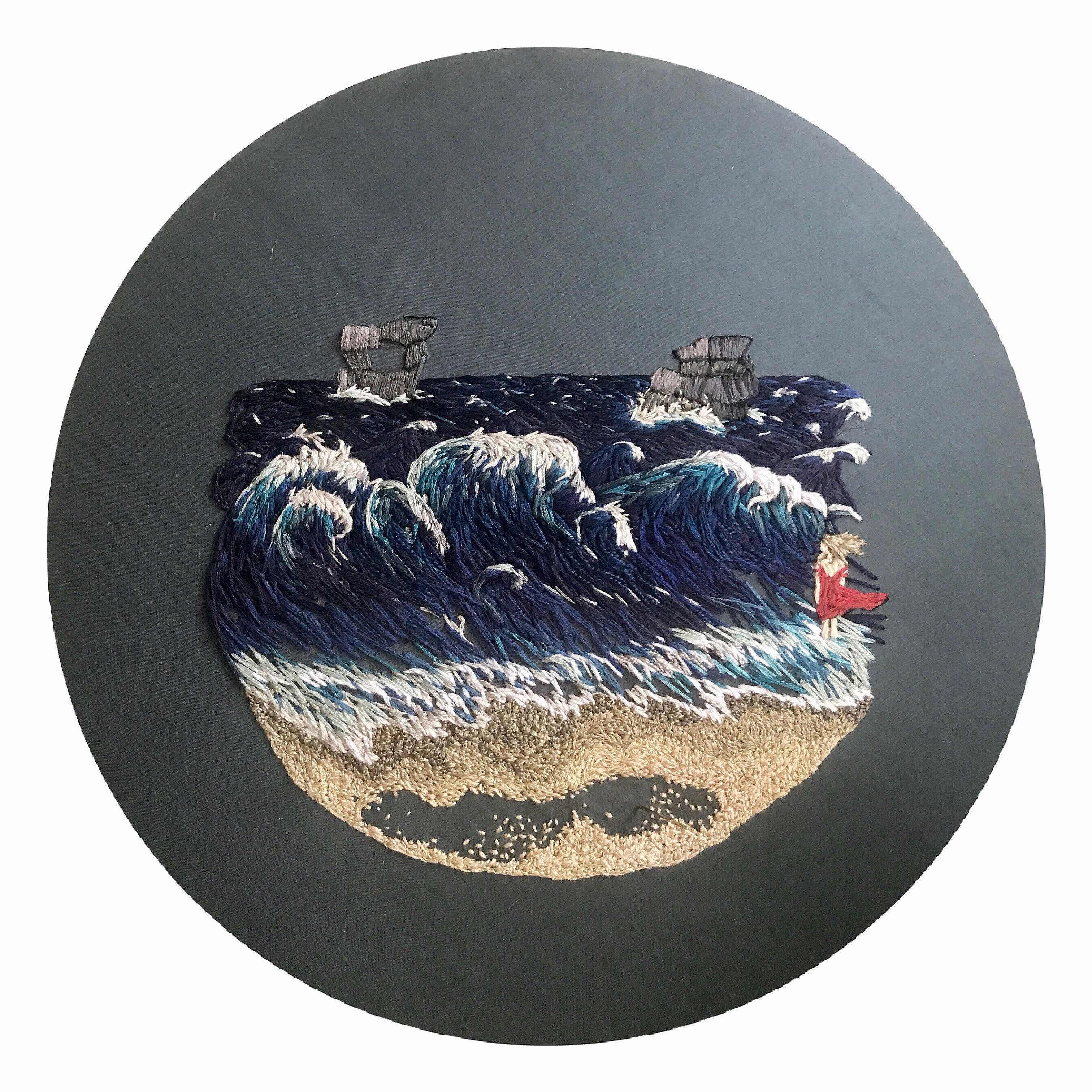 11. Now, tell us a little more about you as a person: what is your favourite food?
Pasta. I could eat it for every meal, I'm a real spaghetti fiend.
12. Favourite book?
Probably Wuthering Heights, or The Great Gatsby.
13. Favourite genre of music?
If I had to choose one genre it'd be Punk. I love The Slits, Siouxsee and the Banshees, The Jam, Richard Hell and the Voidoids. I am fascinated by the punk culture of the 70s and 80s. Having said that I am a huge fan of The National, London Grammar, The War on Drugs and loads more that don't fit into the punk category at all!
14. What are your hobbies?
(Aside from embroidery) I love going to gigs, reading, baking, going to museums and galleries, illustrating, occasionally crocheting and of course reading Game of Thrones fan theories.
15. If you weren't an artist, what would you be?
This isn't a hard question because I actually already do the job I'd be doing if I'd never discovered embroidery. I am a full-time primary school teacher! It's exhausting but hugely rewarding and makes me appreciate the time I get to embroider all the more. I work with a class of 8-9 year olds who keep me on my toes!