Instagram:
@berenice_milon
Facebook:
www.facebook.com/berenicemilon
Behance:
www.behance.net/bmilon
Tictail:
berenicemilon.tictail.com
Website:
www.berenicemilon.com
1. What's your story? Where are you from?
Hey, I'm Berenice Milon, I'm a french graphic designer and illustrator. Raised in the suburb of Paris, I then studied and worked in Geneva for five years. I came back few months ago in Paris where I work as a freelance.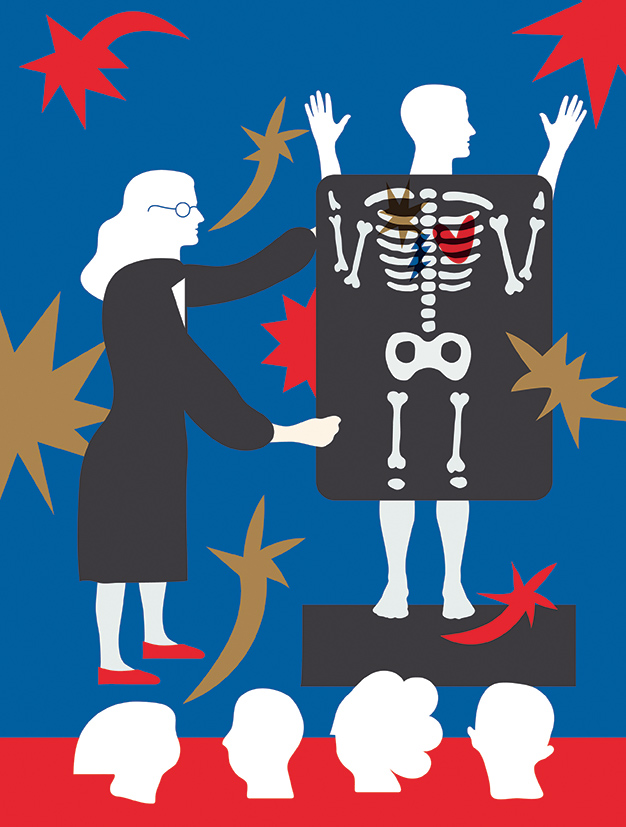 2. Tell us about your aesthetic.
Cosmogonic, playfulness, poetic. My aesthetic is divided into my two main illustration practices: cut paper and digital illustration. The first one is abstract and very intuitive. I like to keep the forms and figures simple and organic. The second is narrative and figurative, I like to tells stories. I switch between those two practices. In both, the color research is an essential step in my artistic process. These days, I'm more and more into writing, typography and so graphic design. It becomes a real part of my aesthetic. It's funny, this was my first passion as a kid. I started writing novels and poems when I was 9, the very first one was a boring Harry Potter's fan fiction. Then I learned music so I naturally wrote songs. It is funny as the passions that one has as a child sometimes appear like evidence: kind of « YES it is part of what I am! »
3. What is your favourite medium and why?
Digital! It's so flexible. I use Illustrator and Photoshop and I like the infinity possibilities both softwares offer. I also love cutting papers, it's very meditative: I reserve it for my personal abstract work, like the series « Marécages » (« wetlands » in english). I like to diversify mediums and techniques, I'm also working on creating a jewelry line: it's a long and rewarding process. In future, I would like to diversify a little more my practice, add object, photography and video. I like transdisciplinarity: that way I'm never bored as I'm able to build a universe from an art direction.
4. What is your artistic process like?
It's a constant flow. At first, I always draw hieroglyphs in my notebooks, just to put it on paper. To catch the inspiration passing by, I have 3 or 4 notebooks to compulsively sketch and write down. My ideas are pretty messy at first, mostly feelings, so I have to gather the different pieces of a puzzle in a second time. My projects are the fruit of numerous conceptual and visual research. This is very important in our job where we are often alone in front of our own work to exchange, share and cooperate. I also like collaborating with other creators, so I'm not limited to illustration only. I had great encounters, one led me to work with the french stationery brand Atelier Museum, another with the Atelier Myriam Combier with which we work on a scarf and a contemporary installation. I'm also working on a short film with director Benoit Ecoiffier, choreographer Alizée Sourbé and musician Charles Chalas. I also created with two friends; graphic designer Laure Rogemond and illustrator Popy Matigot, the Figure Libre collective, which develops several specific mediation and art education activities for the general public, and kids! It's amazing how two worlds can merge to create territories still unexplored in our reciprocal practices: a space where beautiful friendships are born and ideas germinate.
5. Who and/or what inspires your work?
Blexbolex, Robert Frank Hunter, Louise Bourgeois, Celestin Krier, Aurelien Debat, Nathalie Parain, Bruno Munari, Ladislav Sutnar, Adrien Parlange, Icinori, Jesse Jacobs, Jochen Gerner, Leslie David studio, Seb Brown and many more. I don't partition the inspirations.
6. What role does art play in your life? How does it change the way you view the world?
Art is an integral part of my life, it always did. As a child, I was lugged from museums to museums by my mother who was studying art history at the time. Growing up, I wanted to be an artist, as Louise Bourgeois. I start studying Art in Mulhouse, mostly performance and paint. I was particularly touched by the work of Joseph Beuys, by his concept of "social sculpture". For him, art is everything, and everything is art. He does not distinguish the art of life and works for a total art, which does not bother disciplines or fields. This is the concept of expanded field of art. At this time, I couldn't find myself in contemporary art, and I did not want to play this game. I felt that I needed to change the angle of approach of my plastic practice. That's how I studied graphic design and I finally found tools to communicate my stories. My practice, like that of others I imagine, evolves every day over my questions and desires. I take less and less head trying to get into boxes, I do not want to choose, I do what I like.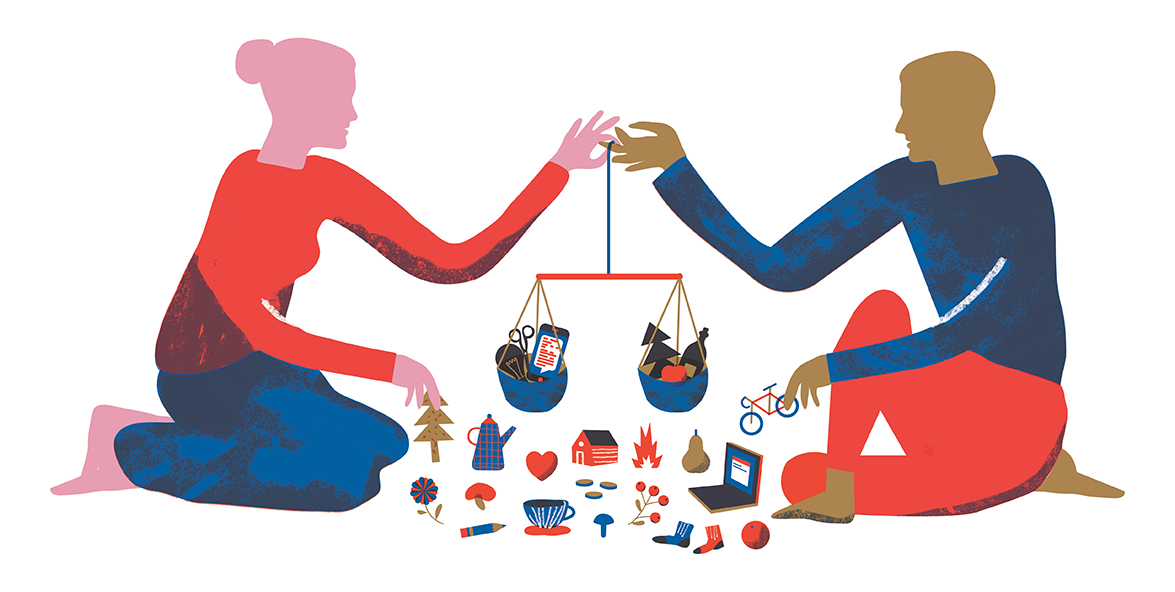 7. Where did you study?
First I studied Art at HEAR - Mulhouse in France (for a year) and then visual communication at the HEAD- Geneva in Switzerland.
8. Where do you see yourself in five years?
Happy, healthy. Doing more freelance work, commissioned work for newspapers and magazines, children's books, murals, exhibitions, objects, jewelry. I hope I've found peace, financial balance and an inspiring work environment.
9. What about in ten?
I hope I will have a kitchen garden.
10. What do you hope to achieve with your art?
Durable work that people will be able to enjoy long after I'm gone: Nice stories that parents want to read to their kid before bedtime, communication tools that bring some fun into the city.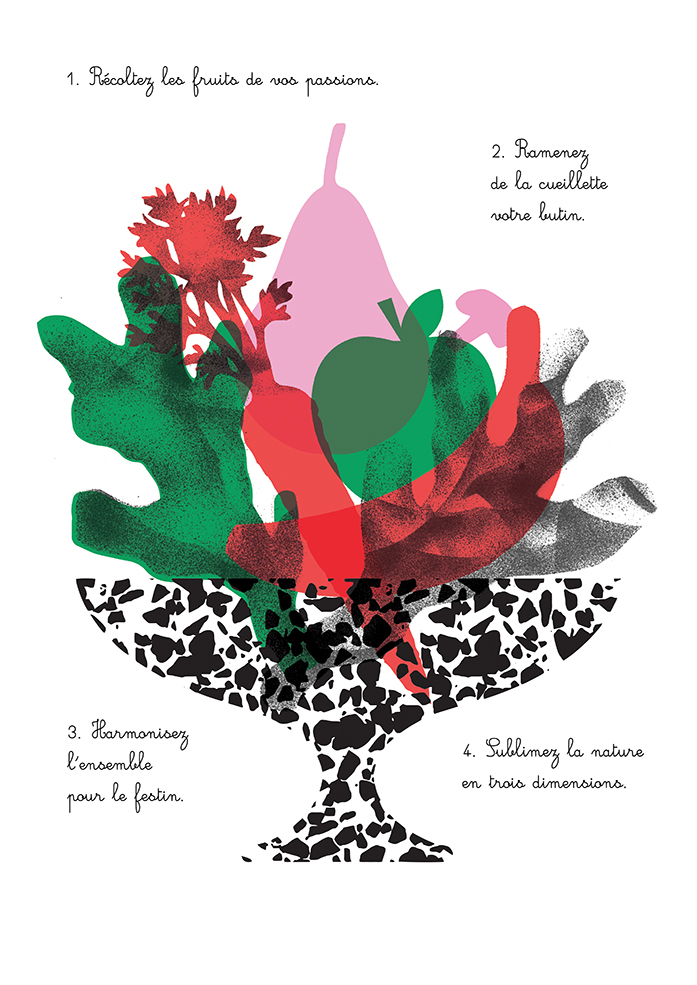 11. Now, tell us a little more about you as a person: what is your favourite food?
I'm a vegan and my favorite food is simply sun-kissed fruits, especially mangoes. I travelled in Thailand last winter and It was heaven: gorgeous fruits, juices all day and noodles at every meal. I repeat, heaven!
12. Favourite book?
« The New Ghost » by Rob Frank Hunter is one of the reasons I wanted to do this job at first. I was struck by the poetry, composition and colors of this comic.
13. Favourite genre of music?
I listen to a lot of different types of music but now I'm really into Fever Ray, Peace Mantras by Manish Vyas, Metronomy and Dalida.
14. What are your hobbies?
Since my passion is a huge part of my work, I try to find new hobbies. I'm really into cooking (I want to edit a recipe book one day), trying to grow a jungle into my apartment (close to it), playing ukulele and singing.
15. If you weren't an artist, what would you be?
I think I would be a gardener / chef / dancer, or simply a plant that grows in the sun and does not have to worry about something, just being. Well, I could do it now too ...