Instagram:
@berilates
Behance:
www.behance.net/berilates
Website:
www.berilates.com
Website:
www.kafacizimhane.com
1. What's your story? Where are you from?
I am a 26 years old Turkish illustrator who was born in the capital of Turkey, Ankara. I am currently living and working in Istanbul.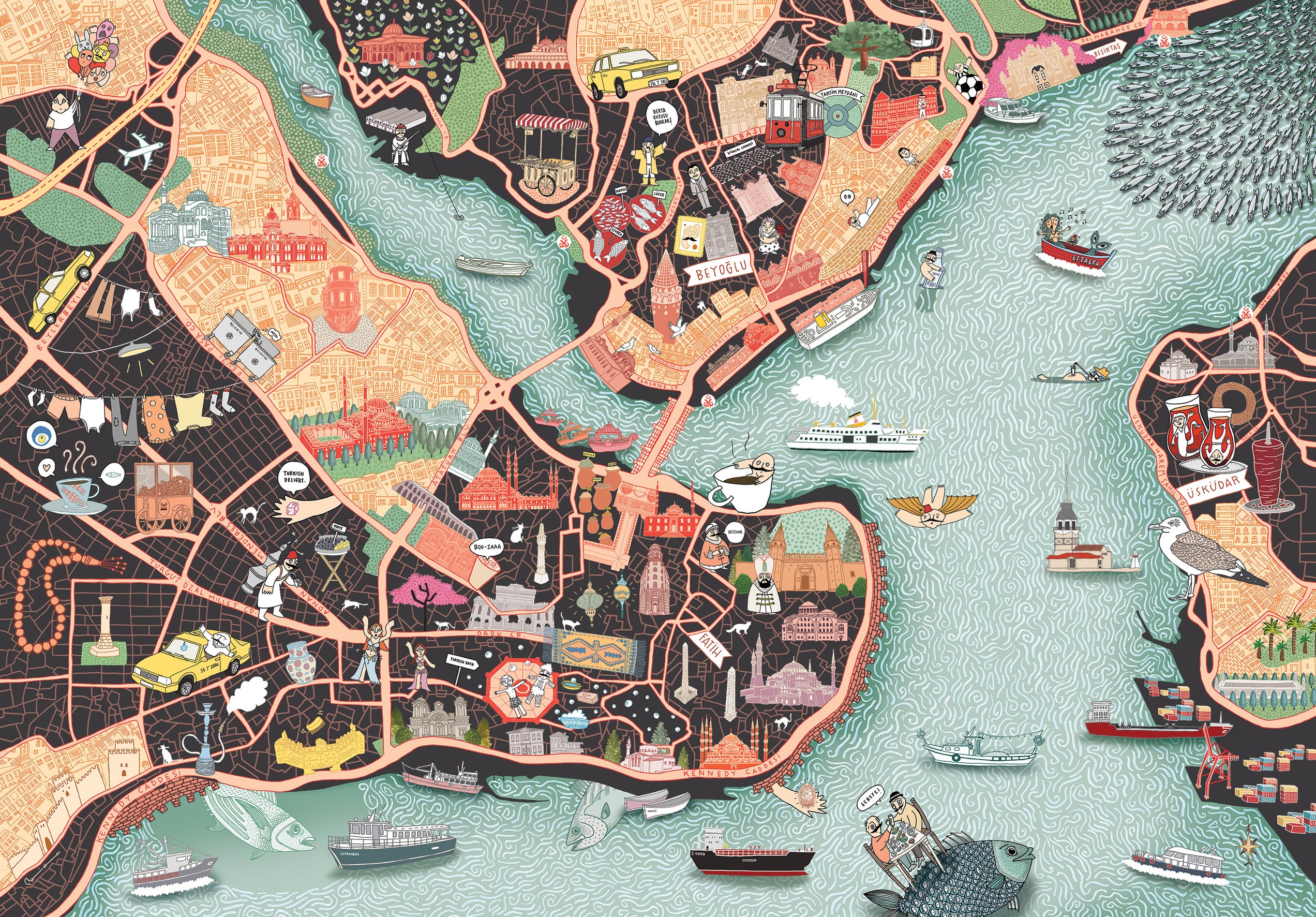 2. Tell us about your aesthetic.
Usually it depends on the medium I'm using. Sometimes I keep it simple to transfer the feeling. But mostly I love to draw highly detailed and textured illustrations. Digital media doesn't suit my aesthetic understanding that's why I adore handcrafted art. My illustrations can be defined as naive childish drawings decorated with details.
3. What is your favourite medium and why?
I would say watercolour & ecocline because I love the way it surprises me. While I'm painting, I feel like I'm experimenting with water and colors. This medium has so similar aspects with real life. Sometimes you need to go with the flow.
4. What is your artistic process like?
Decide on the topic, sketch, try colors, pick the right medium & and enjoy the ride…
5. Who and/or what inspires your work?
Anything about human life inspires me a lot. I love to observe human behaviors, basic instincts & state of mind. My other inspiration is underwater creatures. It's been my passion since I was 2. I dive into water and draw fishes & mermaids whenever I'm overwhelmed from people. I can call it an escape from real world.
6. What role does art play in your life? How does it change the way you view the world?
Talking is not the best way for me to communicate w/ people. Neither of writing. Drawing is my gift to express myself both as a person and an artist. Sometimes I find myself a total stranger in the crowd but while I'm drawing I feel home. Art helps me to observe the world in a more conscious way & gives me the chance to touch people.
7. Where did you study?
I studied at Bilkent University / Graphic Design Department and graduated as a valedictorian in 2011. During my junior year in college, I went to IED-Barcelona to take Creative Illustration classes which was a total enlightenment for me. I took classes from Editorial Illustration to Fashion Illustration, cartoons to politics so this school fed me a lot. After my graduation I went to New York and practiced mono printing at Parsons School of Design.
8. Where do you see yourself in five years? Working in an agency?
I see myself as a freelance illustrator who owns a workshop place where the people create and share all their abilities & love. AND… I have 5 different children book ideas, hope I'll get them published soon:) *I don't want to work in an agency. I never did.
9. What about in ten?
After settling down with my work, I want to be a full-time wanderer who creates an art journal for each travel, makes friends and feeds herself in nature…
10. What do you hope to achieve with your art?
I want to make people remember their humanity and primary humane emotions which we all started to forget in this new world of competing & disregarding. My aim is to raise awareness & put a big smile on people's face.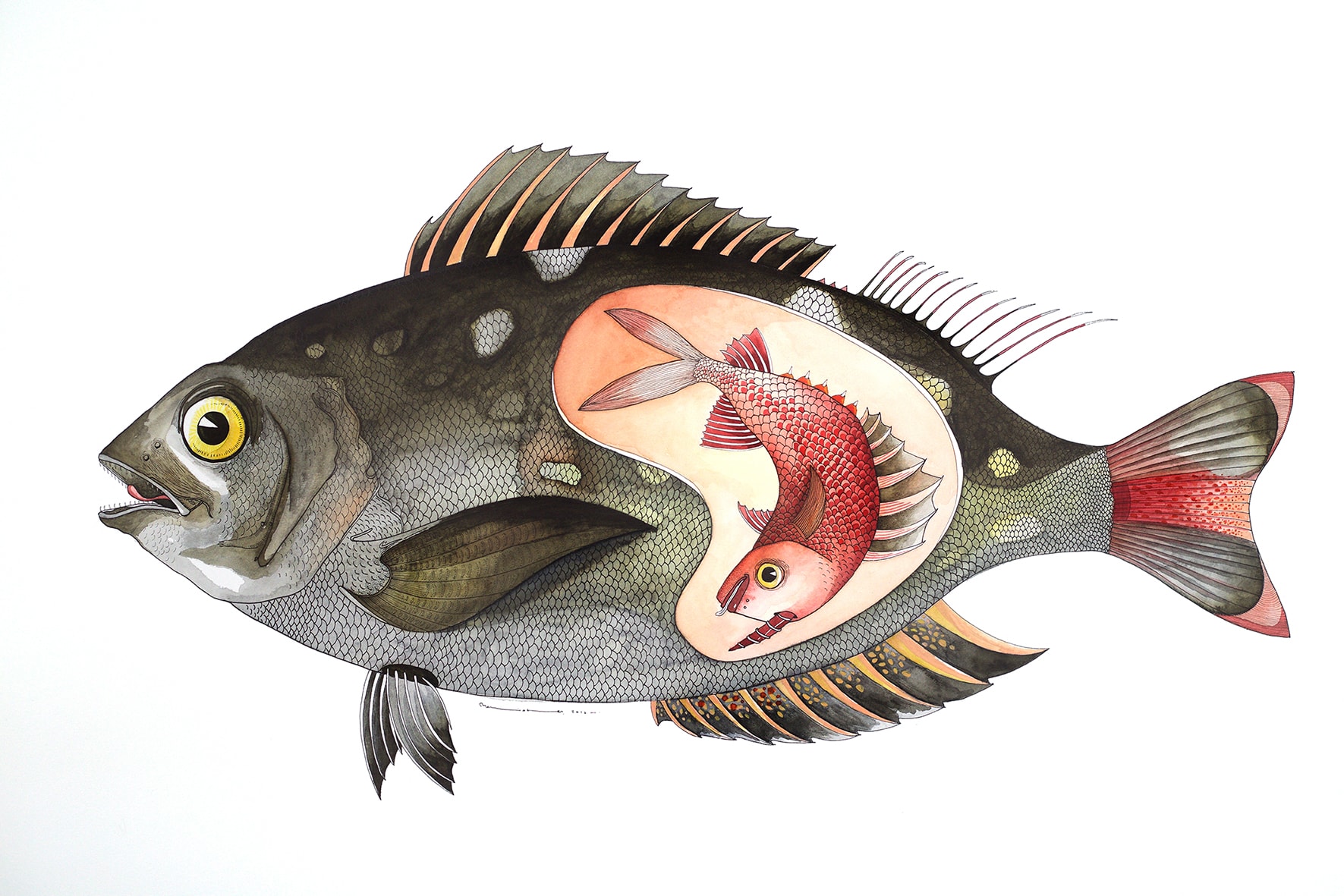 11. Now, tell us a little more about you as a person: what is your favourite food?
All of them! haha:) Yes I have a big, big appetite. I've tried almost all types of cuisines and I am still a huge fan of Turkish food. If I have to choose one then I would say "sarma" & "dolma"(they are like brothers) next to a fresh organic yoghurt with a slice of homemade bread. -Yummy!
12. Favourite book?
Once Upon an alphabet - Oliver Jeffers This book makes me laugh out loud.
13. Favourite genre of music?
I listen all types of music. I pick the right one for the moment.
14. What are your hobbies?
I love to travel so much. Getting to know new cultures, different people and colors always intrigues me. These kind of journeys are feeding me inside and helping me keep more travel & art journals. Cooking for friends and family & collecting seashells while enjoying the sun and salt are my other passions.
15. If you weren't an artist, what would you be?
A full-time underwater researcher in real life. A full-time mermaid in parallel universe. Almost same ha?:)