Instagram:
@beya_rebai
Website:
www.beyarebai.com
1. What's your story? Where are you from?
My name is Beya, I was born in Paris and I still live here. I love plants and I'm asthmatic. Je m'appelle Beya, je suis née à Paris et j'y vis pour le moment. Mes parents sont passionnés d'art et c'est en m'entraînant dans les musées depuis mon plus jeune âge, que mon goût pour la peinture et le dessin s'est affirmé. Big up à eux.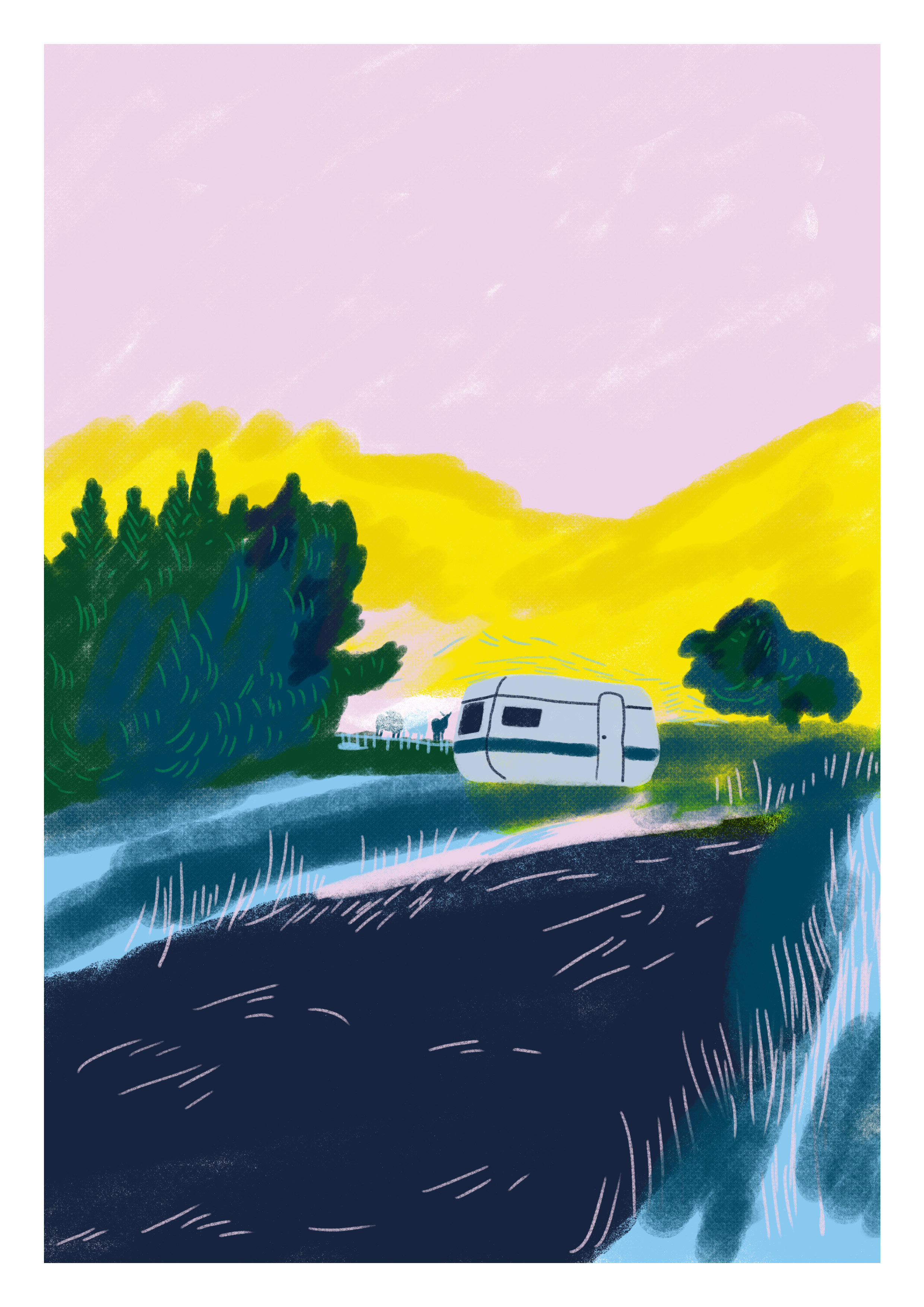 2. Tell us about your aesthetic.
My drawings are made of large areas of color and line details. I like to interpret what I see with surreal colors. Mes dessins sont faits de grands aplats de couleur et de détails au trait. J'aime interpreter ce que je vois avec des couleurs improbables. Mêler rêve et réalité.
3. What is your favourite medium and why?
I discovered wax pastels this summer during a trip to Italy and fell in love with this medium. The intense colors, the contrasts, the pastel texture fascinate me. But I also work in digital, especially for orders. I like the "finished" side of the digital artwork and the unlimited choice of colors. J'ai découvert les pastels à la cire cet été lors d'un voyage en Italie et je suis tombée amoureuse de ce medium. Les couleurs intenses, les contrastes, la texture du pastel me fascinent. Mais je travaille aussi en numérique, surtout pour des commandes. J'aime le côté « fini » de l'illustration numérique et le fait qu'il y ait un choix de couleurs illimité.
4. What is your artistic process like?
I always start a drawing by choosing the color range that I will use. I pick four or five colors maximum per drawing. Then I make a sketch of what I have in mind and I apply the colored forms in flat. Finally, I draw the details. Je commence toujours un dessin en choisissant la gamme colorée que je vais utiliser. Je choisis quatre ou cinq couleurs maximum par dessin. C'est une contrainte que je me donne à chaque fois et je trouve que ça fonctionne bien. Ensuite, je fais un croquis de ce que j'ai en tête puis j'appose les formes colorées en aplat. Pour finir, je dessine les détails par-dessus.
5. Who and/or what inspires your work?
I am inspired by lots of images, it can be a poster in the street, the colors of a sweater I see in a window's shop. But it's especially when I travel that I am the most inspired. I always bring my sketchbook with me, it's a way of engraving in my memory what I see and feel during the trip. When I return home, I draw the memories that I have left, more or less vague, and that nourishes my imagination until the next travel. Je suis inspirée par plein d'images, ça peut être une affiche dans la rue, les teintes d'un pull que je vois dans une vitrine, à peu près tout et n'importe quoi tant qu'il y a de la couleur. Mais c'est surtout quand je voyage que je suis le plus inspirée. J'ai toujours avec moi un carnet dans lequel je croque les éléments qui m'entourent, c'est aussi une façon de graver dans ma mémoire ce que je vois et ressens durant le voyage. Quand je reviens chez moi, je dessine les souvenirs qu'il me reste, plus ou moins flous, et ça nourrit mon imaginaire jusqu'à la prochaine expédition.
6. What role does art play in your life? How does it change the way you view the world?
I am lucky to live in a city where art is everywhere. In the street, in museums, in libraries. I enjoy it as much as I can. J'ai la chance d'habiter dans une ville où l'art est partout. Dans la rue, dans les musées, dans les bibliothèques. J'essaye de profiter au maximum de cette richesse artistique car elle m'inspire aussi beaucoup.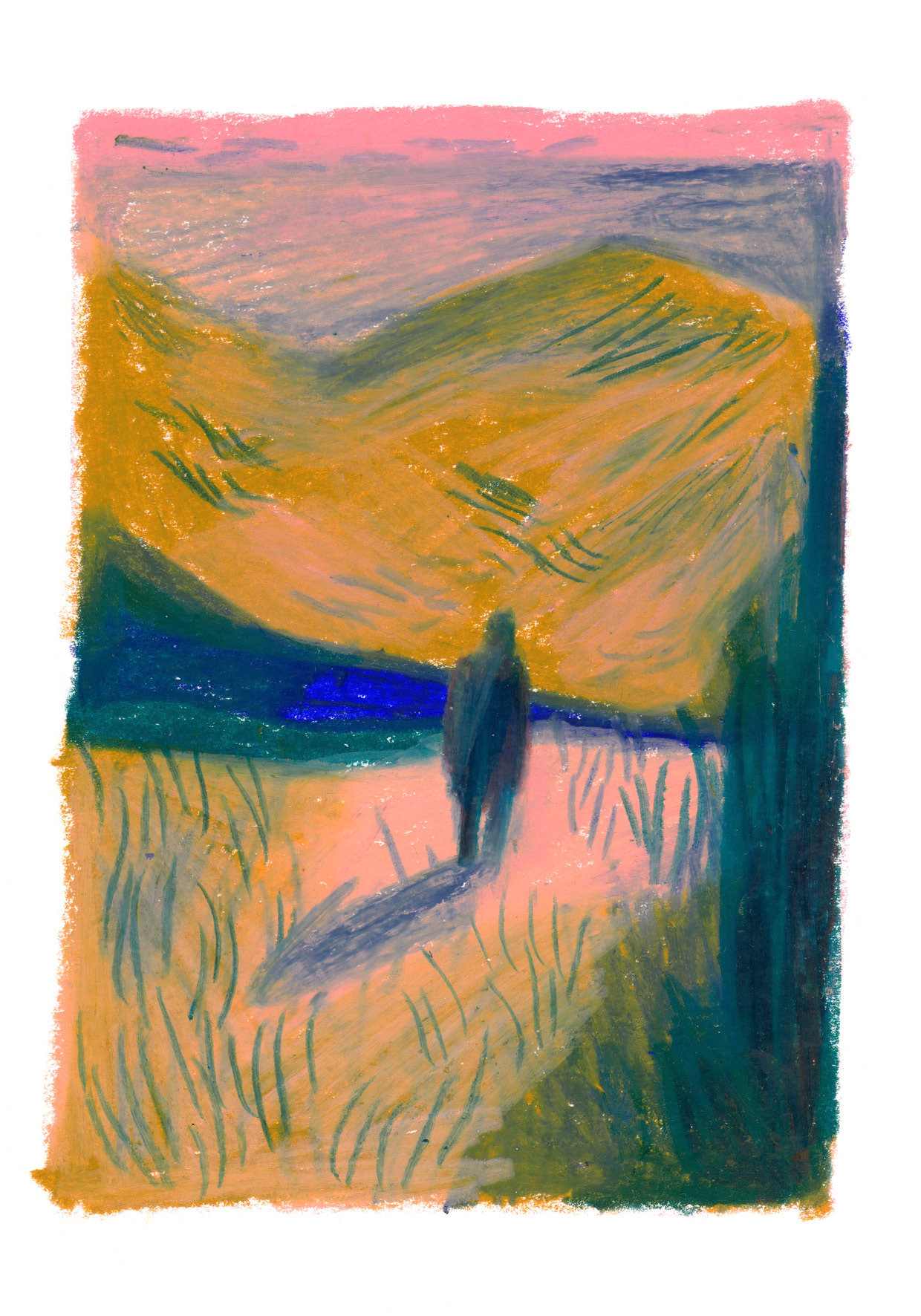 7. Where did you study?
I studied illustration in Brussels, Belgium for three years. It was very formative for me and I also discovered another culture. After these three years, I came back to Paris for a Master's degree and have a more professional approach to illustration. J'ai quitté Paris à l'âge de 19 ans pour aller étudier l'illustration à Bruxelles en Belgique pendant trois ans. Ca a été très formateur pour moi et j'ai aussi pu découvrir une autre culture. Après ces trois ans, je suis retournée à Paris pour compléter ma formation en Master et avoir une approche plus professionnelle du métier d'illustrateur. Je suis d'ailleurs toujours étudiante, en dernière année de Master.
8. Where do you see yourself in five years?
In five years I see myself in a large workshop with lots of natural light, drawing all day. I would like to work on many different projects for the press, textile design, decoration, publishing, advertising... Dans cinq ans je me vois dans un grand atelier avec beaucoup de lumière naturelle, à dessiner toute la journée. J'aimerais travailler sur plein de projets différents pour la presse, le design textile, la décoration, l'édition, la pub…
9. What about in ten?
In ten years I wish I would be at the head of a brand or a creative studio that will mix illustration with many different media such as clothes, decoration… We'll see! Dans dix ans j'aimerais être à la tête d'un studio de création qui mêlera mes illustrations à plein de supports différents comme des vêtements, de la décoration… On verra bien !
10. What do you hope to achieve with your art?
I would love to travel around the world thanks to my drawings, and say "I'm in Tokyo for work, I'll call you later". J'adorerais voyager dans le monde entier grâce à mes dessins, et que je puisse enfin dire : « je suis à Tokyo pour le travail, je te rappelle ».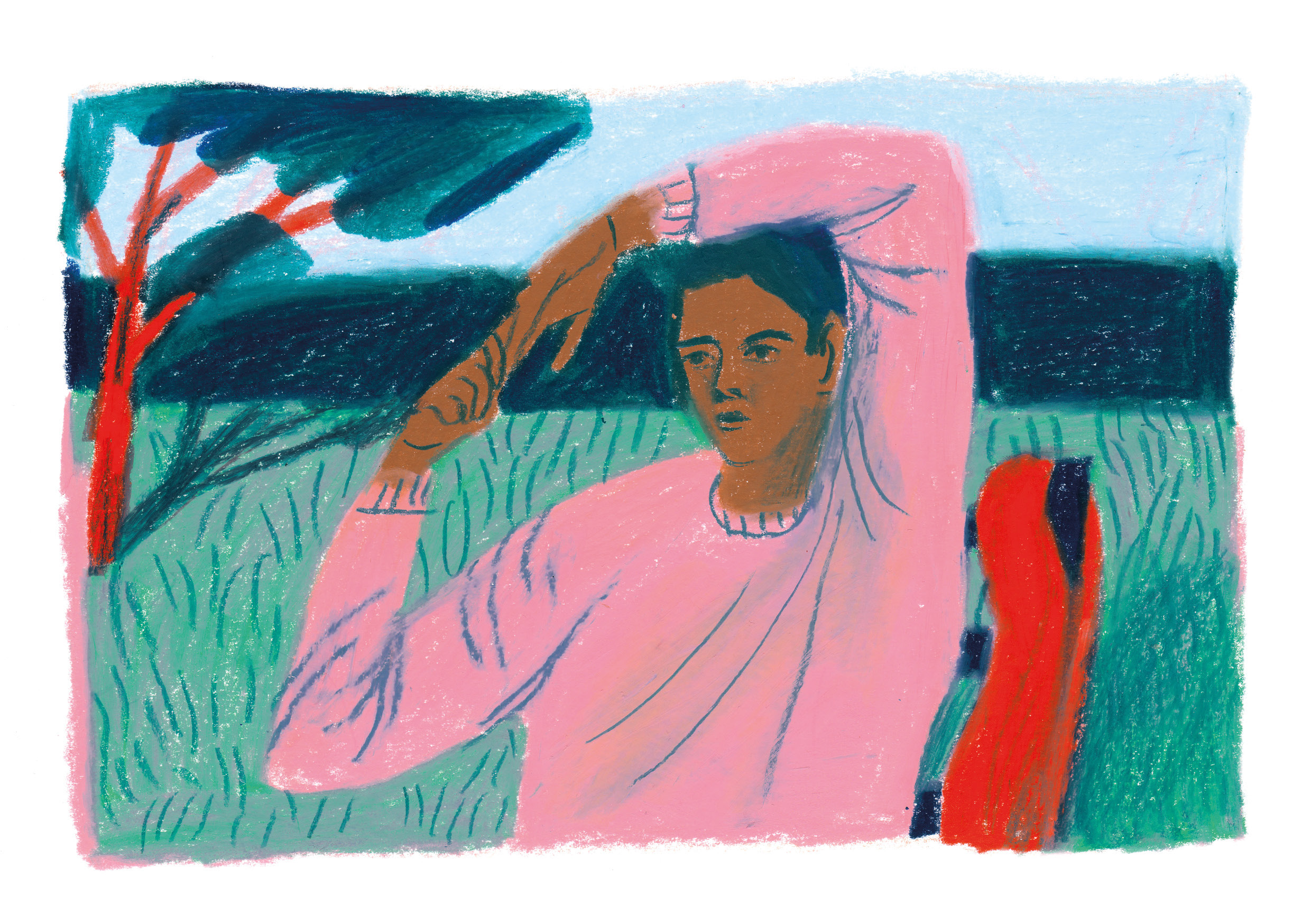 11. Now, tell us a little more about you as a person: what is your favourite food?
I love french fries. Really. Ce que je préfère manger c'est les frites. Pour moi, elles se suffisent à elles-mêmes, elles n'ont pas besoin d'être accompagnées.
12. Favourite book?
My favorite book is "Froth on the Daydream" by Boris Vian. It's an extremely poetic book that made me cry. I assume. Le livre qui m'a touchée le plus c'est « L'écume des Jours » de Boris Vian. C'est un livre extrêmement poétique qui m'a fait pleuré. J'assume.
13. Favourite genre of music?
Birds singing. Je n'arrive pas à mettre dans une case ce que j'écoute. C'est entre le rap, la soul, l'électro… Mais c'est assez planant et enivrant.
14. What are your hobbies?
Apart from drawing, I like cooking, reading children's books and discovering new places. A part dessiner, j'aime cuisiner, faire du sport et voyager bien-sur. Rien de très excitant.
15. If you weren't an artist, what would you be?
If I was not an illustrator, I think I would be a horse-riding instructor. That's what I wanted to do when I was little. Si je n'étais pas illustratrice, je pense que je serais monitrice d'équitation. C'est ce que je rêvais de devenir étant petite. Je ne savais pas, à l'époque, que dessiner pouvait être un vrai métier.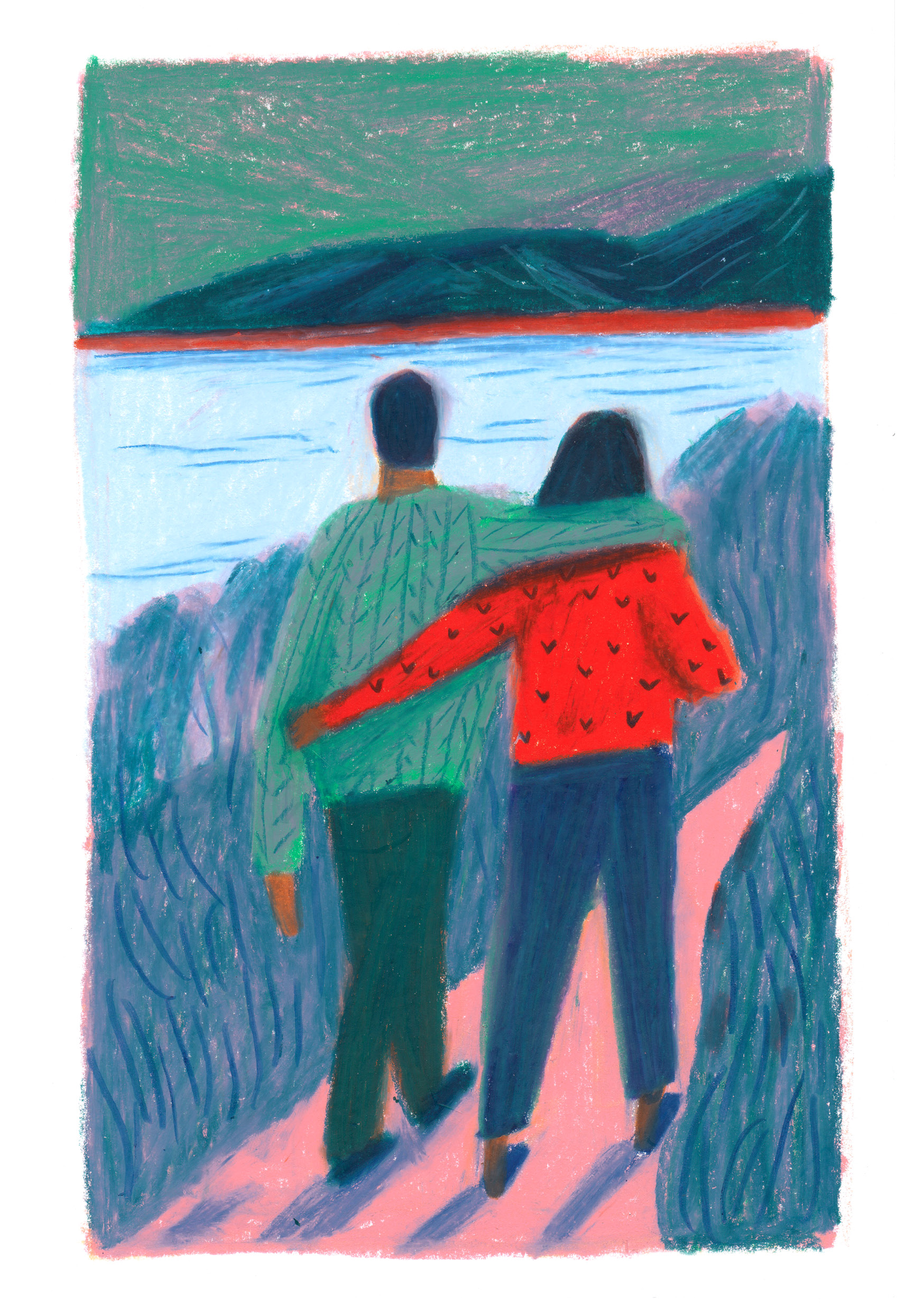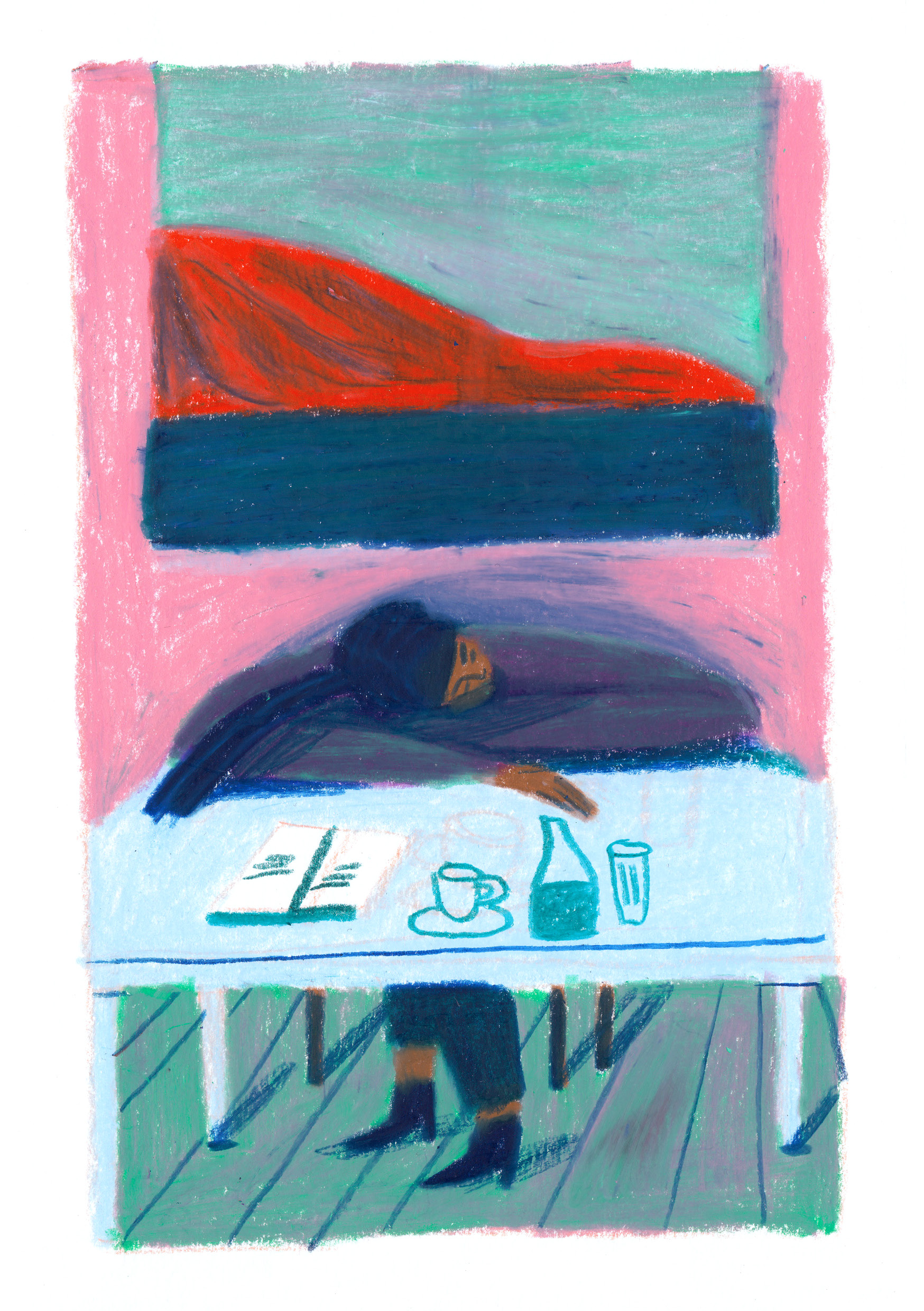 Curated by @saturn_png, Ballpitmag curator for Creil, France.