Instagram:
@boilingmanxx
1. What's your story? Where are you from?
I am from Guangzhou City, Guangdong Province, China. I graduated from Guangzhou Academy of Fine Arts, and now I am a free illustrator. 我来自中国广东广州。毕业于广州美术学院,现在是自由插画师。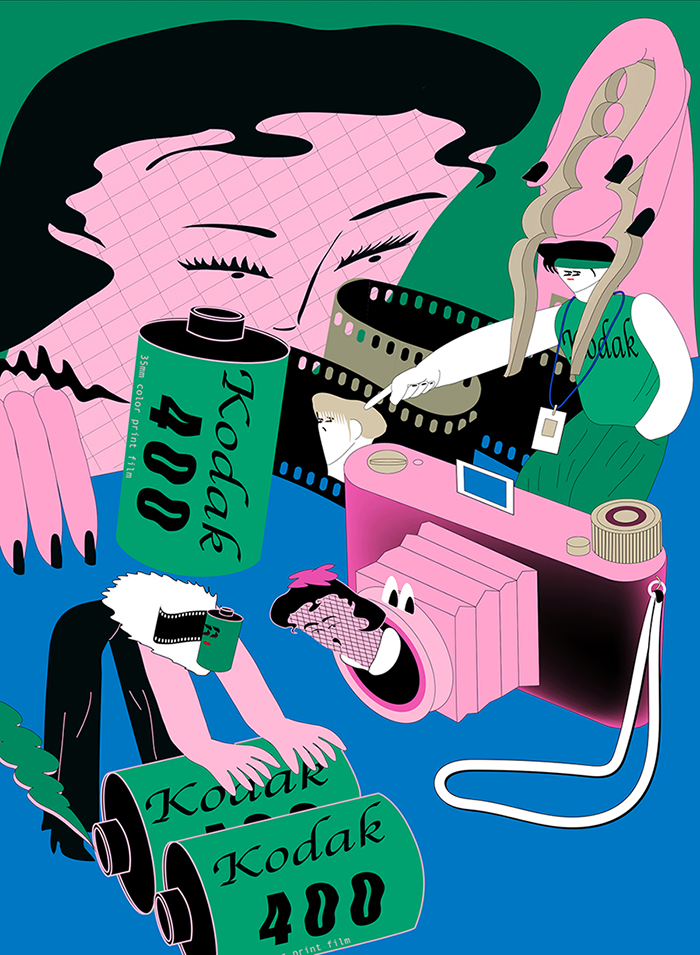 2. Tell us about your aesthetic.
I like strange things very much. I like to react to some social phenomena with humorous and interesting perspectives. 我非常喜欢怪诞的事物,喜欢用幽默风趣的视角去反应一些社会的现象。
3. What is your favourite medium and why?
Usually, I use digital illustration. During my spare time, I like to use hand-painted collage and other media to experiment and then use the computer for digital processing. Digital illustrations hide infinite possibilities and are very suitable for their weird illustrations. 平时我以数码插画为主,日常也喜欢用手绘拼贴等媒介去实验再用电脑进行处数码处理。数码插画隐藏着无限的可能性,非常适合自己的怪诞插画风格。
4. What is your artistic process like?
I usually use my own brochure to record some absurd photographs. These are all important parts of my inspiration library, stories and colors are extracted from it. I think this is close to the community. 平常自己就会有用本子记录,拍一些荒诞照片的习惯,而这些都是我灵感库的重要部分,故事和色彩的提取都是从这里面来的,我想这就是贴近社会吧。
5. Who and/or what inspires your work?
I think it should be Henri Matisse's color and Jeannie Phan's observation of the society. 我想应该是马蒂斯的色彩和jeannie Phan对社会的观察
6. What role does art play in your life? How does it change the way you view the world?
Art can no longer say what kind of role I play in my life, but I constantly want to find my life in art. Art is like a mirror that reacts to different people, different ways and different reactions. 艺术已经不能说在我生活中扮演了一份怎么样的角色,而是我不断地想要在艺术里找到自己的生活样子。艺术就像一面镜子,不同的人、不同的方式、不同的反应。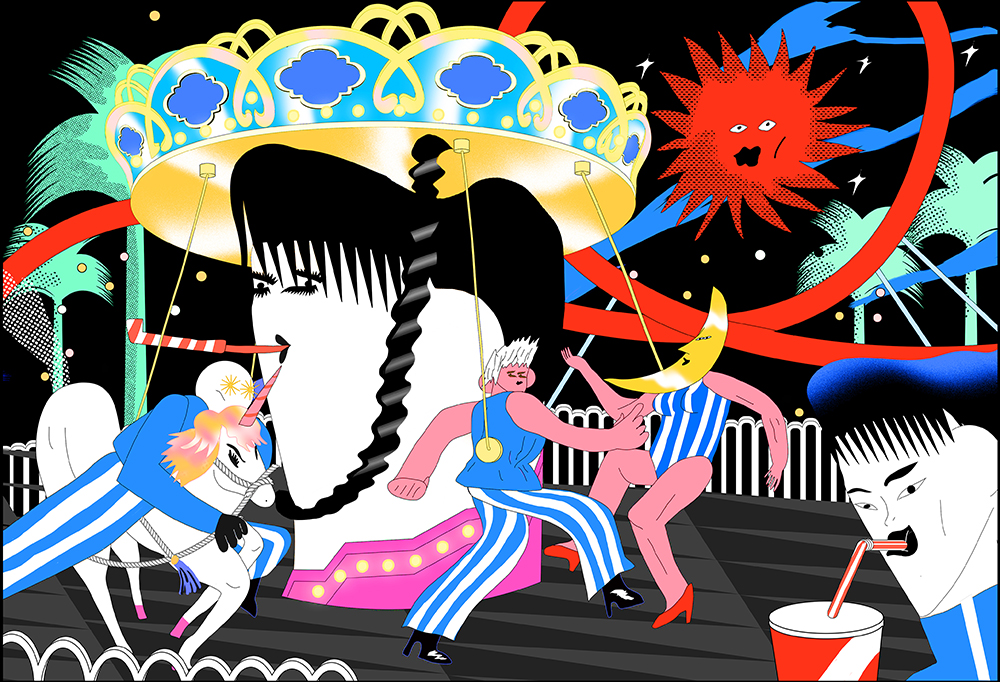 7. Where did you study?
I once studied in Guangzhou Academy of Fine Arts, majoring in Visual Communication Information Design. Constantly finding my own interests and going to self-development are the charms of this major--border-less learning. 我曾经就读广州美术学院视觉传达信息设计专业,不断的找到自己的兴趣点然后去自我发展是这个专业的魅力之处,所谓的无边界学习。
8. Where do you see yourself in five years?
In the next five years, I hope to add some experimental content and interactive experience to my work so that illustrations can move and more works can be deposited. 未来五年我希望在自己的作品上增加一些实验性的内容以及互动的体验,让插画动起来,沉淀更多的作品。
9. What about in ten?
In the next 10 years, I want to prepare an art space to meet more interesting people and create together. 未来10年想要筹备一个艺术空间,在创作的同时认识更多有趣的人,一起玩一起创作。
10. What do you hope to achieve with your art?
I hope that my work can bring joy and thoughts to people, and give society a little influence. 我希望我的作品能够给人带来欢乐与思考,能给社会一点影响力。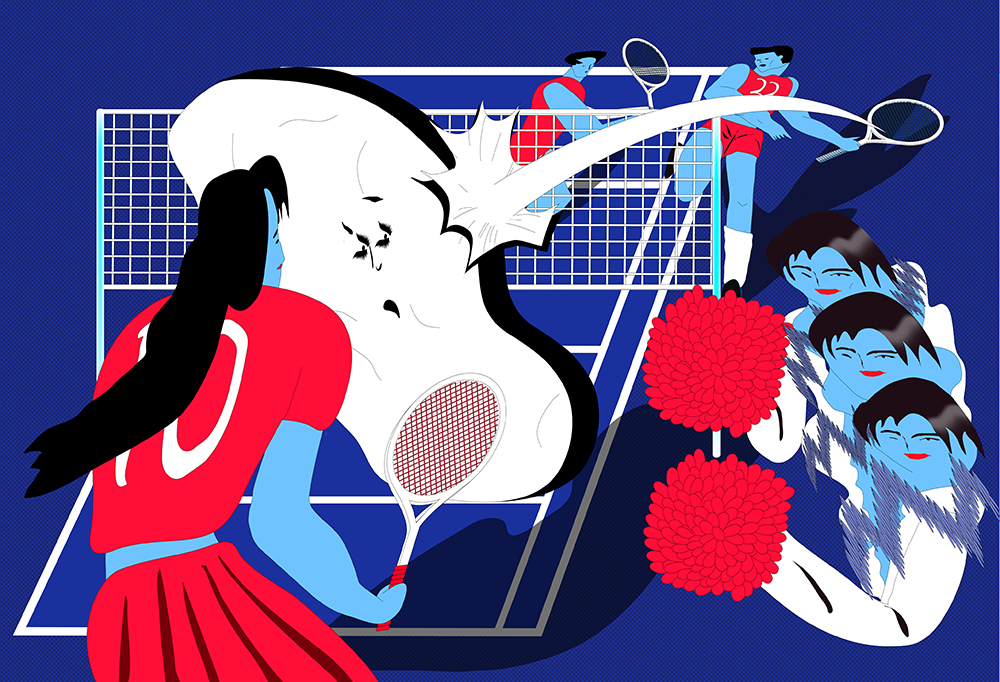 11. Now, tell us a little more about you as a person: what is your favourite food?
It's hard for me to choose between mango and coke! 芒果和可乐,这两个我无法挑出谁排第一。
12. Favourite book?
I still remember one of the sentences: "I tell you I've got to paint. I can't help myself. When a man falls into the water it doesn't matter how he swims, well or badly: he's got to get out or else he'll drown." 《月亮与六便士》,还记得里面最深刻的一句话:"我告诉你我必须得画画,我由不了自己,一个人要是跌进水里,他游泳游得好不好是无关紧要的,反正他得挣扎出去,不然就得淹死。"
13. Favourite genre of music?
Indie Pop & Indie Rock
14. What are your hobbies?
Besides illustration, I like photography best. 除了插画之外最喜欢摄影
15. If you weren't an artist, what would you be?
I must be the cat around the artist.:D 那一定是艺术家身边的那只猫吧