Instagram:
@brunnamancuso
Website:
www.b mancuso.com.br
1. What's your story? Where are you from?
I started working on a print shop when I was 16 years old, what gives me 12 years of experience in graphic design by now. In 2012 I started doing some illustrations for clients when I was working in a publisher and I fell in love with this universe. Nowadays I work almost exclusively with illustration for several publishers.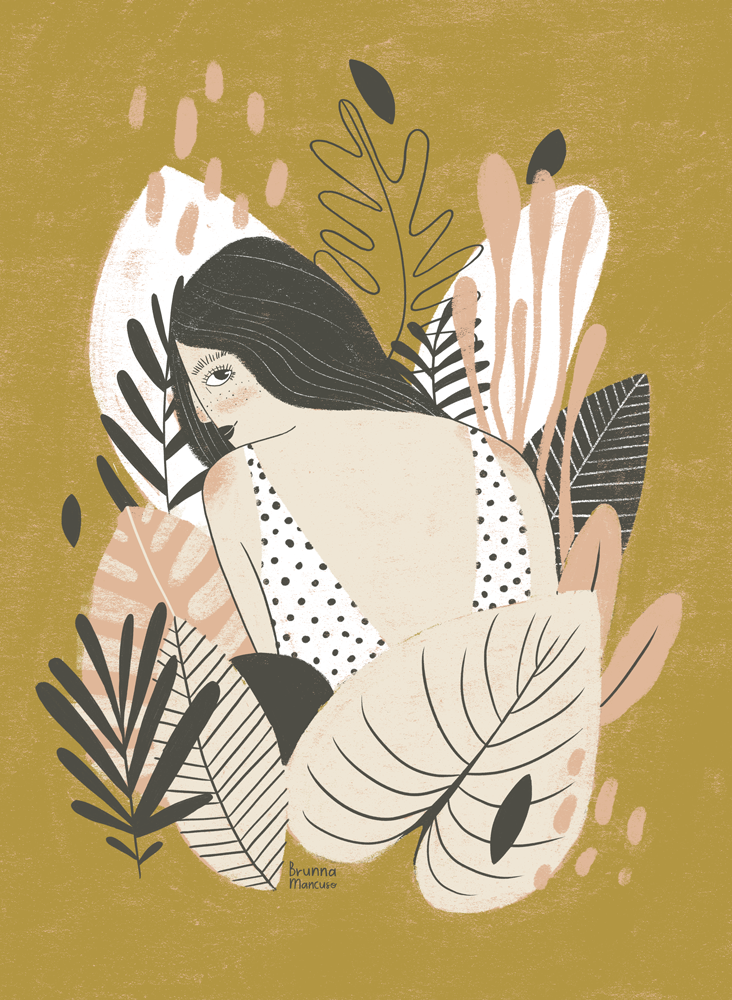 2. Tell us about your aesthetic.
When I'm doing personal work I love to paint with watercolors. But I'm an explorer: I love to jump from one medium to another. Now I'm trying to give a more matte and pastel look to my paintings, so I'm trying to use more gouache. And I love to draw plants and ladies. :) When I'm doing an illustration for a magazine, for exemple, I go digital because it's way more practical.
3. What is your favourite medium and why?
Watercolor is powerful and delicate at the same time, it's fascinating. But it depends on the effect I want to give to my work. I love to use gouache in a plastic way (with very little water). Now I'm exploring using both and playing with these contrasts. But I don't have any of those exploration to show yet. At the moment, most of my personal works are with watercolor only.
4. What is your artistic process like?
I like to be as free as possible. When I'm doing commissions for clients I read the text (I do most editorial illustration) and I go from there. But when it's for myself I wait for the inspiration to come. I don't really have a problem to get new ideas. They pop in my mind all the time.. so I keep a sketchbook to save my ideas and come back to them when I have time to develop a painting (unfortunately, those occasions are very rare).
5. Who and/or what inspires your work?
There are some illustrators that inspire me, such as Brooke Smart, Carson Ellis, Jen Collins... I love Picasso and Matisse! but I'm always searching for new artists with different aesthetics to keep my creativeness high. Besides that, I love cinema, literature and traveling.
6. What role does art play in your life? How does it change the way you view the world?
I live that 24/7. I'm a very emotional person, so I see beauty where other people usually don't see. I get emotional with movies, music, photography, simple moments... I let myself go by the moment! Also, I'm a very anxious person, so painting keeps me relaxed. But, the bottom line is: who doesn't like to do beautiful things? I love it!
7. Where did you study?
I have a degree in Visual Arts here in Sao Paulo, Brazil. But also studied graphic design, 6 months in Florence, Italy (I miss Italy so much!).
8. Where do you see yourself in five years? Working in an agency?
Nooo, God, no. haha I picture myself in my studio, running my business as an illustrator, artist, ceramist... working FOR agencies.. not in one. Big windows, my cats in my lap, cup of coffee alongside my paintings.
9. What about in ten?
Oh, God, this is a tough one. Still in my studio.. but maybe in a bigger house.. teaching, working less, living more. I work too much now.. I hope in the future I can enjoy life more, travel more.
10. What do you hope to achieve with your art?
I love to know people feel happier after discovering my art. Recently I had my first experience as a teacher and it's a grateful feeling to realize I can inspire people to follow their dreams to draw, illustrate, become artists themselves.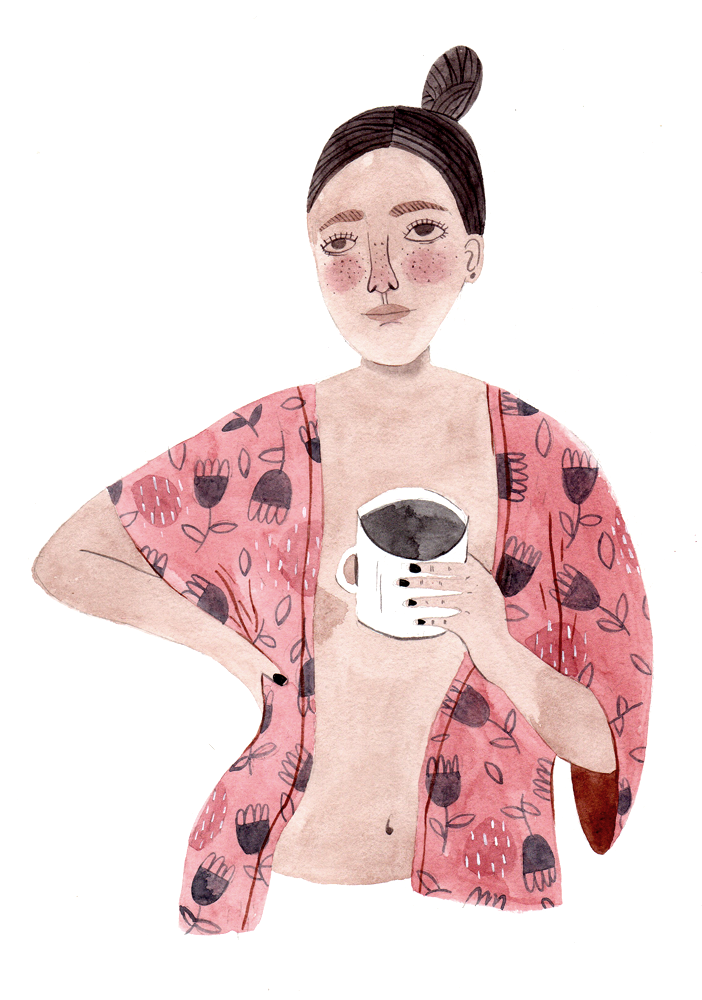 11. Now, tell us a little more about you as a person: what is your favourite food?
It gets tougher and tougher each question, haha. I'd say cheese. And potatoes. Comfort food, basically.
12. Favourite book?
The Unbearable Lightness of Being by Milan Kundera, Extremely Loud and Incredibly Close by Jonathan Safran Foer and The Goldfinch by Donna Tartt.
13. Favourite genre of music?
Instrumental music (specially piano), folk, classic rock and blues.
14. What are your hobbies?
To read, to eat, to travel.... and to knit. :)
15. If you weren't an artist, what would you be?
Maybe a traveler, wanderer. Or a ballerina.