Instagram:
@bugaboo_eyes
Website:
www.adrienneeliades.com
1. What's your story? Where are you from?
Originally from McLean, VA, I grew up in a big Greek family. Much of my pension for making comes from my personal food narratives and the evocative memories of past experiences. Currently, I am a studio artist living in Vancouver, Washington, and I feel extremely fortunate to have moved all over the country for my work. For two and a half years I was an artist-in-residence and Ceramic Technical Assistant at San Diego State University and most recently completed a residency as a Visiting Artist at Ash Street Project in Portland, OR.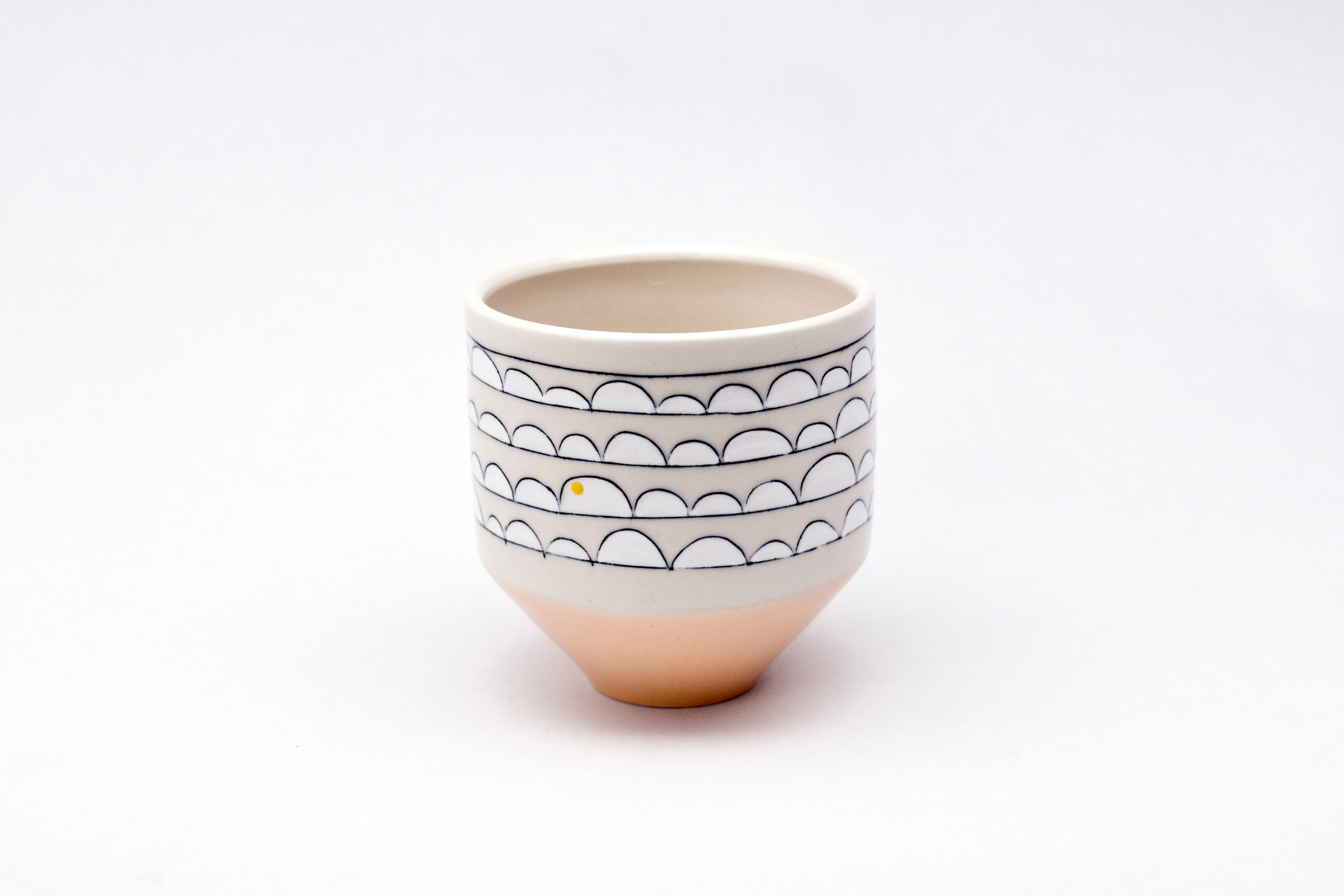 2. Tell us about your aesthetic.
In my work, I explore the aesthetics of design and social dining experience. Clean lines and gentle organic curves characterize my ceramic forms. Based on my research of 20th-century domestic spaces, I reinvent midcentury patterns and motifs.
3. What is your favourite medium and why?
Ceramics is my favorite medium because it challenges both the right and left sides of my brain. I love how it balances principles of design, color, form and function, with chemistry and math. Through meticulous materials testing, I create evocative motifs and color palettes for my pieces. I pair pops of color with white, grey, and black marks.
4. What is your artistic process like?
I am primarily focused on my functional pottery practice at the moment. I work in series, making functional pieces of my own design. I combine techniques using a potter's wheel, hand building and slip casting to form cohesive pieces. Each iteration of a form carries with it the knowledge of the previous pieces. Once formed the porcelain becomes a paperwhite canvas for blocking areas of hand-drawn patterns applied through die-cut stencils with underglaze and happy-colored glazes of my own creation.
5. Who and/or what inspires your work?
I am inspired by historical North Carolina salt-glazed pottery, Scandinavian illustration, mid-century wallpaper patterns, abstract expressionism, provisional painting, furniture design, Danish design, and the writings of Neil Gaiman and Grace Lees-Maffei.
6. What role does art play in your life? How does it change the way you view the world?
Art has always played a huge role in my life. I was a pretty shy kid and always preferred drawing or creating an object out of Sculpey to socializing. It became my chosen method of communication, my truest form of self-expression. I have worked for and learned from some amazing mentors over the years and those lessons have shaped who I have become. Sharing my craft with others has brought me out of my comfort zone, sparked the desire to travel to other countries, and opened my mind to different perspectives. Art is completely intertwined with my world.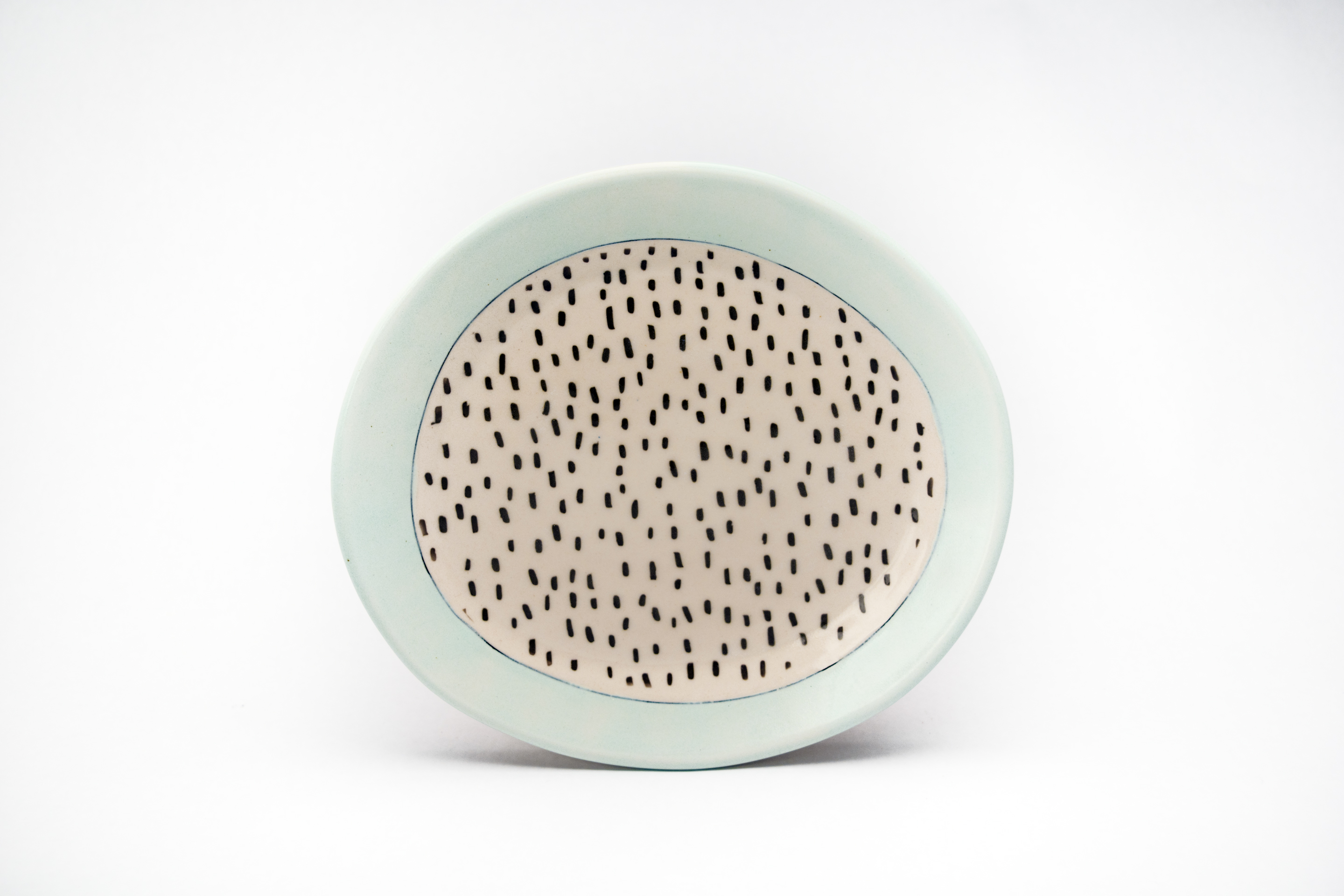 7. Where did you study?
B.A. from University of North Carolina at Wilmington. MFA from University of Florida.
8. Where do you see yourself in five years?
In the next five years, I hope to finesse balancing the multiple arms of my art practice; making, teaching, marketing and promotion, and design work. I plan to focus on making and showing work primarily while increasing my experience teaching workshops in schools and art centres. I also hope to challenge myself more on future projects by taking on the role of designer vs. maker.
9. What about in ten?
That's too far to tell.
10. What do you hope to achieve with your art?
I hope to encourage connection with one another and the food we eat. I want my objects to be useful, aesthetically pleasing, and emotive.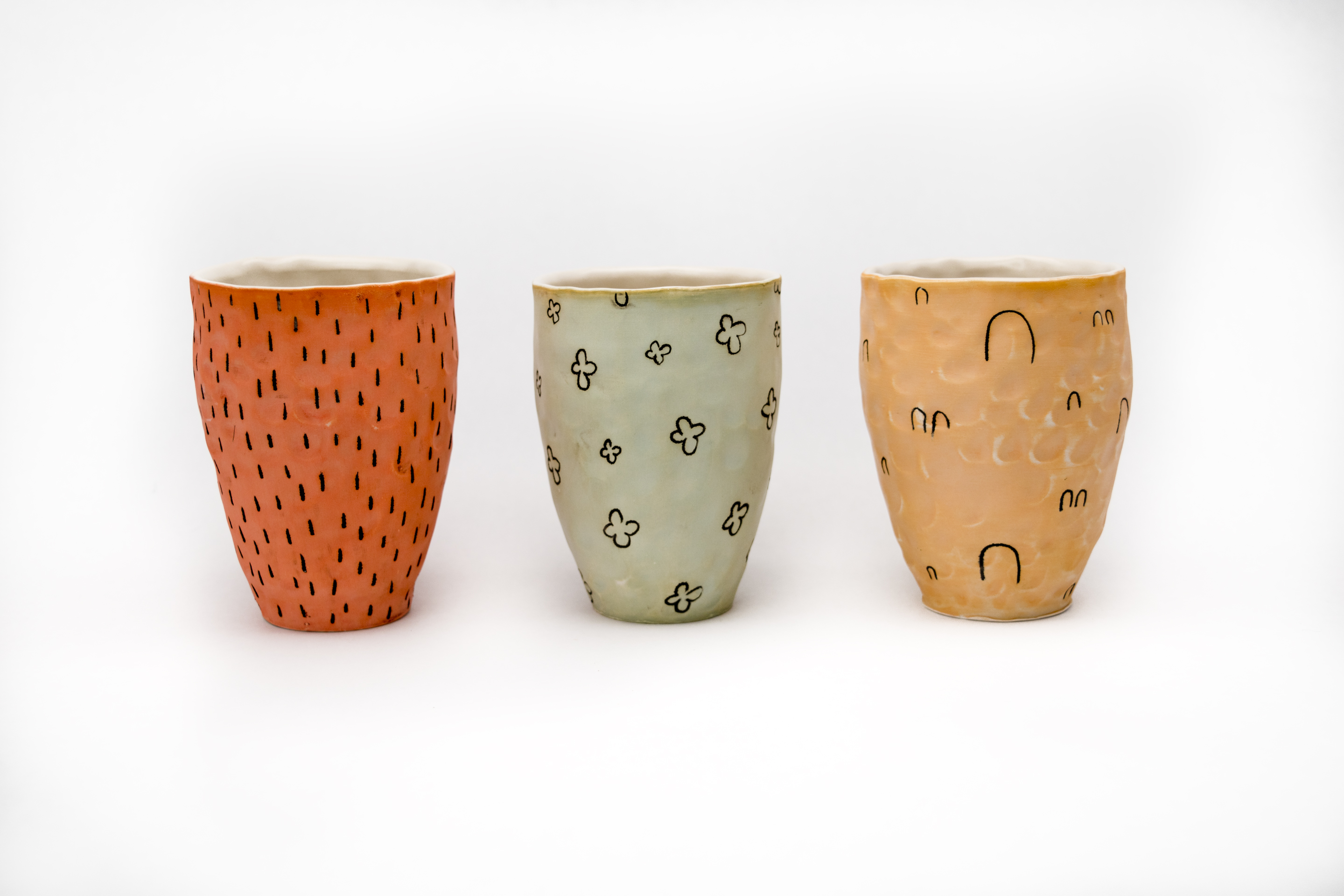 11. Now, tell us a little more about you as a person: what is your favourite food?
It's a tie between green beans and chocolate chip cookies.
12. Favourite book?
The Little Prince by Antoine de Exupery.
13. Favourite genre of music?
Indie Rock with a side of hip hop.
14. What are your hobbies?
Swimming, eating all the most decadent food at the fair after riding the rides, concert going, reading, cooking, traveling, watching only the finest B horror movies, and moving to different corners of the country.
15. If you weren't an artist, what would you be?
Food Stylist.