Instagram: @by_marianatoledo
1. What's your story? Where are you from?
Hi! My name is Mariana Toledo. I was born and raised in Mexico and I currently live in Prague, Czech Republic. Ever since I was a kid I've loved to draw and create. My interest in design led me to study a Bachelor in Architecture. During my studies, my favourite part of the design process was always projecting my designs in atypical ways, such as through the use of collages, rather than the common use of renders. I soon discovered I was more sensitive to the medium of artistic drawing and decided to begin to explore arts in the illustration field.
¡Hola! Mi nombre es Mariana Toledo. Nací y crecí en México y actualmente vivo en Praga, República Checa. Desde que era niña me encantaba dibujar y crear. Mi interés por el diseño me llevó a estudiar una Licenciatura en Arquitectura. Durante mis estudios, mi parte favorita del proceso de diseño siempre fue proyectar mis diseños de una manera atípica, como por medio de "collages", en lugar del uso común de renders. Pronto descubrí que era más sensible al medio del dibujo artístico y decidí comenzar a explorar las artes en el campo de la ilustración digital.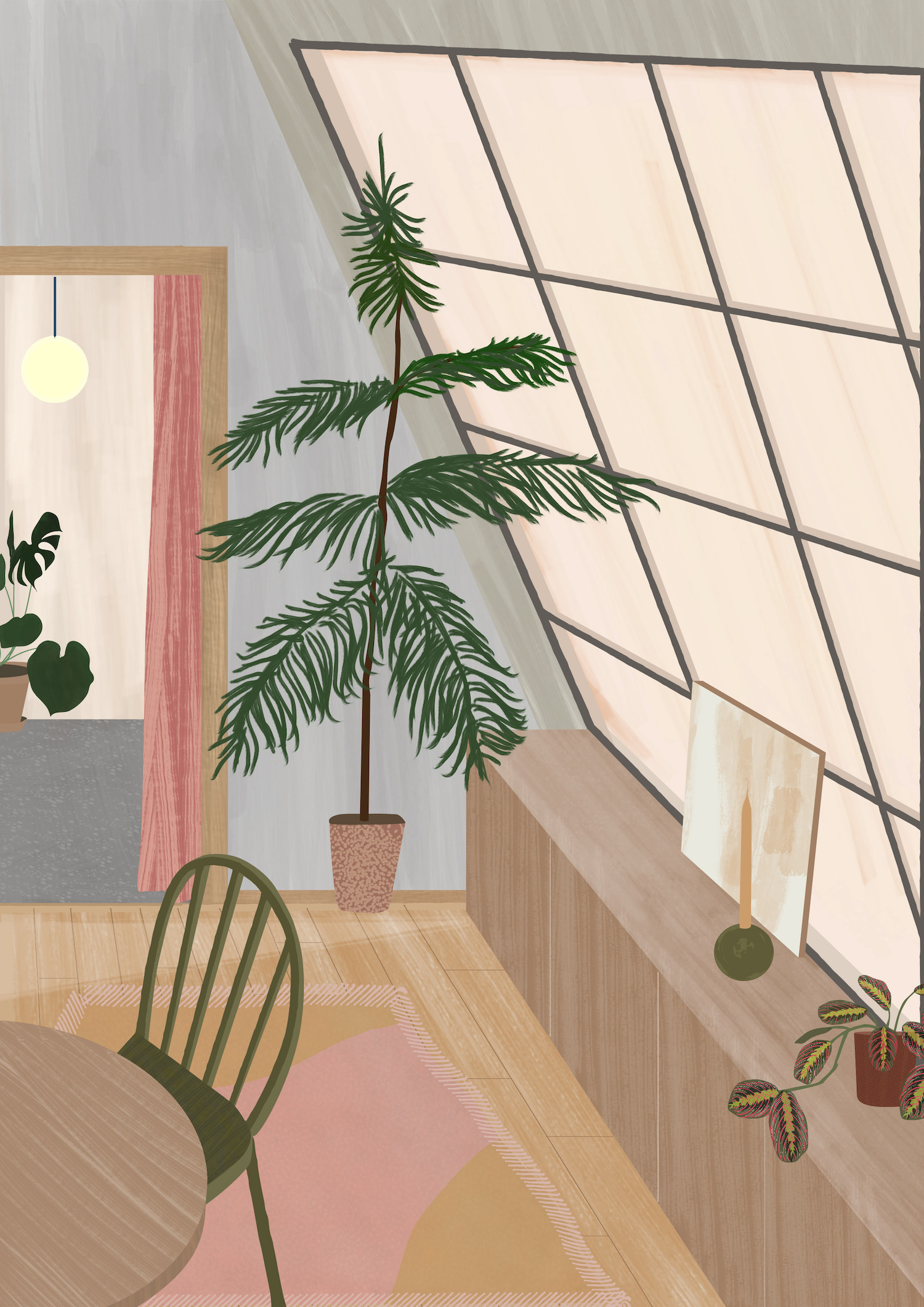 2. Tell us about your aesthetic.
I think my aesthetic is still evolving because I'm constantly exploring different themes and color palettes. However, if I would have to describe it in three words it would be Bold, edgy, and Grunge. Something I've always loved illustrating is interiors and Architecture. I would like to incorporate people and animals into my illustrations as well in the near future.
Mi estética sigue evolucionando en tiempo real, porque estoy explorando constantemente diferentes temas y paletas de colores. Sin embargo, si tuviera que describirla en tres palabras serían: Audaz, vanguardista y ''Grunge''. Algo que siempre me ha gustado ilustrar son los interiores y la arquitectura. Me gustaría incorporar personas y animales en mis ilustraciones también en un futuro próximo.
3. What is your favourite medium and why?
I'm not really sure how to answer this question, because I believe I'm still constantly exploring what works best for me. In the past, I used to create collages to project my Architectural designs from school projects and loved to use a combination of Revit, Illustrator, and Photoshop. Currently, since I began to illustrate more I switched to Affinity Designer and have found it very practical. Nevertheless, I think it is important to also draw by hand as much as possible.
No estoy muy segura de cómo responder a esta pregunta, porque creo que todavía sigo explorando constantemente qué funciona mejor para mí. En el pasado, solía crear ''collages" para proyectar mis diseños arquitectónicos y me encantaba usar una combinación de Revit, Illustrator y Photoshop. Actualmente, desde que comencé a ilustrar más, me cambié a Affinity Designer y lo he encontrado muy práctico. Sin embargo, creo que es importante dibujar también a mano tanto como sea posible.
4. What is your artistic process like?
It always begins in my sketchbook. When an idea for a new concept pops up I always start by sketching it out. It also helps me a lot to create thumbnails where I can draw smaller versions of the image I have in my head rather than trying to portrait it in a bigger format from the start.
Siempre comienza en mi cuaderno de bocetos. Cuando surge una idea para un nuevo concepto, siempre empiezo por dibujarlo a lápiz. También me ayuda mucho dibujar versiones más pequeñas de la imagen que tengo en mi cabeza en lugar de intentar retratarla en un formato más grande desde el principio.
5. Who and/or what inspires your work?
My work is heavily inspired by plants and aesthetically pleasing design interiors. A lot of my drawings are inspired by my apartment which is full of light and lots of houseplants. I also find inspiration in beautiful books about interiors, architecture, and art.
Mi trabajo está inspirado en plantas e interiores. Muchos de mis dibujos están inspirados en mi apartamento, que está lleno de luz y plantas. También encuentro inspiración en libros sobre interiores, arquitectura y arte.
6. What role does art play in your life? How does it change the way you view the world?
Art is something that has always been present in my life. Personally, I think both creating and contemplating art can be very therapeutic. For me, it is a way of escaping reality, a way to express my feelings.
El arte es algo que siempre ha estado presente en mi vida. Personalmente, creo que tanto crear como contemplar el arte puede ser muy terapéutico. Para mí, es una forma de escapar de la realidad, una forma de expresar mis sentimientos.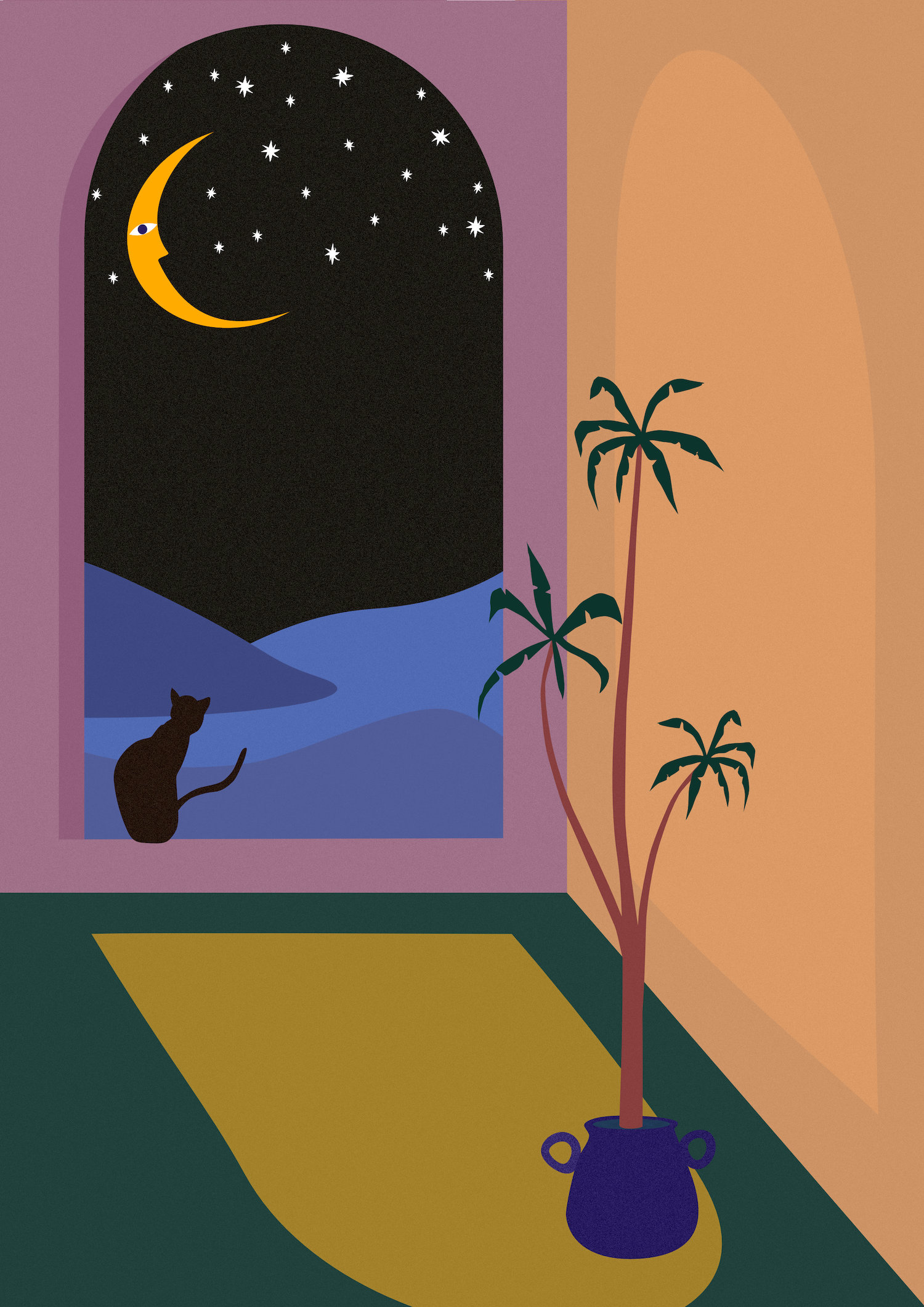 7. Where did you study?
I studied in the beautiful city of the mountains: Monterrey, Mexico. I have a Bachelor in Architecture from Tecnológico de Monterrey (ITESM). During my studies I also completed a semester abroad at the Hochschule für Technik Stuttgart - HFT Stuttgart, in Germany.
Estudié Arquitectura en el Tecnológico de Monterrey (ITESM), en la hermosa ciudad de las montañas: Monterrey, México. Durante mis estudios también completé un semestre en el extranjero en la Hochschule für Technik Stuttgart - HFT Stuttgart, en Alemania.
8. Where do you see yourself in five years?
Five years from now, I can imagine myself working as a full-time illustrator in my own design studio. I also like to imagine that by then I can have a doggy that keeps me company, and helps me run the studio daily.
Dentro de cinco años, puedo imaginarme trabajando como ilustradora a tiempo completo en mi propio taller de diseño. También me gusta imaginar que para entonces tendré un perrito que me haga compañía y me ayude a administrar mi estudio a diario.
9. What about in ten?
Being part of a successful design collective, working together with other creatives from around the world. I can imagine I will still be illustrating but I would also like to learn new techniques such as ceramics, painting, and graphic design.
Me veo siendo parte de un colectivo de diseño exitoso, trabajando junto con creativos de todo el mundo. Me imagino que seguiré ilustrando pero también me gustaría aprender nuevas técnicas como la cerámica, pintura y diseño gráfico.
10. What do you hope to achieve with your art?
I want to be able to connect with people through art. I believe art can be anything. Art has the power to transport you to places and bring you back memories. I hope people can feel connected to my art by reminding them of certain spaces, and times in their life they have been through.
Quiero poder conectarme con la gente a través del arte. Creo que el arte puede ser cualquier cosa. El arte tiene el poder de transportarte a lugares y traerte recuerdos. Espero que las personas puedan sentirse conectadas con mi arte recordándoles ciertos espacios y momentos de su vida por los que han pasado.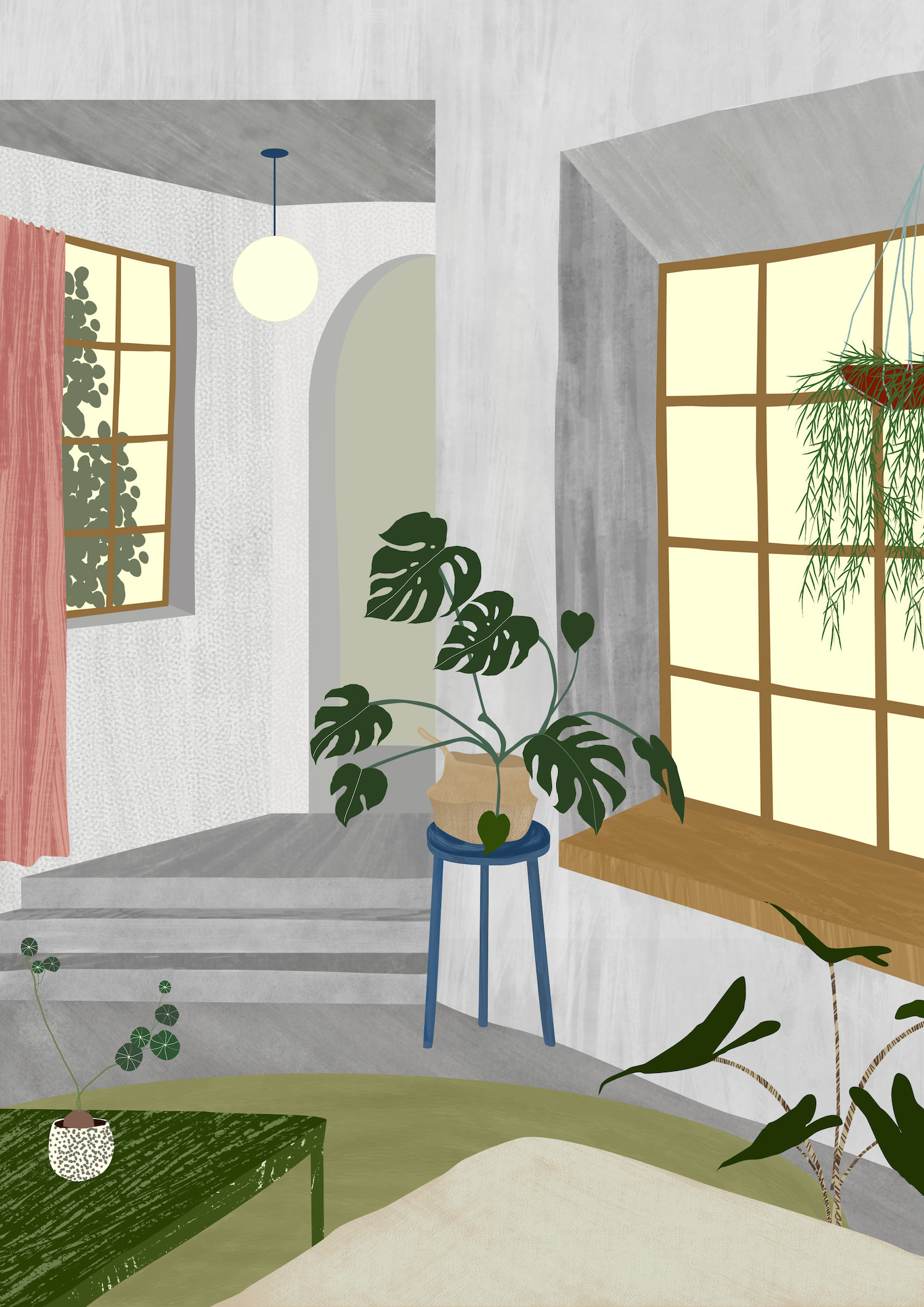 11. Now, tell us a little more about you as a person: what is your favourite food?
I would say any good vegetarian based taco paired together with a really hot salsa. I could literally eat tacos everyday!
Yo diría que cualquier buen taquito vegetariano combinado con una buena salsa. ¡Literalmente podría comer tacos todos los días!
12. Favourite book?
I don't have a favourite book to be honest, but I did enjoy "Normal People"by Sally Rooney. I also like Stephen King's and Haruki Murakami's novels.
No tengo un libro favorito, pero disfruté "Normal People" de Sally Rooney. También me gustan las novelas de Stephen King y Haruki Murakami.
13. Favourite genre of music?
It's really impossible for me to choose just one genre, because I truly love music! Some of my favourite genres include: Post Punk, New Wave, Acid Techno, Electronic, House, and Chillwave. My favourite artists at the moment include: Eyedress, Mall Grab, and Gotshell.
Es realmente imposible para mí elegir solo un género, ¡porque realmente amo la música! Algunos de mis géneros favoritos incluyen: Post Punk, New Wave, Acid Techno, Electronic, House y Chillwave. Mis artistas favoritos en este momento incluyen: Eyedress, Mall Grab y Gotshell.
14. What are your hobbies?
Exploring my city, jogging, listening to music (more like raving in my living room) , and taking care of my houseplants.
Me gusta caminar por la ciudad, correr, escuchar música y cuidar mis plantas.
15. If you weren't an artist, what would you be?
I think I could be happy working in a plant shop.
Creo que podría ser feliz trabajando en una tienda de plantas.