Instagram:
@caitlinmcdonagh
Ello:
@caitlinmcdonagh
Website:
www.caitlinmcdonagh.com
1. What's your story? Where are you from?
Hi! I'm Caitlin McDonagh, and I'm a self taught artist who has grown up, and currently resides, on the West Coast of British Columbia, Canada. I always loved art and drawing throughout childhood. I still love the things I did then...cats, music, and making images inspired by those things.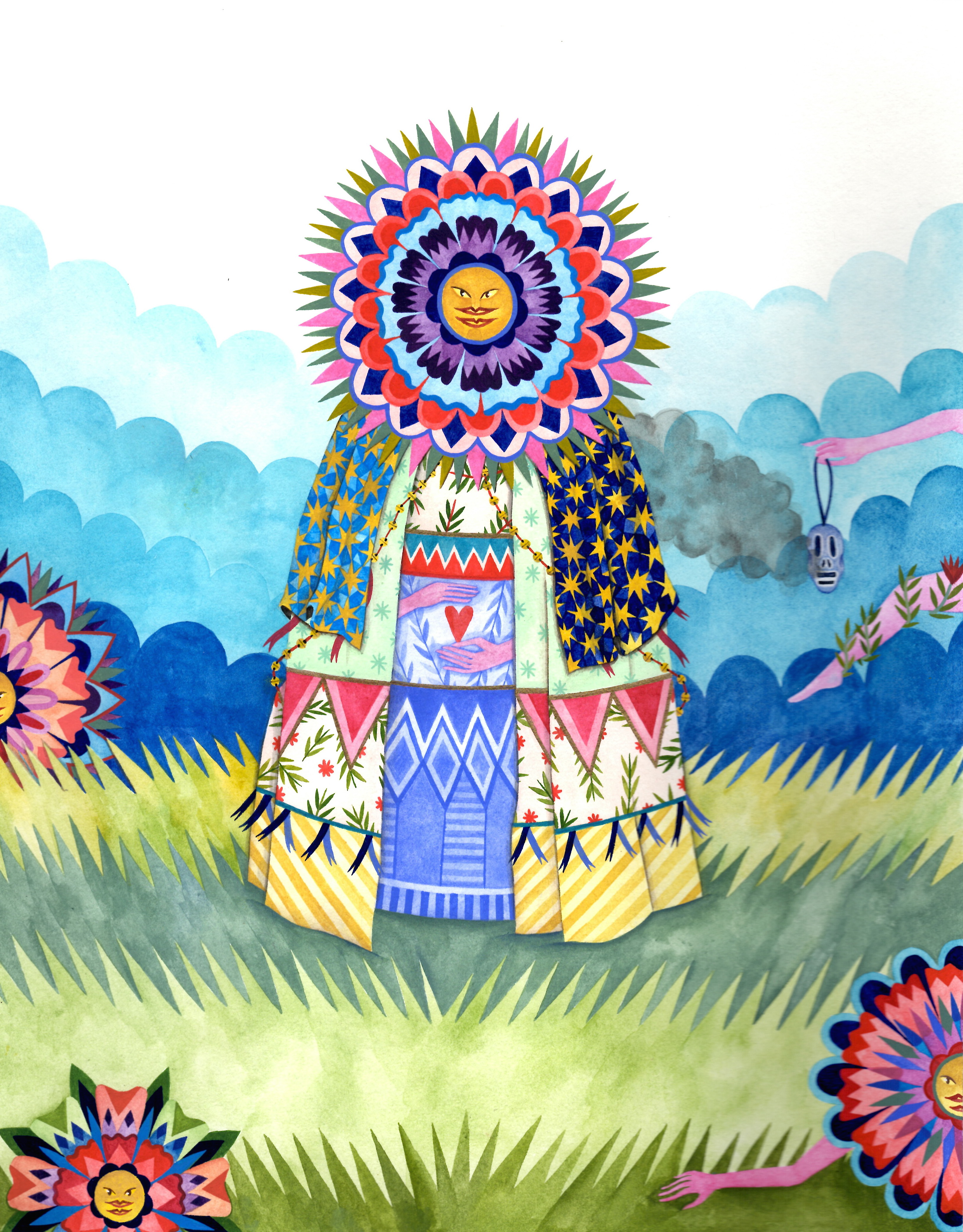 2. Tell us about your aesthetic.
Color overloaded, highly detailed, overwhelming paintings. I love having structured/mapped out elements balanced with freehand spur of the moment imagery.
3. What is your favourite medium and why?
I've been using Holbein Acrylagouache for the last 4 or so years and I'm totally enamoured with them! They are the perfect mix of an acrylic paint and a regular gouache paint. I highly recommend.
4. What is your artistic process like?
I'm a routine person, for sure. I get up early, make coffee, feed my cats and get myself ready to get to work. I need music or (more so lately) podcasts on, or in my ears, to help me not focus on my thinking processes. Sometimes I do some sketching beforehand, sometimes I jump right in. Depending on the image, I usually draw out some of the painting - especially the more structured/architectural images - I'll have a starting point and after that I try to really let it grow naturally. Which also keeps it exciting and new for myself. Paintings can take a few days or a month or more to finish, it really depends on the complexity.
5. Who and/or what inspires your work?
I find inspiration to be a pretty wide thing...I love buildings/churches/cathedrals, traditions, folklore, storytelling, balancing of opposites. I have a nice stack of books that I have beside me in my work space, and even if I'm not physically looking through them, I feel like they subconsciously are inspiring me.
6. What role does art play in your life? How does it change the way you view the world?
Art definitely plays a big role in my life. I feel like I'm constantly looking at color combinations, the shapes of buildings, facades, and thinking of ways to absorb surroundings and ideas into paintings.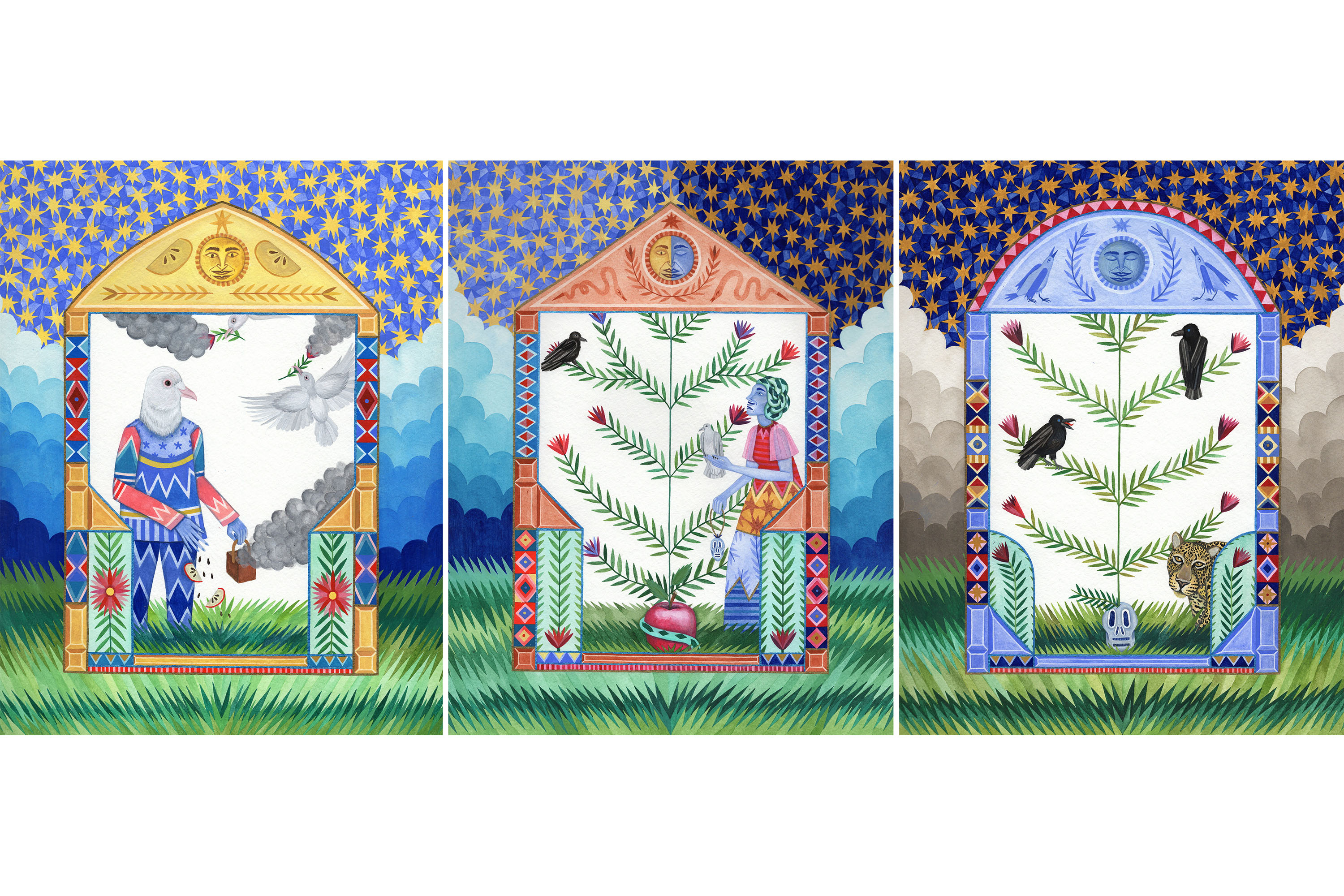 7. Where did you study?
I haven't done any post secondary schooling, in general. I had some supportive teachers back in highschool who basically just encouraged me to work on my art in my own way. Over the years I've just spent time trying out materials, drawing, and figuring out the work I want to be making.
8. Where do you see yourself in five years? Working in an agency?
Well, I plan to still be doing art. Maybe I'll have a studio outside of my home? I've never done that before. I hope to be traveling, meeting new people, and sharing my art with everyone. As for an agency, I haven't thought much about that..but if the right situation came along, then maybe!
9. What about in ten?
Hopefully I will have finally gotten myself around to illustrating some time of book with a writer. Maybe some textile patterns. Also by then I better have done numerous fun residencies!
10. What do you hope to achieve with your art?
I hope to make a welcoming created world where people can find joy, humor, and dialogue.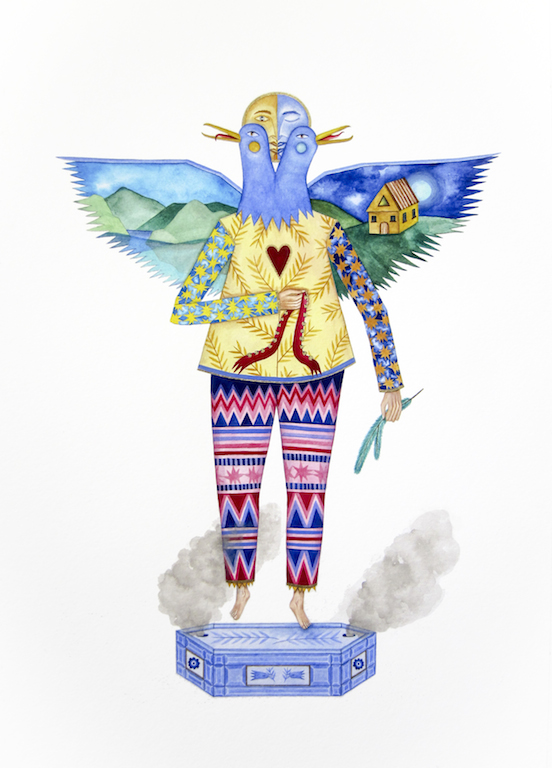 11. Now, tell us a little more about you as a person: what is your favourite food?
Are bagels a food group? Pizza, salad, homemade meals at friends houses.
12. Favourite book?
Anything by J.D Salinger!
13. Favourite genre of music?
I'm pretty open genre wise! My dad's a record collector so I grew up listening to all sorts of things.
14. What are your hobbies?
Petting my cats.
15. If you weren't an artist, what would you be?
I think that I would most likely be doing something creative...or maybe something with animals!