Instagram: @camila_illustration
Website: www.camilaillustration.pt
1. What's your story? Where are you from?
My name is Camila and I'm a 27y artist from Porto, Portugal. I was born and raised here and I totally love this city. It has a mystical vibe that it's hard to put in words.
When I was young, I was very very shy, and I was one of those kids that draws all the time. It was my safe place. That is why I always knew I would pursue an artistic career. I could see myself doing anything else. Besides that, I was a fearless tomboy that loved to climb trees, play sports and get myself into trouble.
2. Tell us about your aesthetic.
I illustrate with clear lines all of the same width and no hatching, pastel color gradients, and a combination of cartoonish characters against a realistic background. My aesthetic is a transformation of the Japanese woodblock style with Franco-Belgian comics influences.
3. What is your favourite medium and why?
I love illustrating with procreate and photoshop. I turned digital very early in my career because it was more practical and allows me to explore a lot of color palettes more quickly and easily.
4. What is your artistic process like?
Usually, I start by gathering references and doing a moodboard. When I have an idea of what I am looking for, I start with some quick thumbnails until I decide to turn one or two into a rough sketch on Procreate (iPad pro 12.9). When I'm happy with a composition, I do a value study, to get the light/shadow in place and I take the sketch to Photoshop.
In photoshop I perfect the lines, do a lot of color studies (sometimes it takes me a full day to get the colors right!), add the shadows, and finally the adjustments and texture.
5. Who and/or what inspires your work?
I'm very influenced by the franco Belgian artists, by Japanese ukiyo-e prints, by cartoons from the '90s and 2000's, and by all Studio Ghibli's "Paradises"! I am also very influenced by nature in general. It plays a major role in my work. I love trees, animals, and how everything is connected and was so beautifully created. That is why I like to go into the wild and spend time surrounded by Nature.
6. What role does art play in your life? How does it change the way you view the world?
I know this may sound idyllic, but it is how I feed myself emotionally. It's what I wake up everyday thinking about. It's also what keeps me up at night when I have a new project that I'm still trying to figure out in which direction I want to take it. I consider myself a workaholic because I love so much what I do and I have the freedom to do it full time!

I think I'm more aware of how nature works, its shapes, and how it flows. How things interact with each other, how light influences the colors, how shadows change during the day, etc. Overall, it makes me more aware of what's around me, and I love it!
7. Where did you study?
Porto. Faculty of fine arts.
8. Where do you see yourself in five years?
It's hard for me to make plans for more than 6 months. As we all experienced this past year, life changes unexpectedly and throws all our plans out the window. I like to live more in the present and only make plans for the near future. But if I had to choose a place to be in five years, probably owning my own studio in Porto, where I could work and also invite people over, like friends and other artists.
Working in my own schedule, as I already do, and traveling what I didn't have the chance to travel in this last year.
9. What about in ten?
That is way too far, I have no clue!! But for sure I'll still be a creator, maybe on Mars!
10. What do you hope to achieve with your art?
I enjoy the process, so I think I already achieve something there. The message I want to convey with my art is that life is beautiful, despite its difficult moments. It is a beautiful mystery, with some tough times along the way. So I want to make people reinterpret the world with a more positive and dreamy perspective.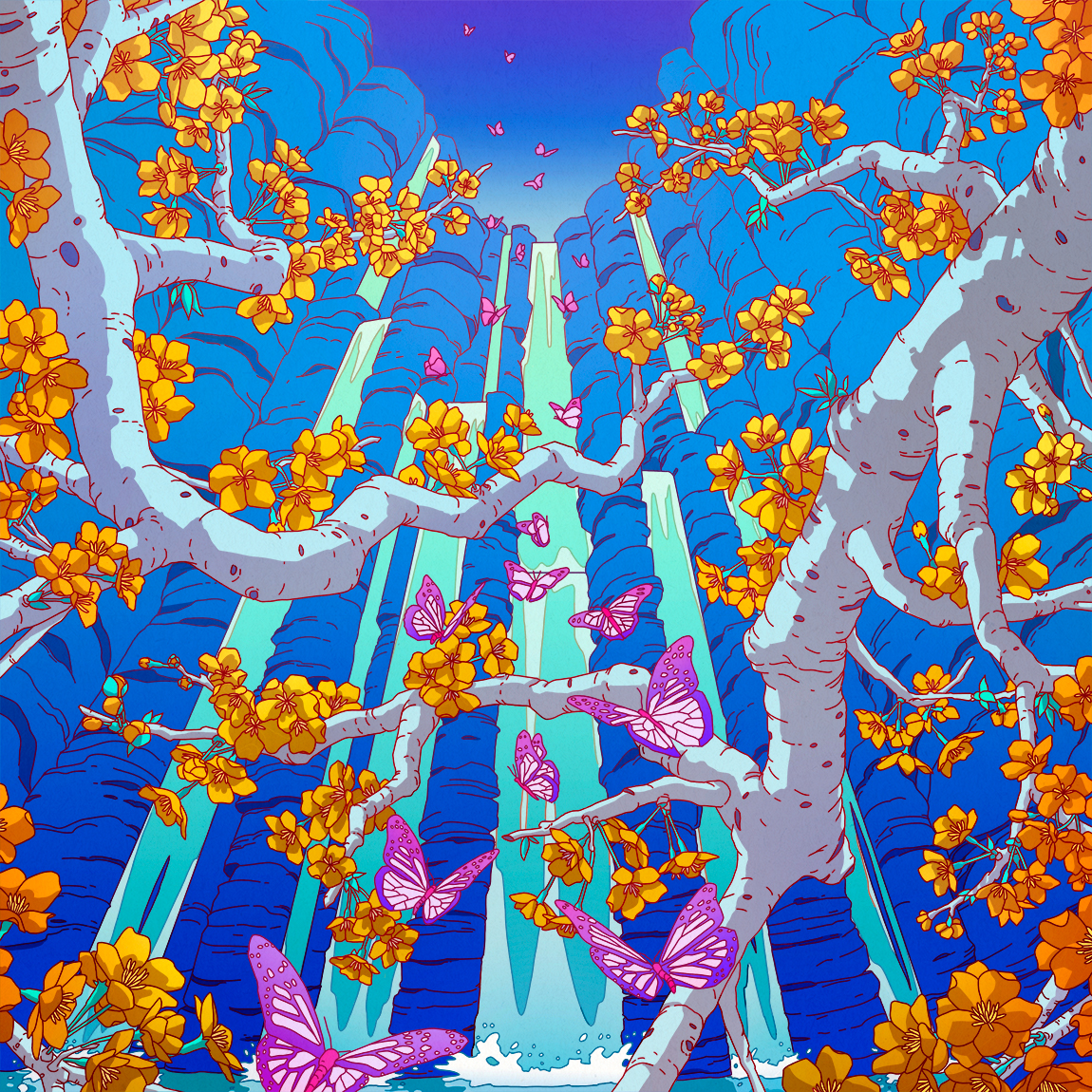 11. Now, tell us a little more about you as a person: what is your favourite food?
Although I'm not a very foody person (I prefer beer and good wine!), I love my mum's roasted turkey with orange and clove. Just thinking about it is making me miss lunches at her home. Hope this pandemic ends soon! I also love fresh grilled fish from the South of Portugal. In the summer with some good white wine is delicious!
12. Favourite book?
I don't read a lot. I'm more of an audio person. I could easily tell you ten favorite podcasts. But if I had to choose a book that I liked, probably "the war of art". It explores the why's of procrastination and how to focus on what matters.
13. Favourite genre of music?
Hip hop.
14. What are your hobbies?
At the moment I'm studying the stock market and good companies to support and invest in. I am also focused on the crypto world (NFT's are going to be big!!), and how blockchain technology works, and how it's going to shape our lives. The near Future is bringing a lot of innovation and exciting things! I also like to take big bike rides near the river, hiking in the mountains, tasting craft beer, relaxing with friends in the sun, and enjoying a nice lunch with my family!
15. If you weren't an artist, what would you be?
An investor probably... I like to study and support the companies that are bringing good ideas to life and improving our lives. It's also a good way of keeping up with the future of humanity and where we are headed.