Instagram:
@camille.shu
Website:
www.camilleshu.com
1. What's your story? Where are you from?
Hi! I'm Camille, I have lived here in Portland for 9+ years but I'm originally from Seattle - a city I love dearly. I've been doing art my whole life! I've been getting paid to do it for about 6. I've also been a florist, and I currently work on a farm part-time.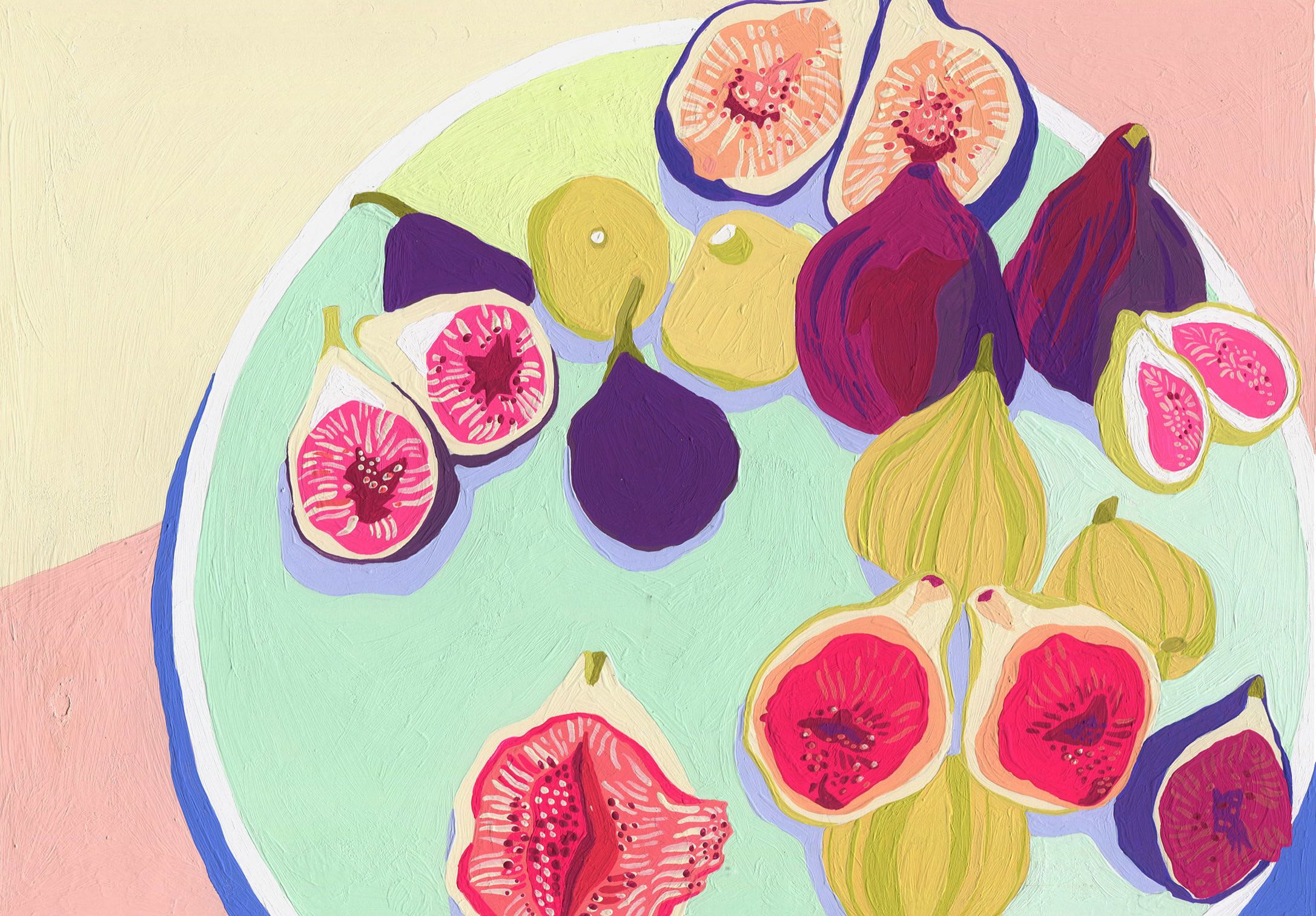 2. Tell us about your aesthetic.
Colorful and funky. I like to paint realistic things but simplify subjects into abstract shapes and colors.
3. What is your favourite medium and why?
Gouache! It's what I use 90% of the time (the other 10% being black ink pens). I'm not sure how or why I started using it, I was probably just drawn to the very aesthetically pleasing packaging and color options of the Holbien gouache brand - either way, ever since I started using it I can't stop won't stop. The bright vibrant colors are so good and I love that it's more flexible than acrylic but easier to control than watercolor.
4. What is your artistic process like?
I find inspiration from things around me, things that are in season or whose presence is fleeting. It could be the melon I had for lunch in August or the sweet peas that are in season in June and growing in my yard. I live in Portland, the weather is so bad 1/2 the time, but I relish in the seasonal changes that we get to experience. It's so green here and so much grows in people's yards, there is inspiration everywhere. I'm not much of a planner or sketcher. I like to just go for it when I first start drawing something as if it's going to be the final. But that doesn't always work out, and when it doesn't I love to use my tracing table to layer different sketches and drafts into a final layout. Then, I grab my bucket of gouache paints and start putting different color tubes together to get an idea of the palette I want.
5. Who and/or what inspires your work?
What - Plants and the things they do/make! I'm in complete awe of the things that grow around us. Fruit, flowers, trees, all of it. Something simple like opening a blood orange from the store is a religious experience for me and makes me want to immediately get painting. Who - Women I work with, mainly the woman who owns the farm I work at part-time and the woman who runs a flower shop that I worked at after college. They're two people who work with plants in very different ways but respect them and see their potential for making people's lives more joyful. And then there's Georgia O'keefe, Charles Renee Mackintosh and Kerry James Marshall :)
6. What role does art play in your life? How does it change the way you view the world?
Art helps me focus on the beauty and joy in life. When I see things out in the world that I think are pretty and should be celebrated, I make time to sit and paint and appreciate those things. It's easy to walk by a plant every day and not notice how insane it is that it's growing some delicious and beautiful fruit - but I always notice and always revel in the beauty that is around us in that way. This makes me sound like a total optimist and I'm not! I get REALLY bummed about the state of the world so art is my counterpoint. There's lots of sad shit everywhere but at least there are figs in my neighbor's yard that I can pick and eat and paint. I basically came out of the womb making art so it's always been a part of me, but once I finished high school and had to start making more conscious decisions about what direction my life would go, I decided that making a career out of art full time was where I wanted to go. So I've been working on making that happen for the last 10 years. In the last year or so I've actually realized that the reality of being a full-time artist isn't what I want for myself, so I'm currently making moves to change careers and do art part-time instead and it feels great. I can focus on the parts of it I like which are making paintings and prints to sell, and doing murals rather than primarily commercial work that pays the bills. So right now I'm in a weird in-between place where I'm enjoying the fact that it isn't my full-time pay-the-bills job, but I am also doing it less which is kind of sad but kind of nice for the moment. Regardless of how it has factored into paying the bills, art has always fostered in me a sense of joy for the world around us.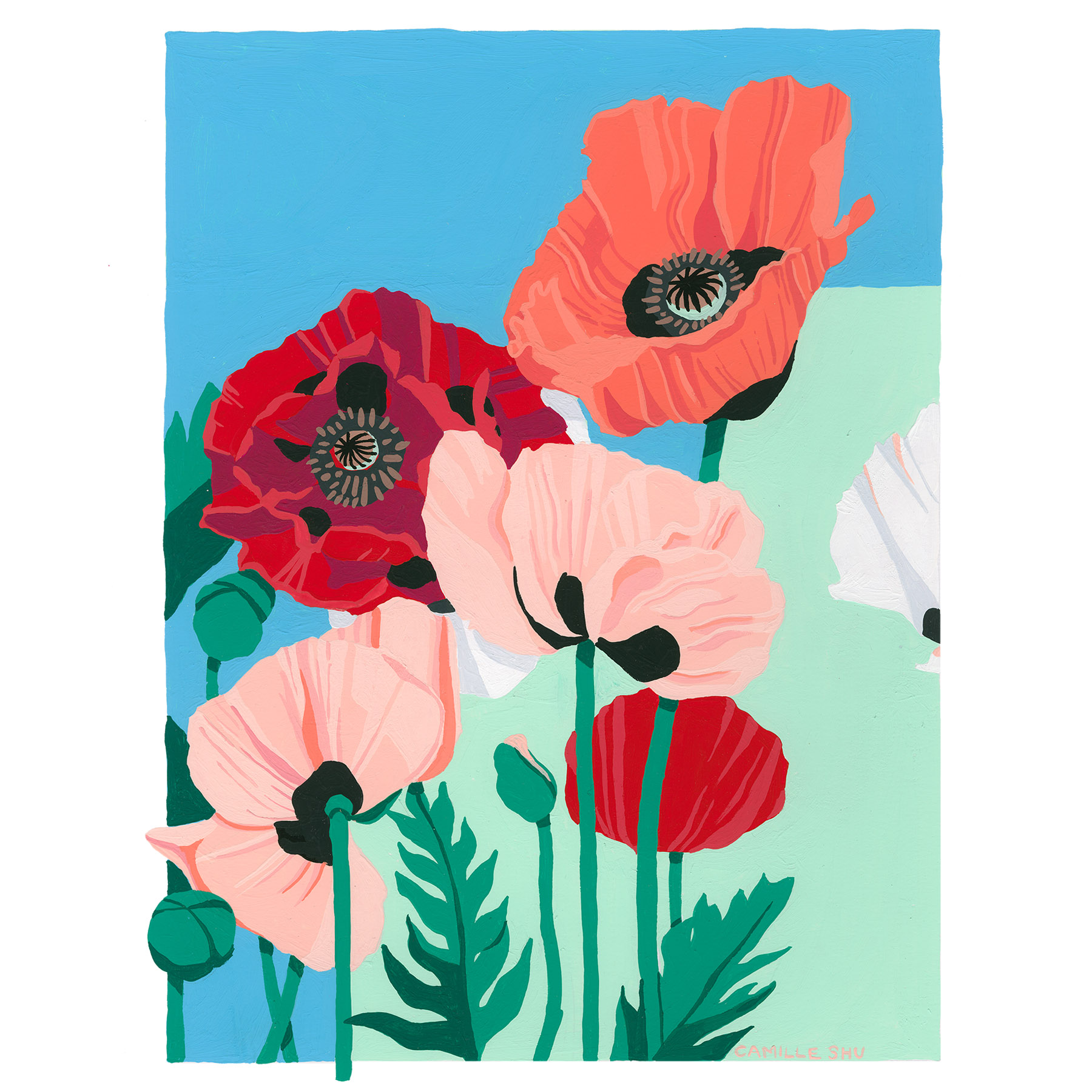 7. Where did you study?
I got a degree in studio art at Lewis & Clark College (Portland, OR)
8. Where do you see yourself in five years?
Designing gardens full time for most of the year, and taking a full month off in the winter to live in Mexico where I can paint and lay in the sun, eating fruit and smelling flowers.
9. What about in ten?
My brain doesn't work like this, I max out at 5-year-plan. Hopefully just doing things that make me happy!
10. What do you hope to achieve with your art?
To help other people appreciate the natural world around us, and to bring more color into people's lives. The PNW gets really grey and dreary for like 6 months and everyone wears black rain gear and I just want to throw some color into those people's lives. Like when you go to Mexico and everyone has pink, yellow, and orange houses and it makes you feel so happy. I'd like to do that, but with my art.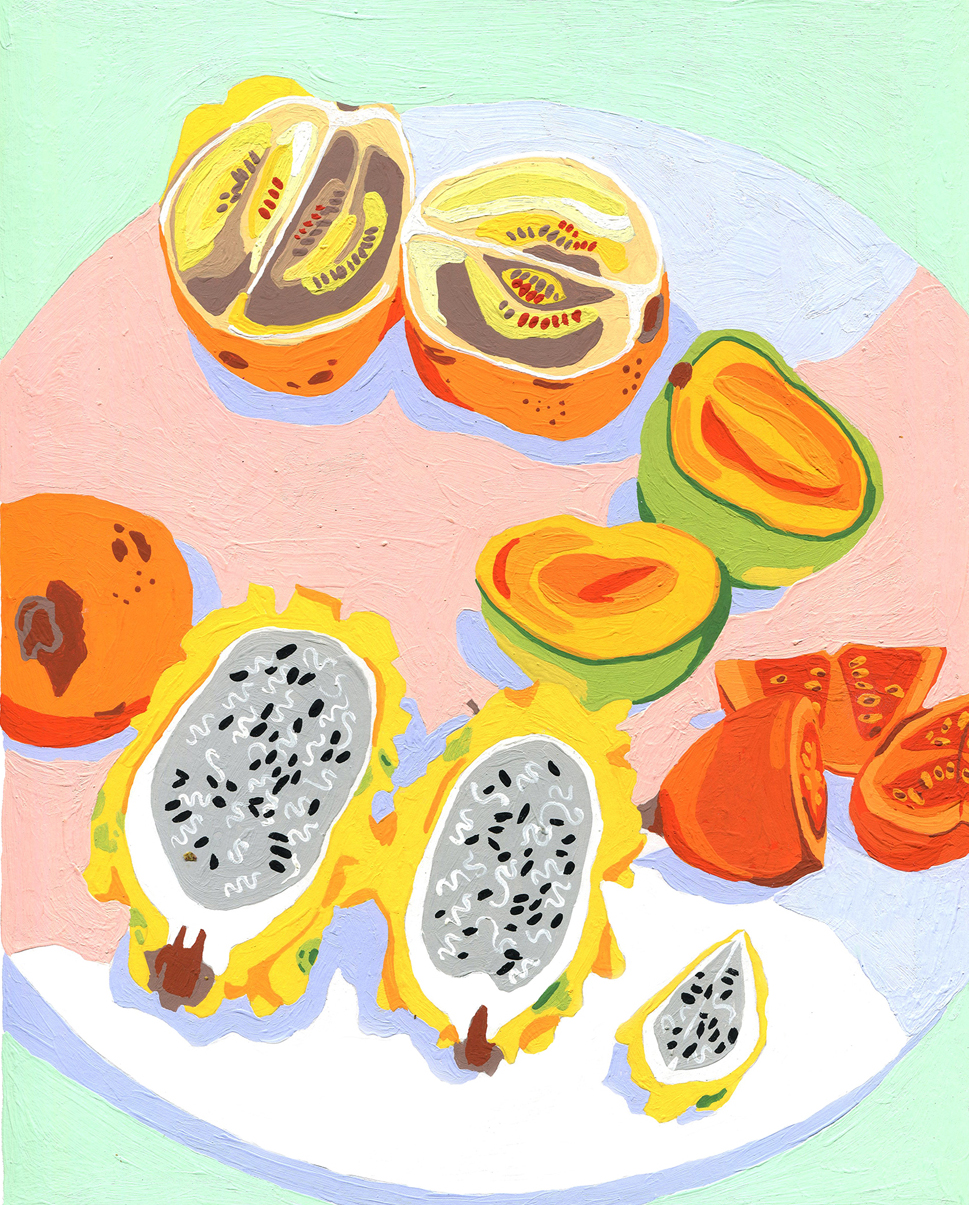 11. Now, tell us a little more about you as a person: what is your favourite food?
Pho! Although I don't really eat meat anymore so we have a strained relationship at this point. There are ways to get around it though.. Also watermelon. Not together.
12. Favourite book?
The Strongest Indian in the World - Sherman Alexie. And East of Eden by John Steinbeck.
13. Favourite genre of music?
R&B.
14. What are your hobbies?
Gardening and volleyball.
15. If you weren't an artist, what would you be?
Dreamworld? Professional volleyball player.