Instagram:
@camperksillustration
Shop:
www.camillaperkins.bigcartel.com
1. What's your story? Where are you from?
I'm an illustrator from Brighton, UK
2. Tell us about your aesthetic.
My work is very bright and colourful with lots of clashing patterns. I enjoy creating portraits that also include lots of tropical plants and animals; I basically create the world that I would like to live in.
3. What is your favourite medium and why?
I like to use a combination of hand drawn and digital elements in my work, I paint on acetate with acrylic paint and then scratch though it with a knife to create an almost carved texture but in half the time! I combine these aspects with images drawn on an ipad and then layer them all together.
4. What is your artistic process like?
It totally depends on what kind of commission I have on, most of my work is editorial so there will be lots of back and forth between the Art Director and myself; research, sketches, colour combinations, that kind of thing! But I will take any opportunity to get away from my desk to go and draw plants or search for vintage Indian or African fabrics that I find inspiring.
5. Who and/or what inspires your work?
For years now I have been really inspired by fashion found within various African subcultures, there's a real confidence and playfulness that I really try to emulate within my work. I'm also obsessed with African barbershop signs! Other big inspirations for me are outsider and folk art. I like images with naive shapes and clashing colours that don't take themselves too seriously or try to be anything more than just an expression of how the artist was feeling at that moment.
6. What role does art play in your life? How does it change the way you view the world?
It's not something that you can consciously switch off; my work is such an extension of myself that it is a huge part of my everyday life.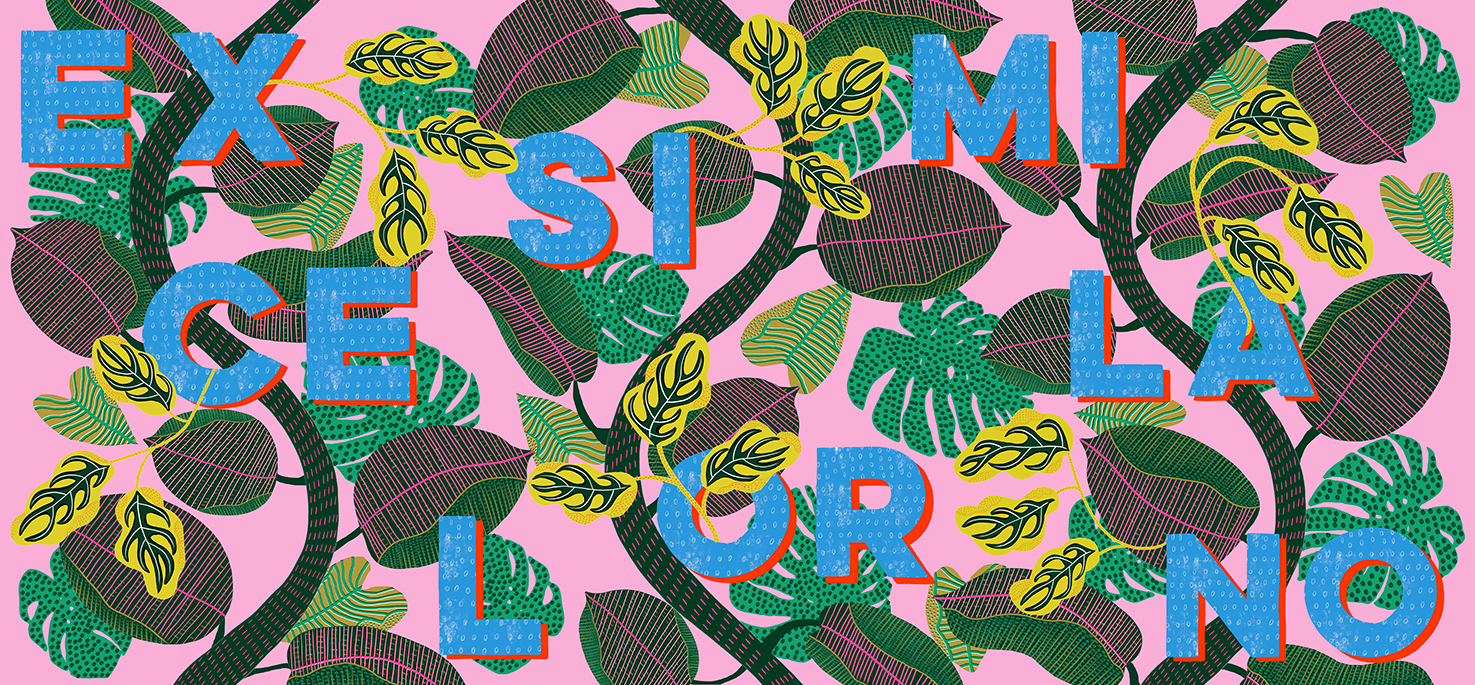 7. Where did you study?
I studied Illustration at the University of Westminster
8. Where do you see yourself in five years? Working in an agency?
I'd definitely like to carry on working with agencies, but I'd really like to be collaborating with fashion houses, making giant paintings and I'd love to do a children's book at some point. A bit of everything really!
9. What about in ten?
Taking baths in champagne and only eating foods that are covered in gold… I honestly have no idea! I've always been really interested in Outsider art so maybe something to do with that, I was really inspired by the Creative Growth Art Center in San Francisco and think it's absolutely crazy that there are not more places like that in the UK.
10. What do you hope to achieve with your art?
I've always wanted to create work that was ethnically diverse, the art world is still pretty whitewashed and I don't want to be like that, I'd like for everyone to be represented within my work.
11. Now, tell us a little more about you as a person: what is your favourite food?
Vietnamese prawn summer rolls with peanut sauce, I would eat them for breakfast, lunch, and dinner if I could!
12. Favourite book?
I really love The Old Man and the Sea by Ernest Hemingway and anything by Gabriel Garcia Marquez or Angela Carter; I'm all about magic realism.
13. Favourite genre of music?
RNB club classics, I find it really difficult to listen to music when I'm working though because I get too distracted by singing to myself.
14. What are your hobbies?
I love swimming, Karaoke, visiting botanical gardens, and looking up hundreds of pictures of dogs on the Internet.
15. If you weren't an artist, what would you be?
I'd be a Pet Detective, like Ace Ventura but instead of having a monkey as a sidekick I'd have a golden retriever…