Instagram:
@canelica
Facebook:
www.facebook.com/ktplzh
Behance:
www.behance.net/canelica
Website:
www.katyapolezhaeva.com
1. What's your story? Where are you from?
Life is a series of beautiful coincidences that I'm happy to be a part of. I'm an illustrator from Russia, currently living and drawing in Barcelona. I have been attracted by drawings and stories since as long as I remember. As a 5-year-old I used to recycle my parents' old copybooks to draw dwellings for paper animals. Each spread was a room with small doors cut out to connect them. Every paper house started out as a regular apartment with one spread for a kitchen and another for a living room, but the further you went through the copybook, the more bizarre the rooms became: magic libraries, caves with hidden traps, secret gardens and mazes. One day I'd love to create one of those books with the skills that I've learnt.
2. Tell us about your aesthetic.
Every illustration I make is an attempt to find equilibrium between a spontaneous gesture and a controlled action. It's intuitive, dreamy and theatrical in a way.
3. What is your favourite medium and why?
I love to experiment with various mediums and to combine different techniques. I don't like being in a hurry and I appreciate having my time when getting into a new medium. It always feels like a love story with the awkward but charming stage of getting to know each other, followed by long and passionate nights, which eventually grows into a more steady relationship built on trust and confidence. I currently have a passion for trace monotype. I got into this hand printing technique when I didn't have easy access to printing facilities after I moved to Barcelona. I started using trace monotype because it only required a plastic board, oil paint, a roller and a decent supply of paper.
4. What is your artistic process like?
I always start with a very simple pencil sketch trying to capture the general movement. As a rule, the messier the sketch is, the more I can get from it. The later stages can be compared with the process of developing analogue photographs; the image slowly appears on the surface of the paper while my hands and drawing tools are simply the vehicle for the story to come to life in the form of an illustration.
5. Who and/or what inspires your work?
My work is heavily inspired by theatre and dance. A few plays that I watched in the last few years really stuck with me and new worlds and characters were planted in my imagination. They keep appearing in the drawings and prints that I make. I was particularly influenced by the plays 'The Dragons' Trilogy' by Robert Lepage, 'Raoul' by James Thiérrée and several dance performances by Rocio Molina and Akram Khan Company. Another endless source of inspiration are the people around me and random conversations that I happen to overhear.
6. What role does art play in your life? How does it change the way you view the world?
Art is a playground, a scene and a long journey full of surprises. For me, it feels as if art is deeply connected to all of the spheres of life. It's a way of living within itself.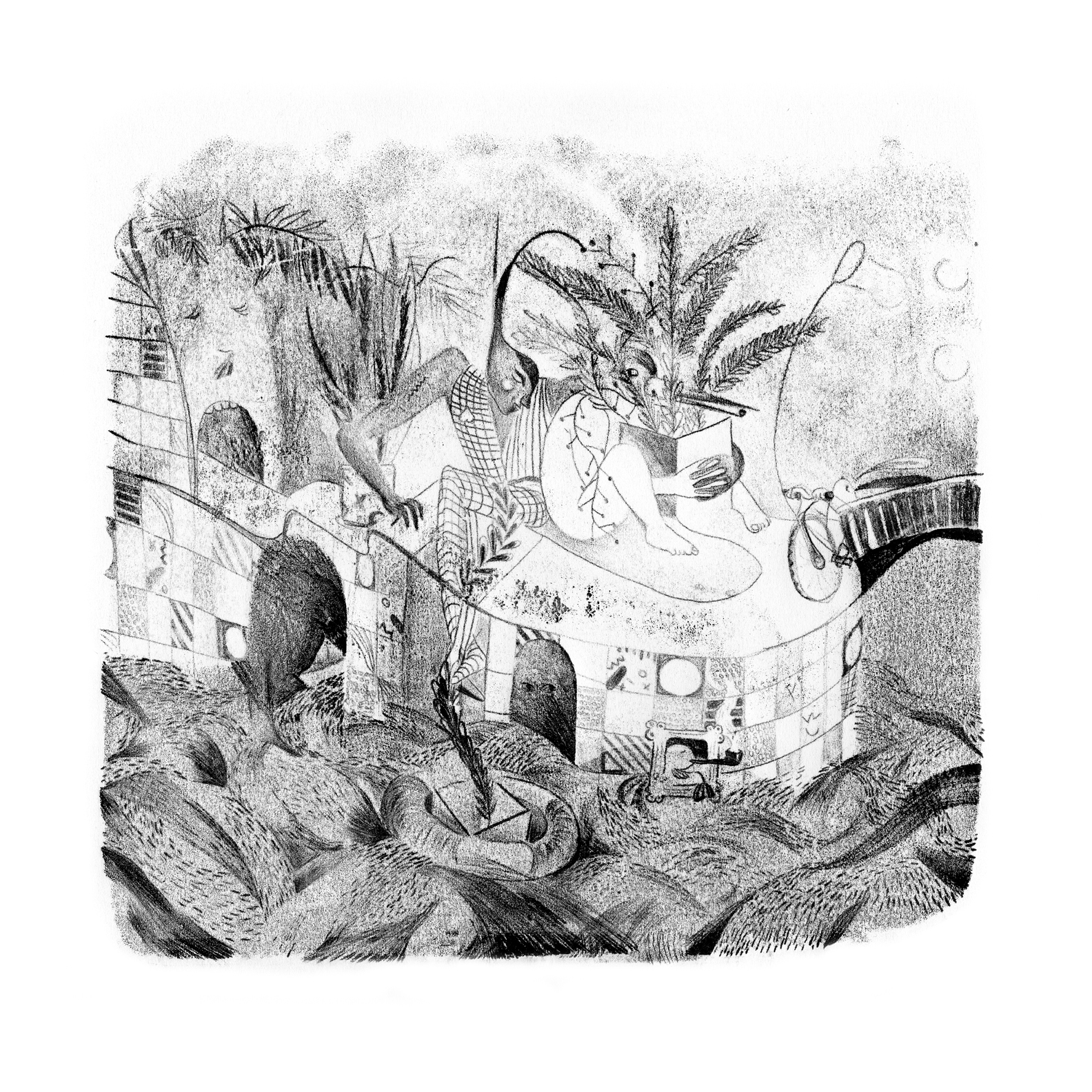 7. Where did you study?
I decided to become an illustrator while I was studying at The British Higher School of Art and Design in Moscow. It was a very intense period for me that shaped my approach towards working on projects in many ways. This year I did a Master's degree at Bau Design College in Barcelona. As it happened, I received the questions for this interview on the day I had to present my final project (another one of those exciting coincidences).
8. Where do you see yourself in five years? Working in an agency?
I would like to be working with people who share similar values. That could be an agency or it could be an independent group of co-minded artists. Most importantly I would like to spend my time and energy working on projects that I believe in.
9. What about in ten?
My long-term dream is to have my own studio. Apart from making illustrations, I would be happy giving art classes and workshops dedicated to visual storytelling for kids and also for adults who haven't forgotten how to be children from time to time.
10. What do you hope to achieve with your art?
I hope that my art can help people to believe in what they really love and value. If any of my illustrations became a ground for conversations or personal reflections, I'd be very content with that.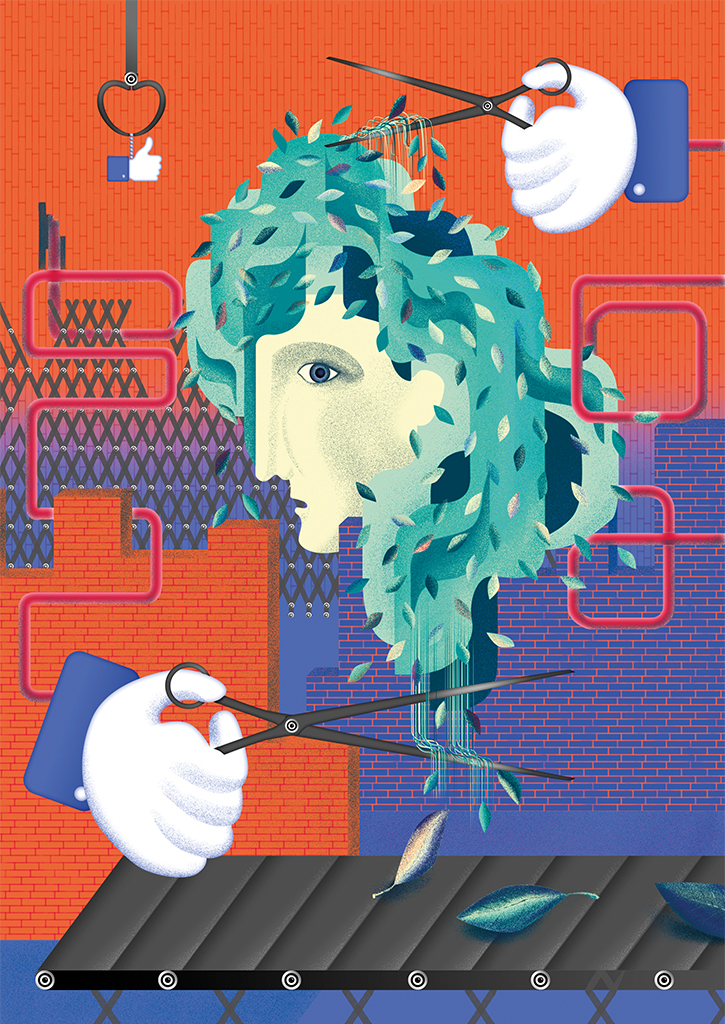 11. Now, tell us a little more about you as a person: what is your favourite food?
When I travel I love trying new cuisine and then attempting to reproduce those newly learnt recipes. But my favourite dish is Tomato and Sour Cream Salad - prepared by my mum.
12. Favourite book?
'Hopscotch' by Julio Cortázar.
13. Favourite genre of music?
I listen to electronic music when I'm drawing. And I'm in love with flamenco, especially live.
14. What are your hobbies?
Travelling, hiking, discovering new places, and dancing of course.
15. If you weren't an artist, what would you be?
I would probably be trapped in my comfortable nest for a while and then escape and become a careless traveller.