Instagram:
@cari.bay
Website:
www.behance.net/caribay
1. What's your story? Where are you from?
I'm from a small city in Venezuela, Mérida, surrounded by lovely mountains. My mother is one of the big reasons I've been drawing since I was a child, by taking me to art workshops and encouraging me to keep going. I studied graphic design at the ULA (University of The Andes). After believing that fashion design was my thing, I came to Buenos Aires to do an internship for school, at an animation studio. I instantly fell in love with the city and I've been here since then, a little more than five years. Soy de una pequeña y pintoresca ciudad de Venezuela, Mérida, rodada de montañas hermosas. Mi mamá es una de las grandes razones por las que sigo dibujando, desde chica me anotaba en talleres y cursos referentes al arte (teatro, ballet, dibujo). Estudié diseño gráfico en la ULA (Universidad de Los Andes) y por mucho tiempo pensé que lo mío era el diseño de modas. Llegué a Buenos Aires para hacer mis pasantías de diseño y me enamoré de esta ciudad, he estado acá desde hace un poco más de cinco años ya.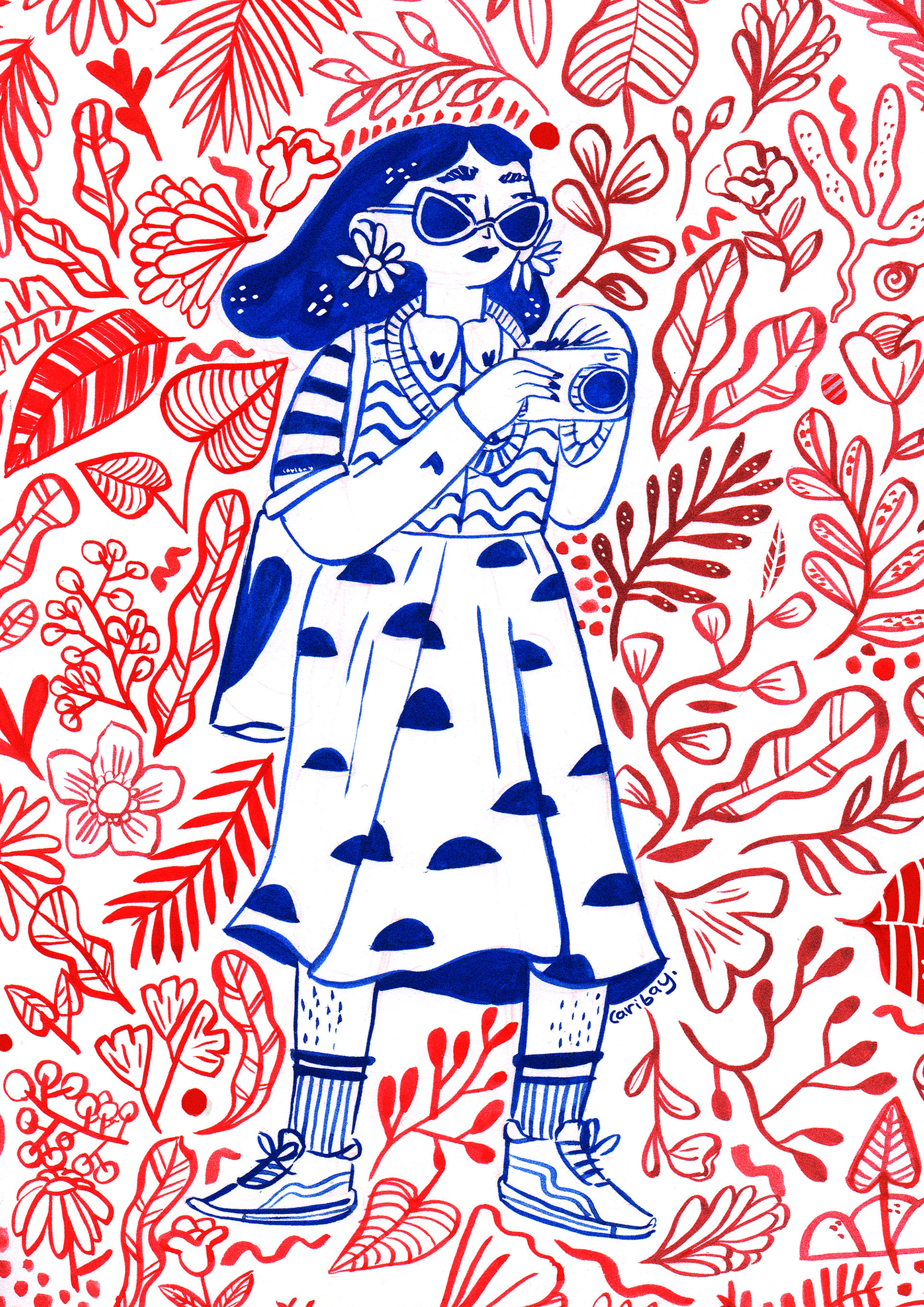 2. Tell us about your aesthetic.
I think that I'm still finding my aesthetic, I feel like sometimes I'm all over the place with my style but basically I love using powerful colors and odd palettes and draw weird and fashionable looking girls. Creo que aún estoy descubriendo mi estética, muchas veces me siento perdida con respecto al estilo, aunque la gente lo perciba de otra manera. Básicamente me gusta usar colores vivos y generar paletas un poco inusuales, me gusta dibujar chicas con estilo y un poco raras.
3. What is your favourite medium and why?
Oh! is so hard to pick just one, I keep changing mediums every now and then. Definitely love markers and ink, with the markers I feel so comfortable and they are very practical and the ink makes me calm down and just enjoy the process. Ay, es muy difícil para mi escoger un solo material, suelo cambiar lo que estoy usando por temporadas, es más, doy clases de cómo mezclar materiales porque prácticamente no puedo decidirme. Actualmente disfruto mucho de la rapidez y la vibración de los colores que me dan los marcadores, también amo usar tinta porque me calma y me hace concentrarme mucho.
4. What is your artistic process like?
My work is so connected with my feelings and what I'm thinking of so the process is always changing. If it is a commission or work I normally do a lot of sketches until i find the right way to express what I want, on the other hand if I'm drawing for myself I just do it, no thinking about it. Mi trabajo al estar tan conectado con mis sentimientos y pensamientos hace que el proceso vaya cambiando continuamente. Para trabajos y cosas más formales, suelo hacer muchos bocetos y pruebas hasta encontrar la manera de expresar lo que quiero. Cuando hago cosas para mi es diferente, me dejo llevar y simplemente hago lo que quiero.
5. Who and/or what inspires your work?
I have a lot of autobiographical influence in what I do, so I'm always asking myself what moves me, how I feel about certain situations. Normally the everyday life inspires me in a big way, my cats, my friends, the neighborhood and cool people who I see on the street. Lo que hago tiene mucha referencia autobiográfica, por eso me pregunto constantemente sobre las cosas que me afectan, cómo veo a las personas o cómo me siento en situaciones específicas. La vida común, las cosas corrientes son las que me mueven, mis amigos, mis gatos, el barrio y la gente.
6. What role does art play in your life? How does it change the way you view the world?
Art is everything in my life, not just because is my work, is the way that I can communicate with the world and is the only way that I have to show how I feel about things. It makes me see the world in a different perspective, studying the shapes, colors and little details that surround me. El arte es prácticamente todo en mi vida, es la forma en la que me comunico y es la única forma en la que puedo contar las cosas que me pasan. El arte me ha hecho ver el mundo con otros ojos, estudio las formas, los colores y los pequeños detalles que me rodean.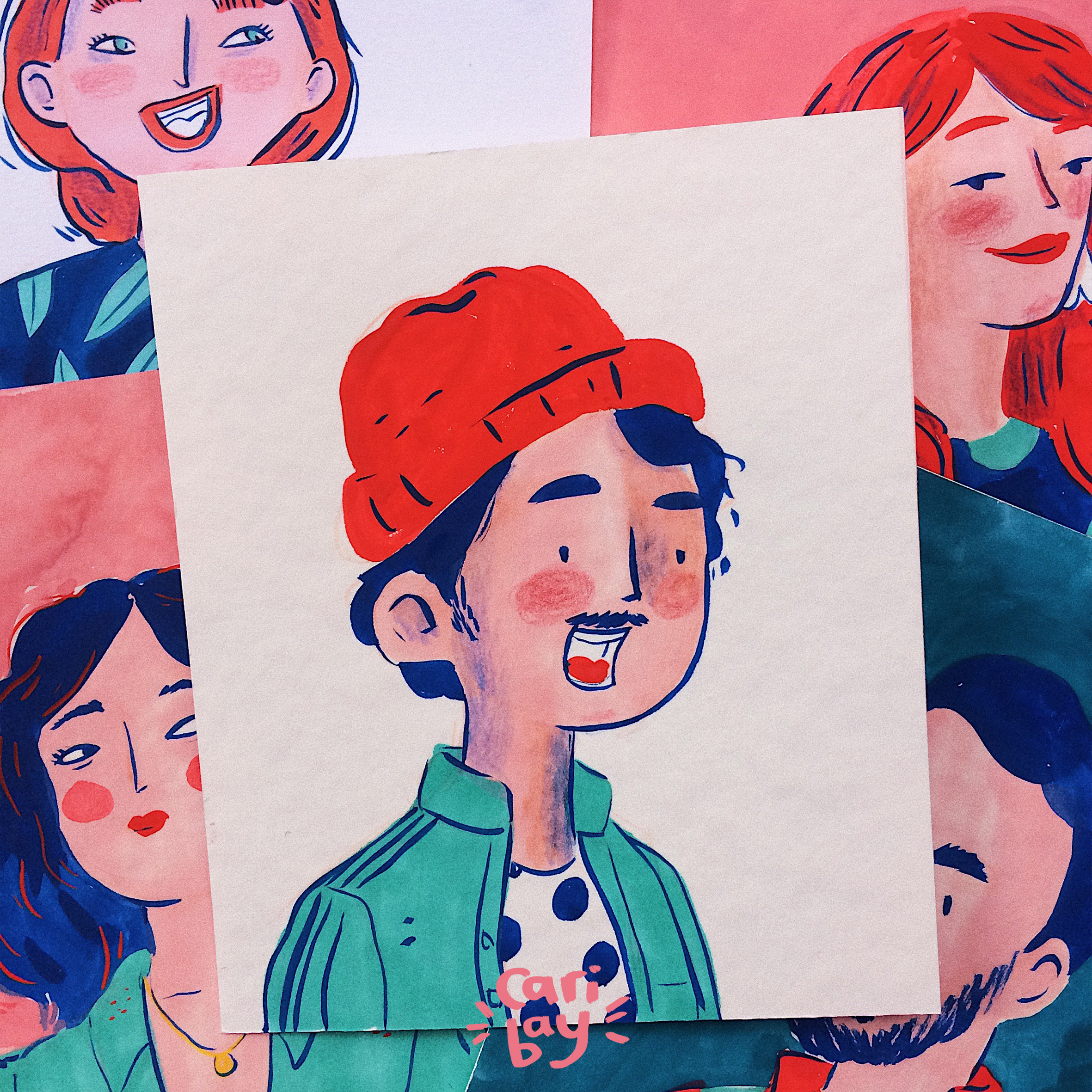 7. Where did you study?
Before entering the career of Graphic Design I attended a small school of Fashion Design in my city for two years. I studied Graphic design at the ULA, in Mérida, Venezuela. The career is shared with fine arts so I got a lot of influence from my teachers and classmates to paint and draw, I did all the drawing classes that I did not have to do, just couldn't help myself. Antes de entrar en la universidad hice un pequeño diplomado en Diseño de Modas, en una escuela de mi ciudad. Entré a estudiar Diseño Gráfico en la ULA, en la facultad de Arte y Diseño, al tener artes visuales como carrera principal teníamos mucha influencia artística y mis profesores insistían en que mi lugar era el arte, no el diseño, cosa que me generaba mucha molestia pues amo las dos cosas por igual. Hice todas las materias de dibujo aunque no me correspondían hacerlas, pero es que no lo pude evitar.
8. Where do you see yourself in five years?
Hopefully working in bigger projects, I've never worked on a book so that's a goal for sure. Also I'll love to do some textile design, I worked on a fashion brand here in Buenos Aires and fell in love with patterns, it would be a dream to develop my own fabrics in the future. Espero que trabajando en proyectos más grandes, nunca he trabajado con libros así que es algo que muero por hacer. También quisiera poder diseñar estampados textiles, trabajé en una marca de ropa acá en Buenos Aires y me enamoré de los estampados, así que me encantaría desarrollar estampas propias en algún futuro.
9. What about in ten?
Wow! That's too hard, I think I see myself traveling around the world drawing, one of my biggest dreams is to fill lots of sketchbooks with illustrated traveling experiences. Hopefully being able to live completely of art. Oh, diez años es mucho! Creo que me veo viajando por el mundo y dibujando mucho, sueño con llenar cuadernos de viaje. Espero poder estar viviendo completamente de los dibujos en algún momento.
10. What do you hope to achieve with your art?
I hope to show a better looking world, where nobody has to fit standards to be cool and beautiful. I love drawing cool and fierce women, it is my way to show different kinds of styles that not necessarily represent the "normal" way that society tell us to be, so if someone feels connected to that, that's it for me. Espero mostrar un mejor mundo, donde no es necesario cumplir con estándares de belleza para ser cool y hermoso. Me encanta dibujar mujeres empoderadas, con cuerpos diferentes y estilos no convencionales, es mi forma de representar la realidad y llevarle la contraria a los patrones de belleza que la sociedad nos ha impuesto a lo largo de los años, si alguien llega a sentirse conectado con eso o mejor aún, identificado con eso, ya está, eso me hace feliz.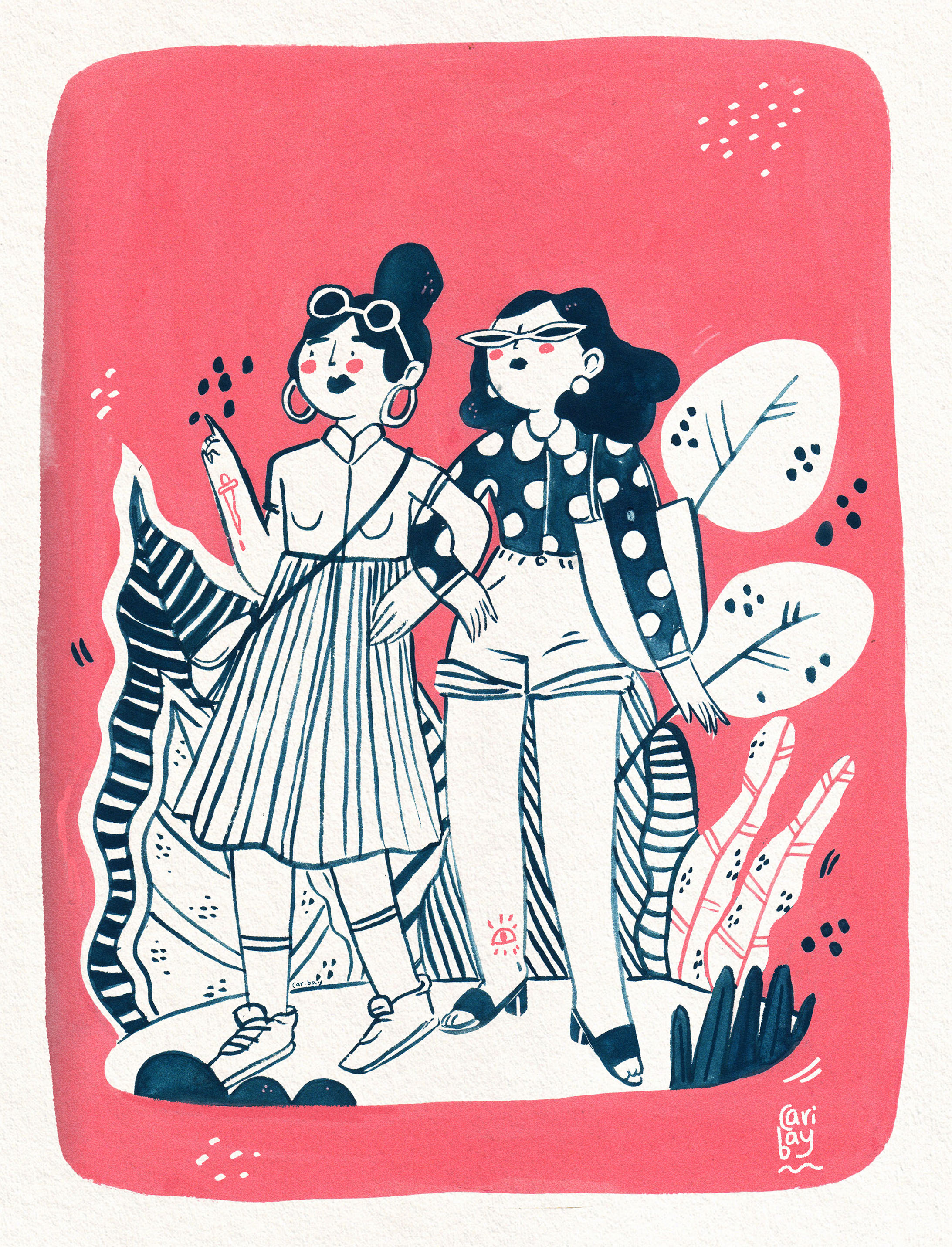 11. Now, tell us a little more about you as a person: what is your favourite food?
Everything made into a sandwich is fine by me. I'm a total foodie and I love different kinds of meals, Peruvian food, sushi, and of course some classical Venezuelan food like arepas or my favorite, a big plate of black beans. Amo cualquier cosa convertida en sandwich, todo es mejor en medio de dos pancitos. Soy muy fan de la comida y me gusta probar diferentes cosas, comida peruana, sushi y por supuesto los clásicos venezolanos, arepas y mi favorito: un plato enorme de caraotas negras, que es cómo le decimos a los porotos o frijoles negros.
12. Favourite book?
Moon Palace, by Paul Auster
13. Favourite genre of music?
I like happy nostalgic music, is that a genre? I like folk indie music that I can dance with it, even though I can't dance a bit. Me gusta la música feliz y nostálgica, eso es un género? Me gusta la música que me hace feliz y con la que pueda bailar, aunque sea malísima bailando.
14. What are your hobbies?
Apart from drawing, I enjoy to knit and ride my bike. Aparte de dibujar, me gusta mucho tejer y andar en bici
15. If you weren't an artist, what would you be?
Since I do my own hair I think -with proper training- I would be a hairdresser. Me corto y tiño el pelo desde hace muchos años, es algo que me gusta mucho y creo que con un entrenamiento adecuado podría haber sido una buena peluquera.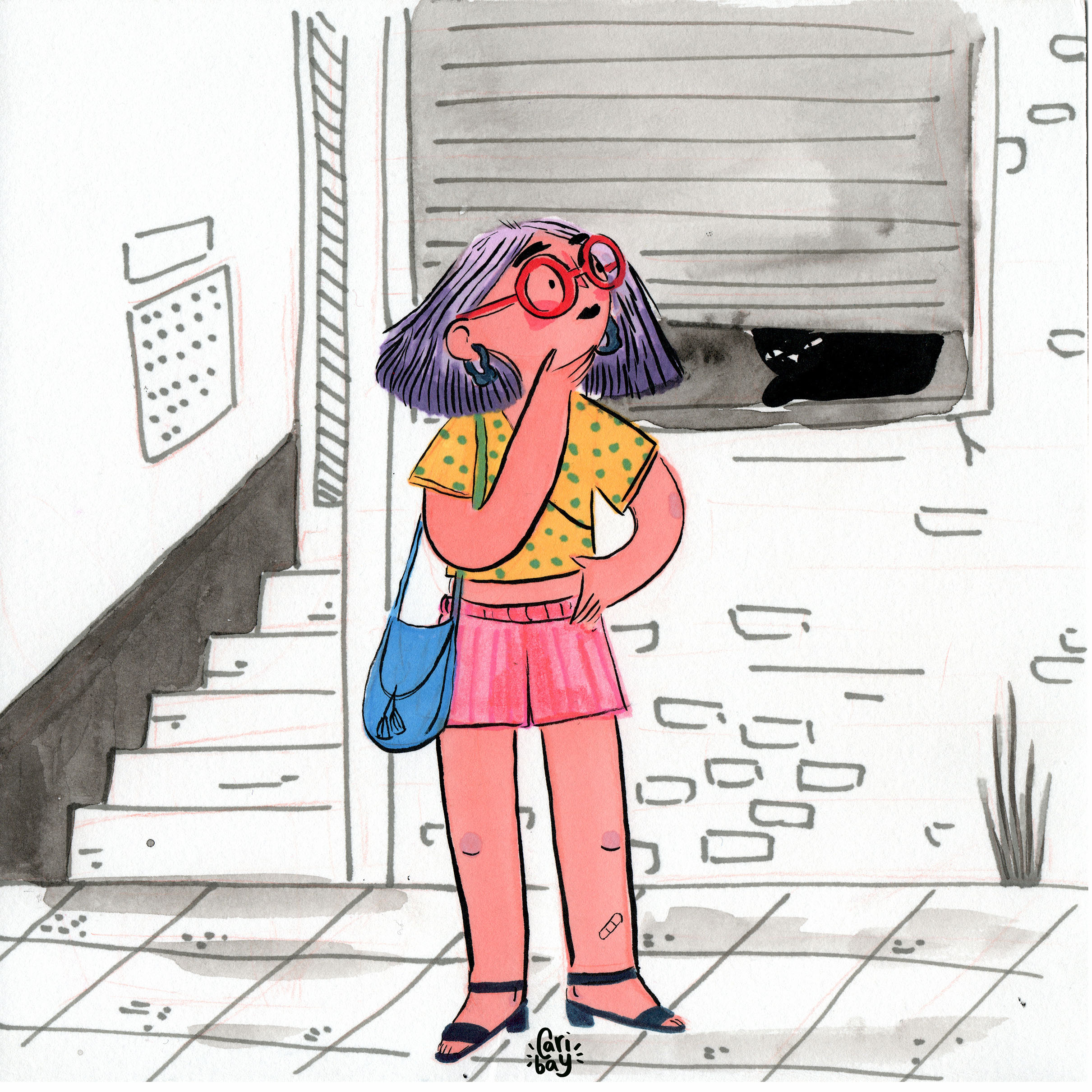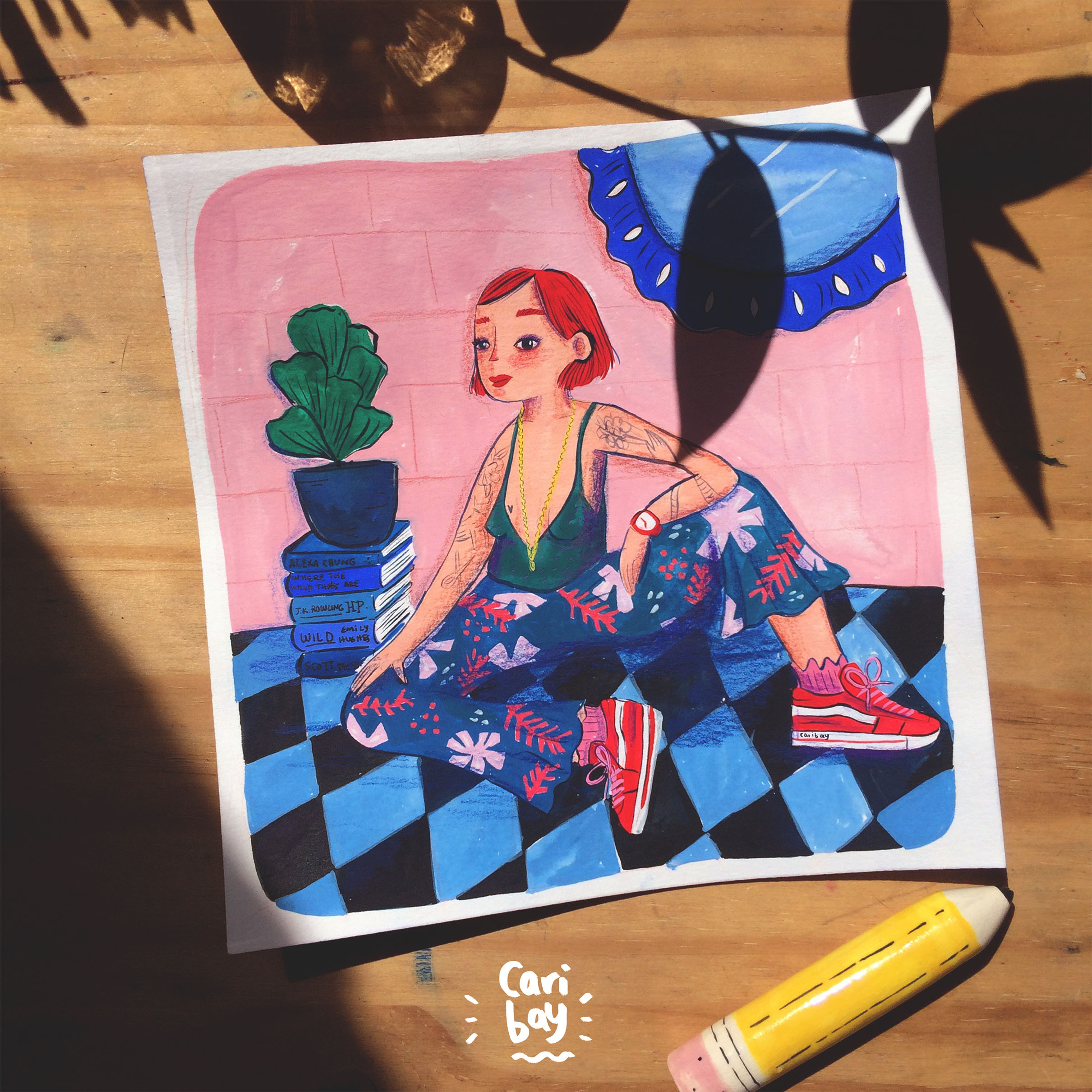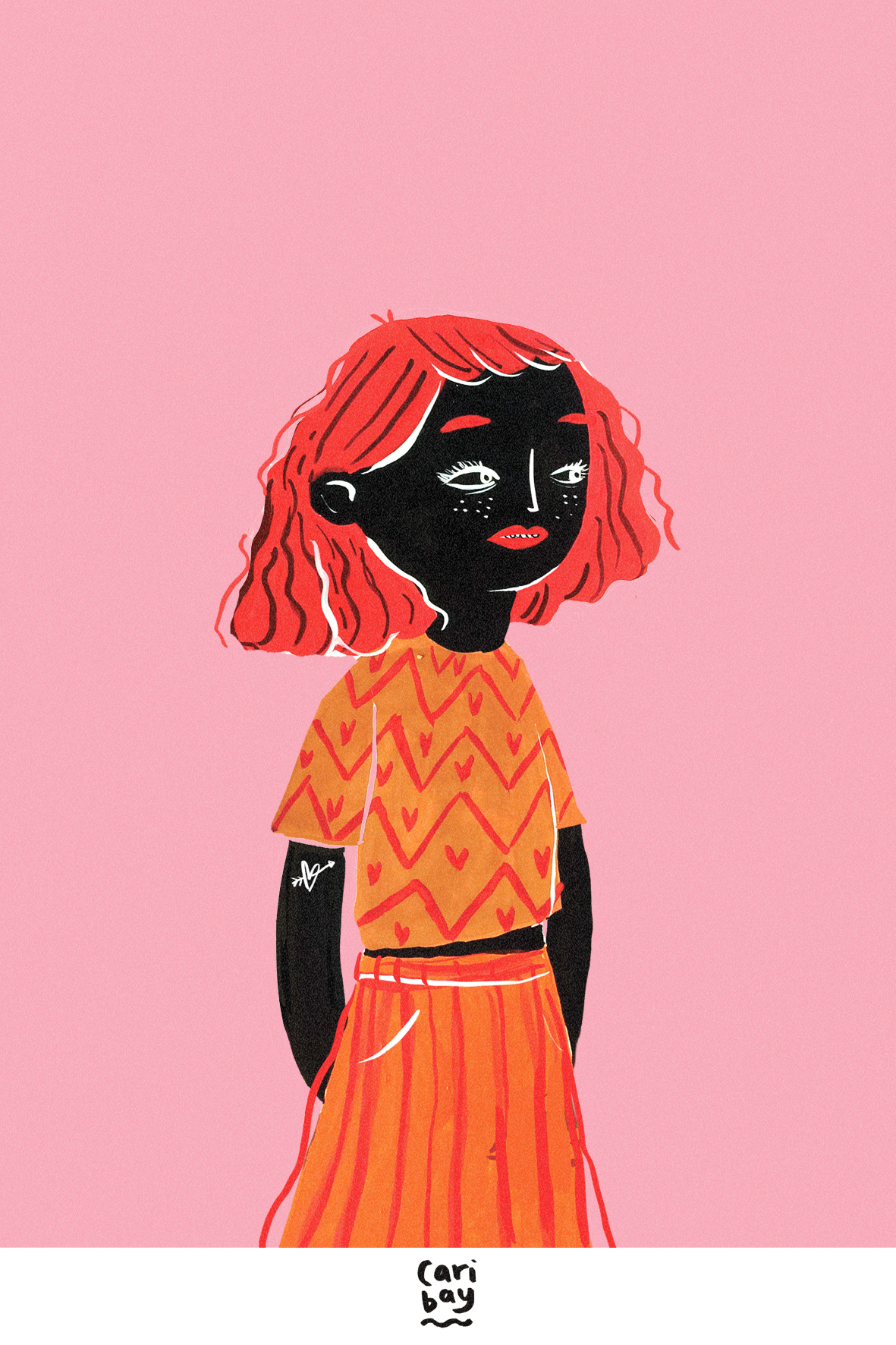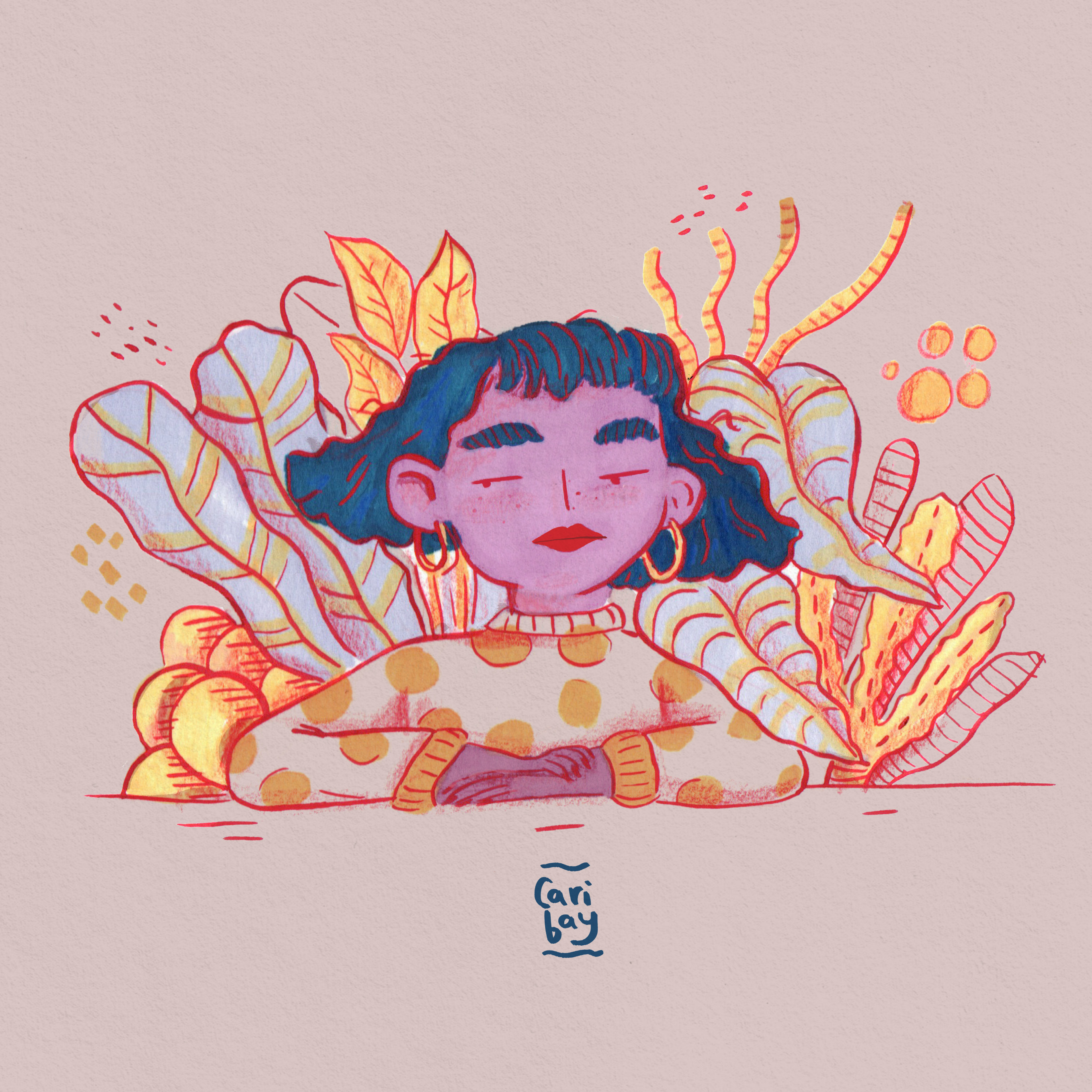 Curated by @inspiracion.pattern.ar, Ballpitmag curator for
Argentina