Instagram:
@carla_mcrae
Twitter:
@carlamcrae_
Tumblr:
thepaperbeast.tumblr.com
Website:
www.thepaperbeast.com.au
1. What's your story? Where are you from?
I grew up on the Sunshine Coast in Queensland, Australia. It feels like I spent my childhood alternating between swimming at the beach, riding my bike and drawing everyday, so I was pretty lucky! Straight after high school I studied graphic design at my local university, and after I graduated shifted down to Melbourne on a bit of a whim to see what was happening there. I started freelancing and working in hospitality, until I could quit my job — and here I am now!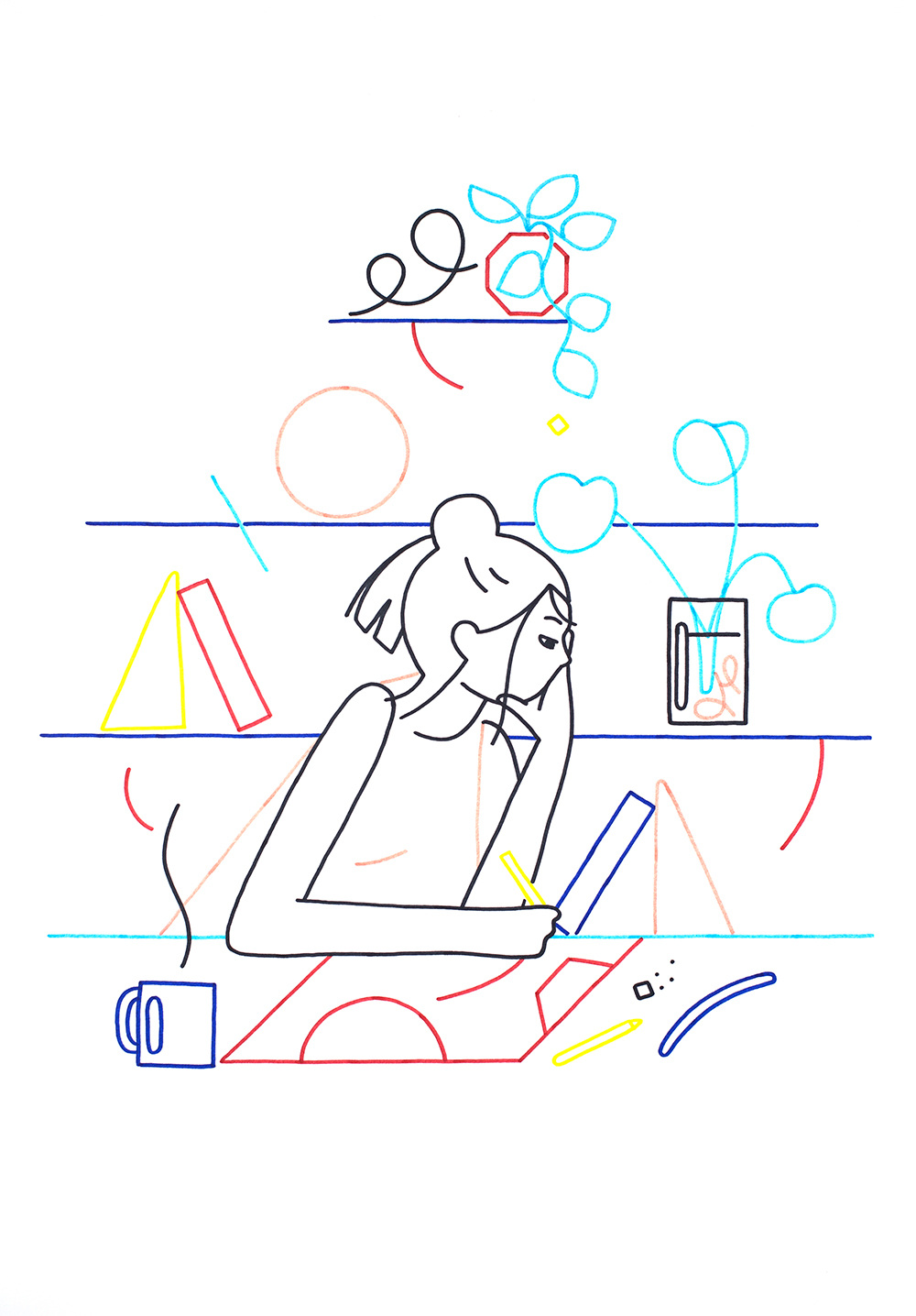 2. Tell us about your aesthetic.
A world made up of characters in strong lines and colour, filtered down by my attraction to simple, geometric forms and shapes.
3. What is your favourite medium and why?
At the moment I'm really enjoying using coloured pencil and really going hard and fast with the lead. Such fun texture to work with. But otherwise, I'm usually pretty down with markers or house paint on a wall!
4. What is your artistic process like?
The processes I use are all rooted in collecting imagery and drawing repetitively. I do take a lot of photos, especially when traveling, and often use these as a starting point for drawings, ideas or colour inspiration. I also collect lots of different images from books and when I'm browsing the internet. Whether they're photographs, words or art, these works can often trigger ideas for me and I like to collect them along with my own content in a blog which I can easily access when I need a reminder of what I'm 'into'. My practice evolves by drawing a lot, distilling people, scenes and objects down into an image that is simple and aesthetically pleasing to me. I often trace the same image many times in pencil to refine as much as possible
5. Who and/or what inspires your work?
I'm inspired by many different things — scenes I see and experience day-to-day, art and design through history, my friends and their work, nature, travel, film, music and books.
6. What role does art play in your life? How does it change the way you view the world?
Art is an integral part of my life. For me it has always been the way that I process and experience the world, whether it's enjoying other peoples' work or making my own. It's also a viewpoint into other peoples' worlds and the way that they experience life, which I'm always very curious about.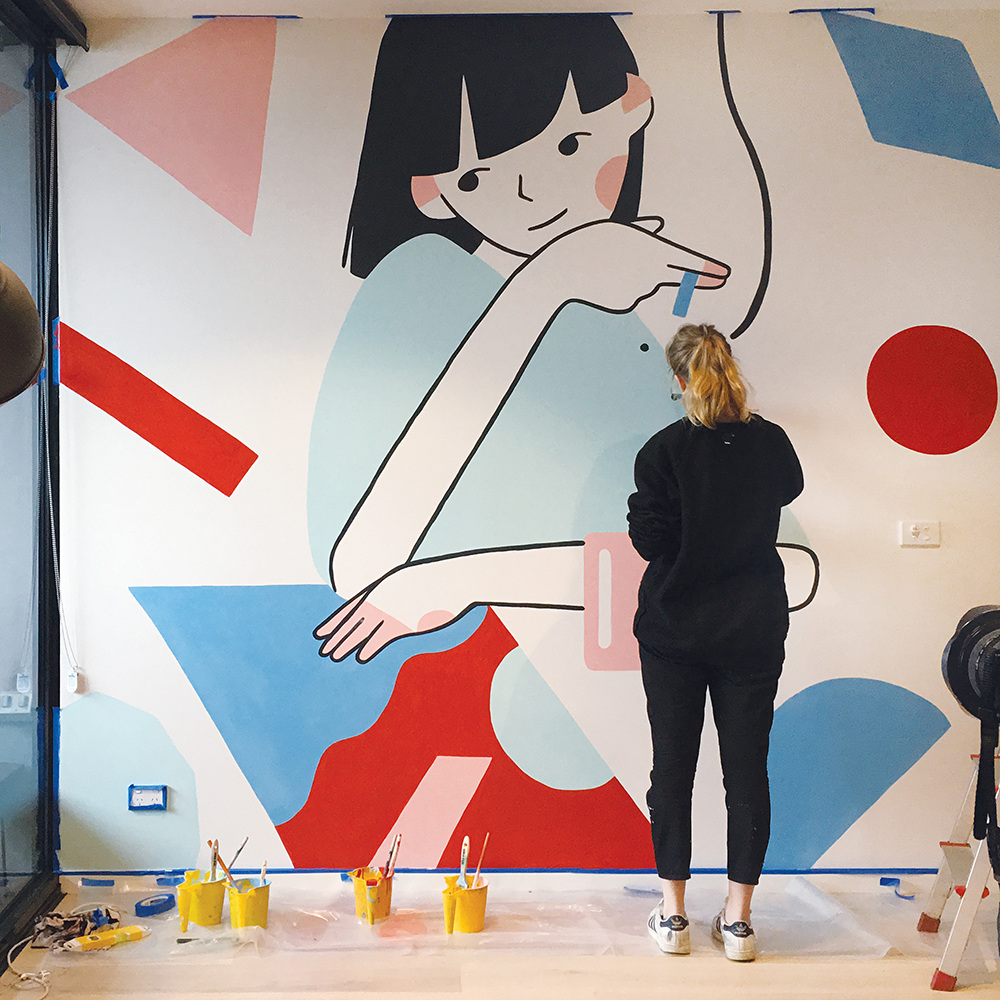 7. Where did you study?
University of the Sunshine Coast in Queensland.
8. Where do you see yourself in five years? Working in an agency?
Mm, not so much in an agency. I studied graphic design and enjoy it a lot, but I'm not really aiming for that career path anymore. I'd like to be sustaining myself with my own work, be it art or illustration, and still be happy and fulfilled with this choice.
9. What about in ten?
As above - but hopefully with a lot more travel and incredible experiences with the people that I love, feeding me and my work. I'd love to do some small stints overseas, residencies and things like that.
10. What do you hope to achieve with your art?
I usually just aim to make work that makes myself and others feel calm, positive and happy. If I can give someone a little escape for a second or they can find joy in my drawings, i've done my job.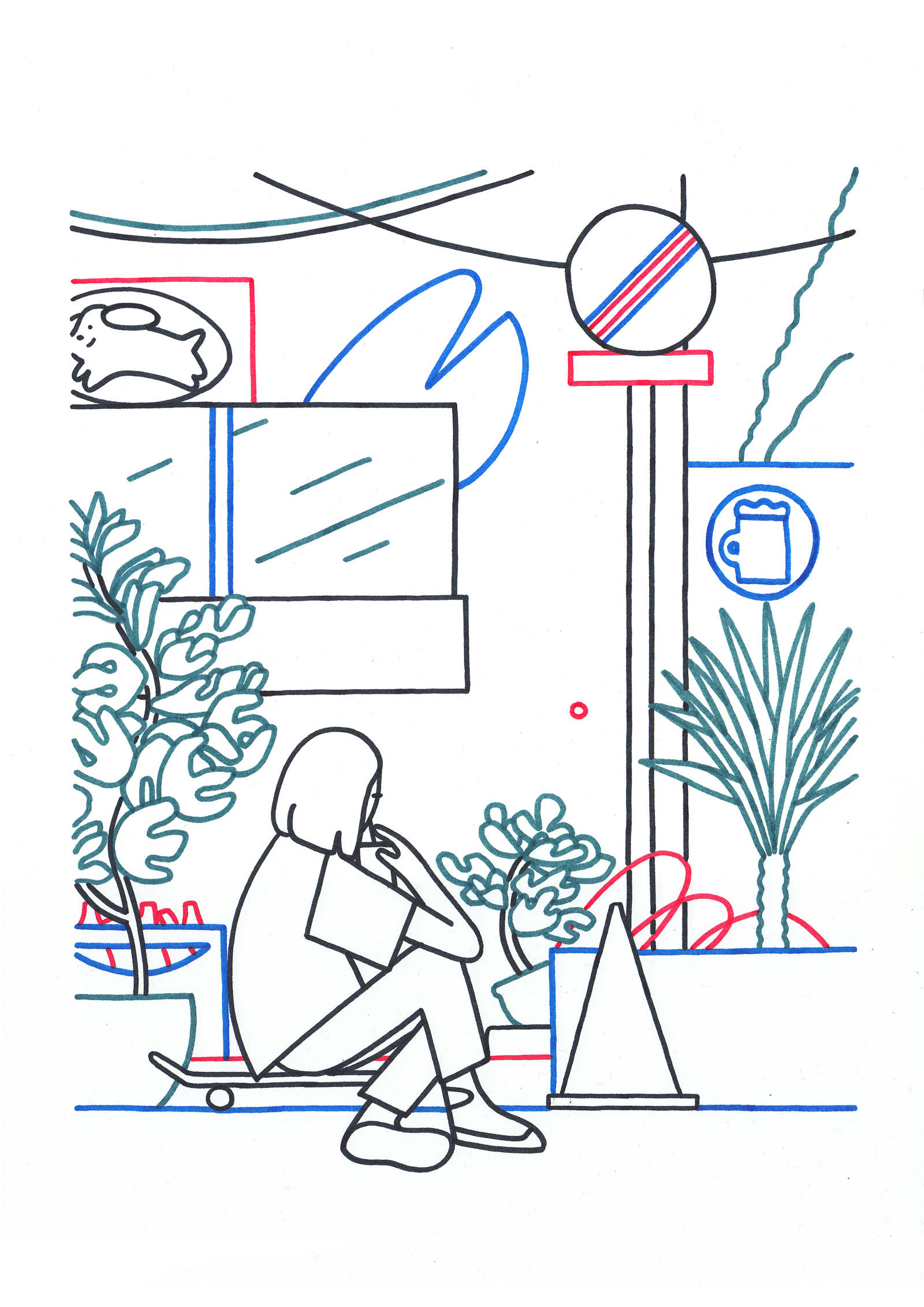 11. Now, tell us a little more about you as a person: what is your favourite food?
Ooo tough question. I love food. One of my favourite meals is cold soba with tempura.
12. Favourite book?
Again, tough. Maybe Kafka on the Shore by Haruki Murakami. Or short stories by Miranda July.
13. Favourite genre of music?
Electronic
14. What are your hobbies?
Drawing, reading, taking photos, swimming in the ocean… I want to get back into making music sometime.
15. If you weren't an artist, what would you be?
A designer (haha!)