Instagram:
@carlo_stanga
Facebook:
www.facebook.com/carlostangaillustrator
Pinterest:
www.pinterest.com/carlostanga/carlo-stanga-illustrations
Behance:
www.behance.net/carlostanga
Linkedin:
www..linkedin.com/in/carlostanga
Website:
www.carlostanga.com
1. What's your story? Where are you from?
I was born in Italy in a village not far from Milan. I began to draw since I was 2, sketching mainly crocodiles, witches and elycopters on every surface, paper, walls and my parents books as well. When I was 8, I visited Rome and decided to become an architect, so after attending the" Liceo Classico", an italian high school where the mainly disciplines are Literature, History, Philosophy, ancient Greek and Latin, I studied Architecture at the Polytechnic of Milan. After my degree I began immediatelly to work both as an Architect and an illustrator. It was a crazy working life since it was so difficult to follow such different fields, so finally, in order to find the right balance and quality of life, I decided to dedicate myself only to my first passion, the illustration, but including a lot of architecture in it. So I am still drawing buildings and urban landscapes, but without the typical stress of an architect life. As a free-lance illustrator I find that Berlin is a great and inspiring place for me, so now I am based in the German Capital.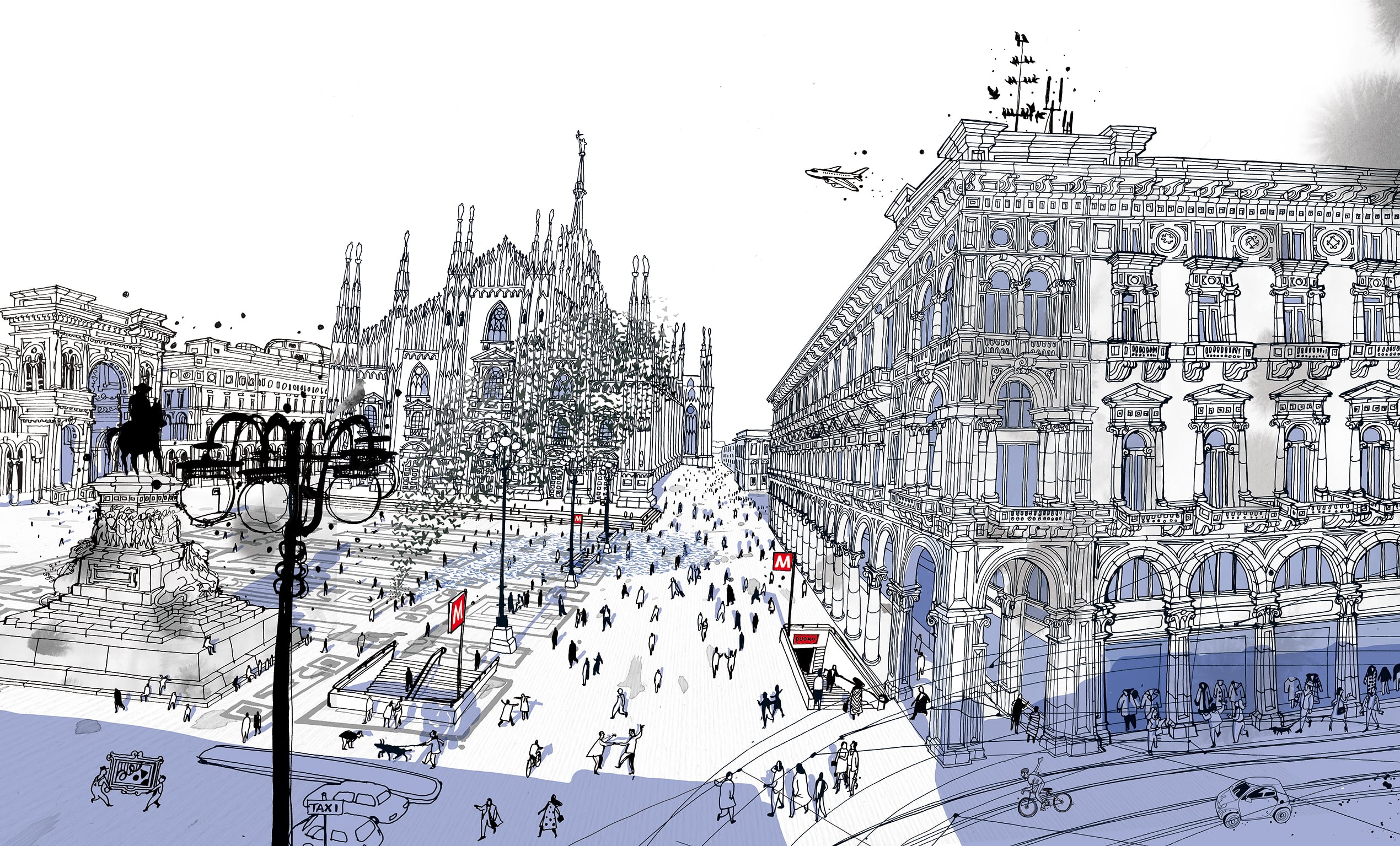 2. Tell us about your aesthetic.
Fine ink outlines, mainly black, but also orange, blue or other typical colors of my personal palette. Transparences, graphic signs, watercolors, layered architecture, cities, movement, urban atmosphere.
3. What is your favourite medium and why?
I like to draw first with a rotring rapidograph 0.1, a typical architect tool, and then color it with watercolors and re-work everything digitally.
4. What is your artistic process like?
First a lot of research in the internet and travelling in the place I need to depict. I also like to read the history of the city or the building. Second I sketch it with my rapidograph and when the black outline is done I scan it and proceed with a light digital coloring.
5. Who and/or what inspires your work?
Many things inspire me in creating new images. Travelling and visiting new cities is one of the first situations that make me full of drawing energy. Of course I love many great artists like, for example, Saul Steinberg, Saul Bass, David Hockney or Domenico Gnoli, but I feel also the influence of the music, every kind of good music, and the cinema. Film directors of different styles and times like, among the others, Federico Fellini, Steven Spielberg, Stanley Kubrick, Ridley Scott, Peter Greenaway, Xavier Dolan are inspiring me so much! When I feel really inspired I need to draw immediatelly, this is very important. I have to sketch a fast rough down a piece of paper to fix that idea and try to keep alive this unique moment. On the genuine inspirational wave you cannot stop drawing. In those moments I feel very happy and lucky to do this job as an illustrator.
6. What role does art play in your life? How does it change the way you view the world?
Art does not change the way I see the world because I already can see the world only through art I think. Every corner I see in the real life appears to me through the colors, fantasy and lines filter. It is an automatic process.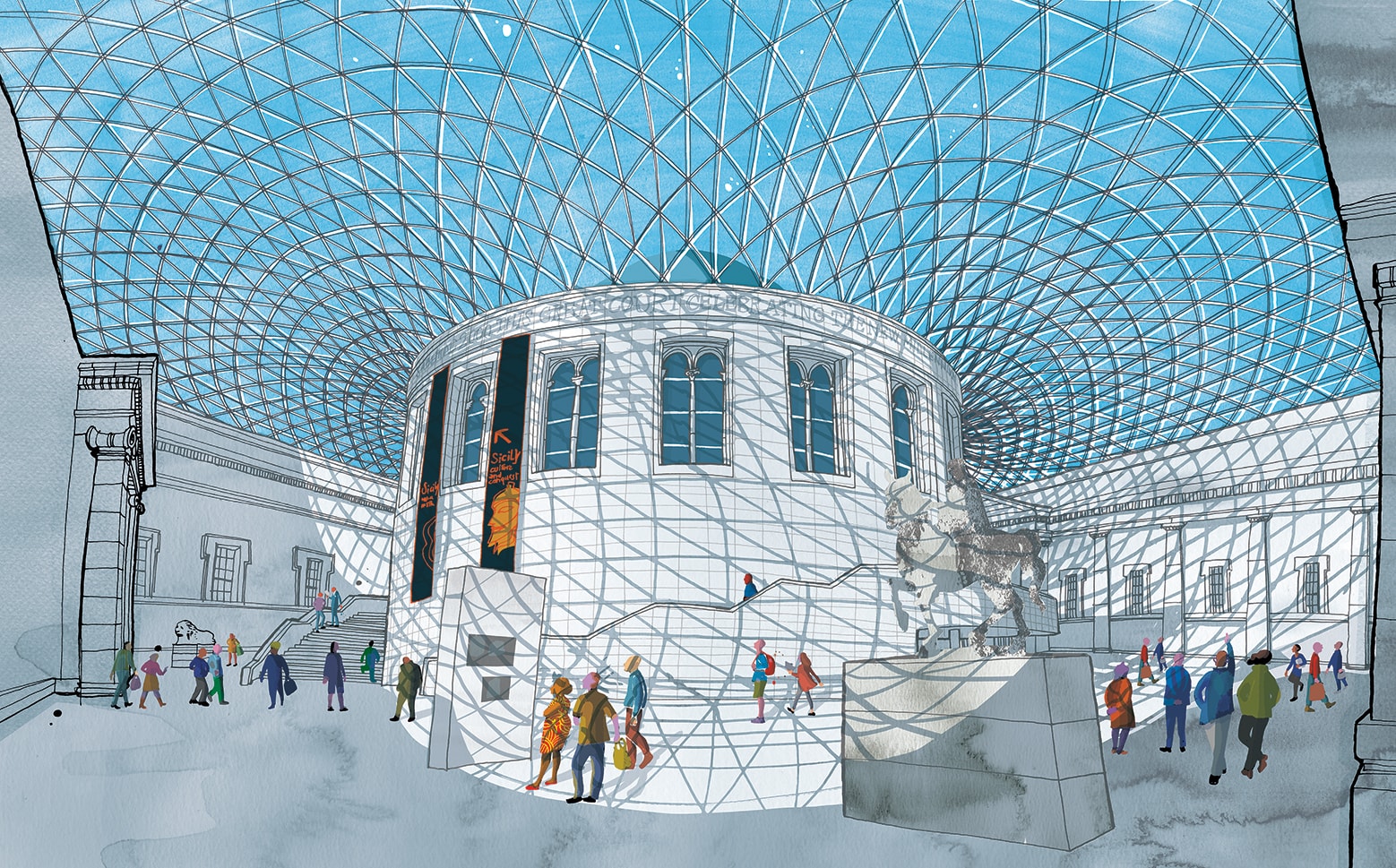 7. Where did you study?
As I told you before, I attended the Liceo classico and the faculty of Architecture at the University. At the same time I studied illustration in Milan at the " Scuola del Fumetto" and Design at the Domus Academy. During the last period of my studies I was so lucky to experience working with the legendary italian designer and artist Bruno Munari. His example of professionality and humanity is still a major point of reference for me.
8. Where do you see yourself in five years? Working in an agency?
In a new big studio here in Berlin, with a lot of space for my prints and books, working always as a free lance illustrator, I love freedom!
9. What about in ten?
Always working in my big atelier, but on a smaller number of works, mainly books, and with more time to travel. I do not need so much, I do not like material things like cars or so…I need to create new images, I simply love drawing and share my passion with other people. I hope to keep on making my series " I am the city" for Moleskine. At the moment the two first titles are " I am Milan" and " I am London". I am preparing " I am New York" now. There are so many interesting cities in the world, I could never stop to tell their stories and depict them!
10. What do you hope to achieve with your art?
A better self undertanding and , through this, a always better feeling with the other people.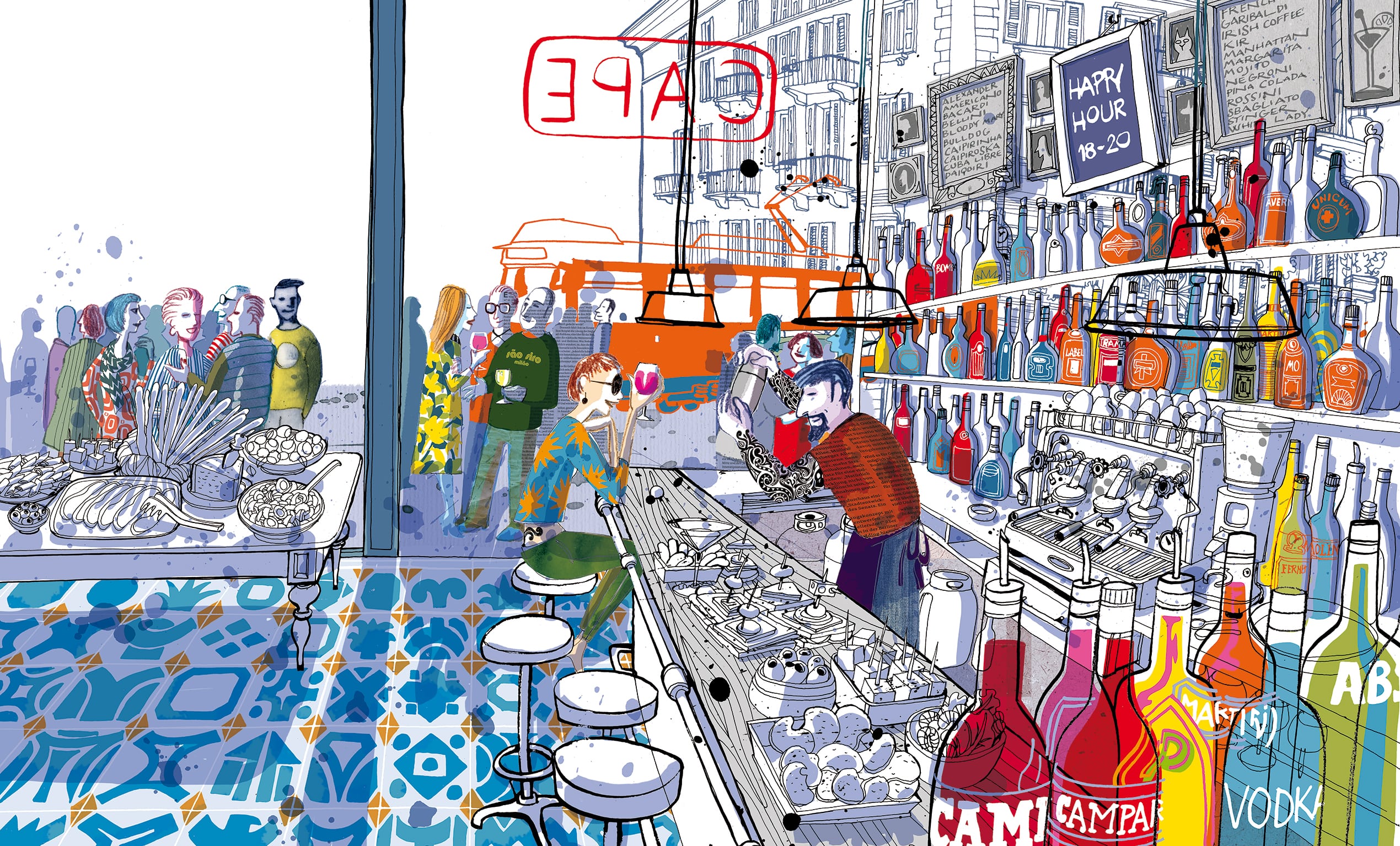 11. Now, tell us a little more about you as a person: what is your favourite food?
Pasta al pesto
12. Favourite book?
Recently I loved Jonathan Safran Foer's Extremely Loud and Incredibly Close , but there are so many books I like. When I read a book, beyond the plot, I particularly enjoy the writing style technich and quality. For example one of the best writers is for me Vladimir Nabokov.
13. Favourite genre of music?
Many different kinds of music, from classical to jazz,pop, film soundtracks, indie. It depends on the mood of the moment. In any case I like listening to music when I draw.
14. What are your hobbies?
mmmmm….drawing
15. If you weren't an artist, what would you be?
When I was a child I used to say an astronaut. Well now I think a therapist psychologist.