Instragram:
@cat_sims
Twitter:
@catsims
Website:
www.catsims.org
1. What's your story? Where are you from?
I was born in a new town in the depths of the suburban South West of Britain and moved to London the first chance I got! I am now an artist and designer based in South East London and have been working on a wide variety of projects on a freelance basis for over 10 years.
2. Tell us about your aesthetic.
It has taken quite a long time for me to find my voice, but my work is now motivated by an interest in post-war depictions of architecture and public spaces, constructed at a time of huge social and political change. I research these images from a wide range of sources and try to construct little allegories and narratives which reflect on the spirit of modernism at a point in which this ethos is under great pressure to prevail. The impressionistic style of my work has undeniably been inspired by a mixture of artists such as Alan Clarke, Alan Moore, Daniel Clowes, Raymond Pettibon and 20th century designers like Nathalie Du Pasquier of the Memphis Group.
3. What is your favourite medium and why?
I love printmaking, particularly making risographs. This process appeals because the results are very hard to predict due to unique imperfections, slight miss-registrations of each layer and the incredible vibrancy of the inks. It's very satisfying to produce a piece of work that can only really be appreciated in the flesh - the fluorescent tones just don't translate on screen.
4. What is your artistic process like?
I take a lot of photographs, mostly of buildings and social spaces, which I will make sketches of - playing around with compositions and colour. I'll then scan these sketches and develop the work digitally, more often than not with a printing process in mind, so each colour or texture will be created in a separate layer. Laborious, fiddly, but cathartic all the same.
5. Who and/or what inspires your work?
Reading the news is beyond any science fiction anyone could write and I think at least one positive to come out of these tumultuous times could be that artists will take inspiration from the imminent changes to our society - be they bad or good.
6. What role does art play in your life? How does it change the way you view the world?
Making art has been a constant in my life for so long that I can't imagine it any other way. That said, I am aware that I tend to be a bit of an observer at times, rather than a participant.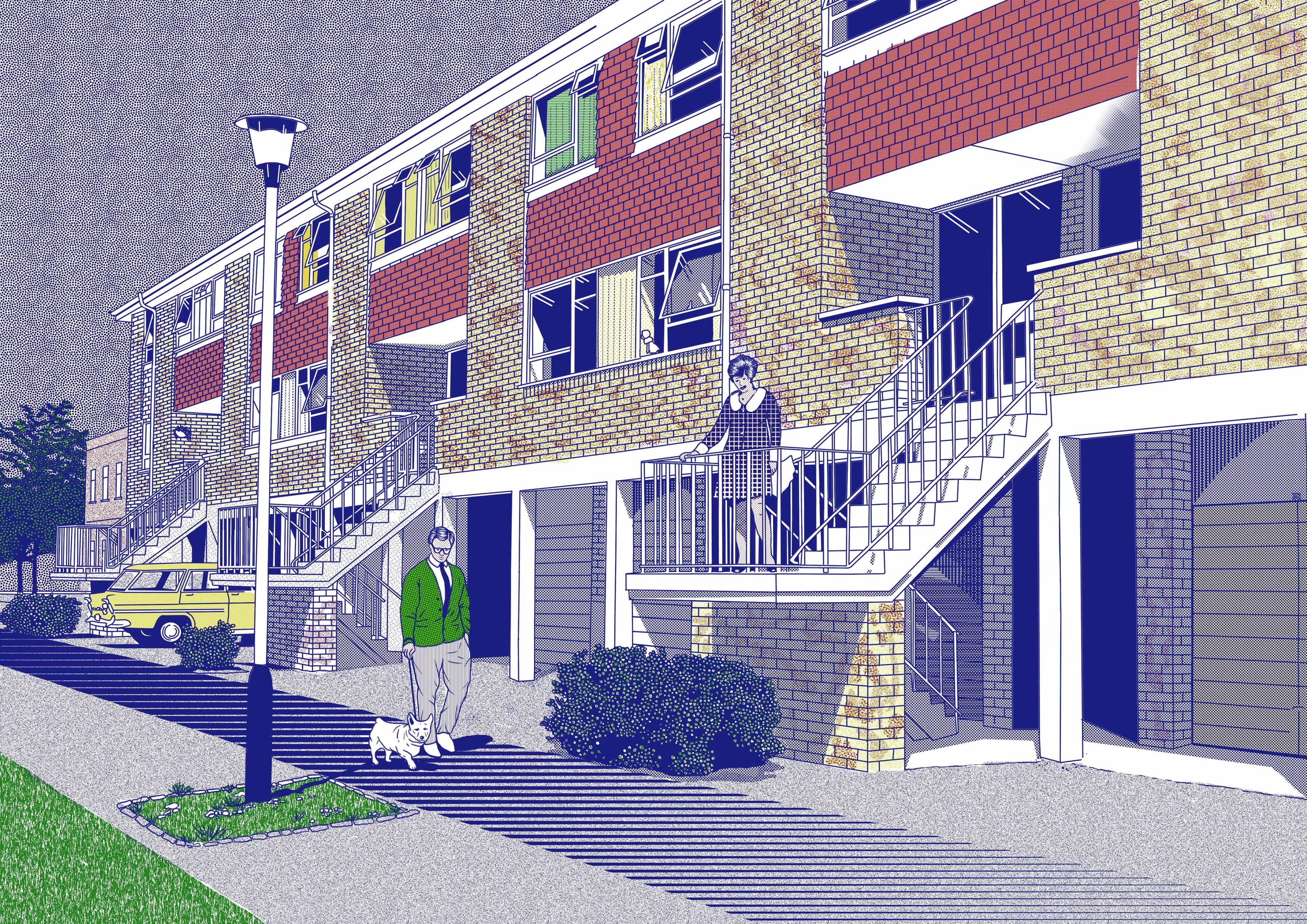 7. Where did you study?
After school, I studied a foundation course in Art and Design at Winchester School of Art and went on to the UAL London College of Communication (or London College of Printing as it was then) where I studied for a BA degree in Graphic Design. I worked primarily on (very unsuccessful) moving image projects during this time, always drawing a little but I only started to concentrate on this side of my work a few years after my degree.
8. Where do you see yourself in five years? Working in an agency?
I hope that I will still be working on enough freelance projects to keep me busy, but I would also like to teach at some stage.
9. What about in ten?
Oh, I'm afraid I haven't thought that far ahead!
10. What do you hope to achieve with your art?
It's great to see people react in a positive way to the work I've made so far, but I will ultimately aim to produce work that supports or encourages a wider public engagement. A public art commission would be the dream.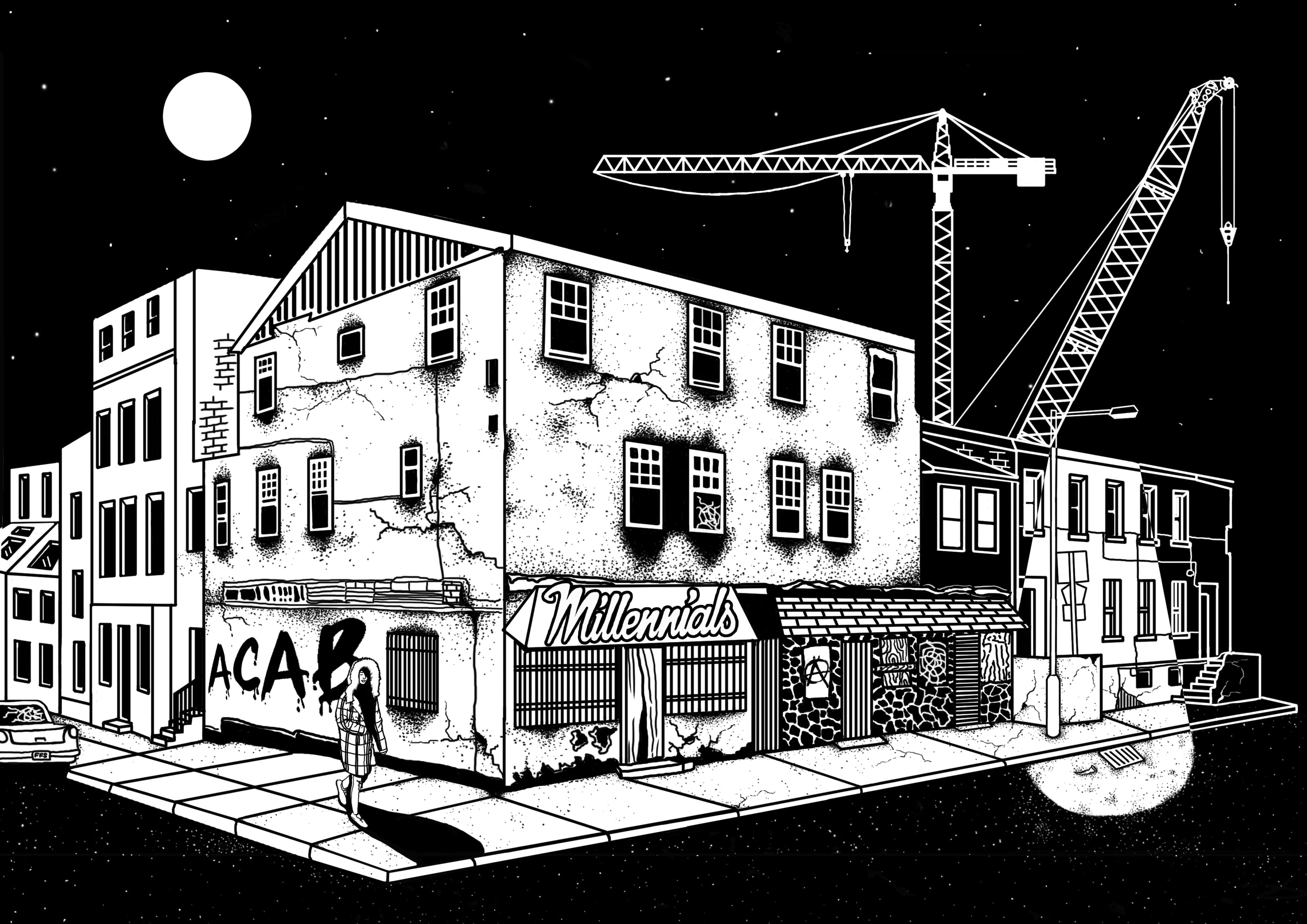 11. Now, tell us a little more about you as a person: what is your favourite food?
Sushi.
12. Favourite book?
Too many to mention. I love science fiction, but find myself reading a lot of non-fiction on architecture, the Bauhaus school and Modernism. Space, Hope and Brutalism by Elain Harwood has been a great source of inspiration.
13. Favourite genre of music?
I have extremely eclectic taste in music, ranging from drone to contemporary classical. I listen to music a lot.
14. What are your hobbies?
Visiting exhibitions, watching films, collecting mid century ceramics and playing the drums. Quite badly.
15. If you weren't an artist, what would you be?
Extremely bored.