Instagram:
@catiemillerceramics
Facebook:
www.facebook.com/CatieMillerCeramics
Website:
www.catiemillerceramics.com
1. What's your story? Where are you from?
My name is Catie Miller and I am an American artist living in Fargo, North Dakota-- yes, like the movie, but much different in real life. I grew up in Fargo and attended a local university for a Bachelor of Fine Arts degree in ceramics and a Bachelor of Science degree in Art Education. After graduation, I was awarded an artist residency position in Kansas City at Red Star Studios. This is where my work developed the most. Currently, I am living back in Fargo and have a home studio where I make and fire all my ceramics.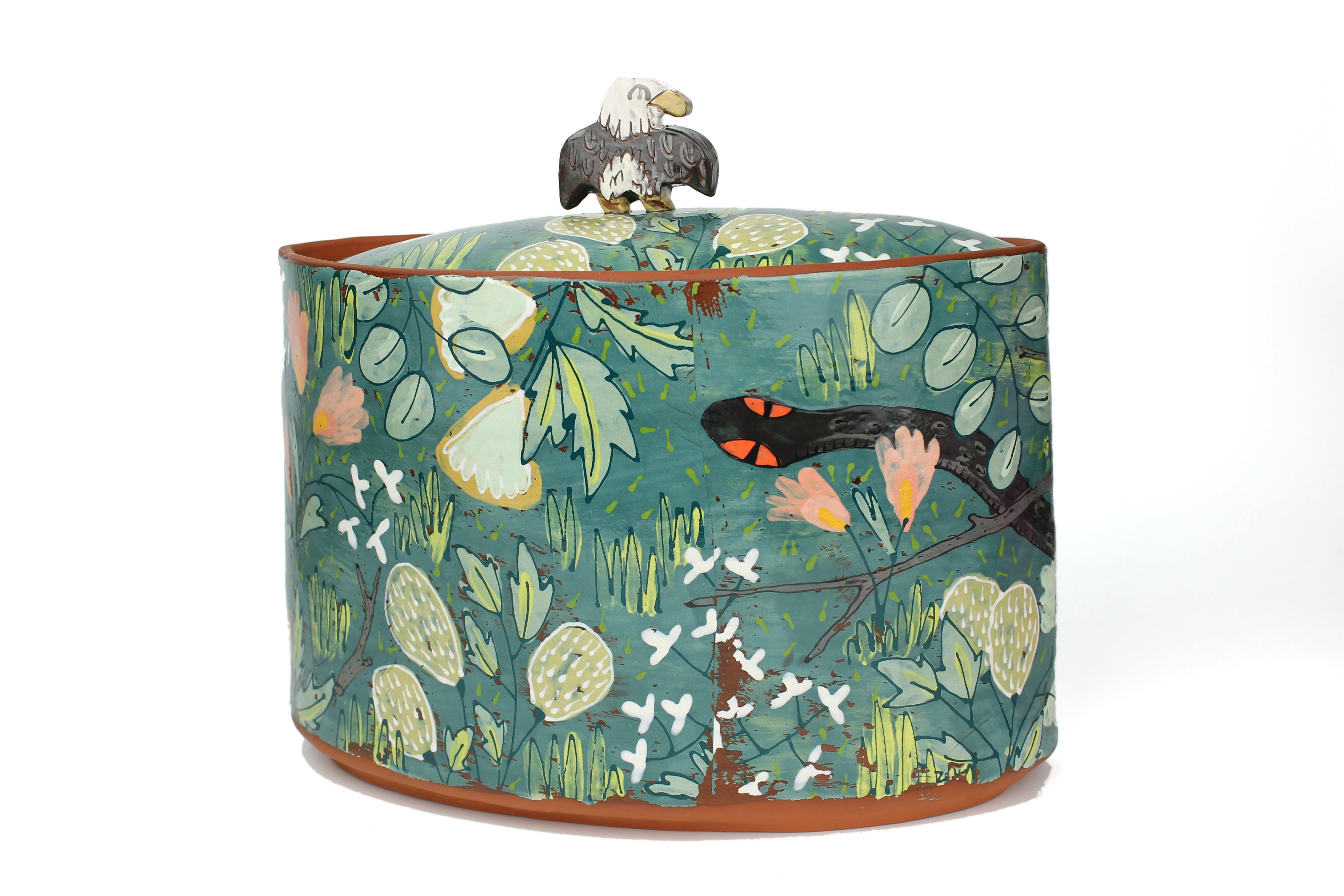 2. Tell us about your aesthetic.
My moto when describing my work is I make colorful, functional pottery with whimsical illustrations and doodles for your stylish, eclectic home. I draw all my designs for the surfaces of my ceramics on paper first, then transfer the drawings to the wet clay. Pattern mixing, color exploration, and worn layers is what I am after with each piece I create. I want them to look like they have a history, they've been made by hand, and though designs and forms repeat, they each have an individual personality.
3. What is your favourite medium and why?
My favorite medium is clay, hands down. However, for my work I create prints on clay, much like a monotype. Combining ceramics and printmaking satisfied my two favorite mediums. Clay is so responsive to touch. You can make anything from what starts as a lump of mud. Using drawing and printmaking for my surface decoration fulfills my desire to work 2D as well. I also love to dabble in crafts such as embroidery and jewelry making. I'd love to try to make punch needle textiles as well.
4. What is your artistic process like?
Similar to a monoprint process, I draw on newsprint with underglaze and paint the designs with colored slips. The slip covered newsprint is then pressed and transferred to the clay surface. This method results in diverse representation of my drawings, creating a timely, aged, and weathered appearance on the red clay foundation. After the first firing the drawings are set so the pieces can be sanded and glaze fired to be functional and food safe.
5. Who and/or what inspires your work?
Narratives and pattern play inspire my work. I love exploring modern issues with themes of folklore. I sometimes illustrate stories and superstitions from history and other times I create my own. Portraits and animals are camouflaged within plant motifs. The intertwined relationships with the environment and the characters allow the viewer to examine themes rooted in good intentions while others are rooted in immorality. A couple repeated characters include an ominous, wandering snake appearing throughout the lush floral patterns in contrast to unpretentious rabbits. The rabbits carry with them a belief in luck, rebirth and growth. I explore the use of color and symbolism deliberately to aid in my story telling. Some pieces offer glimpses of darkened monochrome surfaces which are a departure for me, countered by my more vibrant, colorful pieces, suggesting moments of optimism.
6. What role does art play in your life? How does it change the way you view the world?
I live in an art bubble. Our walls and cabinets are filled with art because it enriches our life and brings humanity into the objects we surround ourselves with.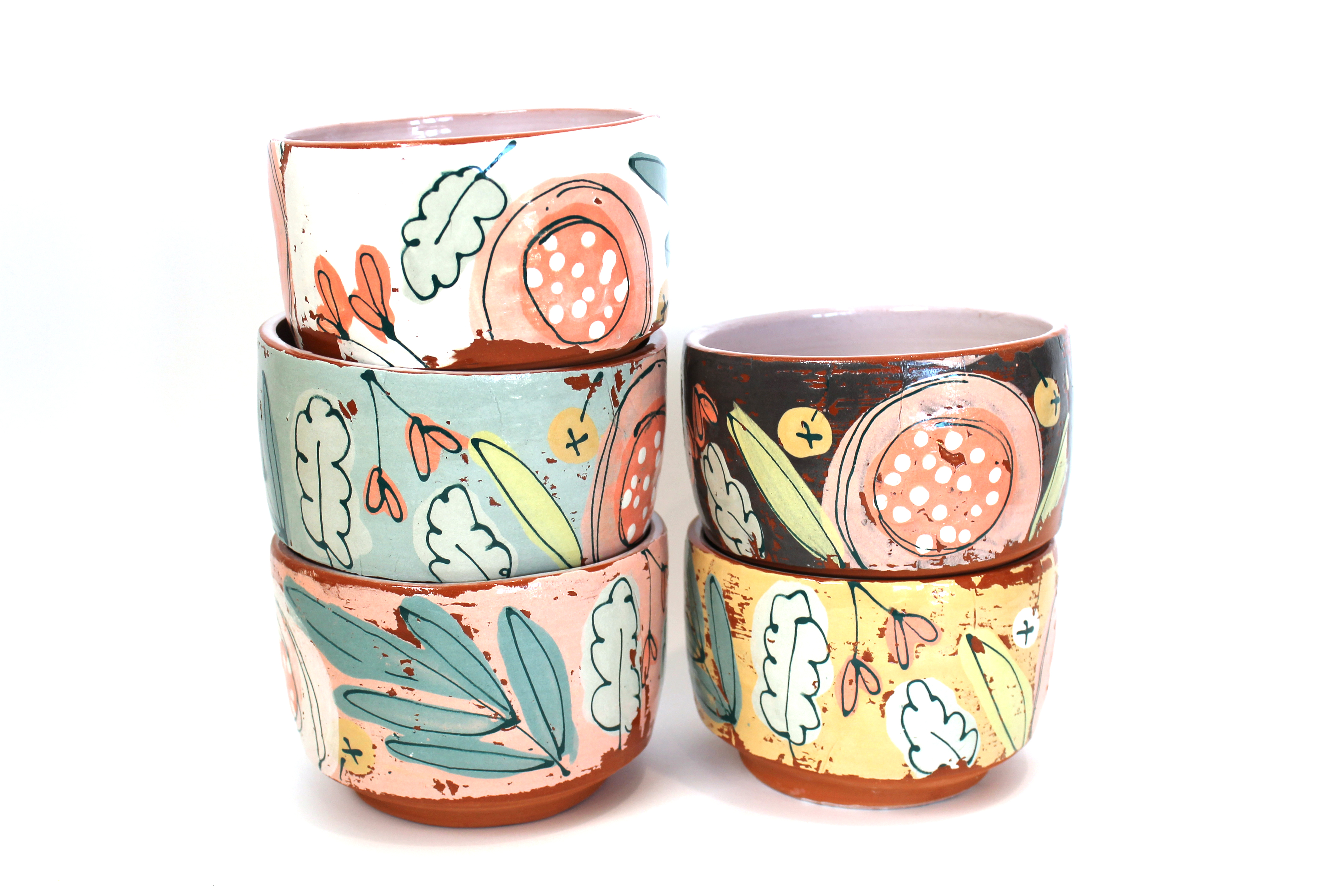 7. Where did you study?
I attended Minnesota State University in Moorhead.
8. Where do you see yourself in five years?
I will still be creating in some fashion, expanding my network across the country and world, and using my art to connect with individuals and communities.
9. What about in ten?
Well if my path continues to grow as it is, I think I'll be hiring an assistant. That would be incredible to make a living for myself and also support another person's income to live.
10. What do you hope to achieve with your art?
I want my art to be cherished by its owner. I hope they enjoy using the work in their everyday life and routines. I hope it makes them pause.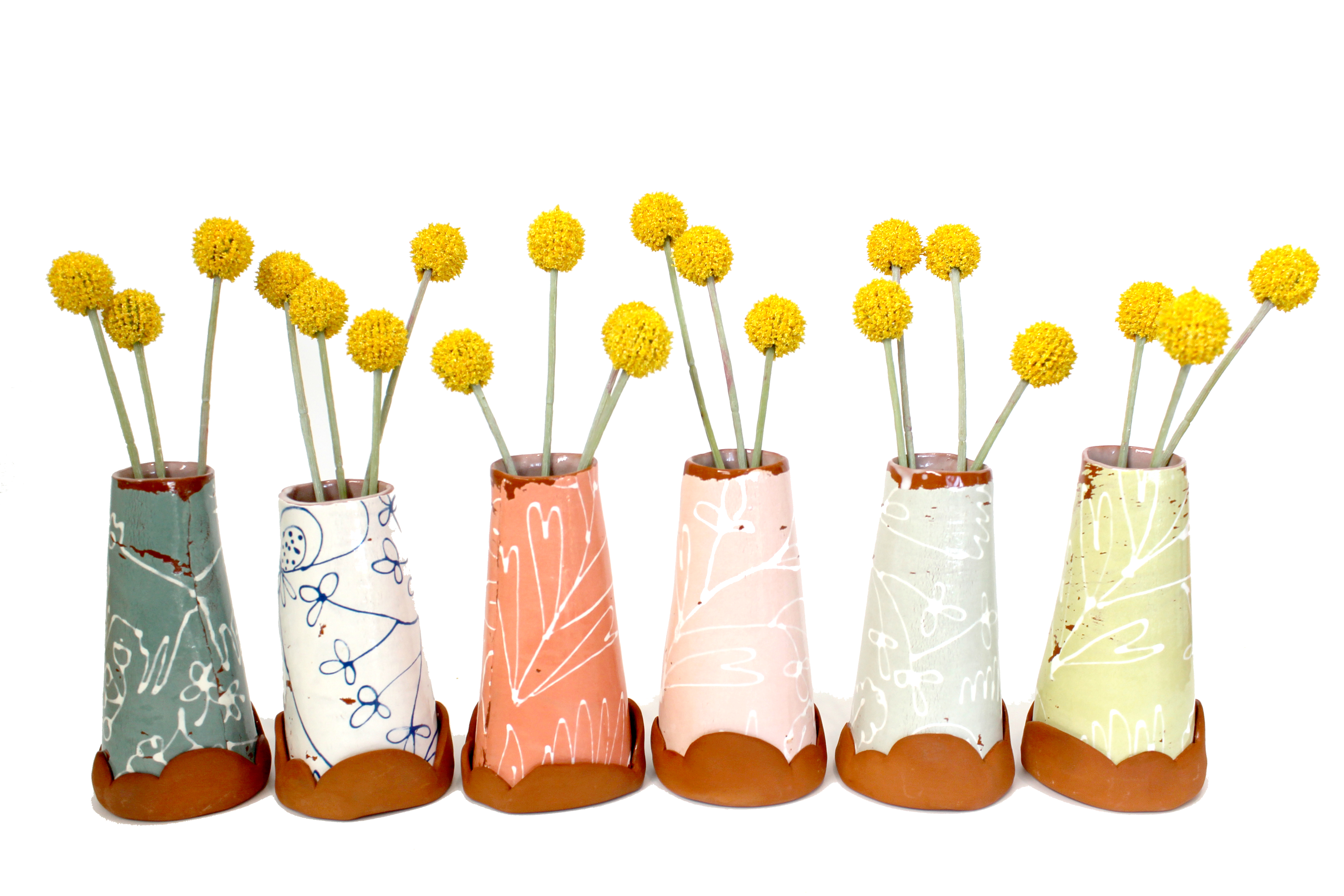 11. Now, tell us a little more about you as a person: what is your favourite food?
Tacos. If I had to eat one food for the rest of my life it would be tacos. If I got to choose 2 foods it would be tacos and mashed potatoes, and if it was 3 foods it would be tacos, mashed potatoes, and waffles.
12. Favourite book?
For content, I listen to a lot of podcasts while I work in the studio. Most of the books I own are children's books with illustrations I admire. A good goal for the new year would be to start reading more.
13. Favourite genre of music?
My pandora stations are all over the place from The Lumineers and Awolnation to Beyonce and TLC radio. I use music to change my energy level, so sometimes it needs to be loud and fast paced while other times I need something more soothing.
14. What are your hobbies?
My husband always says my hobby is my job, and he is kind of right. I love being an artist. I could (and often do) fill every moment of my time creating or day dreaming about creating something. I do like to take breaks and go outside to walk our miniature dachshund around the neighborhood or out of town to the lake and fish.
15. If you weren't an artist, what would you be?
I have a list of jobs I'd love to do, but the common thread is they are in the creative field. I'd love to design packaging, design wallpaper or fabric, be a fashion designer, interior designer, cake decorator, etc. I'm also fascinated with jobs like the postal service because of their organization and efficiency. Professional organizer would be another. I'm doing my dream job now so unless something drastic happens, I'll be a ceramic artist.