Instagram:
@catzero
Website:
kaufmanns.wixsite.com/catzero
1. What's your story? Where are you from?
Yo! My name is Sam, I'm an illustrator from Tilburg, the Netherlands. I was raised in a pretty creative family, my dad was an architect and my brother is broadly active in the fine arts department. Ever since I was little my brother and I filled up sketchbook after sketchbook, making our own characters and stories. That's probably what led me to study illustration at the art academy, where I graduated in 2017.
2. Tell us about your aesthetic.
As a base you take bright and pastel colors, add in some colored lines, mix up some constipated faces and selfish cats, together with a whole bunch of ridiculous humor and a little pinch of an edge, and you pretty much get what my aesthetic is all about.
3. What is your favourite medium and why?
Gouache and acrylic paint markers are my favorite tools of the trade. Gouache is such a nice medium to paint with, and very flexible. The opacity and matt finish make the colors pop out, and when I use it to drybrush over larger colored area's it gives the illustration a neat texture. I mostly use the acrylic markers for the colored lines in my work. The colors are also very vibrant and the marker gives me a lot of control over what I'm doing.
4. What is your artistic process like?
A lot of times an idea will come to me due to inspiration. It could be music, something I saw or a conversation I had. Other times I'll just start sketching in either pencil or pen, and mostly those sketches will form the base of the illustration. After I've done all of my important linework in pencil, I get out my paints and markers. Usually I have some colors in mind that I'd like to use, and a lot of those times I'll paint over a color five times because it doesn't work the way I want it to. So not a lot of prepping and just going with it, together with accidents along the way is pretty much how I work.
5. Who and/or what inspires your work?
Inspiration comes a lot from movies, games, books and music, but the biggest factor I think is other people. It can be other artists and the way their work reflects them as a person or triggers something in me. But also just people around me and conversations I have with them.
6. What role does art play in your life? How does it change the way you view the world?
Art to me is a way of showing the world what's inside you. When I was in art school I really got to know myself a lot better, and the art that I make is an output I use to convey what I feel or think. It's also a medium that helps me to do what I want and to bring across to other people what I want to convey, like making people laugh or giving an opinion about a current situation. Storytelling is also a big part in this because I not only love to tell stories but I'd love to live them too. Art is kind of a way to make me part of my own stories too.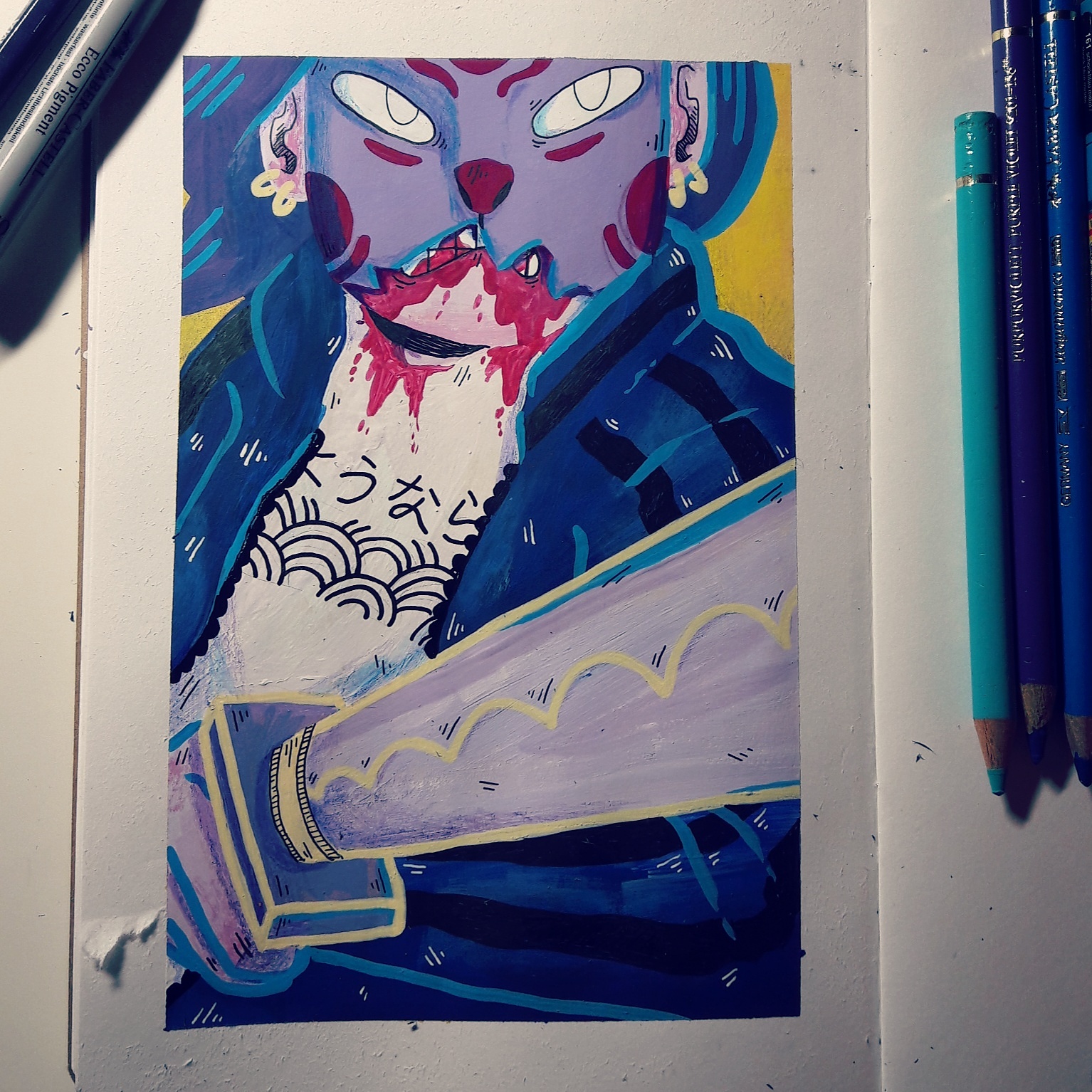 7. Where did you study?
I went to the AKV St. Joost in Den Bosch, the Netherlands. I graduated with a bachelor's degree in illustration.
8. Where do you see yourself in five years?
In five years I would love to own my own art gallery, in which I will host exhibitions for all kinds of artists with the main focus on illustration and animation (but in a broad sense). Here I'll also host events that will bring all these kinds of people together, to find their own place within a community. And on top of this gallery I will have a studio where I work on my own projects and where I am surrounded by friends/artist so we all have cool place where we can work and hang out.
9. What about in ten?
That's kind of far ahead, but I guess sort of the same but bigger and better than the five-year-plan. And I'll have at least one cat, for sure.
10. What do you hope to achieve with your art?
I like to make people laugh. So I'd love for people to relate to my art, and bring them together through humor.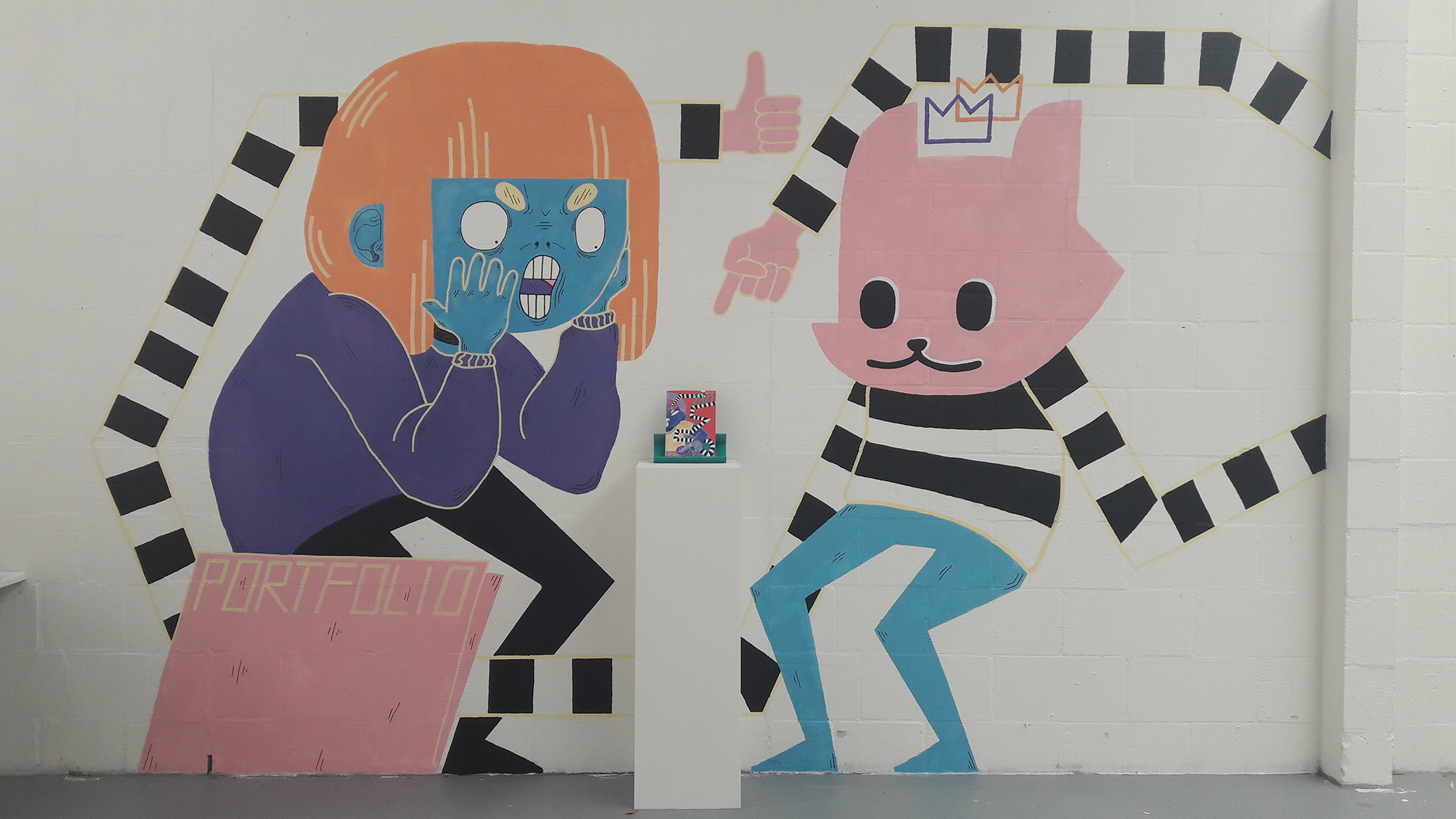 11. Now, tell us a little more about you as a person: what is your favourite food?
This is a tough question, I absolutely loooooove to eat! Good food makes me a very happy person. I'd say at the moment I'm really really fond of bibimbap and gyoza. But if you'd put some great Mexican food in front of me we'd be best friends for life too.
12. Favourite book?
One of my favorite books is IT by Stephen King. I love the story and the way it's build up. My favorite book series is the Robert Hunter series by Chris Carter, I love suspense!
13. Favourite genre of music?
I don't think I have a favorite genre, it really depends on what I feel like listening to. I really love music that's in a language I don't understand, it has a certain magical element because otherwise I'll focus on the lyrics too much and not the music itself.
14. What are your hobbies?
I'm a pretty nerdy person and I love to play videogames. Today I actually finished playing Horizon Zero Dawn, which is a gorgeous game! I also love to eat, hang out and play games with friends, pet animals, go to music festivals, watch movies or go on motorcycle rides with my boyfriend.
15. If you weren't an artist, what would you be?
If I wasn't an artist I would want to be a judge on Masterchef Australia, or be an astronaut. Or the first host of Masterchef in space!