Instagram:
@caylabirk
Twitter:
@caylabirk
Website:
www.caylabirk.com
1. What's your story? Where are you from?
I was raised in new york until the age of 7, but spent the larger portion of my life living in south florida - all my adult memories and creative growth come from the sunshine state.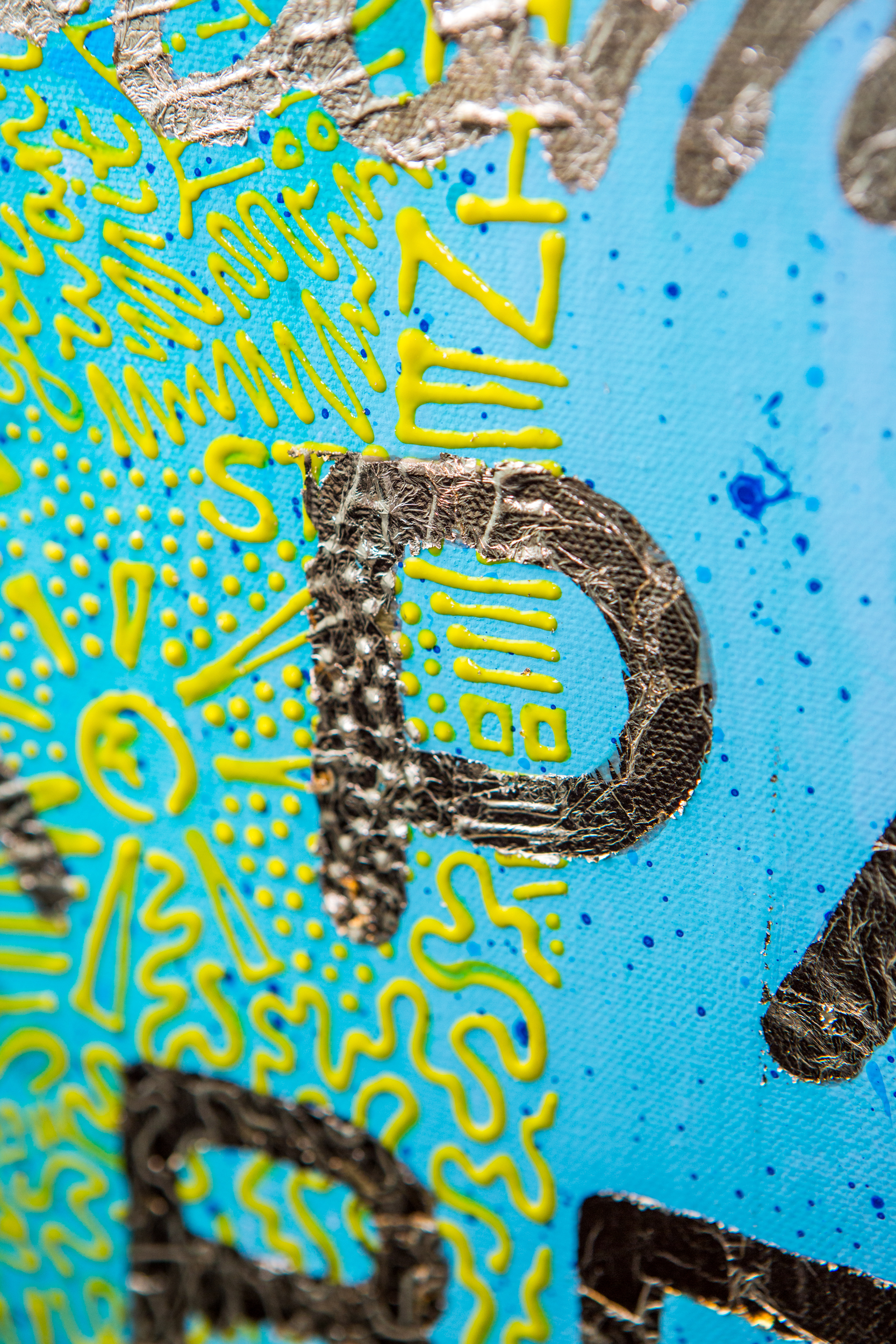 2. Tell us about your aesthetic.
The recurring theme in my works is what I've come to call my signature. it has been a constantly evolving style for the past 14 years. in the art world, some technically refer to it as "abstract expressionism", but the term seems to lack the full depiction. when the observer takes a closer look, they notice concrete intricacies, verbiage, and visuals that pervade the work.
3. What is your favourite medium and why?
As a mixed media artist, this question is the kicker. although I'm a huge advocate for found papers (matchbooks, parking tickets, vintage comics, shipping labels, etc.) I'd have to say acrylic is my favorite regularly used medium. the fast dry time is its biggest perk - i'm ambivalent at times, so it forces me to keep moving.
4. What is your artistic process like?
Typically, I get a notion for what i want the finished piece to say or express. from there i move backwards, trying to configure all the colors and complexities that must be included in my signature to get to that final point. the process is the time when i gain new knowledge and means of creative inspiration to include in my pieces - it's my favorite part and perhaps the most rewarding aspect of being an artist.
5. Who and/or what inspires your work?
I draw inspiration from a wide range of musicians, writers, and epistemologist. much of my work features lyrics, adages, notable quotes, and other pop cultural references.
6. What role does art play in your life? How does it change the way you view the world?
Art is and has always been an unabating presence in my life. at a young age art intrigued me with all its diversity; so many differing interpretations of the world really struck me as profound. I think art taught me to be accepting and curious of how culturally and intellectually vast people can be.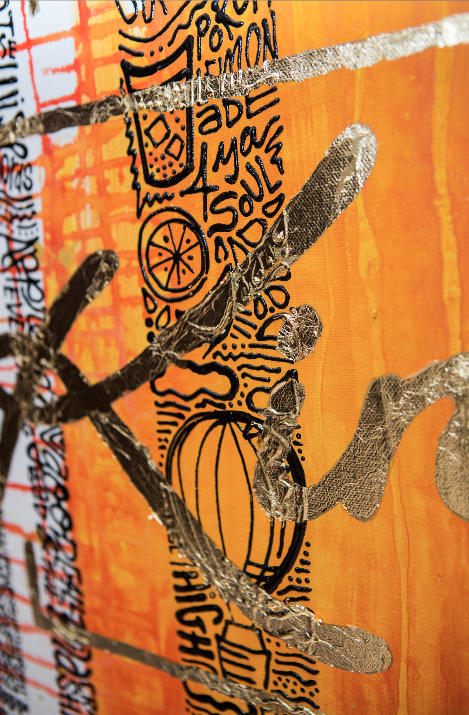 7. Where did you study?
I went to Alexander w. dreyfoos school of the arts, a place i credit for most of my creative growth and lifelong inspiring friends. i then went on to attain a bachelor's in advertising and design with concentrations in studio art, and art history from the university of tampa.
8. Where do you see yourself in five years? Working in an agency?
I worked in agencies for a few years, so I've already been to that side of the pond. it was a great learning experience, but I'm glad i made the entrepreneurial leap. within five years, I'd love to expand my studio size and collaborate with more creatives.
9. What about in ten?
in addition to continuously creating fine art, in ten years time, I'd love to be working with commercial companies - tailoring my signature to different products and people. It's always been a goal to collaborate on a shoe design that is Nike x Cayla Birk. - that's the dream, isn't it?
10. What do you hope to achieve with your art?
I've always said that as long as you can enlighten someone or change the way they think, that's the reward. it sounds trite, but I think making people a little more cultured and intelligent is the only thing that helps us retain our humanity.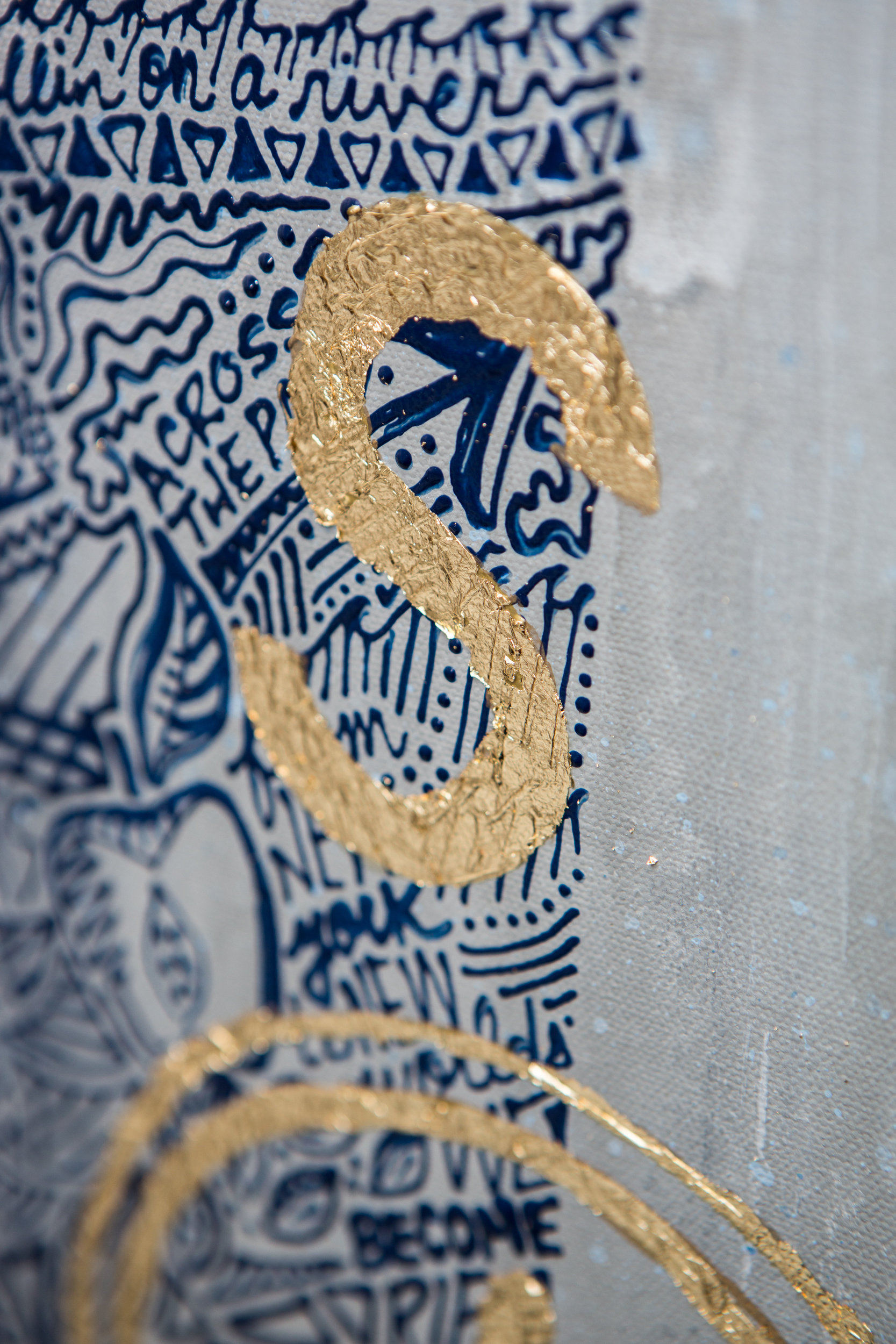 11. Now, tell us a little more about you as a person: what is your favourite food?
I'm always craving sushi or Thai, but i absolutely love getting messy, drinking beers, and cracking a bushel of crabs with friends.
12. Favourite book?
On the road by jack kerouac
13. Favourite genre of music?
I've got a wide spectrum but I love hip-hop, jazz, and reggae most.
14. What are your hobbies?
Fine art. friends. museums. cooking. eating. traveling. whiskey. backgammon. scuba diving. basketball (watching, not playing). reading. gin.
15. If you weren't an artist, what would you be?
Chef and restaurateur, preferably with Michelin stars.