Instagram:
@charleshenryjames
Facebook:
www.facebook.com/charleshenryjames
Website:
www.charleshenryjames.com
1. What's your story? Where are you from?
I was born in upstate New York. In 1982 I found myself very happily living in New York City, where I spent the eighties embroiled in the East Village art scene. I showed all over that finite universe, and met the most wonderful people. Along the way I worked with David Salle, Robert Longo, Karole Armitage, and the wonderful Gretchen Bender. As the scene imploded, I traveled down south, where I continued to my work in Little Rock, Arkansas. The contrast to NYC caused some tremors in my lifestyle, but it was a meaningful turn for my work. The more laid back atmosphere gave me time to slow down and think some things through. These days I split my time between New York and Arkansas, enjoying the best of both worlds.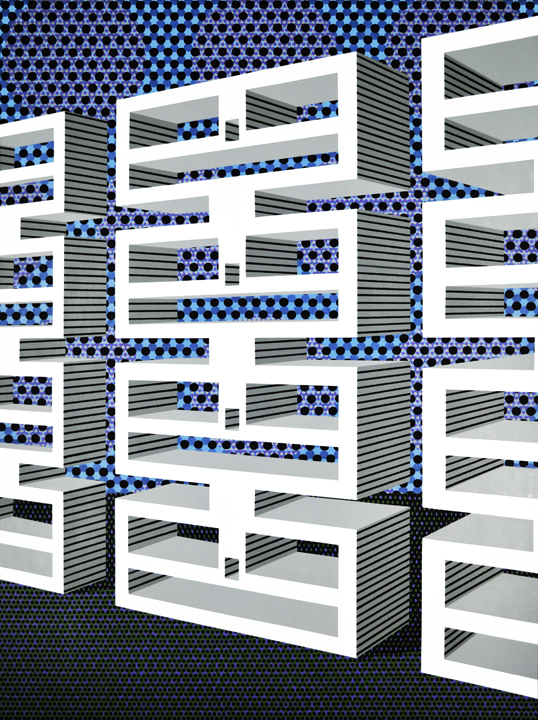 2. Tell us about your aesthetic
While I enjoy exploring the more formal avenues of aesthetic thought (especially the implications of object oriented ontology), my own work takes a more free-wheeling turn, where I can incorporate many interests. My current series exploits a lifetime of socio/political engagement, filtered through the lens of pop culture concerns like comix and animation, with an ongoing commitment to op art, surrealism and psychedelia. I frequently inject humor, however dark or playful, into my work. Humor adds a perhaps deceptive lightness and approachability to the proceedings. I see the process as one of therapeutic exorcism.
3. What is your favorite medium and why?
I have always used acrylic paint on canvas and paper. Over the years I've added spray paint, epoxy paint, and bits of other media, keeping well away from any sense a rule book. Having worked for a notable historic restoration guru, I came to incorporate classical stenciling and stencil brush techniques, which I have happily pushed into new territory.
4. What is your artistic process like?
I cut my stencils by hand, and draft out my canvases with rulers, string and a carpenter's laser tool to render perspective angles and lines. I have yet to incorporate any computer imaging into the process, instead sketching out ideas with a pad and pencil. But I rule nothing out for future works, and I can see Photoshop maybe coming in handy down the road. The canvases are pretty labor intensive with the tessellation and layering, and I have to always keep an eye on the linear progress across the surface, making sure things don't drift out of hand. The interesting thing is that for all the drafting and planning, I make a hundred decisions in each work as to color, content, and general direction the piece will take. You wouldn't know it from the finished works, but there is quite a flexible aspect to the process that keeps everything fresh and challenging.
5. Who and/or what inspires your work?
I've heard this said before, but it's absolutely true for me that I am inspired by many things whose influence may or may not be detected in my work. From Hieronymus Bosch to Charlie Harper, many luminaries fan the flames. The music I listen to while working is very important to the process. Depending on the time of day, that will be Indian Raga, electronic noise, rock, neoclassical, or Harry Smith's Anthology of American Folk Music. Also, my friends and family inspire and reinforce me in ways that are beyond description.
6. What role does art play in your life? How does it change the way you view the world?
My brain is a torrent of ideation, imagery, and song. When I get down to work, the horizon broadens out and my mind can graze in a very relaxed way. Aesthetic considerations are a way of life. The questions and challenges extend into the world at large and inform the way I see things. The relationship of the senses to the objective world, what constitutes so-called reality, flows directly back into the art process.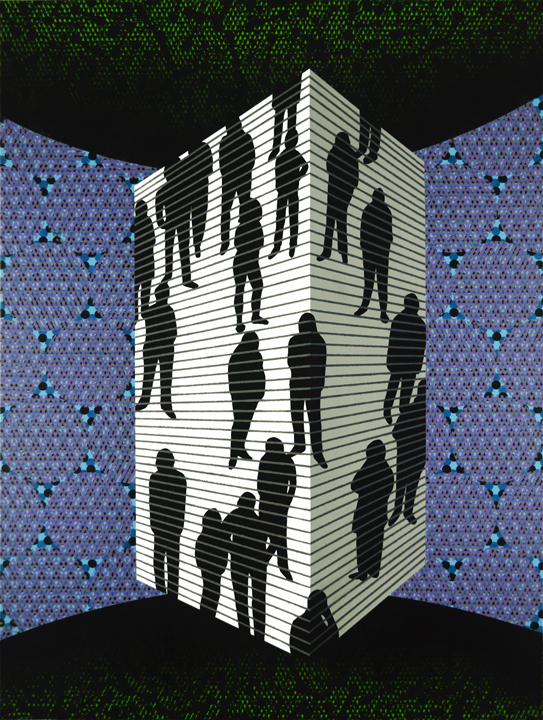 7. Where did you study?
After abandoning my art degree, I received a Bachelor's in psychology at SUNY Oswego in upstate New York. I managed to graduate with honors, which is crazy, given that I spent my first two years exploring psychedelics and playing hooky with fellow students on the shores of Lake Ontario, which bordered the school. After that I worked at a mental heath facility for a couple of years and decided to leave that behind and resume my art interests. That's when I moved to the City. The East Village was my true incubator, my mentor.
8. Where do you see yourself in five years? Working in an agency?
I am with a wonderful gallery here in Little Rock (M2 Gallery), and the plan with this current work is to branch out to other cities. Art is a lifelong process, so hopefully I can find venues to collaborate with as time goes on. This series has been all-consuming, and I'm just beginning to think in terms of getting it out into the world at-large.
9. What about in ten?
That is a most interesting question! Growing old is not for the faint of heart, so we will see how things hold up in ten year's time. If I'm still around, I'm sure I'll be making art and listening to fine rarified music. What more could one ask of a life?
10. What do you hope to achieve with your art?
I hope to continue to turn myself inside out to the extent that I find clarity and honesty of expression. Ultimately, I'd like to become more and more human as time goes on. I have a lot of work to do on that score!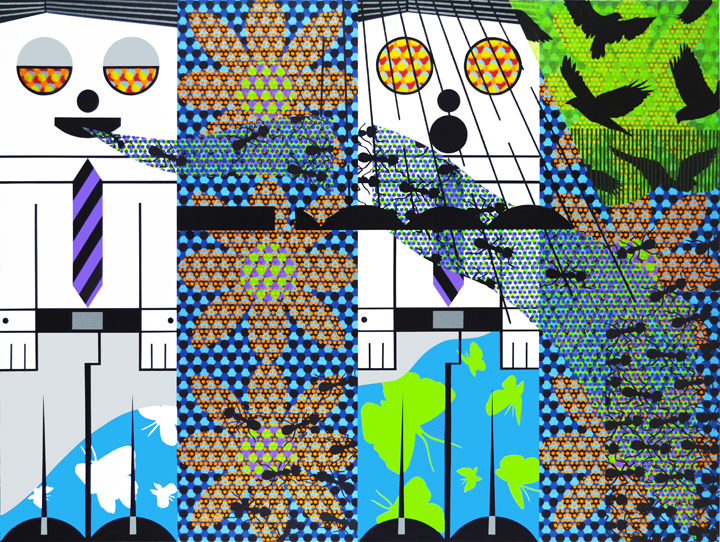 11. Now, tell us a little more about you as a person: what is your favourite food?
Let me say it this way: Whichever food I haven't had for two weeks will take center stage as my favorite. Be it Mexican, Chinese, pizza, or a Snickers bar, when the need is there, I'm going to make a serious run for it. But really, I try to keep the diet on an even keel, along with my taste for coffee and beer.
12. Favorite book?
My very favorite book, over the long haul, has been a book from the 1950s, Zen Flesh, Zen Bones, compiled by Paul Reps and Nyogen Senzaki. The chapters that constitute "The Gateless Gate" have gotten me as close to a sense of openness and clarity as can be hoped for in a text. But not to seem too heavy, I also love Daniel Clowes, R. Crumb, Haruki Murakami, Philip K. Dick…there are many favorites.
13. Favorite genre of music?
An unfair question! For a person with a daunting wall of records and a lifetime of listening, there can be no favorite genre. I will say that my listening has gone all the way down the rabbit hole, and there are many times when the consonance of my refrigerator humming and the tea kettle roiling make for beautiful music in the morning.
14. What are your hobbies?
I write and record music, scribble a poem or short story here and there, and collect records.
15. If you weren't an artist, what would you be?
That's a very good question. Having walked away from a career in psychology to join the art world has been a satisfying and fascinating way of life, but the roads not taken, the ones flirted with, all tantalize the imagination. Is there a right choice in this world? Only if you believe you've made the right choice. I think I have, thank goodness.