Instagram:
@charlotte_fu
Behance:
www.behance.net/macyie42eb
Website:
www.charlotte-fu.com
1. What's your story? Where are you from?
I am from Beijing, China. I started drawing when I was in elementary school and my mother happened to notice my interest in art. Later, she sent me to a private art teacher to learn traditional Chinese painting. Until then, I didn't realize drawing would be a big part of my life. After graduating from Tsinghua University, I worked as a graphic designer, however still kept an avid sketchbook practice, developing my ideas and my way of drawing. Currently, I am in the MFA Illustration Practice program in the Maryland Institute College of Art, working on my thesis project about all the nuances of loneliness that people experience in urban settings.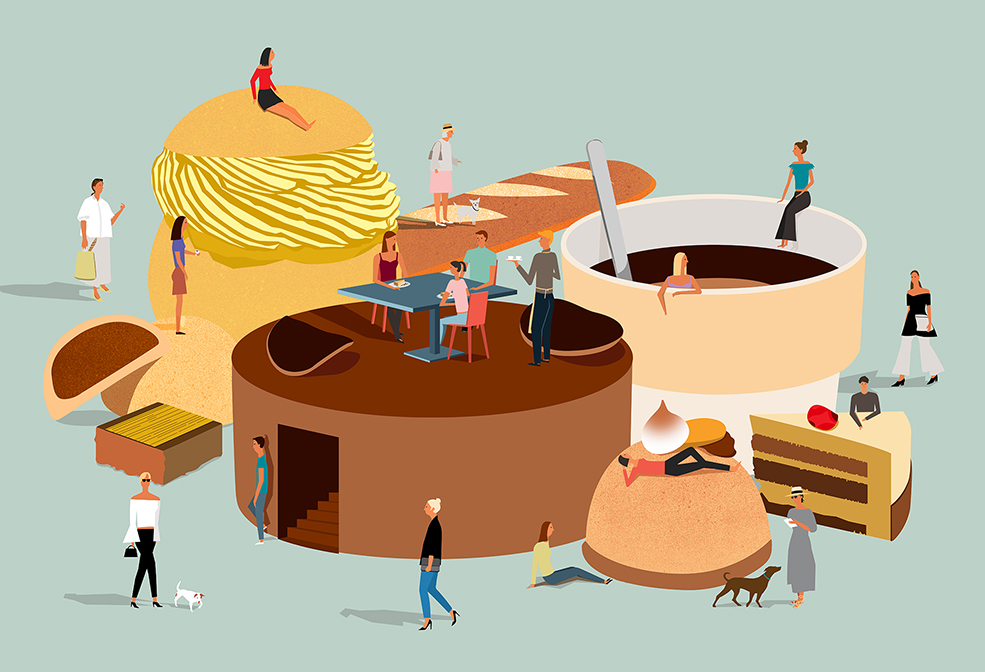 2. Tell us about your aesthetic.
My style is really simple and I like use flat colors and simplified shape to create a story. In both aesthetic and content, I appreciate simplicity, subtlety. When I create an image, my objective usually is to create a mood that evokes the nuanced feelings in life. This is a common interest among many illustrators, but to understand how I specifically tell a quietly complex story, is a life long creative challenge.
3. What is your favorite medium and why?
I used to work digitally because it is quite comfortable for me. Also, working digitally gives me flexibility, allows me to go back and forth with an idea. The various brush strokes offer the possibility to create a piece that looks digitally and traditionally rendered. But, I also work with watercolor, because it enables me to have a unpredictable creative experience. There is a lack of control I embrace, that gives me energy and the potential for pleasant surprises.
4. What is your artistic process like?
When I start a project, I begin with research, like gathering materials, visual references, and relevant books or content. Then I will do rough sketches to flesh out the idea, then final drawings. Then I choose and add colors. The whole process is very instinctual.
5. Who and/or what inspires your work?
I'm a travel addict and I like to explore museums when traveling. I'm an observer and like to notice the way the local people express themselves and live. I'm a huge fan of different cultures. Also, I like movies, music, and nature. The observational drawings that I do more regularly also inspire me. It's interesting what details I notice in my everyday life, when I take the time to look. For example, my cat gives me a lot of inspiration, the way he moves and enjoys life, with out words.
6. What role does art play in your life? How does it change the way you view the world?
Drawing plays a big role in my life. Drawing for me is a kind of happiness, fulfillment and relaxation. I feel like I have my secret world when I start to draw, I will completely forget everything.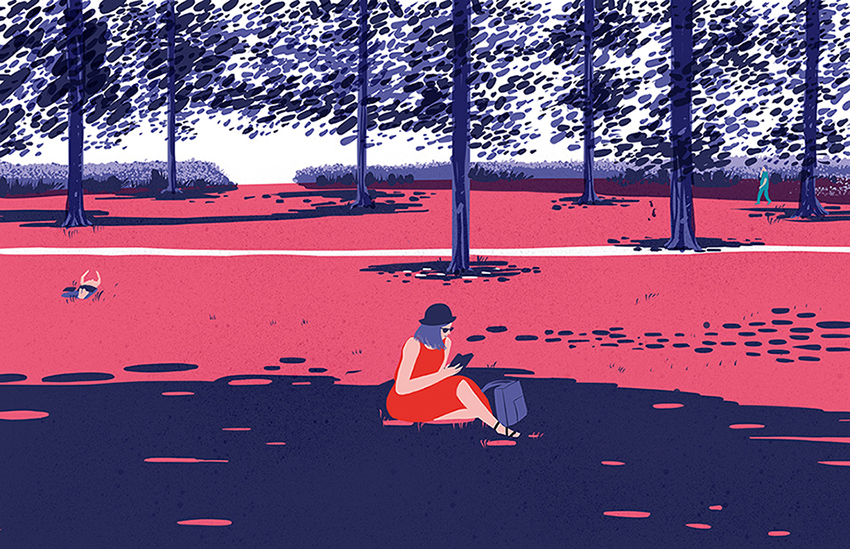 7. Where did you study?
I got my BFA degree in Tsinghua University majoring in Exhibition Design. I currently am in the MFA Illustration Practice Program at Maryland institute College of Art.
8. Where do you see yourself in five years?
I hope to work as an freelancer, creating children books and working in editorial illustration.
9. What about in ten?
I hope to publish a children's book and graphic novel.
10. What do you hope to achieve with your art?
I hope people would gain a moment of peace when they look at my drawing. Also, I'd like to bring people joy and relaxation through my work.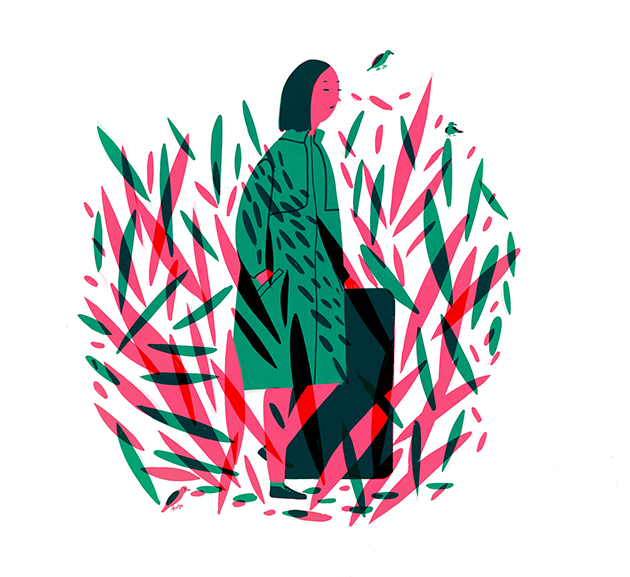 11. Now, tell us a little more about you as a person: what is your favorite food?
I love Beijing roast duck and pho. As you can see its mostly food. I love food.
12. Favorite book?
Jane Eyre, by Charlotte Bronte. I really relate to main character, her love of drawing and the way it unlocks a whole world for her. Drawing is a way out of her lonely and destitute life.
13. Favorite genre of music?
Jazz, Blues.
14. What are your hobbies?
Traveling, reading. Watching movies, animation. I love coffee very much. I like to explore new cafes in the area.
15. If you weren't an artist, what would you be?
I would be a photographer.