Instagram:
@charlotte.dumortier
Facebook:
www.facebook.com/charlottedumortierillustration
Tumblr:
pixel-panda.tumblr.com
Website:
www.charlottedumortier.com
1. What's your story? Where are you from?
I'm a freelance illustrator from Antwerp, Belgium. I've drawn all my life, grew up with my fathers and uncle's huge comic collection and had a lot of cats. I have a sister in China that I miss very much (we just travelled to Japan together), my father always supported me and is a bit of a crazy inventor, my boyfriend is a great cartoonist for Knack Magazine and a even greater comic artist. We now have our own cat, Morri, and 3 chickens (one is named Kevin)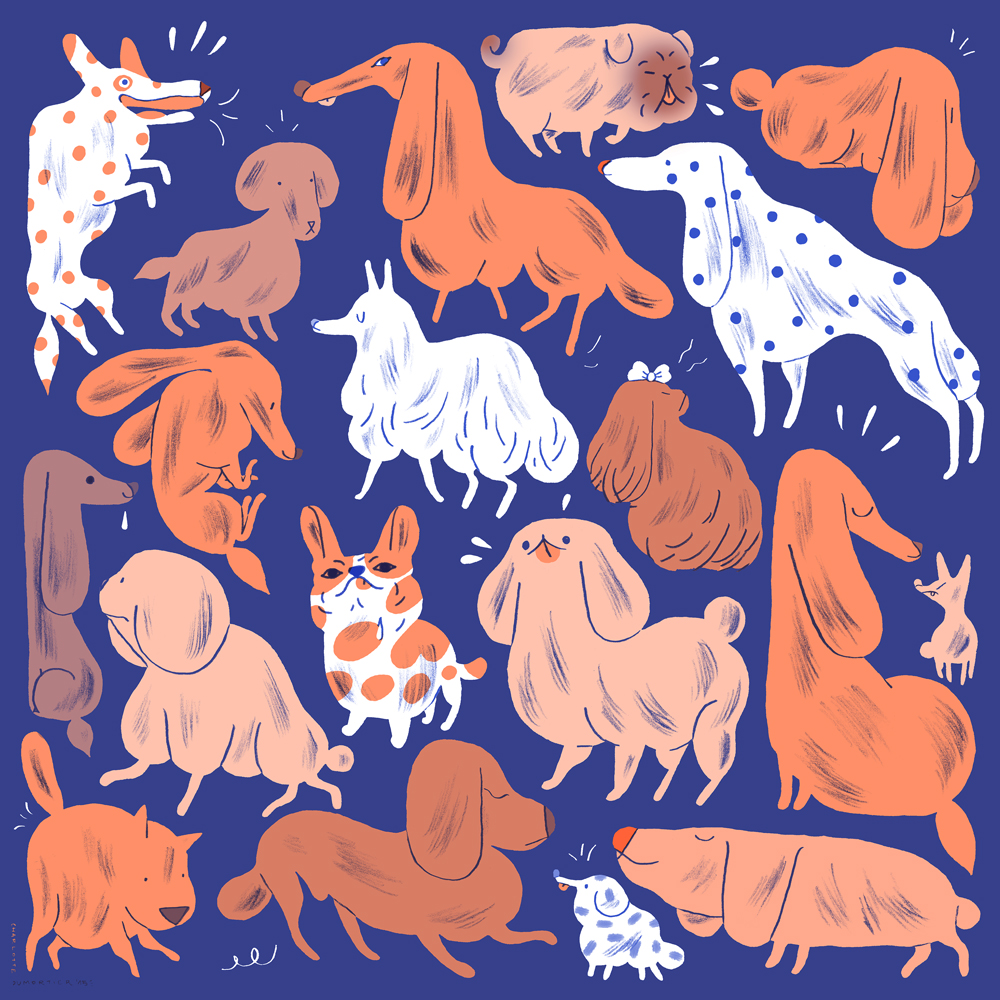 2. Tell us about your aesthetic.
My drawings are mostly a bunch of colourful blobby characters. I should focus more on backgrounds and structure, but I like inventing little men too much at the moment. My background as a graphic designer influenced my way of drawing and love for colours.
3. What is your favourite medium and why?
I like gouache, silkscreening, risoprinting and GIFs, for their flashiness and the restriction of colours. I just bought some pens in Japan and I really like them, that's what I use for my linework at the moment (for the geeks: the Sakura Micron Pigma 02)
4. What is your artistic process like?
Doodling a lot in my sketchbooks, so when a deadline approaches I can flip through all those sketches for inspiration. My main client at the moment is the belgian newspaper De Morgen. When they call me, I start sketching for half an hour - an hour, let them pick their fave idea, and then I usually have 3 to 6 hours to finish the illustration. I really like the ultra short deadline, it helps me come up with lots of ideas.
5. Who and/or what inspires your work?
Animation, funny pictures of animals and the work of brilliant illustrators like Mathilde Vangheluwe, Jangojim, J. Krissis, Sarah Vanbelle, Roman Muradov, Jonathan Djob Nkondo, Frederik Van den Stock... Making collab drawings and misprints when screenprinting also leads to new shapes and ideas.
6. What role does art play in your life? How does it change the way you view the world?
Drawing brought me to places and people that changed me for the better.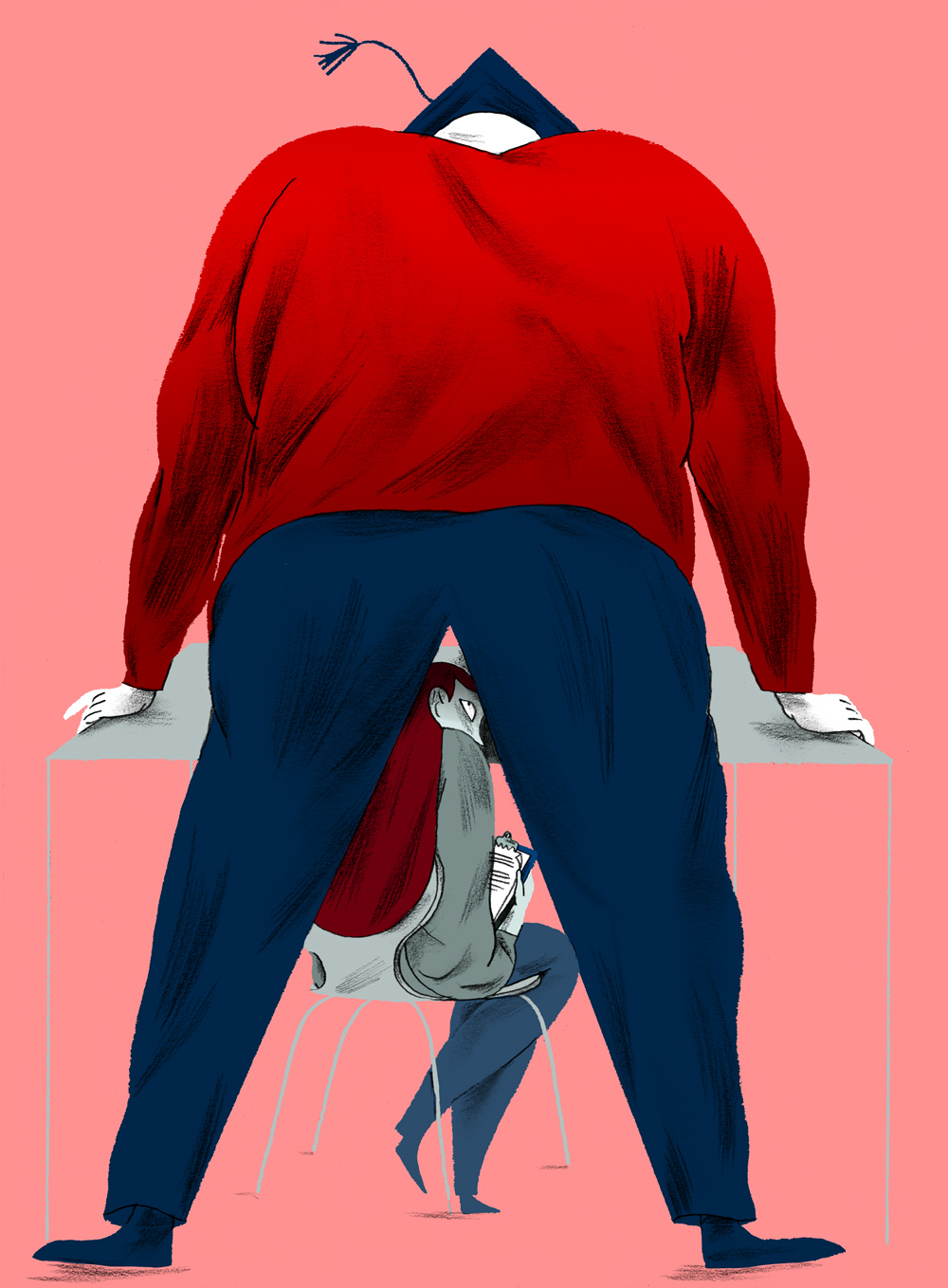 7. Where did you study?
I got my bachelor at Sint Lucas Ghent (digital design) and my master at Sint-Lukas Brussels (Illustration/Comics)
8. Where do you see yourself in five years? Working in an agency?
Still drawing as a freelance, I love the freedom so much. And to make up for not having colleagues, I work in a studio with 15 other artists. I hope this can go on for a few more years. I'd also like to make more comics, learn 3D, and to work more frequently together with other artists.
9. What about in ten?
Who knows? I'll see what happens. Maybe a comic book or some animation?
10. What do you hope to achieve with your art?
Mostly having fun and pay my bills and getting a little better each day.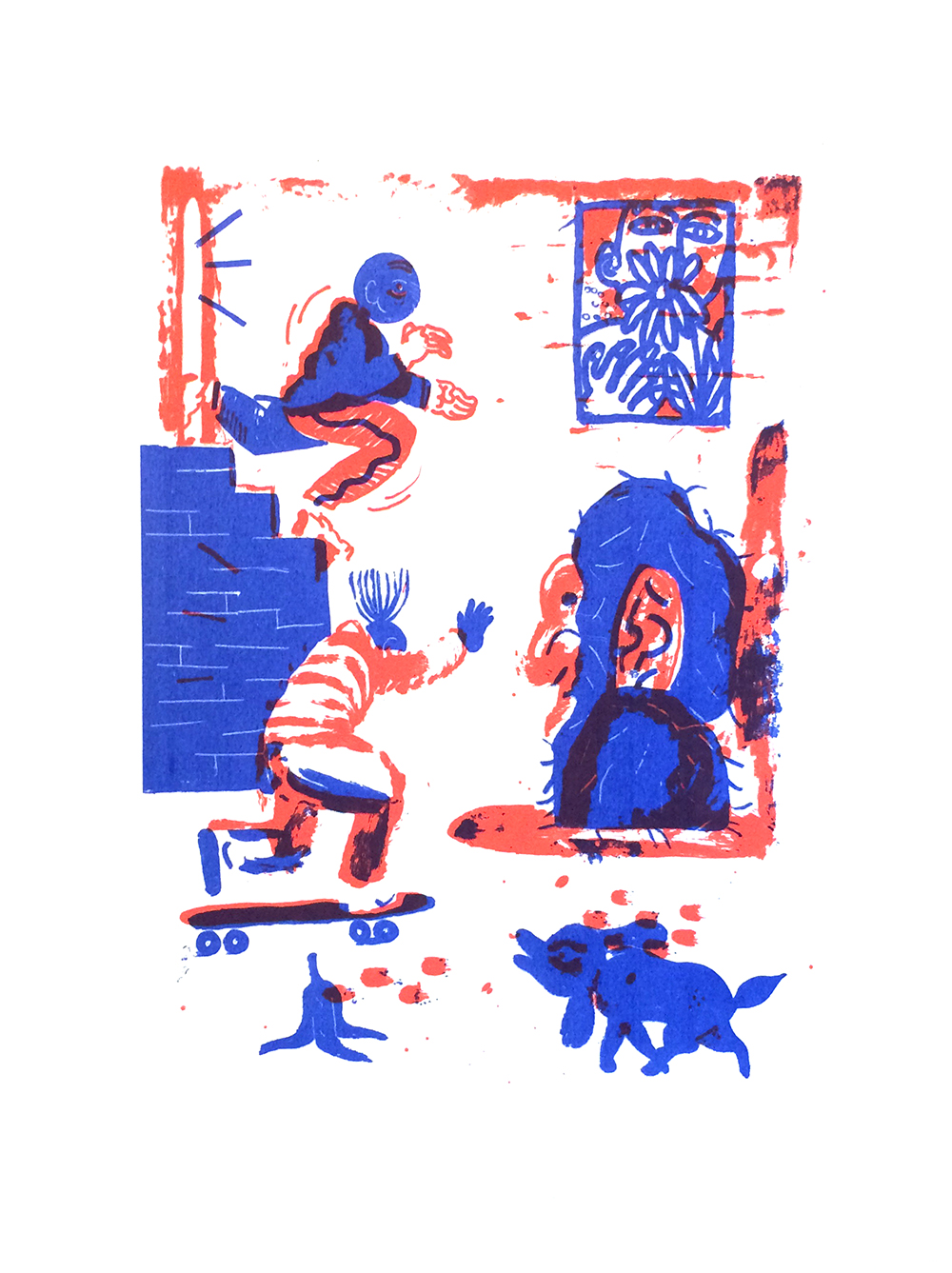 11. Now, tell us a little more about you as a person: what is your favourite food?
I can't choose between wonton noodle soup, grandma's stuffed bell peppers and fluffy pancakes.
12. Favourite book?
Danny, the champion of the world by Dahl, Lolita by Nabokov and Cartoon animation by Preston Blair.
13. Favourite genre of music?
Happy music! I like to listen to radio shows about comics too, like Inkstuds or Atelier Central (every wednesday night at radio central, an independent Antwerp radio station)
14. What are your hobbies?
Making daily mini comics and Yum Yum zines with my bestie Shamisa Debroey.
15. If you weren't an artist, what would you be?
I almost studied biology or animation. I still dream about that.