Instagram:
@chichiland
Twitter:
@chichiland
Facebook:
www.facebook.com/chichilandeveryday
Website:
www.chichiland.com
1. What's your story? Where are you from?
My name is Çiğdem "Chi" Michalski. I create my works under the name ChiChiLand. Originally from Istanbul, I'm currently living in Seattle. I studied visual communications in the US and while studying got interested in interactive design, right around the time of dot-com boom. I worked with several studios and interactive agencies, first in US, and then, once my student work permit expired - back in Istanbul. In 2003, I met my husband and we founded Istanbul's first motion design studio - imago. For nearly a decade we created films, animation and motion graphics together under that banner. In 2012, we decided to close imago - Quba (my husband) was offered a CD position by an interdisciplinary design studio in San Francisco and I wanted to move away from commercials and pursue illustration and art as a full time career. We really enjoyed the city but San Francisco can be very intense. After a while we were both longing for more space and nature. We moved to the Seattle and so far we really like it here!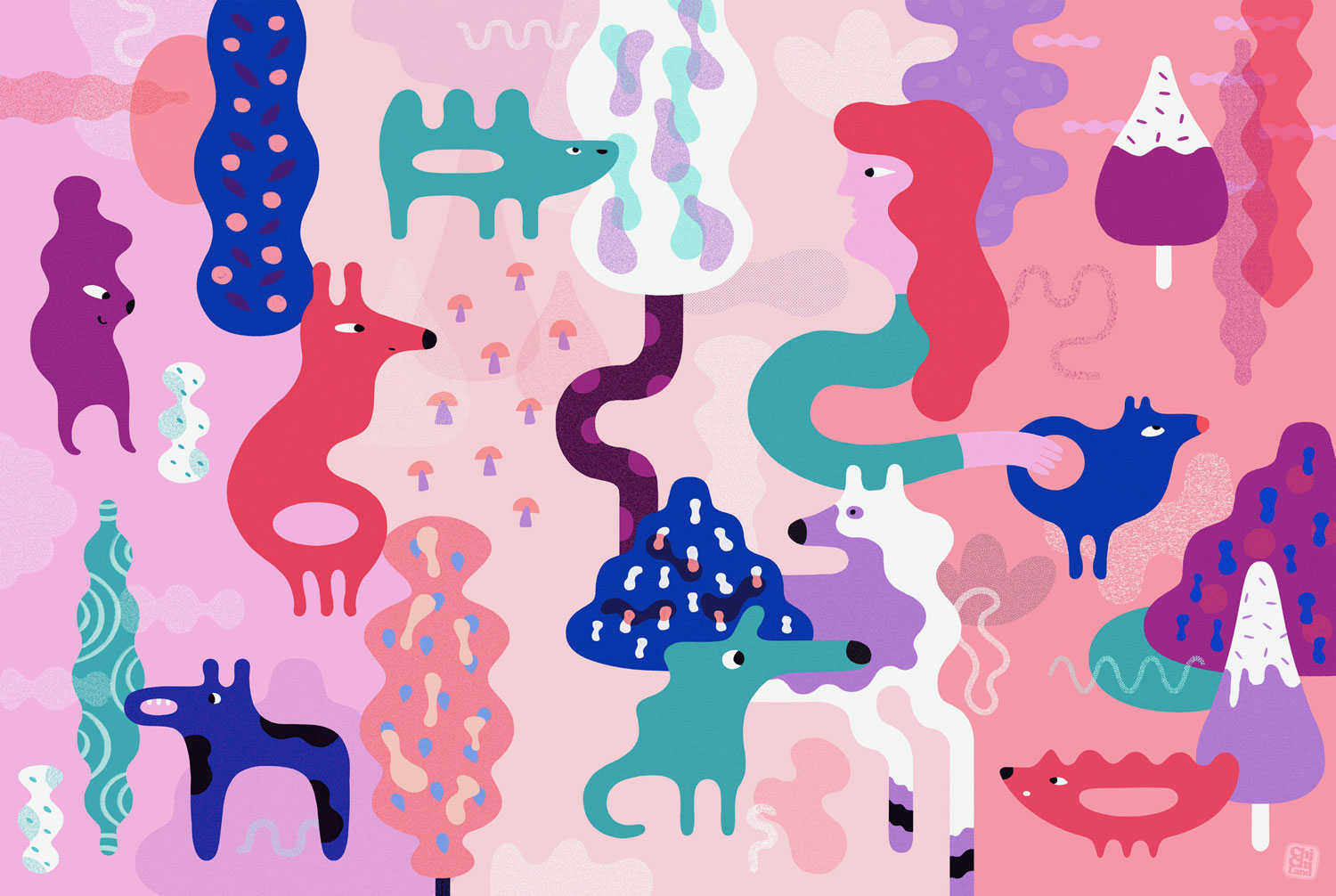 2. Tell us about your aesthetic.
I like to refer to my style as "urban folk". I'm very inspired by urban themes and aesthetics, but I like to keep it simple and naïve. My two favorite things in life are: food and socks - and going through my works it's quite clear I tend to use them as recurring themes. I populate my works with colorful characters, patterns and a note of subversive humor here-and-there.
3. What is your favourite medium and why?
I create all my work digitally unless I'm working on side projects - playing around, inking, painting or experimenting with printmaking. I love using textures and various media brushes in my illustrations and draw my work in Photoshop using an old, beat-up Wacom tablet. I love working this way, mainly because it's efficient, clean and I still get the satisfaction of using variety of textures, mediums and brushes. Whenever I miss the tactile feel of more traditional media, I glue various papers or canvas pieces onto the tablet to give the stylus a bit of texture feedback. ...I'm also addicted to "undos".
4. What is your artistic process like?
My work starts in the sketchbook. I sketch to focus, gather ideas and take a moment of break from the computer. Unless I need to present the work in progress to the client I avoid doing detailed sketches. Improvisation is a big part of my creation process. I might have a direction but I don't necessarily have a clear idea what the end result is going to be. Not knowing where will I end up makes the process much more interactive - where I control the art as much as it controls me - and hopefully get to create some unusual and unique work along the way.
5. Who and/or what inspires your work?
I'm a curious person, and I get inspired by a whole lot of things - from nature treks to visiting cities around the world - from a delicious dessert at a coffee shop to a cool video game - from a YouTube science video to a wild bunny playing in my backyard. My two favorite (visual) artists are Joan Miró and Keita Takahashi. I also love fashion designer Akira Minagawa.
6. What role does art play in your life? How does it change the way you view the world?
Honestly speaking - I never thought much about it, or questioned art's place in my life. It just kind of always been there - inseparable and important, but not necessarily seeked in a conscious way. Sort of, like how we don't really control our heartbeat, but need it to live. I don't often actively seek out art - I don't frequent gallery openings or spend excessive amounts of time at museums, but whenever I am exposed to good works, I always appreciate them and know they make my life fuller and richer.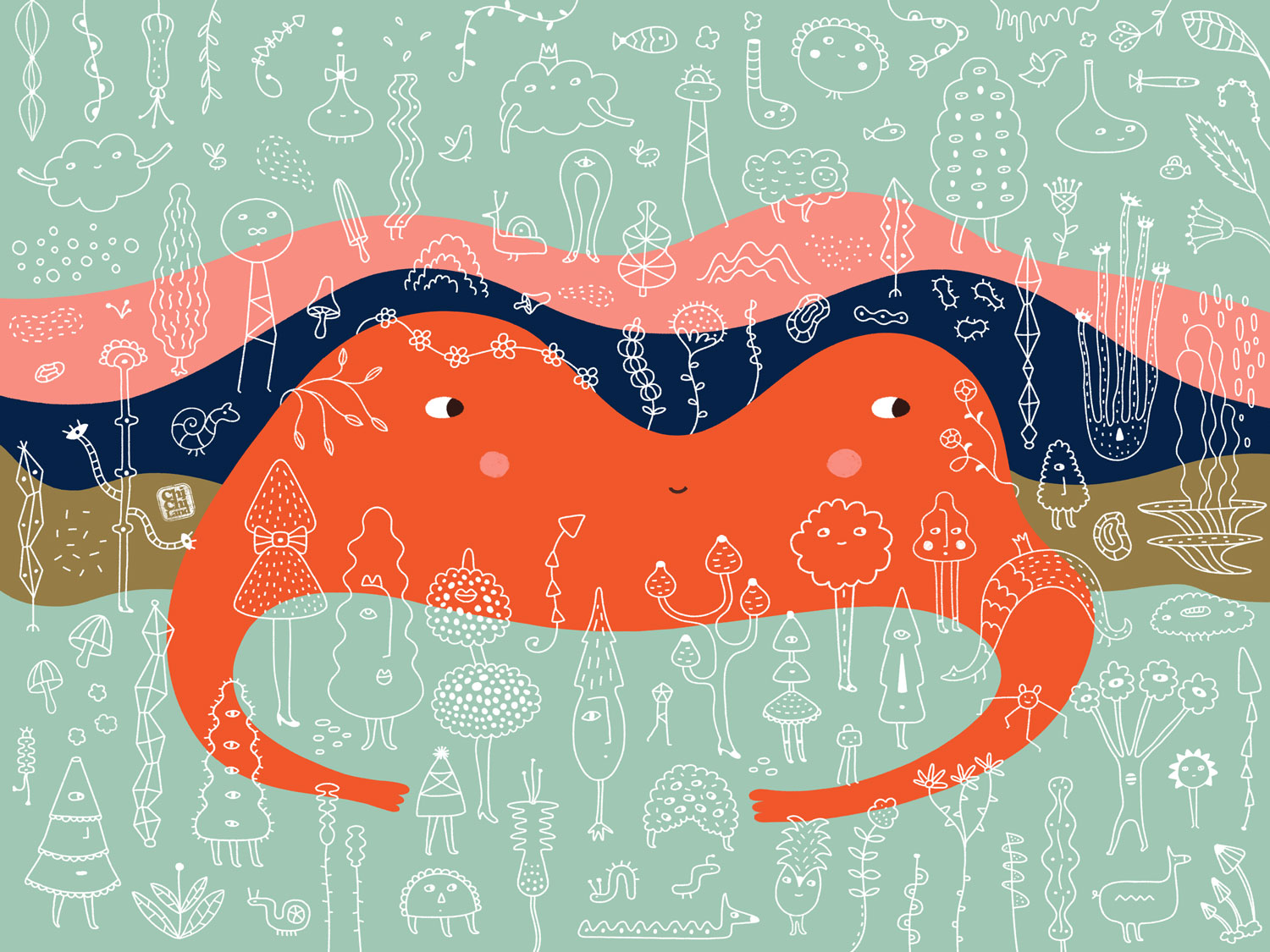 7. Where did you study?
I studied Visual Communication in the Art Institute of Pittsburgh.
8. Where do you see yourself in five years? Working in an agency?
I see myself having more variety of works - some of them may even be for an agency or two. I'd love to expand the reach of licensing my works, have more success at selling my art - and branch out to more interactive projects, like games and virtual reality experiences. I think I do my best work out of my own studio - I don't really see myself growing artistically in a traditional agency environment. That said, I definitely wouldn't say "no" to more art direction gigs, working with a larger team. And a book! I really want to publish a book! Just need a good writer to work with and my usual go-to person has been swamped with work for the past several months.
9. What about in ten?
My ultimate goal is to have a nice workspace/gallery/shop - a location where I work every day, creating my art and projects, but also have people come in, interact, do workshops… Almost like an art bakery - with beautiful works displayed in front, and all the behind-the-scenes kitchen stuff out back. People could come, hang out, experience art or take some home. They'd meet, discuss, share… and then I'd probably shoosh them away because they're breaking my concentration on a tight deadline ;)
10. What do you hope to achieve with your art?
I'd love to be able to get into the state of "flow" much quicker, with less effort and fuss.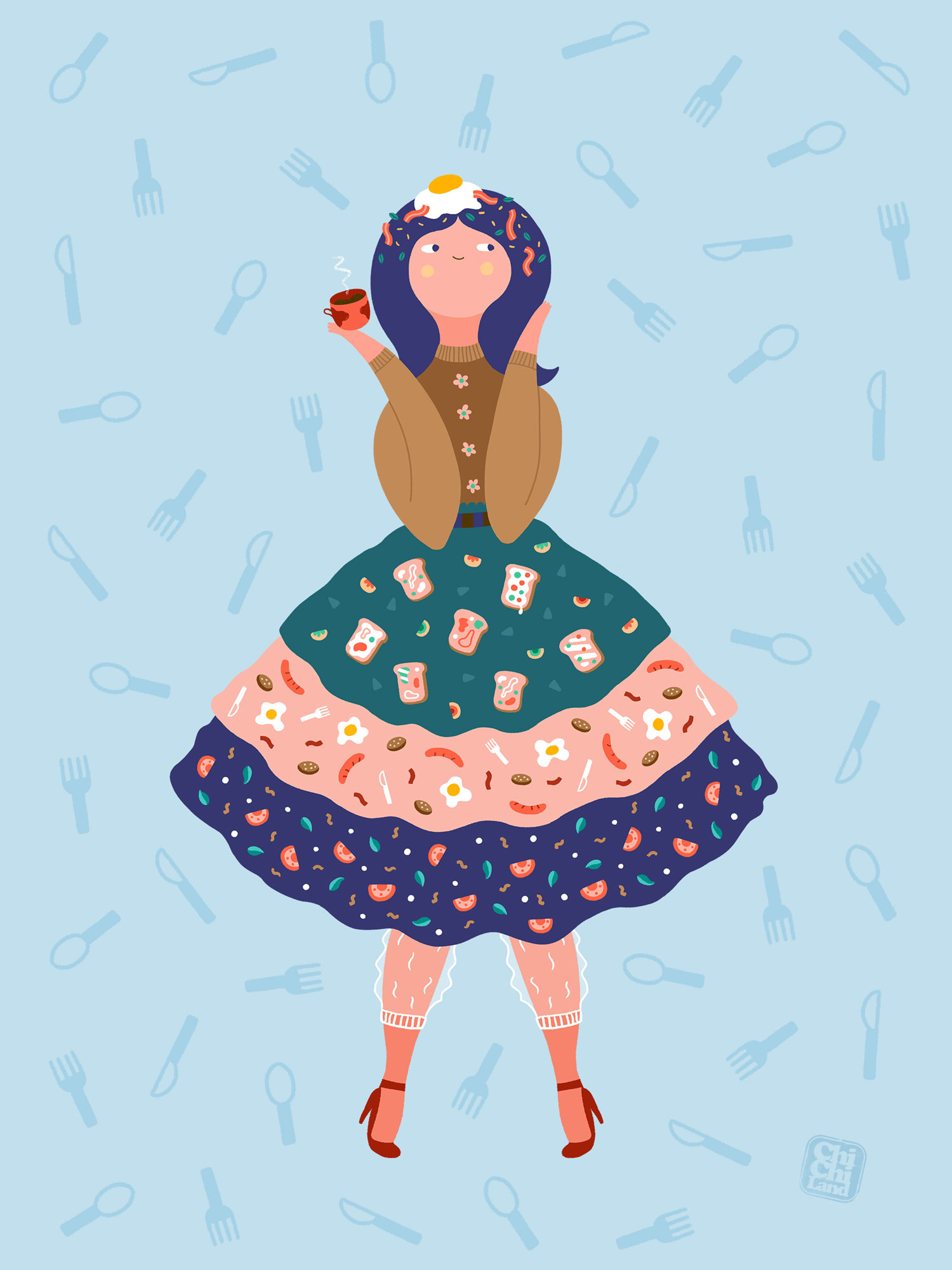 11. Now, tell us a little more about you as a person: what is your favourite food?
That's food racism. What would I pick one over another? They are all delicious!
12. Favourite book?
"Little Nicholas" ("Le Petit Nicolas") by René Goscinny with illustrations by Jean-Jacques Sempé and "The Phantom Tollbooth" by Norton Juster with illustrations by Jules Feiffer
13. Favourite genre of music?
Electropop, world music, especially Malian
14. What are your hobbies?
Art, movement and dance. Far travels whenever possible and Google Street View travels, whenever not. Spotting best restaurants and bakeries in a new area.
15. If you weren't an artist, what would you be?
I'd be a physical theater artist or a performer/choreographer.