Instagram:
@chloe.amy.avery
1. What's your story? Where are you from?
My name is Chloe Avery. I'm a Londoner and grew up in the south of the city. I am married with two young but giant sons who are 7 and 8. We currently live in North London. We have lived in Birmingham and Amsterdam, but me and my husband, both Londoners born and breed, can't stay away . . . London's the only place to be! I studied fashion design at LCF, specialising in surface textiles which gave me a love of textiles and thread.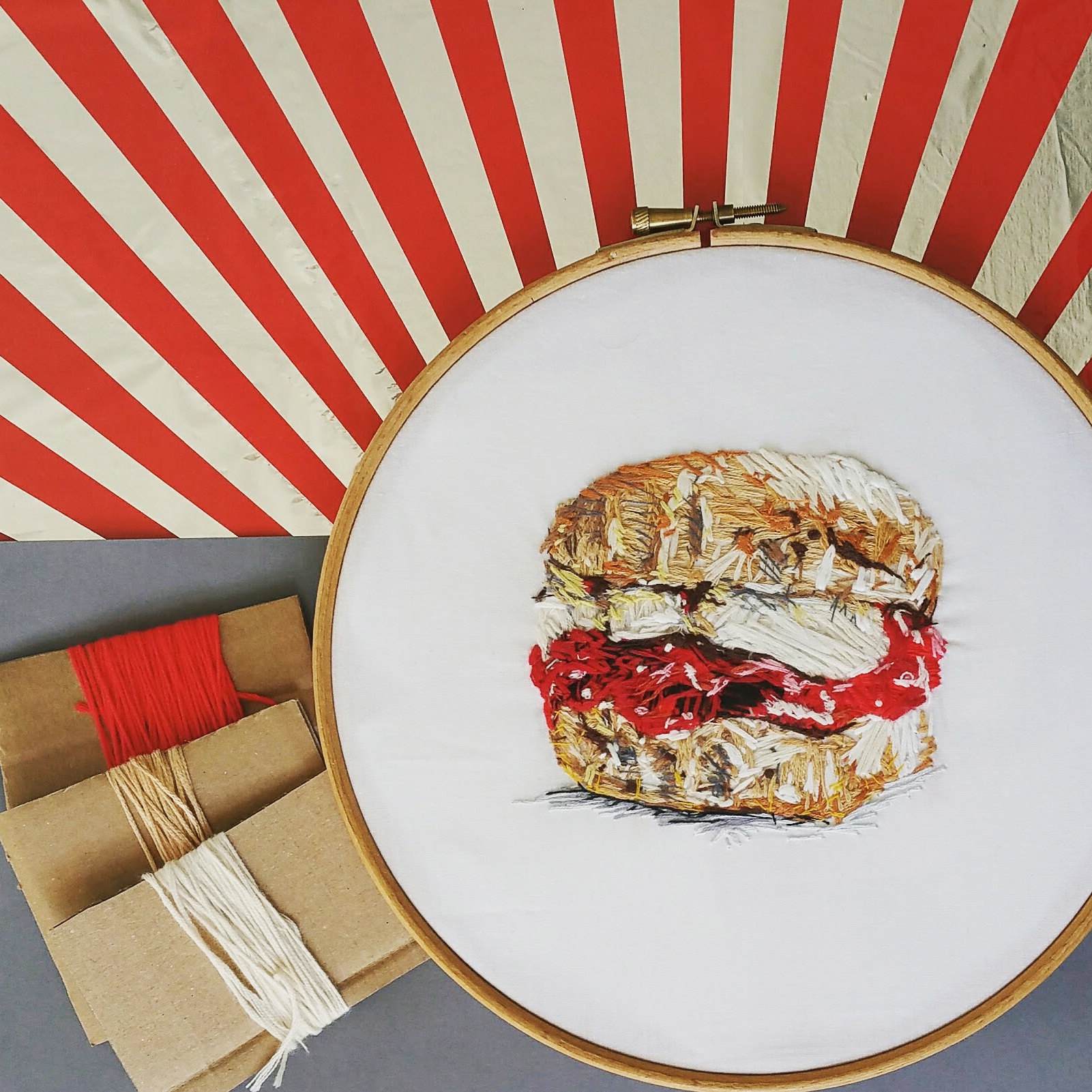 2. Tell us about your aesthetic.
My aesthetic is hyper realistic impressionism. My aim is to draw the viewer in to the piece. I want the viewer to initially know what they are looking at, but then take a second look and realise it's not what they assumed it was. I am not a professionally trained embroiderer; I guess it's more of a tapestry approach than embroidery. I don't have rules with how I use the thread which is very freeing.
3. What is your favourite medium and why?
It's taken me many years to realise what I love. I love drawing and I love working with thread so I figured why not combine to two – I paint with thread.
4. What is your artistic process like?
My artistic process starts with nostalgia and memory, whether mine or a client. I aim to sketch or photograph the food as a base for my embroidery. I have to be in full control of the composition from the start and cooking the food myself can particularly help with the whole process. From these images I then sketch on to fabric. Once I start stitching it is very much about constantly referring to the initial images but with the freedom to adjust as I stitch. I'm constantly editing as I work. As I embroider I am often too close to the piece so I tend to take photos and have a gap before revisiting, so I can approach each day with a critical eye and not be too precious.
5. Who and/or what inspires your work?
My initial inspiration came from living abroad. I lived in Amsterdam with my family for three years and during that time I was inspired by food. Of course you miss family you miss friends, but after this it was familiar flavours and food packaging that we missed. I had me thinking about how something so disposable and mass produced could hold so much nostalgia and so much comfort. With Amsterdam being such a diverse city, I had the opportunity to talk with many immigrants like myself about familiar tastes of home that they missed. This has shaped the way I create my art and opened my eyes to the vast experiences other cultures experience around food.
6. What role does art play in your life? How does it change the way you view the world?
Art is a huge part of who I am and how I view the world. Art is so personal it tells you about the creator and gives you an insight into the way they think and see things. I love people, and my work inspires and starts a conversation, giving opportunity for people to talk about their own memories, loves and hates around food. I'm constantly looking for new ideas and because of the nature of my work, I find inspiration every day in the people I meet. Everyone has their own food story.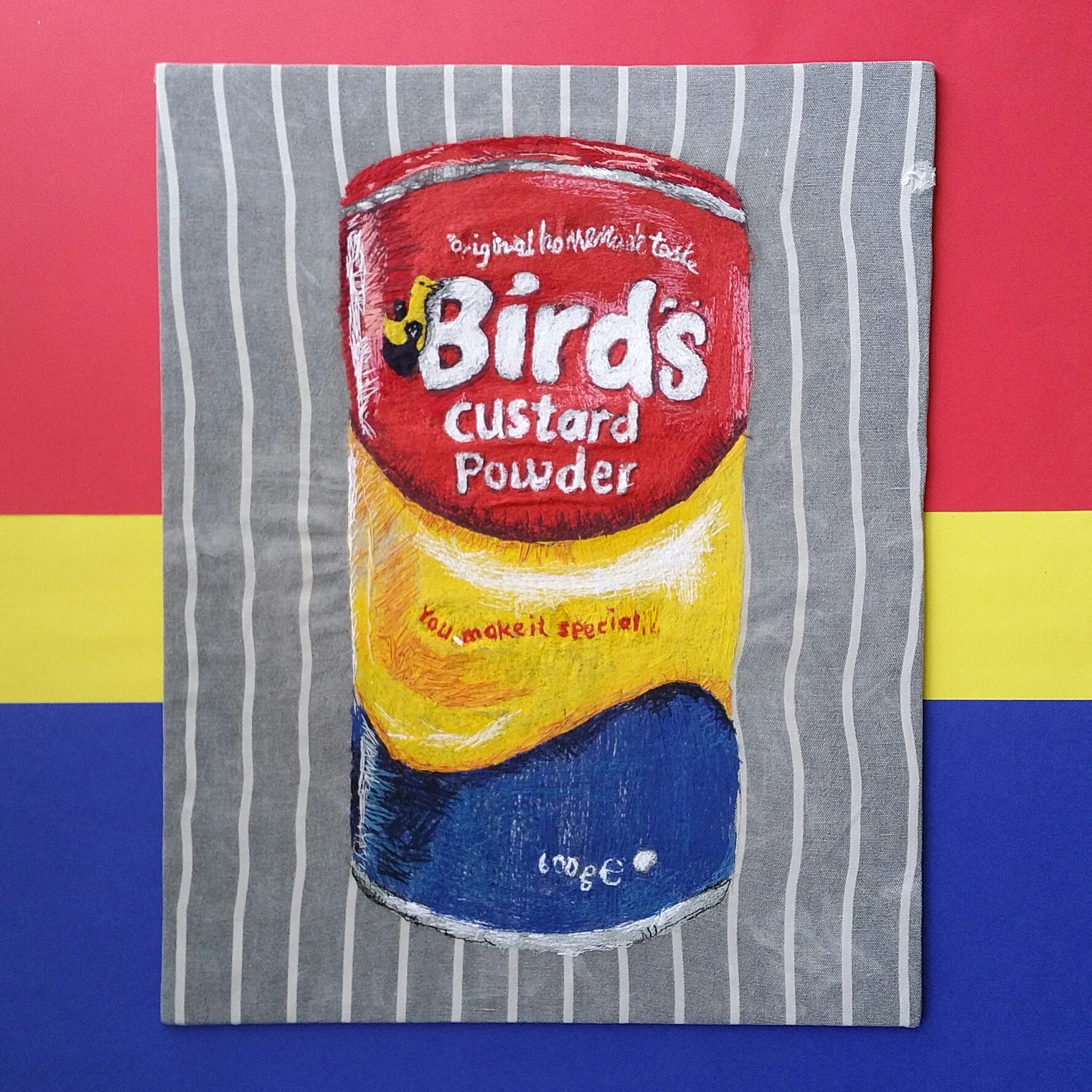 7. Where did you study?
I studied at LCF (London college of Fashion). I left school at 16 to do a BTEC, then stayed to do a BA HONS in surface textiles for fashion and then received a bursary to do the same at MA level.
8. Where do you see yourself in five years?
I have moved a lot in the past ten years so I would love to firstly put some roots down. In the next five years, I would love to be a bit more established as an artist, earning a decent living from my work. I love to see people create so starting workshops in some capacity would be so fulfilling.
9. What about ten?
Oh I'll be old in ten years! I love the idea that I would, in ten years, be confident as an artist to share my experience and knowledge with aspiring artists and creatives. My dream is that in some way my art could help less fortunate people and bring people together in the way food does.
10. What do you hope to achieve with your art?
I want my work to make people smile and talk.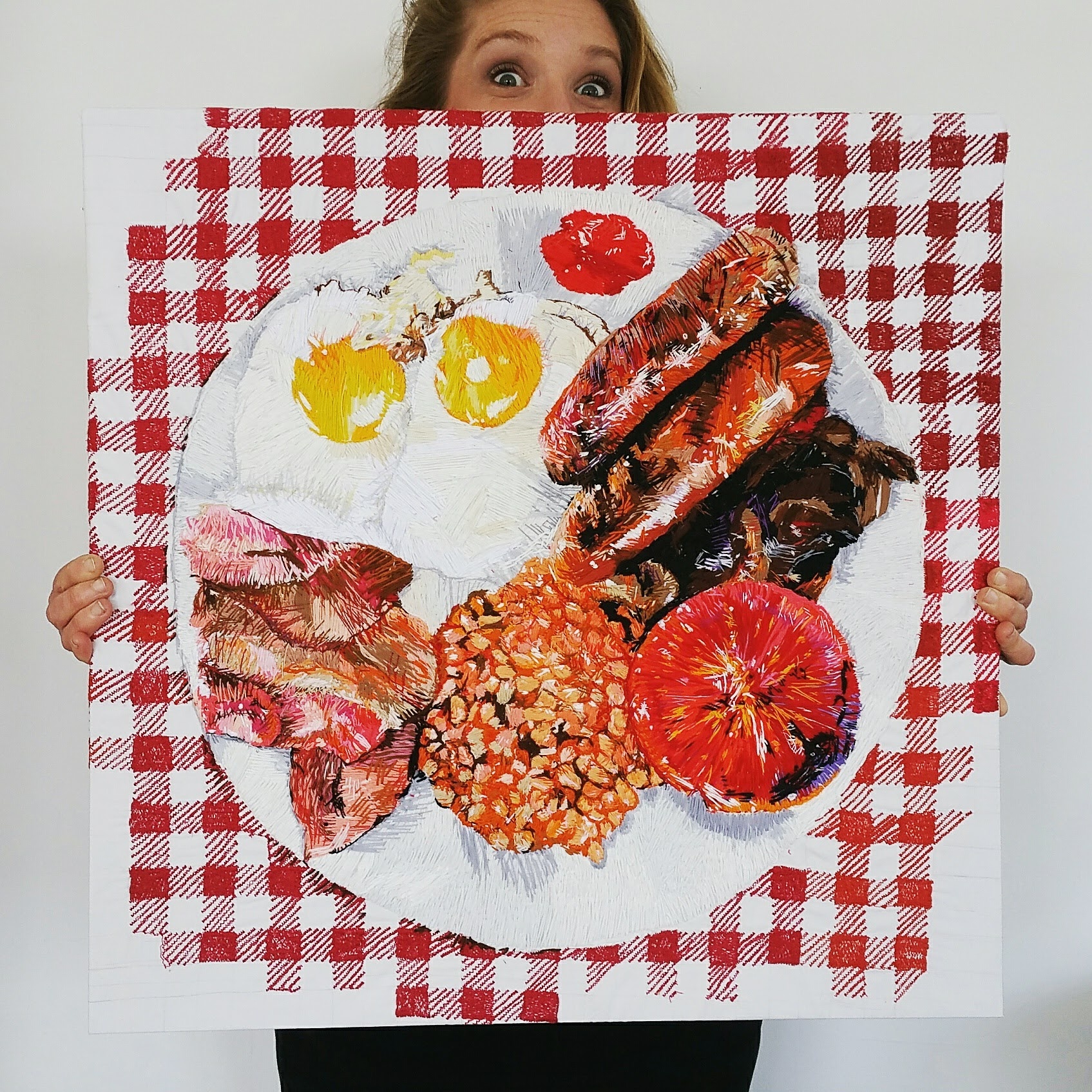 11. Now tell us a little more about you as a person. What is your favourite food?
I love food, I love to try new flavours and I love sharing food and cooking for people. Food is such a huge part of my art too, but ice-cream will always be my favourite.
12. Favourite book?
I really don't enjoy reading, but I do have a favourite children's picture book. I love Dr Seuss, I loved reading them to my boys when they were younger, my favourite is 'oh the places you'll go' by Dr Seuss.
13. Favourite genre of music?
I will listen to all sorts of music depending on my mood. But I am a BBC radio 4 addict.
14. What are your hobbies?
It's hard to define your hobbies when the thing you do as work is so enjoyable and find your always just doing, a few more stitches. Aside from embroidery I love to cook with my husband. I also love to run, not long distance, but running clears my head.
15. If you weren't an artist what would you be?
I can't imagine doing anything else but creating. I think I would be miserable if I could not create, that said, when I was seven I did want to be a farmer.