Instagram:
@chloemickham
Facebook:
www.facebook.com/chloemickhamillustration
Website:
www.chloemickham.com
1. What's your story? Where are you from?
I am a French illustrator, born and raised in Paris but I also lived in London a few years ago. As far as I remember, I've always drawn. It all started when I was 4 years old, when my teacher took my mum aside after class to talk about my coloured pencil drawings of flowers, she told her to encourage me to take art classes besides school to improve my drawing skills. But at that time I wasn't really interested I guess, so I just continued to draw using different techniques over the years on my notebooks, textbooks and tables (oops) without thinking of building a career as an artist. After living and hanging out with creative and truly passionate people in East London, I decided to study graphic design for three years in Paris. During these years my technique combined cross-hatching and pointillism with a touch of colour added on photoshop, but I was never really satisfied. When I did an internship as an illustrator for Hey! Modern Art and Pop Culture Magazine, they asked me if I could try using coloured pencils to illustrate some animals and flowers, just like I used to do when I was 4!! (but better). Since then I never stopped using them.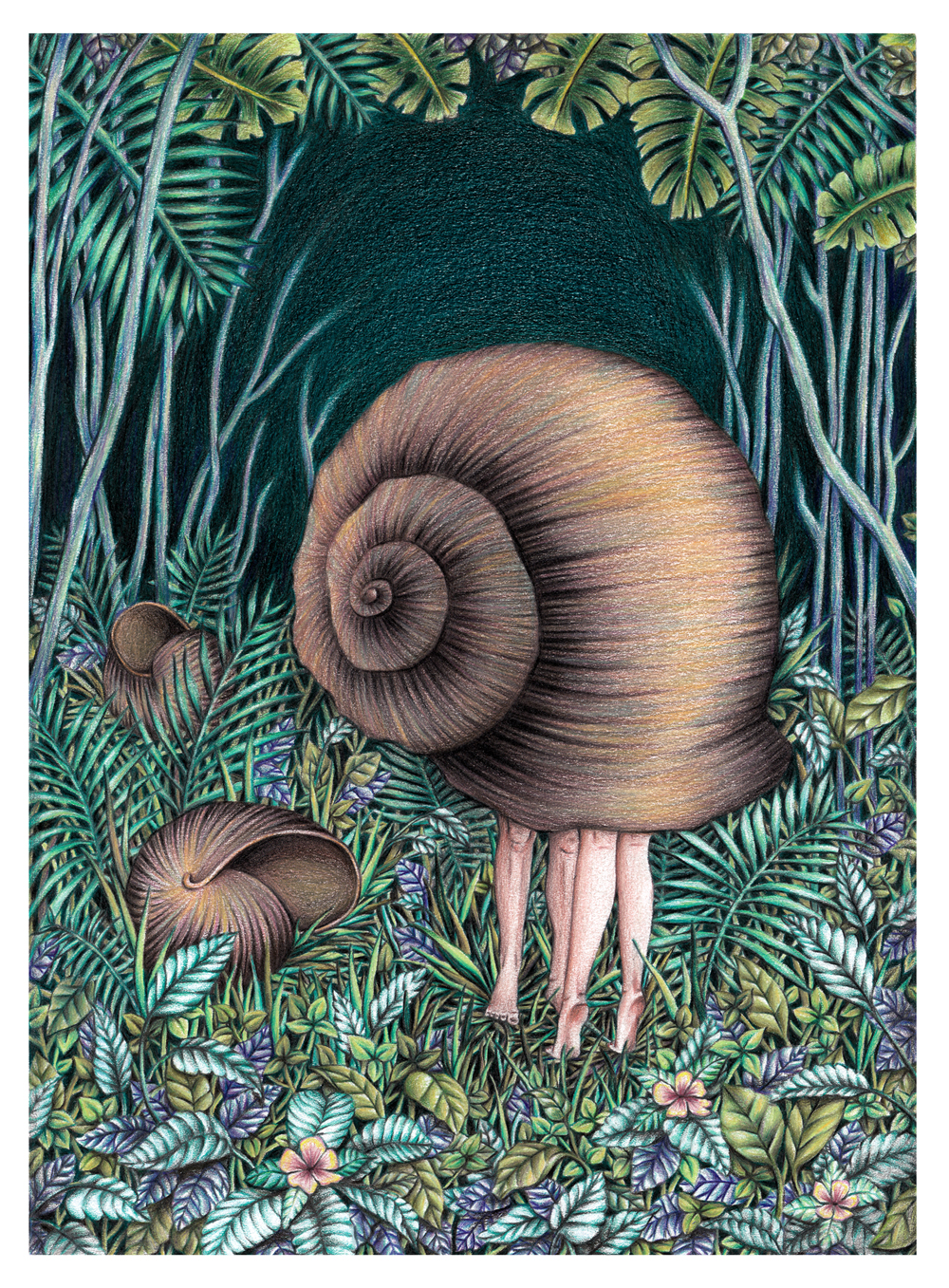 2. Tell us about your aesthetic.
I love using colours, I have felt liberated ever since I re-discovered the joy of using coloured pencils in my art! I mainly use a palette of pastel shades when I want to create a delicate and poetic surreal world, or when I just want to show my love for the beauty of fauna and flora. I guess it reflects the sensitive person I am somehow. But I also love to create some brightly coloured quirky and funny drawings that look childish and innocent, even though some of them are actually hiding a subtle message if you look twice.
3. What is your favourite medium and why?
Paper and pencil. It might sound weird, but I love the feel and sound of pencil as it glides across a lightly textured paper, it's so satisfying!
4. What is your artistic process like?
When an idea comes to my mind, I'll just go write it down and draw a thumbnail sketch real quick. I can make one to tons of sketches before starting to work on my final illustration. It's really important for me to visualize my idea on paper, think about the composition, the format, the colours I am going to use…
5. Who and/or what inspires your work?
I take inspiration from daily life, society, people, places, nature, animals, my feelings, flea markets, vintage stuff, tacky objects, pop culture, illustrated books and postcards, memories from my childhood, and probably many more! Anything can be a source of inspiration.
6. What role does art play in your life? How does it change the way you view the world?
I didn't grow up in an artistic environment, I mean no one in my family is art related but illustration has always played a huge part in my life because I have always been kind of introverted so it was and it's still the best way to express all the feelings and emotions I can't say in words sometimes.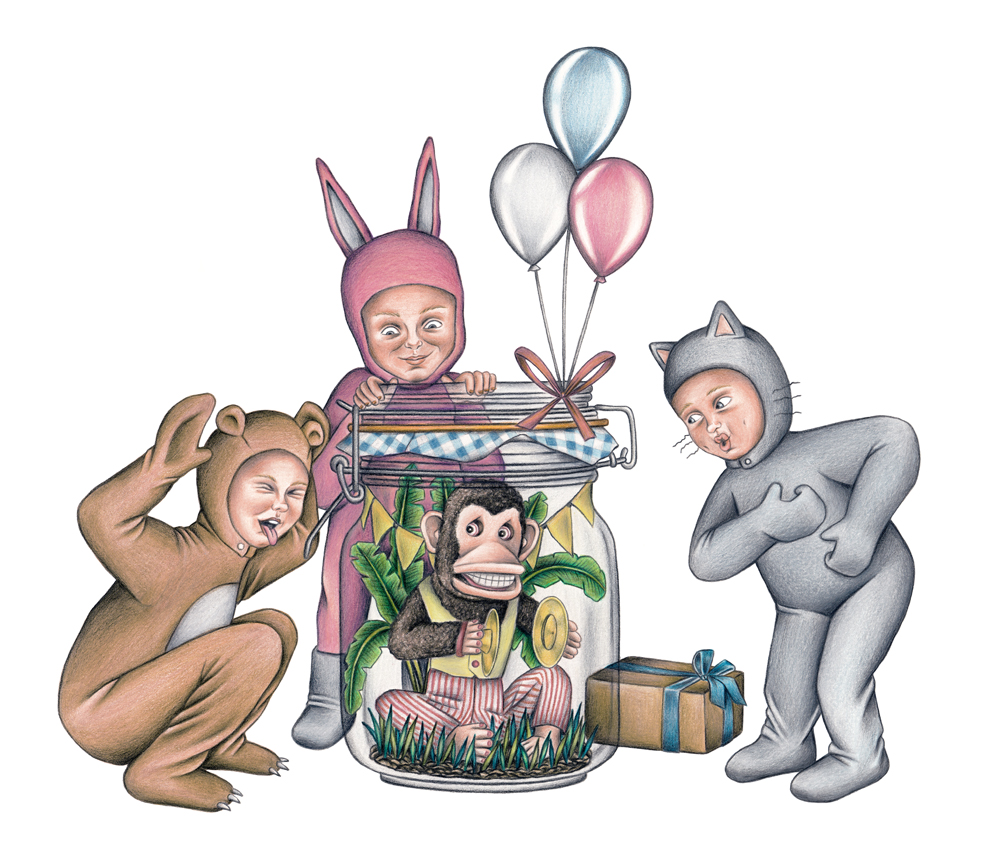 7. Where did you study?
I studied graphic design at LISAA (L'Institut Supérieur des Arts Appliqués), but even then I couldn't help but include my drawings in my graphic design projects. We only had three hours of illustration classes per week, but those lessons would be the only thing that could get me up to go to class every Friday morning.
8. Where do you see yourself in five years? Working in an agency?
I hope to be able to work full-time as an illustrator, collaborate with amazing artists on some exciting projects and maybe with an author on an illustrated book too!
9. What about in ten?
I can't really see myself that far into the future. Hopefully I will have been able to achieve everything I said in the previous question and continue to be creative.
10. What do you hope to achieve with your art?
As long as my art can intrigue some people and make them smile, laugh, think and dream, that's all that matters.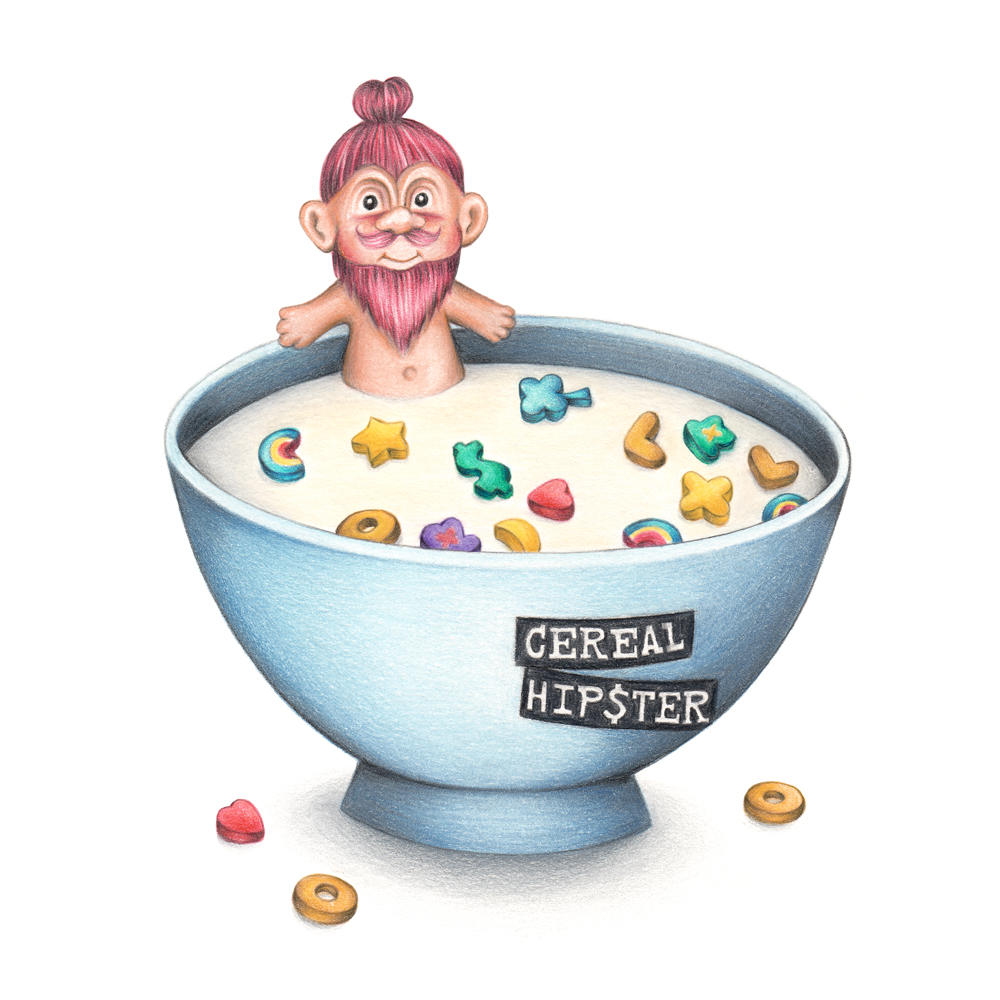 11. Now, tell us a little more about you as a person: what is your favourite food?
I'm easy to please as I eat pretty much everything from street food to fine gastronomic cuisine, so it's very hard to choose what I like the most, but I would say anything that includes cheese is the best! It would be easier for me to list foods I don't like which are pumpkin and octopus, yuck!
12. Favourite book?
Illustrated books only.
13. Favourite genre of music?
I mostly listen to rock and pop music.
14. What are your hobbies?
Obviously I spend most of my time drawing but now that I have Netflix, my other main hobby is to watch all the series and movies that I missed these last years! I also try to go to the gym every week, hang out with my friends, go to some exhibitions and gigs in small venues only!
15. If you weren't an artist, what would you be?
I would probably make small wooden furnitures and toys.