Instagram:
@chrisreath
Twitter:
@reathchris
Dribbble:
www.dribbble.com/chrisreath
1. What's your story?
I'm a late bloomer. After graduating high school, I moved to Orlando, Florida to attend college and after thrashing around a dozen different majors, I got academically dismissed (got kicked the fuck out) after my second year. I then went to a local community college where I discovered graphic design by chance. I then cut my teeth at a local agency called Purple, Rock, Scissors where I currently work as an interactive designer. Nowadays, I'm primarily designing for the web, while occasionally complaining about the latest Sketch update and how it broke everything again.
2. Tell us about your aesthetic.
Really loud for no reason
3. What is your favourite medium and why?
Photoshop, Illustrator and about a hundred artboards.
4. What is your artistic process like?
A lot of mistakes are involved. It's really spur of the moment, I usually scribble a rough idea out, and throw it on illustrator, where I'll iterate the hell out of it until something somewhat alright ends up appearing.
5. Who and/or what inspires your work?
The really obnoxious part of the RGB spectrum that can't be reproduced in real life. Hip hop culture Olly Moss, Brian Luong, Sachin Teng, Malika Favre, Thomas Danthony, Jeremy Booth, Tom Haugomat, Cinta Vidal, Rembrandt, Nicolas Delort,
6. What role does art play in your life? How does it change the way you view the world?
Art's tight man.
7. Where did you study?
Valencia Community College, with an A.S degree in Graphic Design
8. Where do you see yourself in five years? Working in an agency?
Continuing to learn and grow as an interactive designer and becoming more exploratory with my illustration work.
9. What about in ten?
Marginally better than I am now. I also foresee owning a cat named Cuando in the future.
10. What do you hope to achieve with your art?
Nothing really. Hahaha.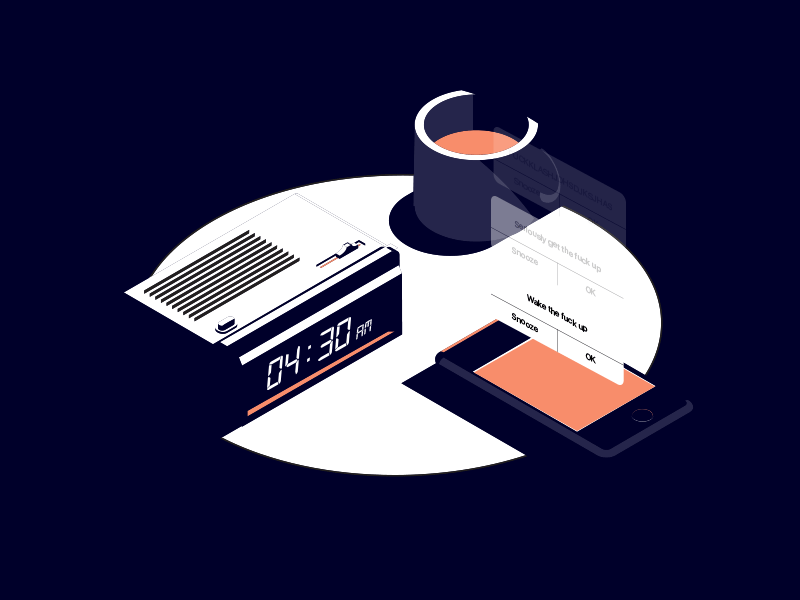 11. Now, tell us a little more about you as a person: what is your favourite food?
Three pounds of freshly cooked crawfish, mild spice with garlic butter, a roll of french bread and a couple of Heinekens at LA Boiling Crab in Orlando, Florida. And if I have even ounce of capacity left in my stomach after that, then I'm open to scarfing down a beignet or two.
12. Favourite book?
The Hitchhiker's Guide to the Galaxy.
13. Favourite genre of music?
Most songs I listen to have passed Tom Haverford's "Is it a Banger" playlist test. I keep up with a range of artists including: Kendrick Lamar, Schoolboy Q, Frank Ocean, Wet, Banks, and P.O.S
14. What are your hobbies?
Basketball, spoken word, and a light sprinkle of power lifting
15. If you weren't an artist, what would you be?
If I weren't a designer, I'd likely be an accountant. Probably a poor one at best.