Instagram:
@christinepaperdesign
Facebook:
www.facebook.com/christinepaperdesign
Website:
www.christinepaperdesign.com
1. What's your story? Where are you from?
I'm Christine, a fashion designer and painter who became a paper flower artist. I live in a small mountain town from Romania, surrounded by nature and handmade flowers. Numele meu este Cristina, sunt de profesie designer vestimentar si pictor, insa am ales sa ma dedic florilor din hartie. Locuiesc intr-un mic orasel montan din Romania, mereu inconjurata de natura si flori realizate manual.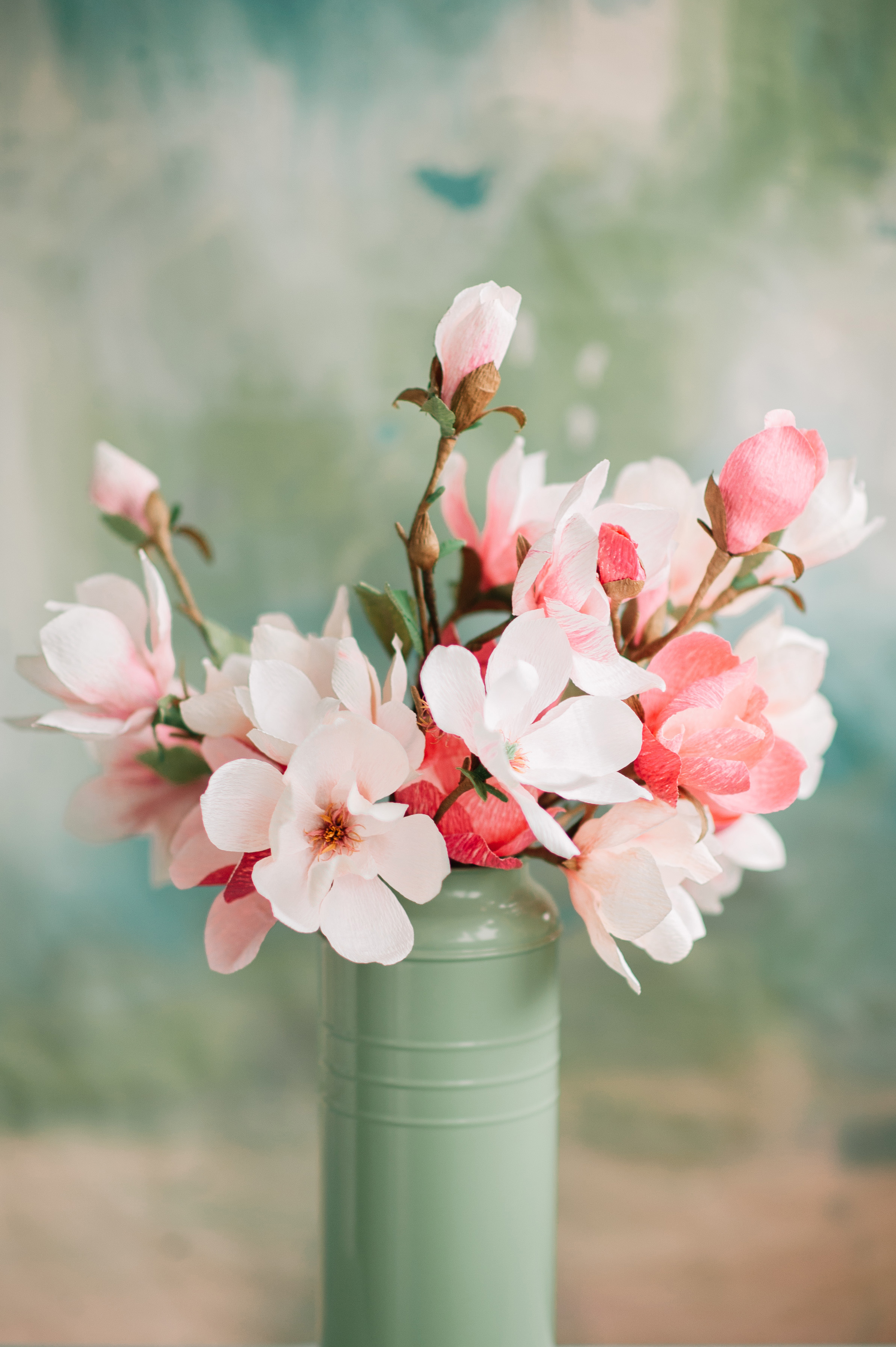 2. Tell us about your aesthetic.
I mix the paper flower techniques with my love for colors and painting. My goal is to make the flowers seem as real as possible …I truly have an obsession with my work, I like to look at images with real flowers and try to figure out ways of reproducing them. Also, because I'm not satisfied with the range of crepe paper colouring, I paint the paper so I can obtain the colour I want. I love mixing paint and discovering new shades all the time. Combin tehnicile de realizare a florilor din hartie cu pasiunea pentru culori si pictura. Scopul meu este sa obtin flori care sa para cat mai naturale. Sunt obsedata de detalii si studiu… ma gandesc constant la noi tehnici de reproducere a florilor. Imi place sa pictez hartia pentru a obtine exact nuanta necesara si am o placere imensa in a amesteca culorile si a descoperi tonuri noi.)
3. What is your favourite medium and why?
I work with Italian crepe paper and acrylc colors… I treat the paper like it's my canvas. I think this type of paper is perfect for my vision…it's thick and very resistant. Lucrez doar cu hartie creponata realizata in Italia si culori acrilyc. Hartia este ca o panza pentru mine, groasa si rezistenta, perfecta pentru a fi vopsita.
4. What is your artistic process like?
I do a lot of research on real flowers, I study lots of images with them, I make sketches and mood boards. I think of ways to reproduce the flowers and practice them. After this steps are ready I make many flowers, greenery, buds, all for my bouquets… of course, the colour theme is controlled in every small detail. Ma documentez in permanenta, studiez imagini cu flori naturale, fac schite si storyboard-uri din care ma inspir. Descopar metodele tehnice de realizare si apoi confectionez florile si toate elementele necesare pentru a face frumoase buchete… bineinteles, tema cromatica este controlata in cel mai mic detaliu.
5. Who and/or what inspires your work?
I always find inspiration in nature and real flowers. There is also a very talented worldwide community of paper flower artists which I truly admire and keeps me motivated. Imi gasesc inspiratia in natura si in florile reale, insa exista o comunitate puternica in toata lumea, de creatori de flori din hartie, pe care ii admir sincer si ma motiveaza in permanenta.)
6. What role does art play in your life? How does it change the way you view the world?
I was so happy when I discovered paper flowers because I finally found a way to express my talent, my craftsmanship and my love for colors, all together. Florile de hartie m-au salvat… mi-au redat bucuria de a trai prin faptul ca imi pot exprima viziunea, talentul, manualitatea si dragostea pentru culori.)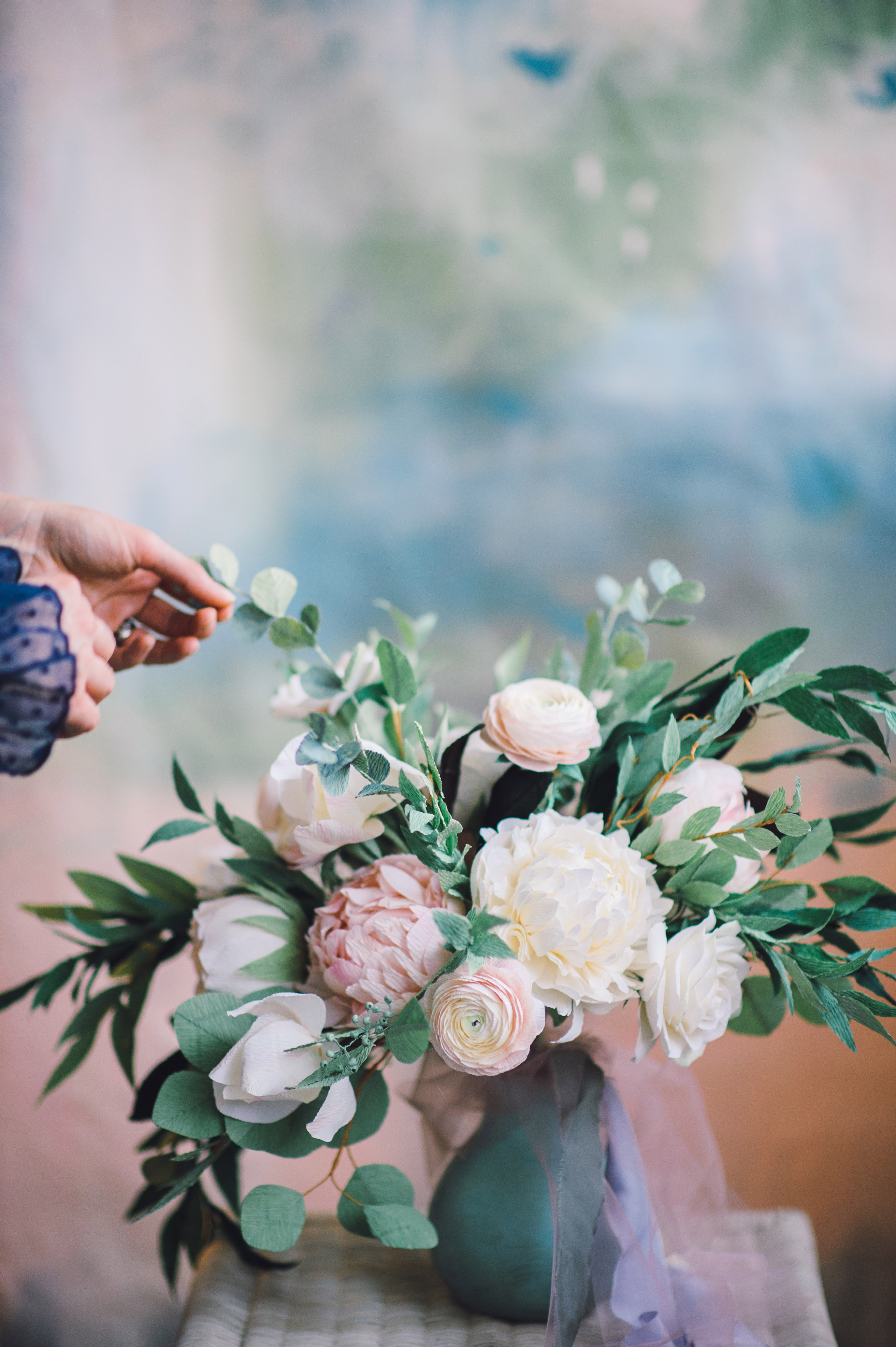 7. Where did you study?
I studied at The University of Art in Bucharest and majored in Fashion Design. Am studiat la Universitatea de Arte Bucuresti – Facultatea de Arte decorative si Design, sectia Moda.
8. Where do you see yourself in five years?
I see myself making lots of beautiful paper flowers, but I truly wish to paint (my first artistic experience was painting so… I really miss it) and to make a book on how to make paper flowers. Peste cinci ani cred ca tot flori voi face insa imi doresc sa pictez si sa realizez o carte cu tehnici de realizare a florilor de hartie.
9. What about in ten?
Ten? …so far away. I don't have a projection but I definetly wish to find new ways of expressing my visions, my dreams and desires. Peste zece ani?...nu am o priectie clara insa cu siguranta voi incerca sa gasesc mereu noi forme de exprimare artistica.
10. What do you hope to achieve with your art?
I make flowers and bouquets that can last many years, that bring joy in peoples homes and lifes and preserve a memory of some event – the wedding day for example. Imi place sa cred ca florile mele vor insenina casele si vietile celor care le cumpara pentru multi ani de acum incolo… pot purta cu ele peste ani amintirea unei zile speciale.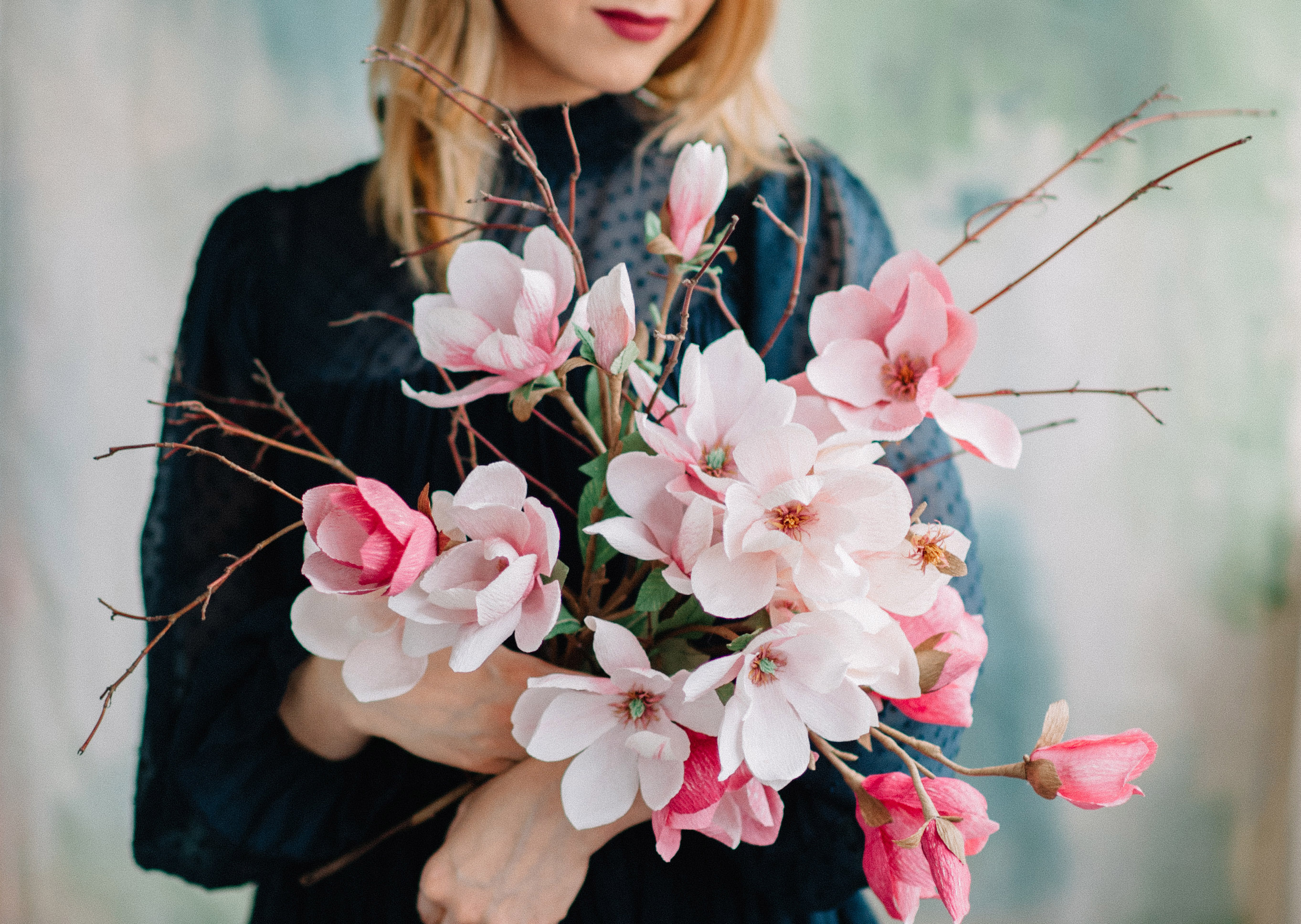 11. Now, tell us a little more about you as a person: what is your favourite food?
My mothers cocking. Mancarea facuta de mama.
12. Favourite book?
Love in time of Cholera – Gabriel Garcia Marquez.
13. Favourite genre of music?
I love music that speeks to my heart some how… I don't have just a favourite genre but I listen what I feel in that moment. Iubesc muzica care ma emotioneaza… nu prefer doar un singur gen, ascult ce simt pe moment.
14. What are your hobbies?
Photography. Fotografia
15. If you weren't an artist, what would you be?
Definitely a photographer… still in the art department.