Instagram:
@christinerbayart
Website:
www.christinerbay.carbonmade.com
1. What's your story? Where are you from?
I am Christine R. bay, a maker, self-taught artist and fur-mum to a toy poodle; and I hail from the tropical island of Singapore. As the saying goes "The apple doesn't fall far from the tree". My late grandmother (whom we fondly called Ah Ma) was a seamstress and my mum does crochet, so most of my childhood was spent playing with Ah Ma's vintage sewing machine and my mum's crochet hooks and yarn, sparking my interest in crafting. My mum also did the brilliant thing of sending me to art classes at a neighbourhood community centre, and I was hooked on drawing since.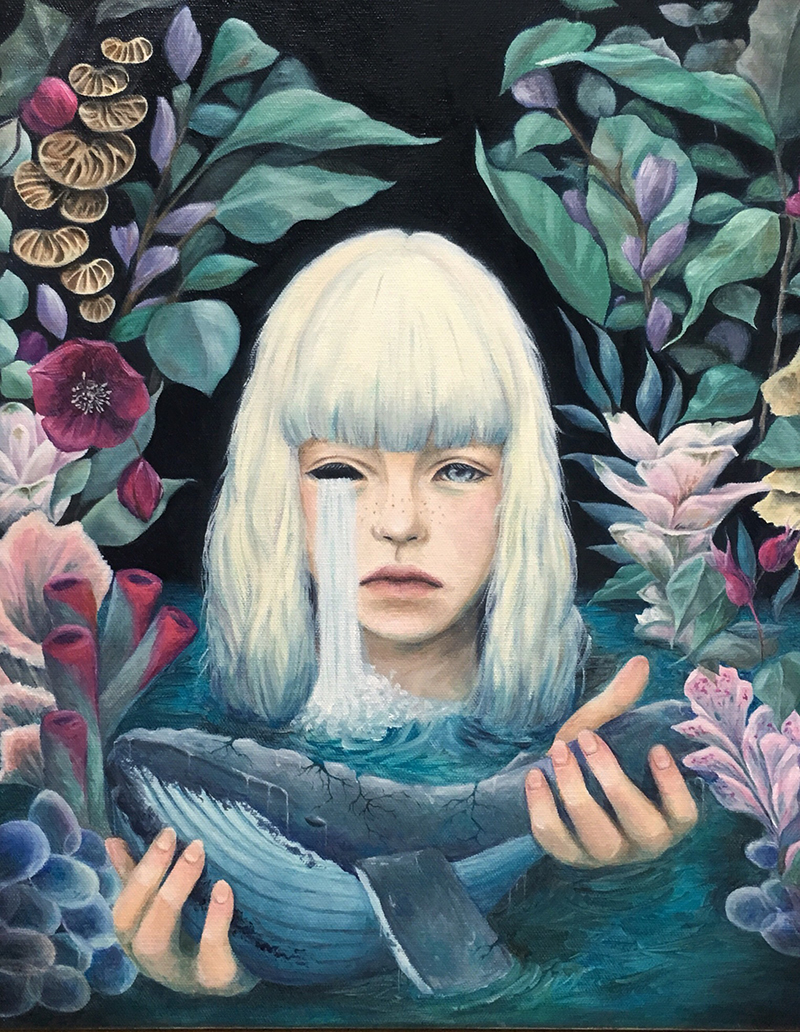 2. Tell us about your aesthetic.
I always joke that I have art schizophrenia. Perhaps it is my Gemini-trait to be attracted to things that are polar opposites. I have a big love for anything baroque, rococo and Japanese. For my painted artworks and portraits, I tend to do realism with a little rococo and Japanese flair, while bringing nature as surreal elements into them. When I am doing textile design work for my bags, I tend to go more zakka-kawaii, minimalist and incorporate more geometric designs. While I have a preference for muted colours, I do not apply a strict colour palette to all my artworks or design works and would prefer to have the freedom of choosing from a myriad of colours to convey different moods and messages.
3. What is your favourite medium and why?
My current favourite is oil paints. I started out with inks and watercolours and I love using them, especially for faster projects. But after finally taking an oil painting course last year, I was hooked. The planning and actual painting process can get really long, but I enjoy the details and depth that I can get. I do hope to explore mixing different mediums more in the near future though. I had quite a bit of fun while experimenting miniature painting in resin!
4. What is your artistic process like?
It always starts with random ideas that pop in my head and I have to note it down in my phone immediately. For paintings, random ideas can include composition, types of nature elements, poses, colours etc. Once I have gathered my ideas and made my final decision, I will usually proceed with the final rough pencil sketch. Depending on the complexity, I might add elements and do some colour tests digitally, before printing the sketch out to be transferred onto canvas for painting. For design works, I usually paint multiple elements either traditionally or digitally and assemble them into patterns in photoshop or illustrator.
5. Who and/or what inspires your work?
While I enjoy seeing works by classical artists, modern visual artists, as well as pop-surrealists, composition and colour inspiration, can come from nature, architecture, magazine spreads or even random objects. Painting topics are usually derived from my personal life and philosophies, as well as current social and ecological issues.
6. What role does art play in your life? How does it change the way you view the world?
I used to draw a lot to relieve school stress. But back then, it was just mindless portrait drawing of idols I was following and doodles of manga/anime characters I was into. But this one art lesson on surrealism in my secondary school days was stuck with me till today. After which, I sort of put art on hold when I entered the workforce, and switched to crafting as a hobby until I joined a digital creative agency. The colleagues there re-introduced me to a world of art and design that I had never really known, and that was also when I learned about the existence of pop-surrealism and Mark Ryden. His works convey profound and at times controversial messages, yet they are masked so beautifully by the softness and rococo-ish traditional painting style. Since then, I love going to art galleries and reading the stories behind art pieces and artists. To me, art is more than being beautiful. It is like a snapshot of the artist's thoughts and feelings at a specific time period with its own social and economic booms and perils.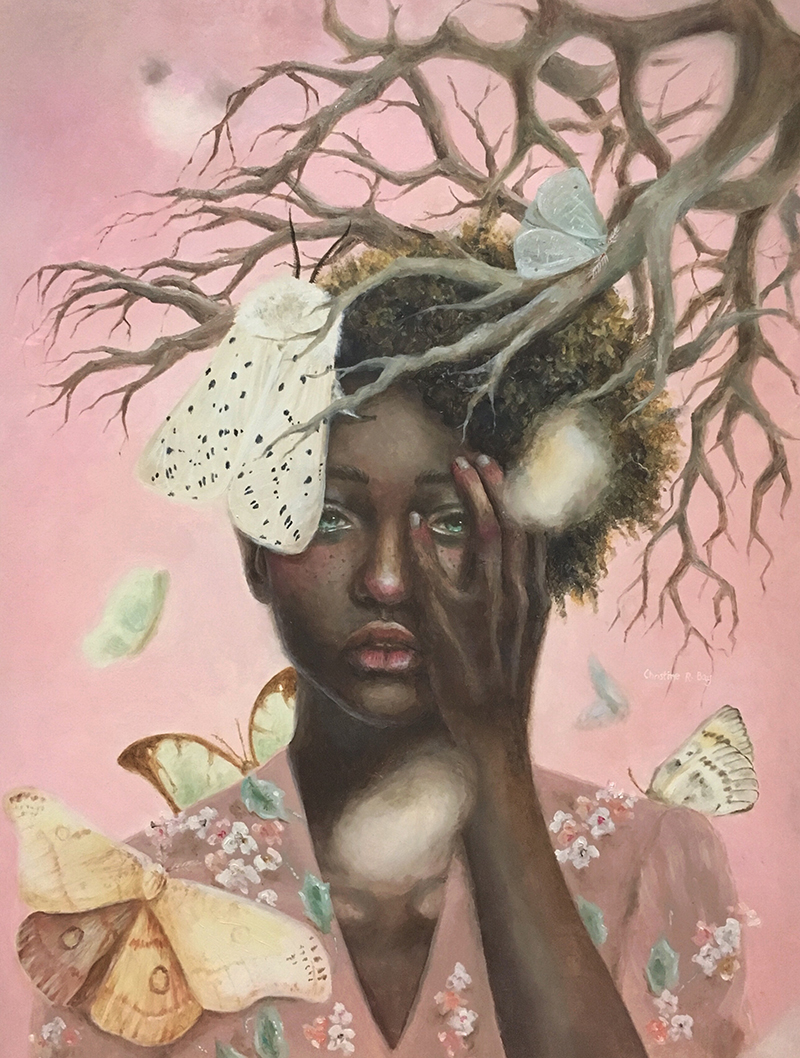 7. Where did you study?
I am not formally trained in art or design but have taken courses in basic Fashion design and oil painting. My background is in Tech and was formally a software engineer. I did squeeze in modules on computer graphics and animation while taking my Bachelor of Computing at the National University of Singapore!
8. Where do you see yourself in five years?
I hope to be a more established artist and designer while spurring changes in the area of mental health and environmental issues. And brave enough to get my feet wet in doing larger art murals and 3D art installations.
9. What about in ten?
Hopefully, my dream of owning a gallery with an open workshop space will come true!
10. What do you hope to achieve with your art?
I do hope that some of my artworks can raise awareness on certain important issues. As for pieces that convey my personal demons, I hope that viewers can relate to them and know that they are not alone. Most of my design works are pretty cheerful, so hopefully, they can bring joy to whoever owns them!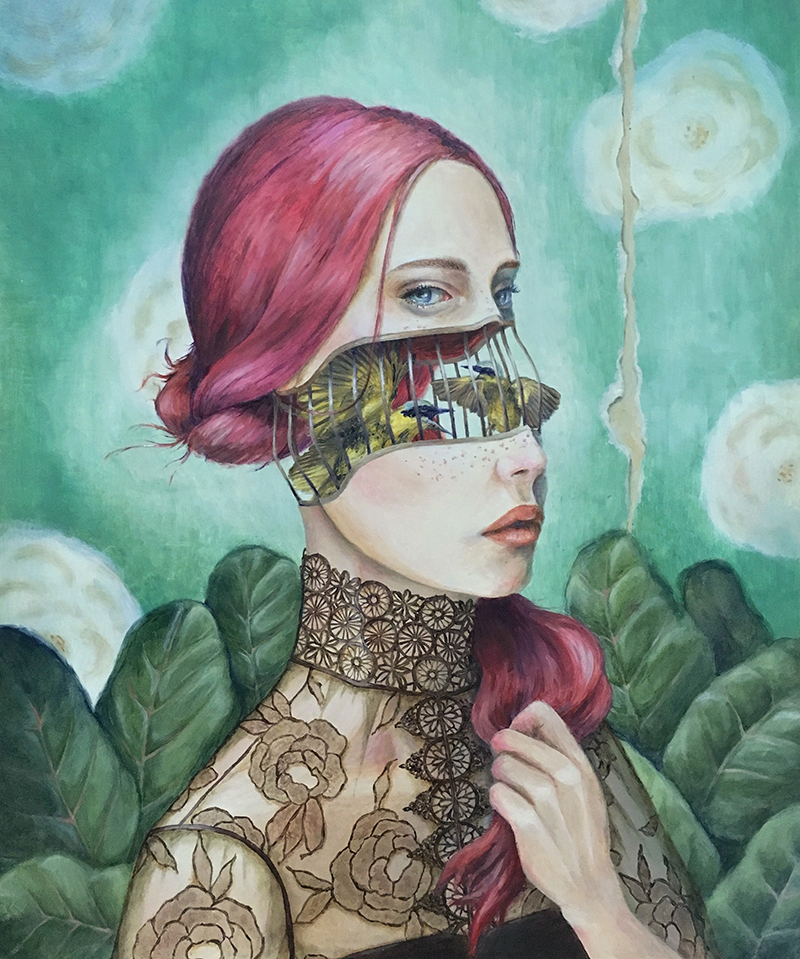 11. Now, tell us a little more about you as a person: what is your favourite food?
My weaknesses are soba, enoki mushrooms and daifuku... I know.. They are all Japanese foods... I do love an occasional good laksa or rendang locally!
12. Favourite book?
Is it weird that I used to read a lot of astronomy and astrophysics magazines? Nowadays, I am hoarding art books and craft books.. I must say my latest favourite book is a Mark Ryden's art book.
13. Favourite genre of music?
Recently, my earworms are AURORA and Priscilla Ahn. So electropop and folk? I am obsessed with cello music pieces too.
14. What are your hobbies?
I am part of a local yarn bombing group, so when I am not at my easel or computer, I am usually on my crochet hooks or knitting needles. I used to sew garments for myself, but nowadays, the sewing machines are mostly for work purposes. I still enjoy the crafting bit in my life, joining workshops to learn new crafts. I love browsing magazines, art books and art supplies too... When I am stressed or down, long walks are a must to clear my mind.
15. If you weren't an artist, what would you be?
Most probably still in the Tech line... But if I have the chance to choose again, and I couldn't be an artist, I would most probably be a fashion designer or a physicist in astronomy or quantum mechanics. I am back at being a Gemini, aren't I?