Instagram:
@claudiatoran
Behance:
www.behance.net/claudiatoran
Website:
www.claudiatoran.com
1.​ ​What's​ ​your​ ​story?​ ​Where​ ​are​ ​you​ ​from?
I'm​ ​an​ ​illustrator​ ​from​ ​Valencia​ ​(Spain) After​ ​my​ ​studies​ ​I​ ​came​ ​to​ ​London​ ​to​ ​get​ ​some​ ​fresh​ ​air​ ​and​ ​see​ ​what​ ​happen.​ ​And​ ​here​ ​I​ ​am,​ ​two​ ​years​ ​after, seeing​ ​what​ ​is​ ​happening,​ ​working​ ​hard​ ​and​ ​trying​ ​to​ ​grow​ ​up​ ​as​ ​a​ ​creative,​ ​and​ ​learn​ ​everyday.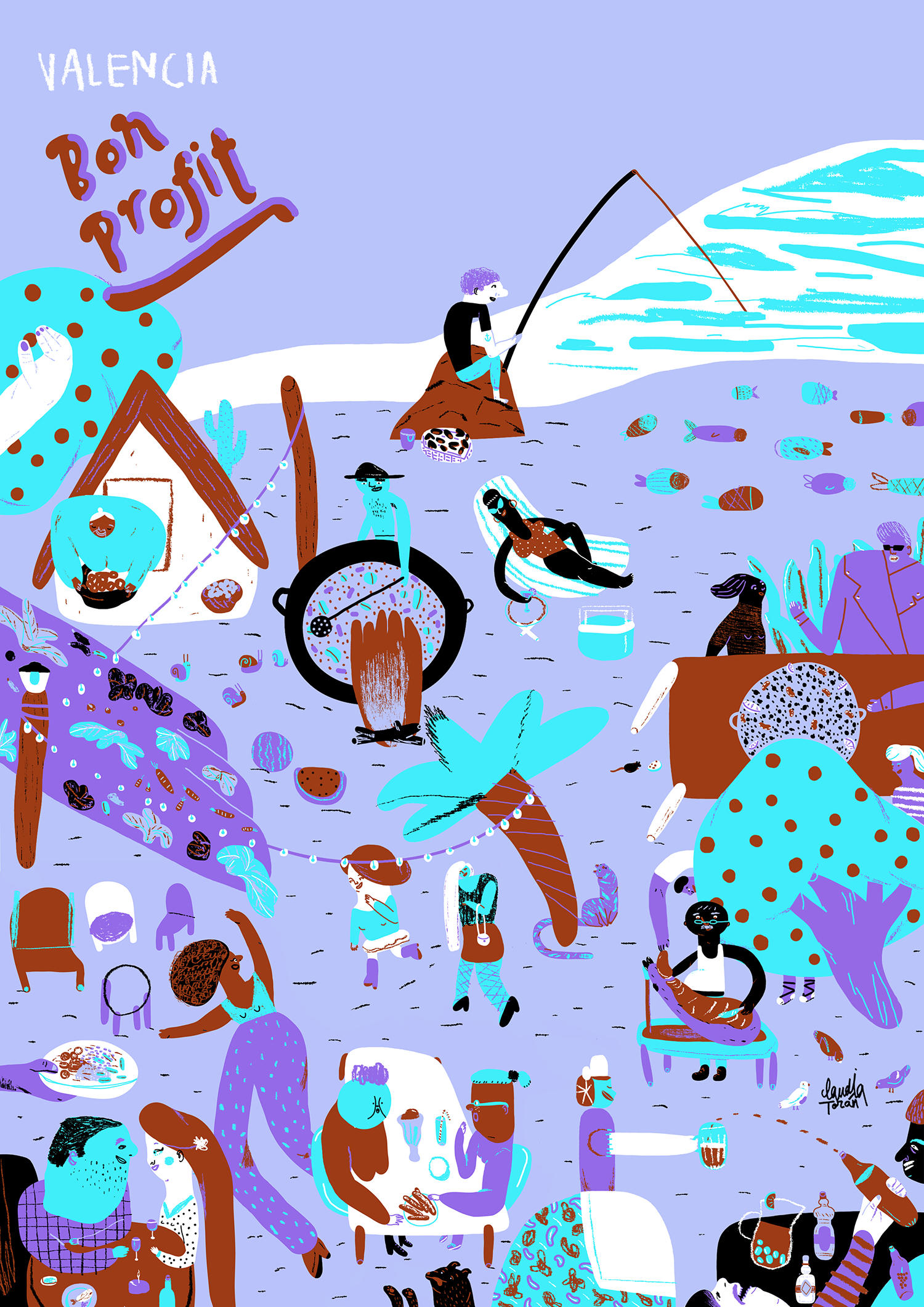 2.​ ​Tell​ ​us​ ​about​ ​your​ ​aesthetic.
I​ ​can​ ​say​ ​that​ ​I​ ​love​ ​color​ ​and​ ​composition. I​ ​also​ ​like​ ​deforming​ ​reality​ ​and​ ​trying​ ​to​ ​see​ ​things​ ​from​ ​a​ ​different​ ​perspective.​ ​I​ ​love​ ​mixing​ ​textures​ ​and mediums​ ​and​ ​I​ ​guess​ ​this​ ​comes​ ​from​ ​my​ ​interest​ ​on​ ​naive​ ​and​ ​kitsch​ ​aesthetics,​ ​I​ ​think​ ​I'm​ ​influenced​ ​by​ ​many different​ ​trends...and​ ​they​ ​keep​ ​changing​ ​all​ ​the​ ​time.
3.​ ​What​ ​is​ ​your​ ​favourite​ ​medium​ ​and​ ​why?
I​ ​just​ ​love​ ​doing​ ​stuff...drawing,​ ​painting,​ ​creating​ ​things​ ​and​ ​I​ ​really​ ​don't​ ​mind​ ​about​ ​"how". In​ ​fact​ ​I​ ​like​ ​when​ ​I​ ​don't​ ​have​ ​nothing​ ​to​ ​draw​ ​with​ ​and​ ​so​ ​I​ ​discover​ ​new​ ​mediums​ ​and​ ​techniques​ ​like​ ​drawing with​ ​sand,​ ​with​ ​my​ ​finger​ ​or​ ​with​ ​food​ ​(this​ ​is​ ​a​ ​bit​ ​disgusting​ ​but​ ​it​ ​actually​ ​works) Anyway​ ​if​ ​I​ ​was​ ​in​ ​a​ ​desert​ed ​island​ ​where​ ​I​ ​just​ ​could​ ​choose​ ​one,​ ​I'll​ ​say​ ​pencil​ ​and​ ​paper...and​ ​why?​ ​because​ ​I'm quite​ ​basic​ ​I​ ​guess.
4.​ ​What​ ​is​ ​your​ ​artistic​ ​process​ ​like?
It​ ​is​ ​so​ ​free​ ​(when​ ​it​ ​just​ ​depends​ ​on​ ​me​ ​or​ ​on​ ​cool​ ​clients)​ ​and​ ​a​ ​bit​ ​messy​ ​to​ ​be​ ​honest.​ ​I'm​ ​a​ ​bit​ ​impatient​ ​when it​ ​comes​ ​to​ ​preparation​ ​of​ ​a​ ​project.​ ​I'm​ ​not​ ​the​ ​kind​ ​of​ ​person​ ​that​ ​does​ ​hundreds​ ​of​ ​sketches​ ​and​ ​color​ ​tests.​ ​I just​ ​want​ ​to​ ​start​ ​it!​ ​get​ ​dirty!​ ​do​ ​it!​ ​So​ ​from​ ​the​ ​very​ ​beginning​ ​I​ ​understand​ ​the​ ​piece​ ​as​ ​a​ ​final​ ​work​ ​that​ ​I​ ​build step​ ​by​ ​step,​ ​if​ ​that​ ​make​ ​sense. I'm​ ​quite​ ​obsessed​ ​with​ ​color​ ​and​ ​its​ ​balance​ ​so​ ​it​ ​usually​ ​starts​ ​as​ ​an​ ​abstract​ ​painting​ ​and​ ​then​ ​I​ ​continue​ ​with the​ ​rest​ ​of​ ​the​ ​scrawl.​ ​And​ ​without​ ​doubts,​ ​the​ ​final​ ​bites​ ​are​ ​the​ ​longest​ ​part​ ​of​ ​the​ ​process.​ ​I​ ​can​ ​literally​ ​spend days​ ​just​ ​to​ ​change​ ​a​ ​line​ ​or​ ​a​ ​little​ ​something​ ​until​ ​everything​ ​works​ ​to​ ​me. Then​ ​comes​ ​the​ ​client​ ​and​ ​says...how​ ​about​ ​we​ ​change​ ​that​ ​color?
5.​ ​Who​ ​and/or​ ​what​ ​inspires​ ​your​ ​work?
Everything!!!​ ​People,​ ​travel,​ ​life!​ ​Ideas​ ​are​ ​floating​ ​everywhere,​ ​like​ ​love​ ​and​ ​Pokemon.
6.​ ​What​ ​role​ ​does​ ​art​ ​play​ ​in​ ​your​ ​life?​ ​How​ ​does​ ​it​ ​change​ ​the​ ​way​ ​you​ ​view​ ​the​ ​world?
Art​ ​has​ ​always​ ​been​ ​so​ ​important​ ​to​ ​me,​ ​but​ ​I​ ​guess​ ​​now​ ​is​ ​when​ ​I'm​ ​aware​ ​of​ ​that. When​ ​I​ ​was​ ​a​ ​kid​ ​I​ ​was​ ​looking​ ​at​ ​my​ ​dad​ ​painting,​ ​at​ ​those​ ​street​ ​artists​ ​making​ ​caricatures,​ ​I​ ​was​ ​reading​ ​many books​ ​with​ ​illustrations,​ ​drawing​ ​anytime,​ ​anywhere. So​ ​I'm​ ​not​ ​sure,​ ​I​ ​think​ ​I​ ​always​ ​looked​ ​this​ ​way.​ ​Paying​ ​attention​ ​to​ ​the​ ​little​ ​things,​ ​trying​ ​to​ ​see​ ​the​ ​world​ ​from​ ​a different​ ​point​ ​of​ ​view.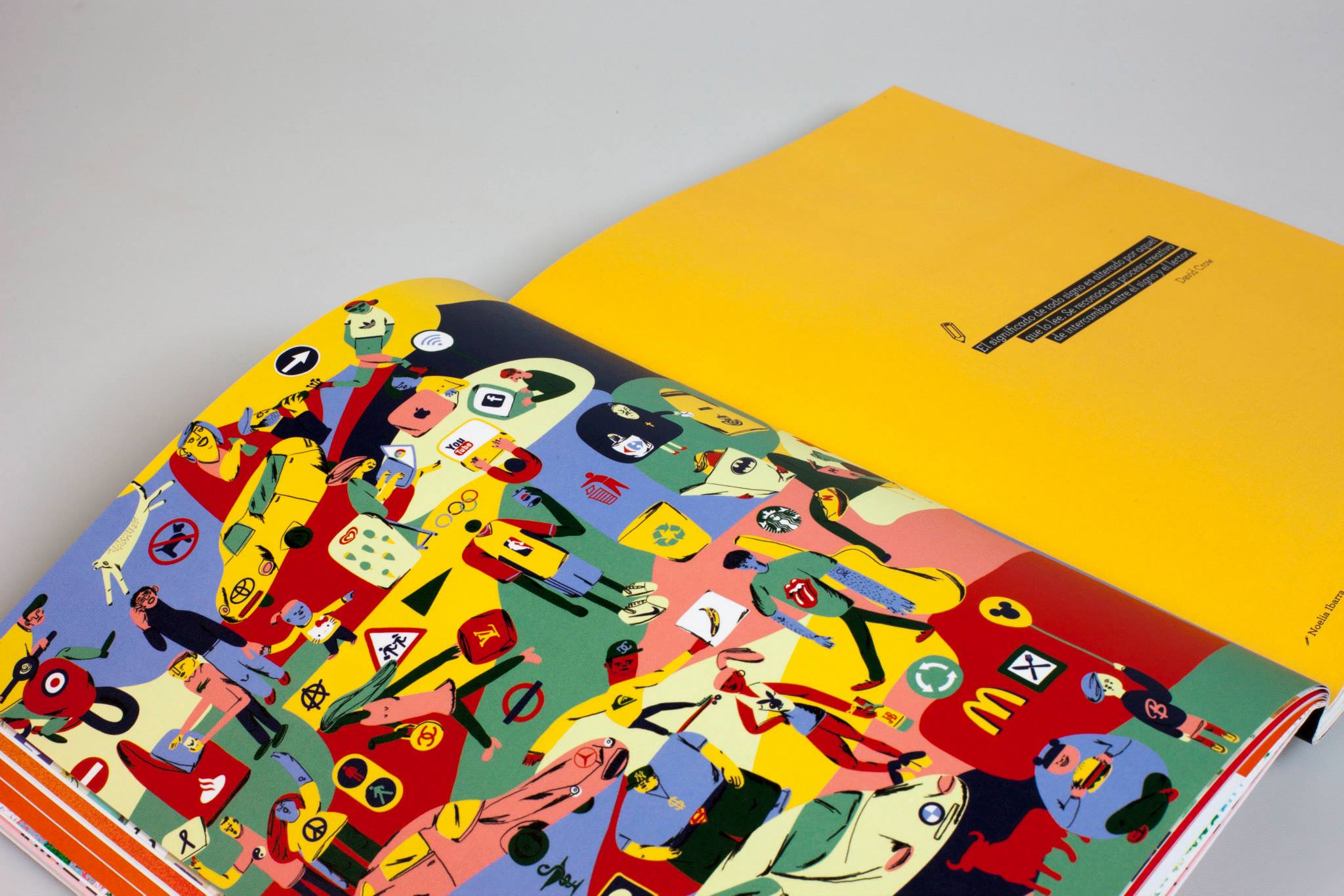 7.​ ​Where​ ​did​ ​you​ ​study?
I​ ​studied​ ​Fine​ ​Arts​ ​in​ ​Valencia,​ ​my​ ​beautiful​ ​sunny​ ​city. In​ ​between​ ​I​ ​did​ ​one​ ​year​ ​abroad​ ​in​ ​Leeds​ ​University,​ ​where​ ​I​ ​developed​ ​my​ ​more​ ​"conceptual"​ ​work.​ ​I​ ​did​ ​a​ ​lot​ ​of video-installations​ ​and​ ​weird​ ​stuff​ ​but​ ​looking​ ​back​ ​I​ ​think​ ​this​ ​period​ ​was​ ​so​ ​important​ ​to​ ​me​ ​and​ ​to​ ​my​ ​artistic development. And​ ​then​ ​I​ ​came​ ​back​ ​to​ ​Valencia,​ ​my​ ​sunny​ ​beautiful​ ​city,​ ​to​ ​do​ ​a​ ​Masters​ ​in​ ​Illustration​ ​and​ ​Graphic​ ​Design.​ ​I learnt​ ​a​ ​lot​ ​this​ ​year,​ ​it​ ​was​ ​like​ ​a​ ​period​ ​of​ ​preparation​ ​for​ ​real​ ​life,​ ​for​ ​professional​ ​life.​ ​And​ ​also​ ​it​ ​was​ ​so​ ​much fun!
8.​ ​Where​ ​do​ ​you​ ​see​ ​yourself​ ​in​ ​five​ ​years?
I​ ​hope​ ​illustrating​ ​and​ ​travelling​ ​a​ ​lot,​ ​that​ ​would​ ​be​ ​the​ ​dream.
9.​ ​What​ ​about​ ​in​ ​ten?
This​ ​is​ ​really​ ​blurry​ ​just​ ​yet...but​ ​doing​ ​art​ ​for​ ​sure.
10.​ ​What​ ​do​ ​you​ ​hope​ ​to​ ​achieve​ ​with​ ​your​ ​art?
I'm​ ​not​ ​thinking​ ​a​ ​lot​ ​about​ ​that,​ ​maybe​ ​I​ ​should...I​ ​don't​ ​know,​ ​it​ ​would​ ​be​ ​great​ ​to​ ​use​ ​it​ ​as​ ​a​ ​tool​ ​to​ ​help​ ​or change​ ​something​ ​in​ ​this​ ​world​ ​that​ ​has​ ​many​ ​things​ ​that​ ​need​ ​to​ ​be​ ​changed. And​ ​of​ ​course​ ​I​ ​would​ ​love​ ​to​ ​share​ ​my​ ​work​ ​with​ ​a​ ​big​ ​and​ ​heterogeneous​ ​public,​ ​make​ ​them​ ​feel​ ​things​ ​or​ ​make them​ ​think​ ​or​ ​enjoy,​ ​as​ ​the​ ​work​ ​of​ ​other​ ​artists​ ​does​ ​to​ ​me.​ ​I​ ​think​ ​this​ ​is​ ​magic.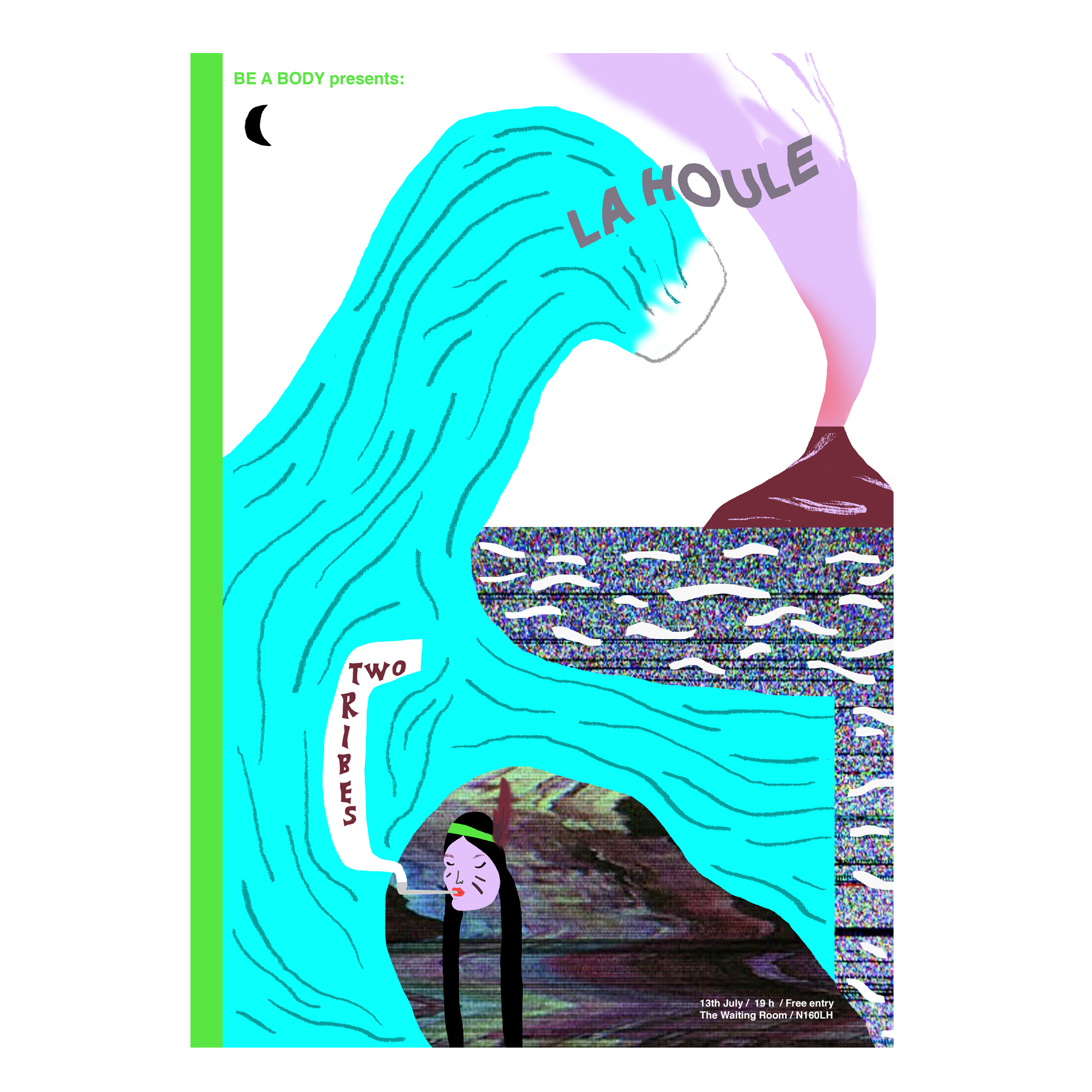 11.​ ​Now,​ ​tell​ ​us​ ​a​ ​little​ ​more​ ​about​ ​you​ ​as​ ​a​ ​person:​ ​what​ ​is​ ​your​ ​favourite​ ​food?
I'm​ ​going​ ​to​ ​sound​ ​super​ ​topic​ ​spanish​ ​here​ ​but​ ​I'm​ ​going​ ​to​ ​say​ ​paella.​ ​And​ ​tapas!
12.​ ​Favourite​ ​book?
Subir​ ​hacia​ ​abajo.​ ​Is​ ​a​ ​mix​ ​about​ ​Nepal​ ​and​ ​philosophy...my​ ​dad​ ​wrote​ ​it.
13.​ ​Favourite​ ​genre​ ​of​ ​music?
Uh...
14.​ ​What​ ​are​ ​your​ ​hobbies?
Music.​ ​That's​ ​why​ ​the​ ​previous​ ​question​ ​is​ ​so​ ​hard.
15.​ ​If​ ​you​ ​weren't​ ​an​ ​artist,​ ​what​ ​would​ ​you​ ​be?
A​ ​musician.​ ​That's​ ​why​ ​the​ ​past​ ​two​ ​questions​ ​were​ ​so​ ​difficult. Or​ ​a​ ​poet,​ ​it​ ​would​ ​be​ ​nice.