Instagram: @coeursingulier
Website: www.coeursingulier.com
1. What's your story? Where are you from?
Hello! My name is Thi and I work as an illustrator in Nantes, France.
I grew up on a rather small island in the Caribbean. There, the beauty of the scenery always moved me. I just felt amazed by how colorful and impenetrable it was. I must say that being surrounded with nature in its wildest form definitely had impact in the awakening of my taste for drawing and the very expression of my art.
Unsurprisingly, I started drawing when I was very young, reproducing the models on my sketching books. Unfortunately, I never imagined it would be more than a hobby and I never took drawing classes in school.
Both travelling and meeting people greatly fed my inspiration when I became an adult, and I felt a need to translate these emotions and life experiences through the act of drawing. I worked as a freelance Social Media Manager for a long time, and my passion for drawing gradually started taking me more time. Eventually, I made a decision and quit my position to fulfil my passion and become a professional illustrator.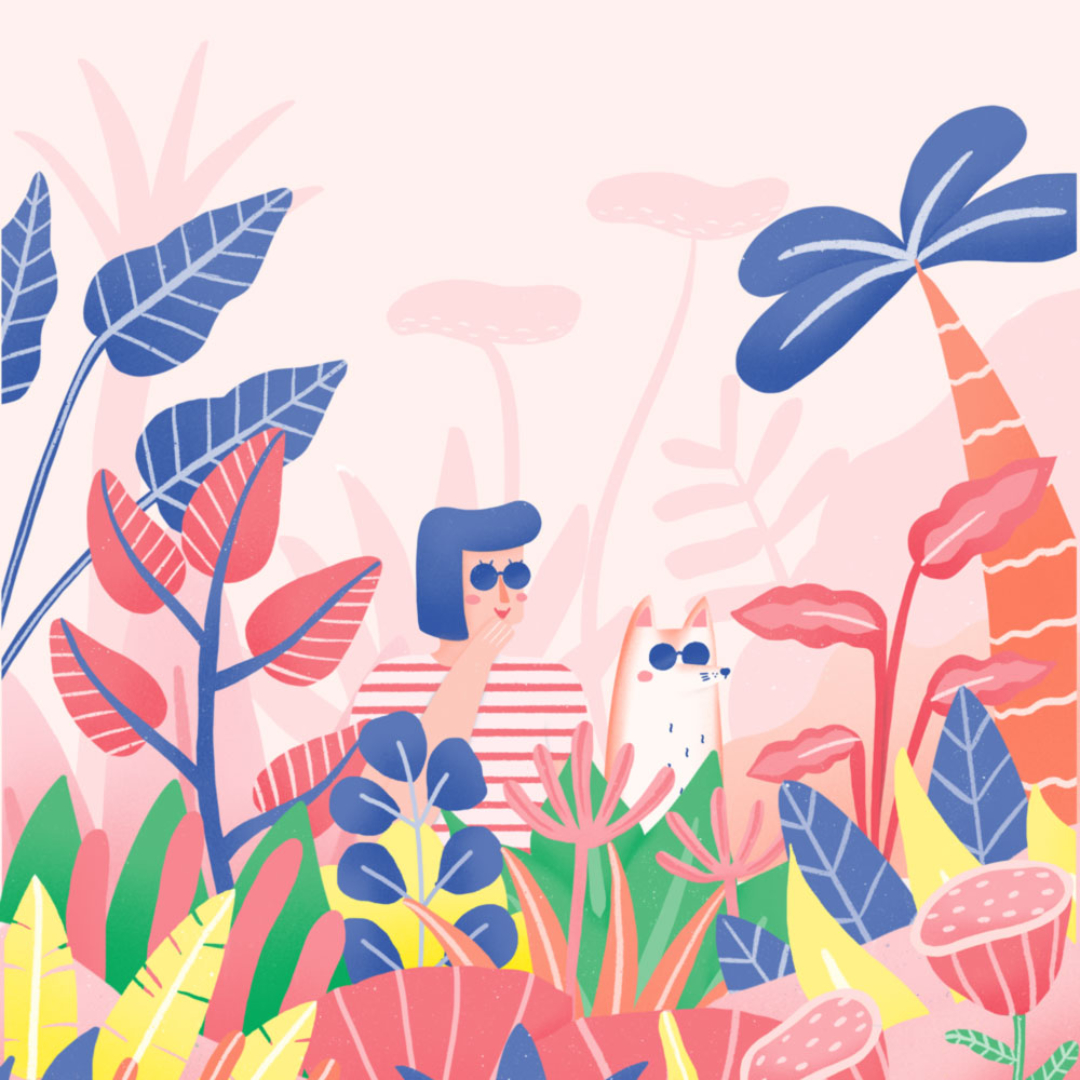 2. Tell us about your aesthetic.
I usually like anything colorful that comes with a bit of character. Recently, I have been working a lot with colors, and learning the basics of using risography, a digital duplicator (printing equipment that is both more economical and more environmentally-friendly than traditional printing technologies). It involves working with a more limited palette of colors, but I am gladly taking on this challenge.
I usually put a lot of details in my drawings, and I enjoy inserting small touches of humor. The desired outcome is a piece that feels light and simple to the eye.
3. What is your favourite medium and why?
I essentially get my art done using digital mediums. I work very often on my iPad because I love the features and find it easy to work anywhere with. I use the Procreate software a lot, and I am currently trying out Adobe Fresco. Every time that I am required to do very detailed work, I feel that my Wacom tablet is the most useful of all.
In other situations, I work on my Moleskine notebook with a Blackwind pencil and Posta felt pens. These felt pens are great. I just love how bright their colors feel, for some reason.
4. What is your artistic process like?
I always keep a notebook close to write or scribble on, in case that something comes to inspire me. I'd hate to forget it. The process is simple: I picture the concept and think about the storytelling that will help me convey the feeling or message that I am willing to spread.
5. Who and/or what inspires your work?
I find inspiration in my travels and encounters, and in the contemplation of nature. People always have interesting stories and experiences to tell. I mostly feel admiration for people who put work into making our world a better place.
I also enjoy the works of other artists. In fact, I spend a lot of time observing the details of a piece and understanding the process behind it. Getting a grasp of what others do actually makes me much more creative because it gets me past the boundaries of my own know-how and imagination.
6. What role does art play in your life? How does it change the way you view the world?
Drawing enables me to take a step back.
It draws me to take a moment to reflect in order to open a new perspective. Through my drawing, I attempt to convey a message the best I can. I feel a need to share, to express my feelings, and there is no better place than drawing for that. I just like opening up, whether it's through speaking or drawing. I enjoy it a lot, and I believe that it makes the communication much more engaging.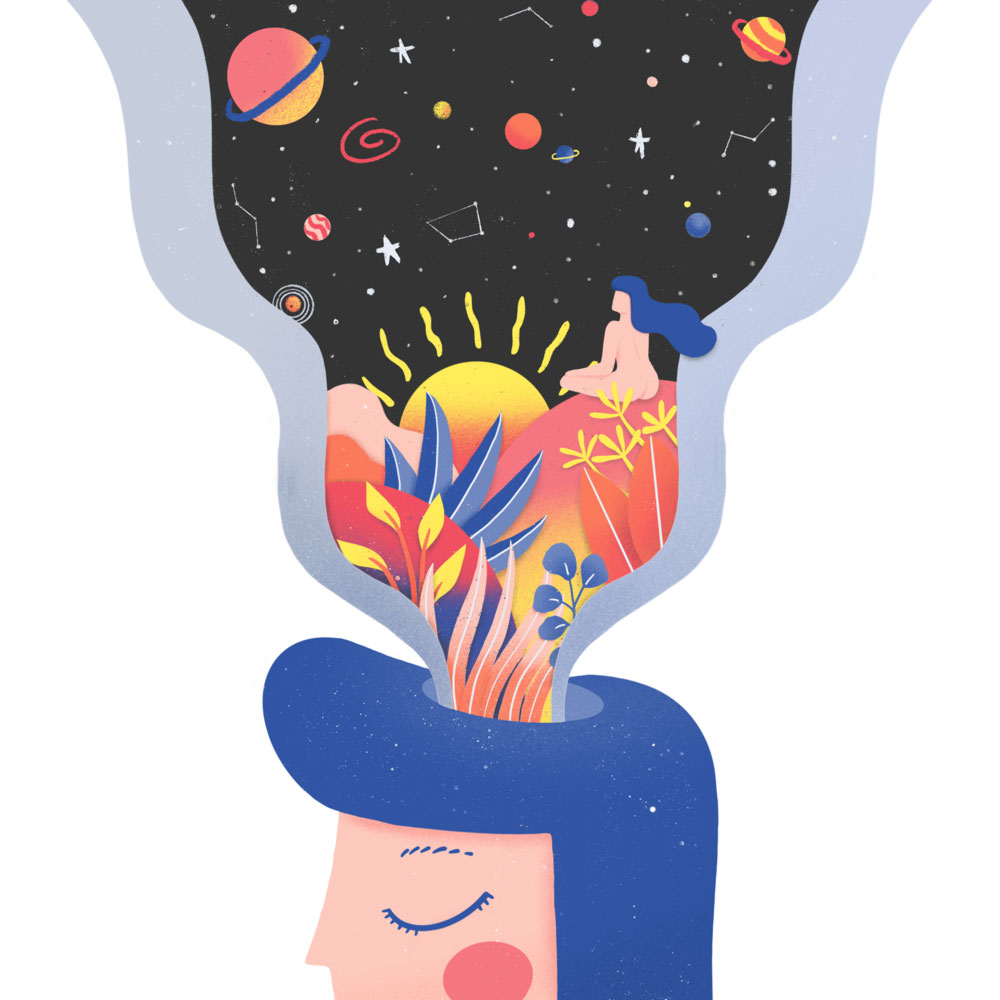 7. Where did you study?
Though I have not taken art classes, I have spent 5 years studying communication and marketing because I initially wanted to work in advertising and pursue a career that involved both coming up with a marketing strategy and using my creativity to carry it out.
8. Where do you see yourself in five years?
I see myself keeping on drawing and conveying messages and emotions. Besides, I hope to get referenced in the communication, press, edition and advertising fields.
My wildest dream is to take part in an exhibition because I am working on a project that I am really passionate about. It revolves around poetry.
I can also picture myself travelling, meeting people, and sharing with other creative minds. There's just nothing better to feed one's creativity.
9. What about in ten?
I am quite an active person and I love change. I like to explore new things, so I do not see myself just working as an illustrator. In fact, I also see myself achieving a project with social and solidarity impact with the intent to effect positive change on society. I also hope to travel with my daughter.
10. What do you hope to achieve with your art?
I would like my illustrations to convey meaningful messages which carry hope. I want to bring a new perspective to the world and send to whoever my art reaches an invitation to reflect on the given topic for a while and to open up about it. But to achieve that, I need to spend time and I must demonstrate rigor to work on the message that I wish to convey.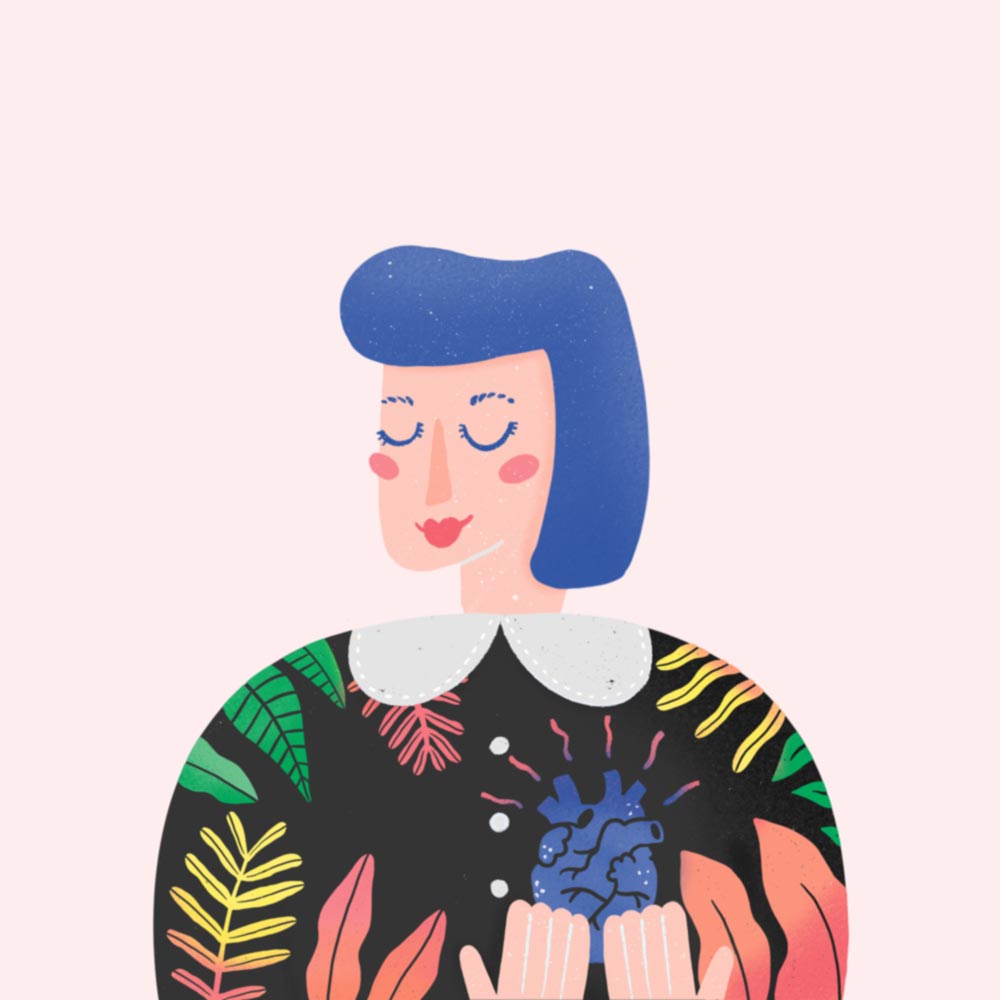 11. Now, tell us a little more about you as a person: what is your favourite food?
I love food. I really enjoy eating. It's what I fuel myself with, both physically and spiritually. It gives me good temper. I like world cuisine a lot, and I enjoy meals that were elaborated with beer just as much. But above all, I prefer my food organic, and produced locally. I have a lot of fun adapting recipes with organic and locally-produced foods.
12. Favourite book?
I'm having a hard time deciding, to be honest. There are so many that I'd like to recommend!
So... though I am not a big fan of the manga genre, there's one that I love reading over and over again: Love Hina. The series offers its readers with a lot of laughter, simplicity, adventure, and the characters are very endearing. I've been reading it for 20 years, and I still cannot get enough.
13. Favourite genre of music?
I love Trip Hop, Rap Lyric, Reggae, the kind of music that makes you want to dance. But sometimes I listen to classics, such as Georges Brassens (French singer). Now, music is mostly for when I want to sing or dance but I find it hard to keep my focus when I turn it on, so I usually work in silence.
14. What are your hobbies?
I have a lot of fun playing video games, and they really me relax. I play a lot of FPS (First Person Shooter) games. I also enjoy travelling and haute cuisine. When I am away, I feel a need to discover the trendiest culinary specialty or restaurant that exists locally. I really value the quality of a dish, and I personally believe that eating well plays a big role in staying positive.
15. If you weren't an artist, what would you be?
If I weren't an artist... I'd be an explorer, or an activist. If I were an explorer, I'd use every opportunity abroad to inform the world as a reporter, and if I were an activist, I'd stand for causes that intend to have legitimate social and solidarity impacts. I strongly believe that my very existence revolves around leaving a legacy behind and conveying meaningful messages that will help make a difference.