Instagram:
@colinverdi
Website:
www.colinverdi.com
1. What's your story? Where are you from?
My name is Colin Verdi, I'm an artist living and working in New York City. I grew up across the river in New Jersey, but I've been living in New York for about 8 years now.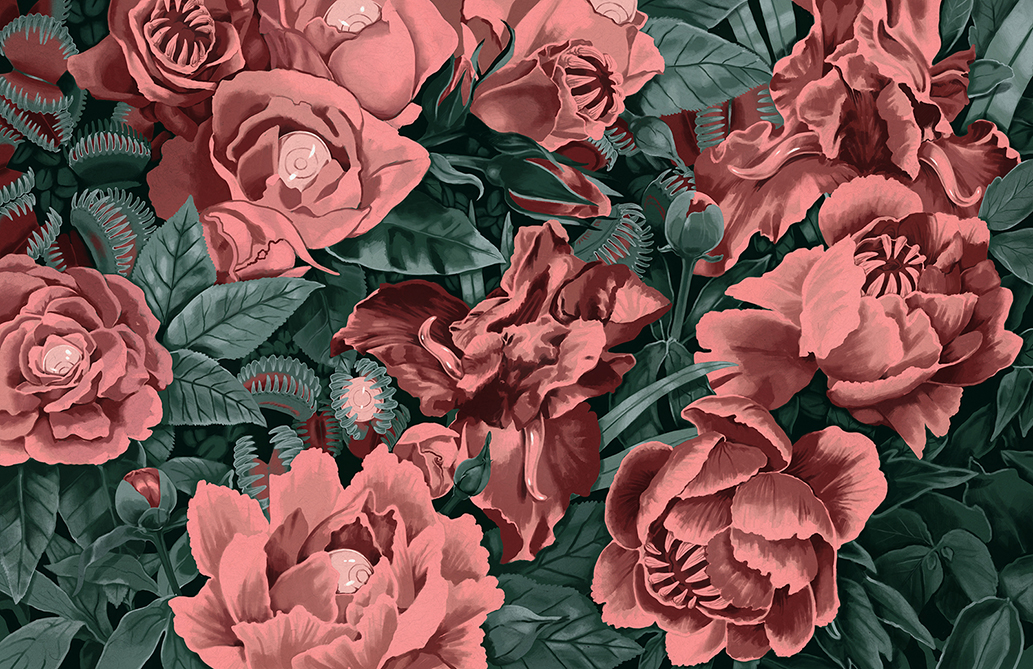 2. Tell us about your aesthetic.
I think I'd describe it as something like Neon Rococo Goth. I like playing with bright 80s colors and dramatic lighting, and I'm drawn to things that are ornate and femme and beautiful, but with a spooky twist. And always with a little sense of humor, something tongue-in-cheek.
3. What is your favourite medium and why?
Recently I've been working almost entirely in Procreate on iPad pro, because it's so fast and easy I can get ideas out of my hamster-wheel brain and into the world so quickly. But when I have more time with a project I like to paint in a layered process with colored pencils, watercolors, acrylic, and gouache.
4. What is your artistic process like?
Usually, I'll have an idea or a kernel of an idea. And sometimes I'll mull it over for a few days in my head until I get a flash of what the final product might look like, or if I'm stuck I'll do little thumbnail sketches to try to work it out on paper. Then I collect reference images and just get to work! Usually, I work in a burst, like I have an idea itching its way out of my skull and in 6 hours there it is. But sometimes it can be more laborious to coax out a product I'm happy with, and I have to spend time working and re-working the image.
5. Who and/or what inspires your work?
I think the three things that inspire me most are fashion, nature, and horror movies. I really love the way fashion designers take historical references and play off of them and their own fantasy of what history might have been like to make something new. I'm very naturally inquisitive and love researching so I love trying to find the reference, it's like learning a new language (something else I enjoy). Some of my favorites are Alexander McQueen, Vivienne Westwood, and John Galliano. I used to work at a store here in New York that sells taxidermy, pinned insects, skeletons, seashells, stuff like that. So I have a lot of dead animals and flowers and bugs around my apartment and whenever I'm stuck I take something down and draw that, so they show up in my work a lot. And I'm obsessed with horror movies, I've seen so many and am always looking for recommendations for new (good) ones. I really love film, in general, a lot, I wrote my senior thesis in undergrad about film, and I look at film and fashion photography a lot for inspiration in my color palettes or compositions.
6. What role does art play in your life? How does it change the way you view the world?
It plays a huge role in my life. I love to play with anything creative; I love makeup, I've decorated my apartment to look like a witch's den, I'm obsessed with hunting down vintage fashion on the cheap. I like to think the way I approach the way I present myself is part of my specific view of the world, and that that perspective is the same as what shows up in my drawings.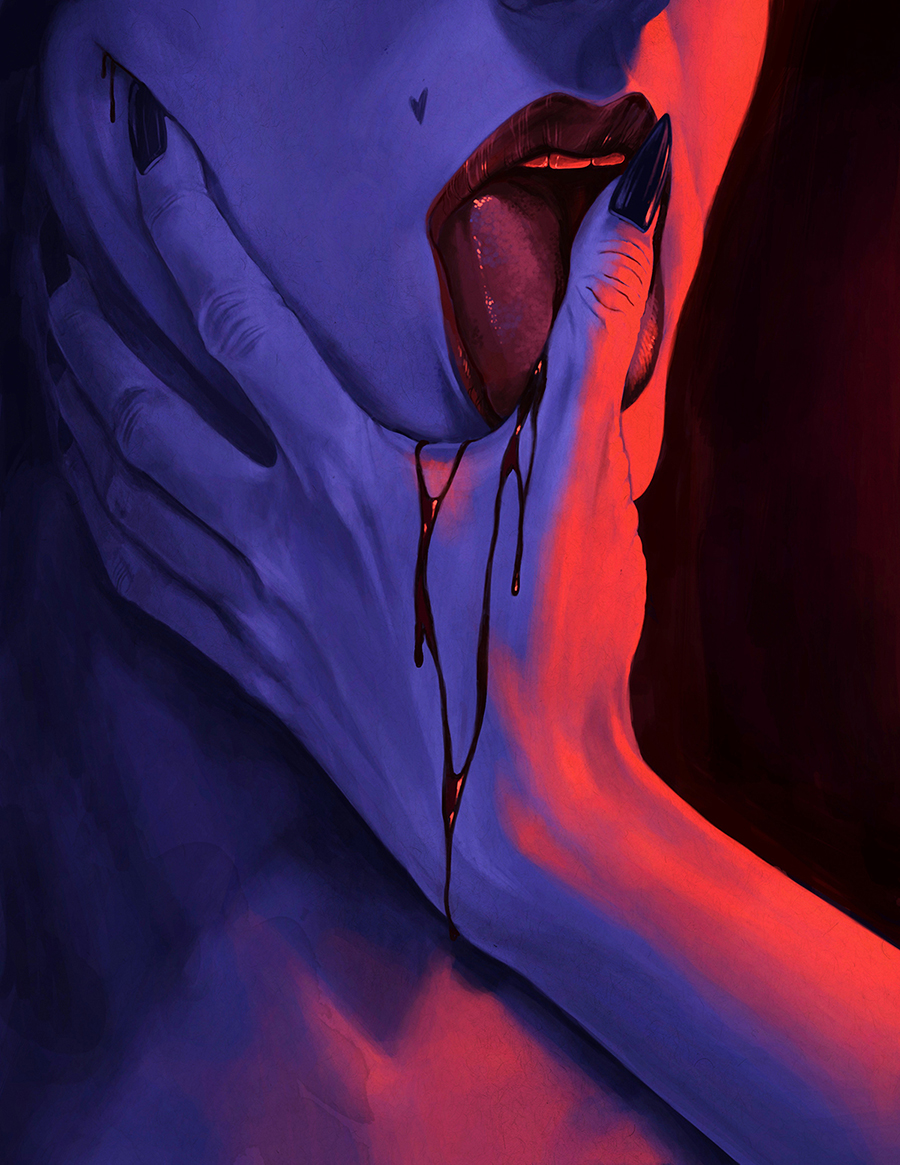 7. Where did you study?
I went to NYU for undergrad, where I graduated with honors with a BA in East Asian Studies, focusing on Chinese Language and Civilization. I also minored in Business and Studio Art. My honors thesis paper was an exploration of queer cinema in mainland China. But recently (as in last week at the time I'm typing this) I graduated with an MFA in Illustration from SVA! The pieces I've attached are all part of my graduate thesis.
8. Where do you see yourself in five years?
I'd like to be freelancing, doing projects for book covers, fashion, and maybe even film. I think I'll still be in New York, I've been lucky in my life to get to travel quite a bit, but even after this long, it's hard for me to imagine myself living anywhere else.
9. What about in ten?
I just want to have created a little more stability for myself with what I do. But also I hope to maintain my playfulness and sense of humor, that I haven't forgotten that making art is fun!
10. What do you hope to achieve with your art?
I hope to pay my bills while still staying true to my specific vision of the world.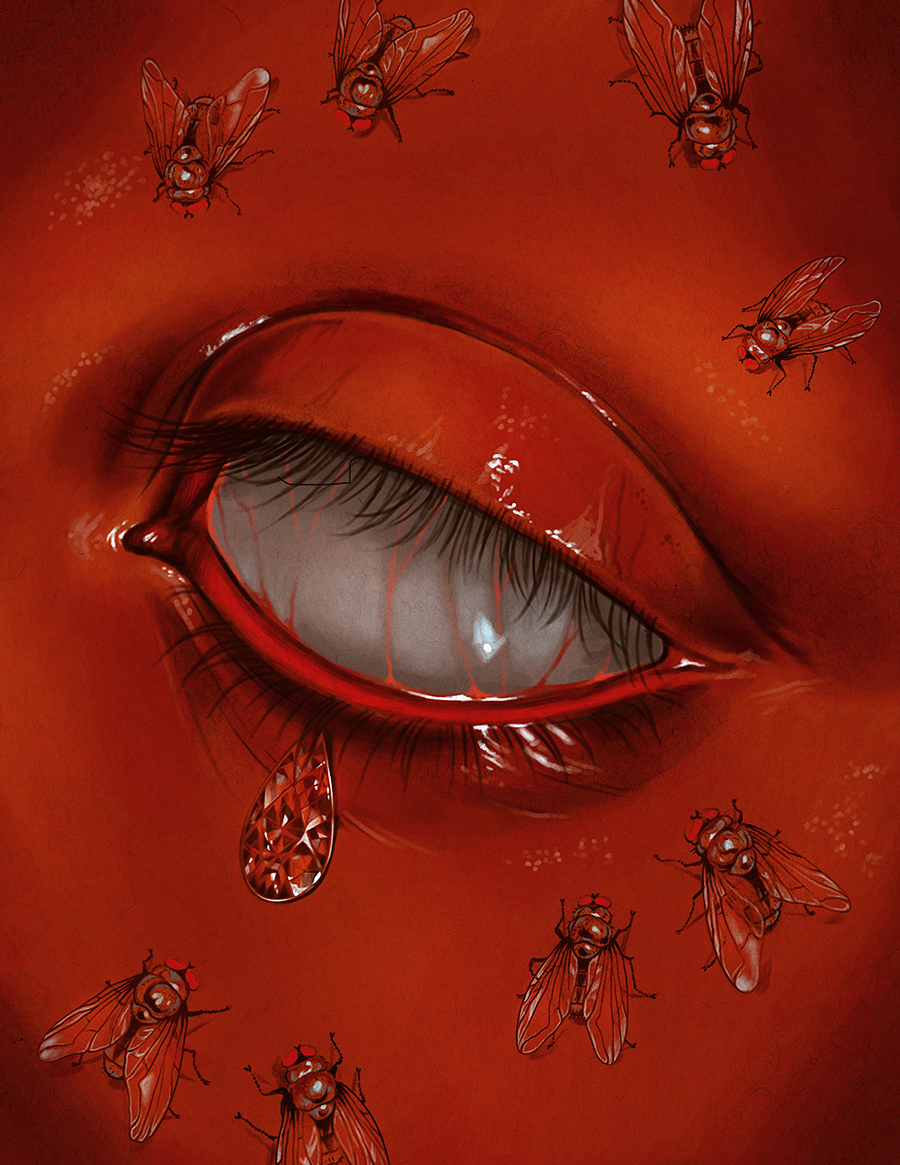 11. Now, tell us a little more about you as a person: what is your favourite food?
Maybe fried chicken. Korean fried chicken, or fried chicken and waffles doused in hot sauce and maple syrup.
12. Favourite book?
It's impossible to pick just one..first thing that comes to mind is "Norwegian Wood" by Haruki Murakami.
13. Favourite genre of music?
This one is hard too! When I'm at home maybe dreampop? Cocteau Twins, Beach House, Cigarettes After Sex...slightly spooky zone-out music.
14. What are your hobbies?
When I have free time and I'm not drawing, I like flea-marketing and vintage shopping. I also just like making stuff, sometimes I make my own jewelry, tailor vintage clothes, I refurbished my second-hand furniture myself...I like to try to teach myself how to do new things on my own.
15. If you weren't an artist, what would you be?
Maybe I would have tried to do something more related to my undergrad degree, or something in business. I also volunteered at a hospital all through high school and toyed with the idea of being a doctor. But in the end I can't help it, I just keep coming back to making pretty pictures.