Instagram:
@conejaurios
1. What's your story? Where are you from?
Hi! I'm Daniela Ruiz, I'm a visual designer based in Buenos Aires, Argentina. I'm currently working as a freelancer for a content production company. Hola! Soy Daniela Ruiz, diseñadora visual que vive en Buenos Aires, Argentina. Actualmente me encuentro trabajando como freelance para una compañía que hace producción de contenido.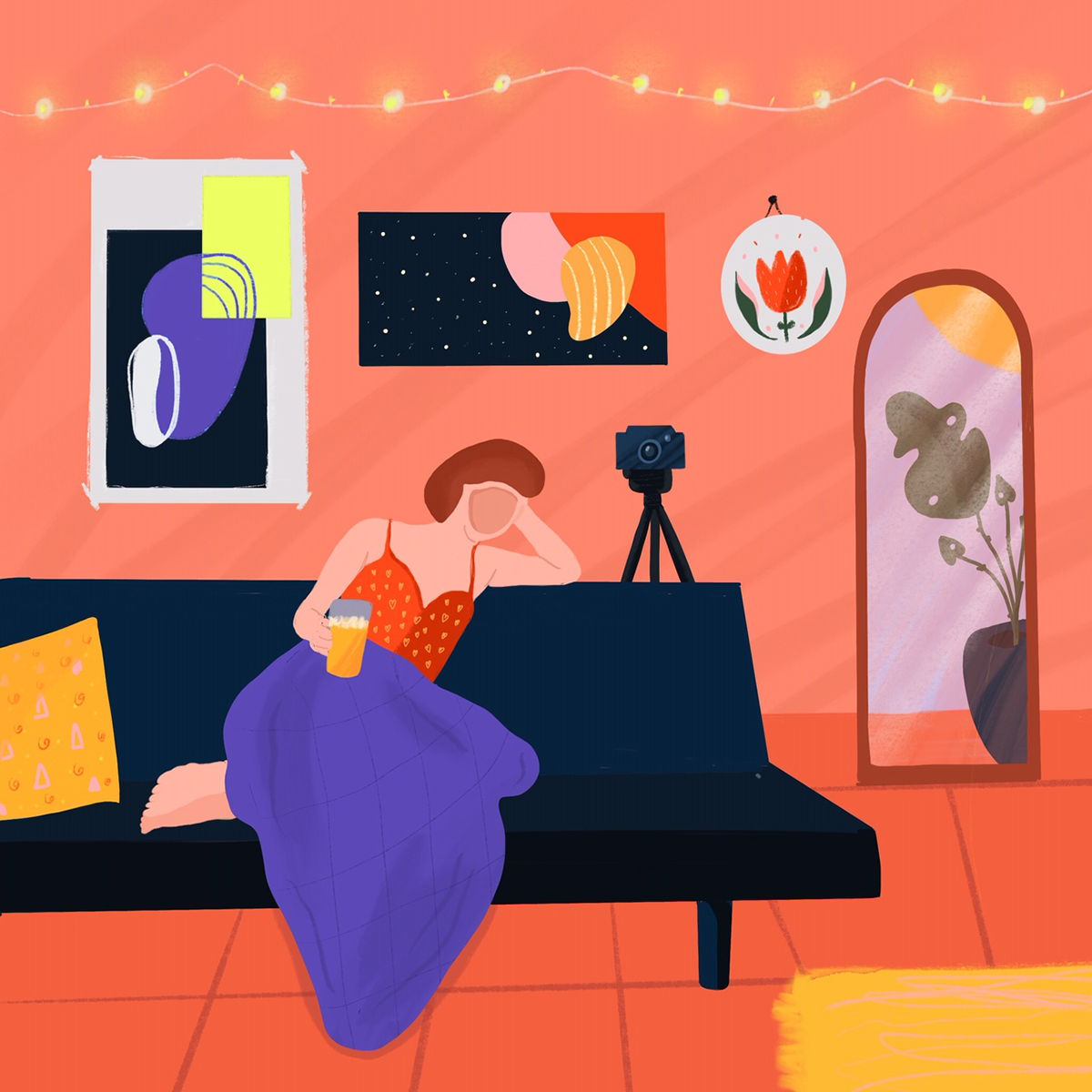 2. Tell us about your aesthetic.
I could say the most important part for me about my aesthetic is that it has to be super colorful and expressive. What I discovered about myself is that I can't do the same thing every time, I need to try different techniques or have different habits. But one thing in common about all of them is the saturation of the colors: definitely, that's what makes my art special. Podría decir que lo más importante sobre mi estética es el uso del color y la expresión. Descubrí sobre mi misma que no puedo estar haciendo siempre lo mismos, necesito variar, probar diferentes técnicas o diferentes hábitos a la hora de diseñar. Pero hay un patrón que siempre se repite en mis trabajos y es la saturación de los colores, definitivamente eso es lo que hace especial a mi arte.
3. What is your favourite medium and why?
My favorite medium is digital art, especially using Procreate for drawing or Photoshop for my collages. Lately, though, I have discovered that painting is also something that I love doing and now I see it as a new way to express myself. Mi medio favorito es el arte digital, especialmente utilizar Procreate para mis dibujos o Photoshop para mis collages. Últimamente he descubierto que pintar también es algo que amo hacer y que es una nueva forma de poder expresarme.
4. What is your artistic process like?
Usually, the ideas come to me at night, especially when I'm having insomnia. When that happens, I have to get up and sketch or write the ideas, because I know I won't be able to sleep again. On the next day, I read what I wrote and if I still think it's a good idea, I look for more info about it, do more sketches and start to create it until I'm happy with the final result. Usualmente las ideas vienen a mi en las noches, sobre todo cuando estoy teniendo insomnio. Cuando eso pasa tengo que levantarme y bocetar o escribir la o las ideas porque si no, no voy a ser capaz de poder volver a dormir. Al otro día veo lo que boceté y si todavía me parece una buena idea, busco más información, hago mas bocetos y trabajo hasta estar contenta con el resultado final.
5. Who and/or what inspires your work?
I'd say music and observing a lot of artists. All my Instagram feed is full of super talented people and I'm always amazed by how creative they are. Also looking at color palettes and landscapes always gives me some peace and inspiration. Diría que lo que más me inspira es la música y observar a otros artistas. Mi Instagram está lleno de muchas personas super talentosas y siempre me impresiona lo creativas que pueden ser. También me inspira y da mucha paz ver paletas de colores y paisajes.
6. What role does art play in your life? How does it change the way you view the world?
Art just saved my mind. I'm not good at words or talking, actually, I'm really shy. But with art, it's like people really see me and hear me. It also helps me a lot with anxiety when I'm having a hard day. I think art is sometimes our space to escape from reality. It's a world that doesn't have formal rules: you can play with everything you need like shapes, colors, techniques, or anything you need to express and have fun. El arte simplemente salvó mi mente. No soy muy buena con las palabras o con el habla, de hecho soy bastante tímida. Pero con el arte es como si las personas realmente pueden verme y escucharme. También me ayuda muchisimo para manejar la ansiedad cuando estoy teniendo un día difícil. Yo pienso que el arte es, a veces, un lugar donde uno puede escapar de la realidad. Es un mundo que no tiene reglas formales: podés jugar con lo que sea, como colores, formas, técnicas, todo lo que sea necesaria para expresarse y divertirse.
7. Where did you study?
I studied graphic design in the UM (Universidad de Morón) but I first realized I have a real passion for this world with my best friend, Julieta (she's an amazing illustrator - @kaleidoscopioo). When we were children she taught me how to use Photoshop and from that moment I started to play with it a lot. Then when I turned 18 I already knew that I really wanted to do something related to design and visuals. So basically she helped me to find out what my natural talent was in an easy way. Estudié diseño gráfico en la Universidad de Morón (UM) pero quien realmente me ayudó a descubrir este mundo fue mi mejor amiga, Julieta (Es una increíble ilustradora, @kaleidoscopioo). Cuando éramos chicas, ella me enseño a usar Photoshop y desde ese momento empecé a utilizarlo siempre. Cuando cumplí 18 ya sabía que quería dedicarme al mundo del diseño y de las visuales. Así que básicamente ella me ayudó a darme cuenta de forma fácil cuál era mi talento.
8. Where do you see yourself in five years?
Well in 5 years, I see myself as someone who knows all the trendy designs at that moment and knows how to apply them. Also, I see myself as a professional artist with a lot of experiences lived. I hope I had travelled much and to be less insecure about myself. En 5 años me veo como una diseñadora que sabe todas las tendencias de ese momento y sabe aplicarlas. También me veo como una artista profesional con un montón de experiencias vividas. Ojalá con muchos viajes realizados y menos inseguridades sobre mi misma.
9. What about in ten?
Well, that's too much to think about right now, I hope to live with my boyfriend and 2 dogs in a bigger place and have the time to still do art and more designs for myself. Bueno eso es mucho para pensar en este momento, pero espero que viviendo junto con mi novio y 2 perros en un lugar muchísimo más grande. También espero seguir teniendo el tiempo para hacer arte y diseños para mi.
10. What do you hope to achieve with your art?
I'd like for people who see my work to feel something and I'd like to encourage them to create their own art. I want them to feel inspired by colors and shapes and also to use art in different ways and to take the time to think about what they really want to do in life. Me gustaría que las personas que ven mis trabajos sientan algo y que se animen a crear sus propias obras o diseños. Quiero que se sientan inspirados por los colores, formas, que usen el arte de distintas formas y que se tomen el tiempo para saber qué es lo que realmente quieren hacer en esta vida.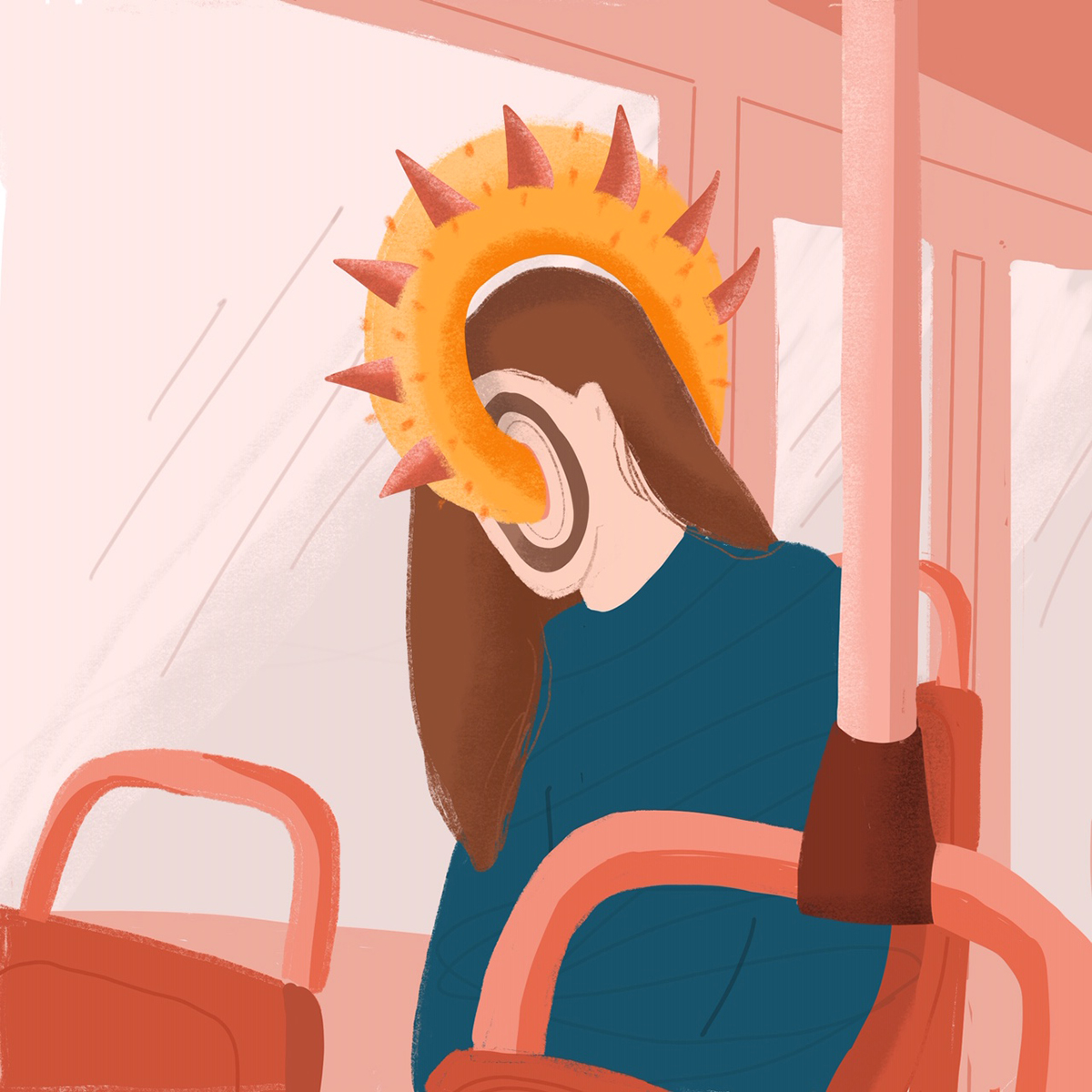 11. Now, tell us a little more about you as a person: what is your favourite food?
That's a hard question because I LOVE all food in general, but I'd say pasta. I think it's a dish that never fails and it's good with a really tasty sauce. Qué pregunta difícil, AMO todo tipo de comida, pero elijo las pastas. Creo que es un plato que nunca falla y es muy bueno acompañado de una rica salsa.
12. Favourite book?
I'm not a reader usually, but a couple of years ago I read a book called "My sister's keeper": it broke my heart in a million pieces. I know it's not the happiest book, but I remember that I felt a lot of things and I'll always remember it. Usualmente no soy una persona de mucha lectura, pero hace un par de años leí un libro llamado "My sister's keeper" ("La decisión más difícil") Me acuerdo que me rompió el corazón en un millón de pedazos. Sé que no es el libro más alegre del mundo pero me acuerdo que sentí muchas cosas y siempre voy a recordarlo.
13. Favourite genre of music?
I'd say pop and when I feel like dancing and singing I'd pick reggaeton. Diría que música pop y cuando tengo ganas de bailar y cantar, elijo reggaeton.
14. What are your hobbies?
Well, this is a new hobby for me that started in the quarantine: I really like to cook and bake. I really enjoy looking for new recipes and trying to do them. Este es un hobby nuevo y que empezó durante la cuarentena: Me encanta cocinar y hornear, disfruto mucho de buscar nuevas recetas y tratar de hacerlas.
15. If you weren't an artist, what would you be?
I'd probably be a psychologist: I have always been interested in the brain and human behavior. Probablemente sería psicóloga: siempre me llamó la atención el cerebro y el comportamiento humano.