Instagram:
@consolifabio
Facebook:
www.facebook.com/fabio.consoli.18
Website:
www.fabioconsoli.com
1. What's your story? Where are you from?
I was born in Sicily and I grew up in a suburb. At 8, as my friends were kicking a ball around, I was plastering my neighborhood with my drawings. I didn't know yet but I was doing my first steps into street art.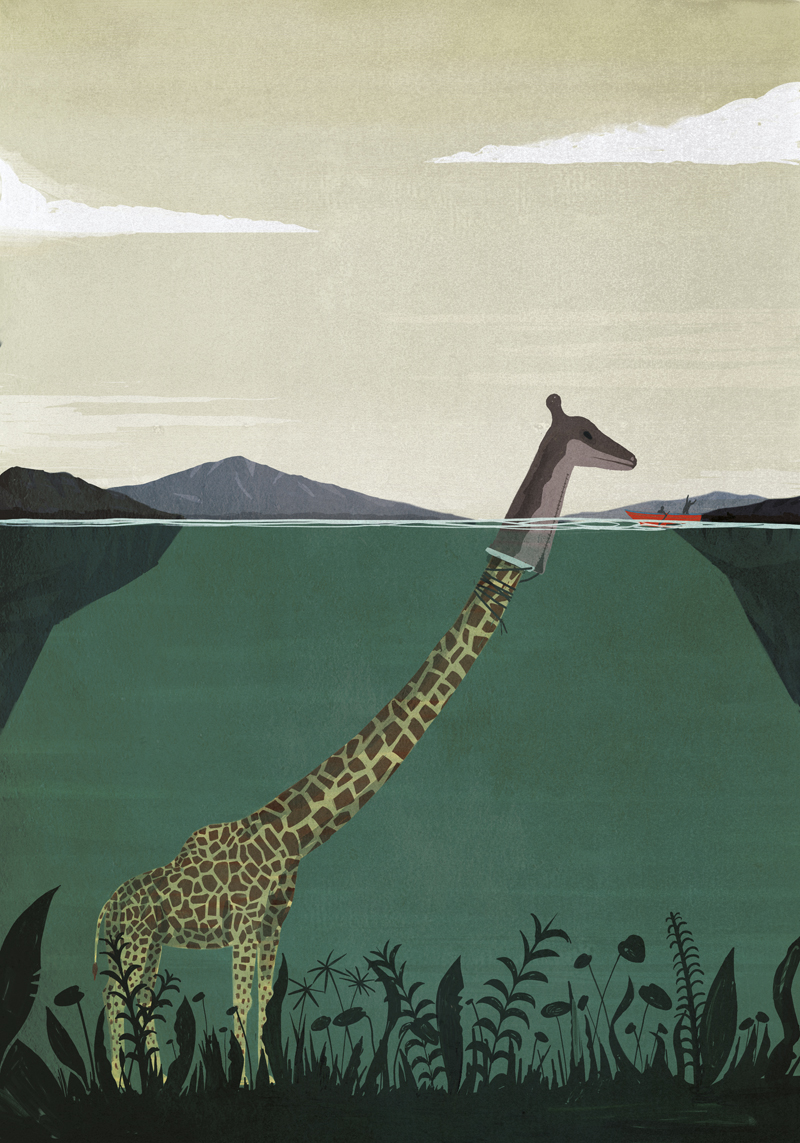 2. Tell us about your aesthetic.
I like big spaces, and texture. My paintings could look minimalist but I I often think that there is still too much. My color palette changes according to the message I want to share. Some illustrations are very colorful, other has only two or three colors. I find that working with few elements and a very small color palette is harder but I think that in this way the idea behind the painting will arrive more quickly. When I was younger I said "more is more" then I switched to "less is more" now I would say "enough is more".
3. What is your favourite medium and why?
I love working with mixed media, I like to explore new combinations and possibility. But if had to choose just one medium to bring in a remote island, I would say a set of acrylic color and a flat brush. I thing that with acrylics you can get almost any texture and feeling, from the smoothness of oil painting to the flat Photoshop digital color.
4. What is your artistic process like?
When a work on commission, which is almost 99% of the time, I start reading the briefing. As illustrator I have to create an image the resolve the client's problem, so understanding the briefing is crucial. Then I write down key words, and I create connection using lateral thinking. At this point I have new words that are objects and concepts. I start sketching with pencil and plain paper. The I start working on the computer. For commissioned works I use Corel painter, I spent years trying to emulate my real acrylic paintings on Digital painting and I could say that at this point I am really close to the feeling I get with real medium.
5. Who and/or what inspires your work?
I would say that a personal style is like a recipe, you take good different ingredients and cook them together to create a nice new dish. My ingredients are: Wes Anderson, Cohen brothers, Sylvain Chomet, Michel Gondry, Hanna & Barbera, Matisse, Edward Hopper, African ancient art, Pop Art, Vintage poster artist, Milton Glaser, Guido Scarabottolo, Beppe Giacobbe, Dave Holland, Ferenc Pinter, a lot of good contemporary illustrators.
6. What role does art play in your life? How does it change the way you view the world?
Art is my job, my love, my hobby but I am not an artist. If I would call my self artist I would give myself a "label", and any label excludes all the other possibilities. So Art For me means infinite possibilities, something you can never completely understand, a Chimera that you can never get. This force myself to work very hard to get my self, as close as I can, to the next place were the Chimera will appear for a couple of second the next time.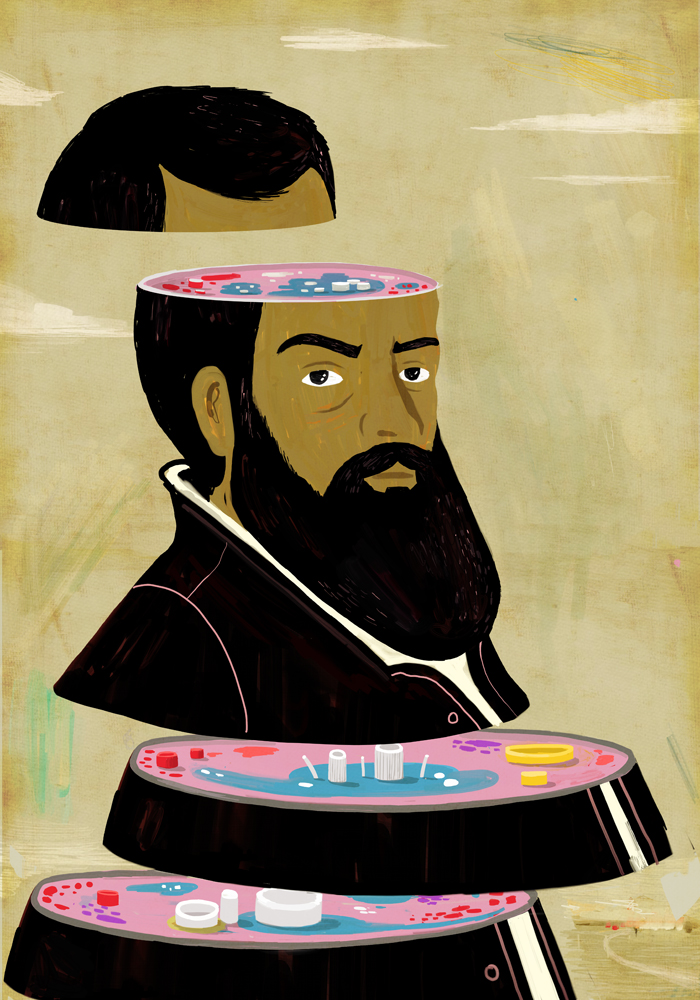 7. Where did you study?
I did schools of arts in Italy, London and Manhattan. Actually I teach illustration at the Abadir academy of art in Italy.
8. Where do you see yourself in five years? Working in an agency?
I have a graphic design studio and illustration, all the graphics we do is based on a strong presence of illustration. I have a lot of work to coordinate graphic designers, web developers, marketing people. In five years I would love to work less on financial and production stuff and more on creative graphic and illustration. And no, I don't see my self working in a agency...
9. What about in ten?
More acrylic paintings and handmade prints. I need a lot to dirt more my hand.
10. What do you hope to achieve with your art?
Every artwork that I create has a message, I hope that the concept I want to share gets to the audience. I hope that the same guy who got the concept would love to hang the illustration to the wall. That's for me would be great.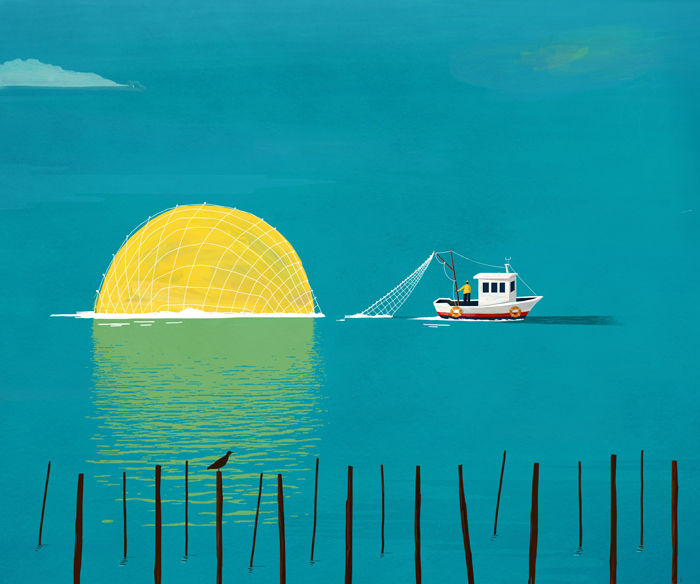 11. Now, tell us a little more about you as a person: what is your favourite food?
I like Italian food, so spaghetti with tomato are my favorite easy dish. Also I love Asian food as chicken noodles and sushi, sashimi etc...
12. Favourite book?
I was used to read a lot, but in the last years I had few time for reading. When someone ask me about my favorite book a lot of covers run on my mind, so it is not easy choose one, but I would say Zen and the Art of Motorcycle Maintenance of Robert M. Pirsig. it has a mix of philosophy and adventure that captured me.
13. Favourite genre of music?
I like contemporary experimental jazz.
14. What are your hobbies?
I love cycling and playing guitar. I like traveling around the world with my bicycle and drawing in new amazing places. On my web site there is a section with all may sketchbooks. Basically If my house would be on fire, after my three cats I would fight the fire to save my sketchbooks. And my guitars. And my bicycles. And my art tools.
15. If you weren't an artist, what would you be?
Maybe a musician, but it is inside the art field. So I would be a bicycle guide, I would love to bring people around the world by bicycle.