Instagram:
@creativeingrid
Facebook:
www.facebook.com/creativeingrid.watercolors
Website:
www.ingridsanchez.com
1. What's your story? Where are you from?
My name is Ingrid Sanchez, I am originally from Mexico where I studied Information Design. I came to Europe in 2006 and since then I have lived in Barcelona, London and NY. With every place, new experiences have shaped my career, from working in the publishing industry to an exciting move into the yoga and charity world until I finally immerse myself into art as a full-time job.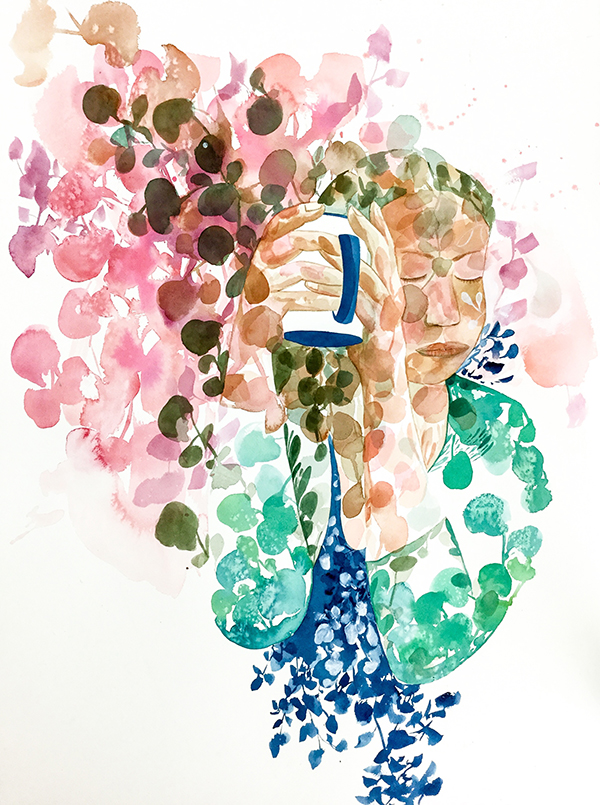 2. Tell us about your aesthetic.
Colorful, full of texture and movement.
3. What is your favourite medium and why?
I love working with mixed media because experimentation is a big part of my process and there is no better way to create unusual and unexpected effects. If I work only with one medium this is watercolor, without a doubt my favorite. Why? Because you only need pigment and water, is odorless and its unpredictable, being affected by so many factors like the paper and the amount or quality of the water.
4. What is your artistic process like?
It is very fluid and organic. Unless I am working on a commission I rarely plan a painting, my focus is on the preparation of my workspace and my energy or state of mind. I do start with an idea of my colors and theme, which is reflected in the palettes and brushes I prepare. I like working fast, this is why it's important for me to have everything at hand and ready to go.
5. Who and/or what inspires your work?
I am always inspired by nature: flowers, the moon, the sea. Meditation is a big part of my daily practice and I've found that there are so many little things around us that are beautiful and we take for granted. If we could just stop for a second and see, really see around us we will be immediately in a mindful state, but we have forgotten that, so I try to bring out that awareness through my art.
6. What role does art play in your life?
How does it change the way you view the world? In everything I experience I see the opportunity of creation. I am constantly taking photos and collecting images and materials that I want to try or know more about. I feel very lucky to have a job that doesn't feel like a job.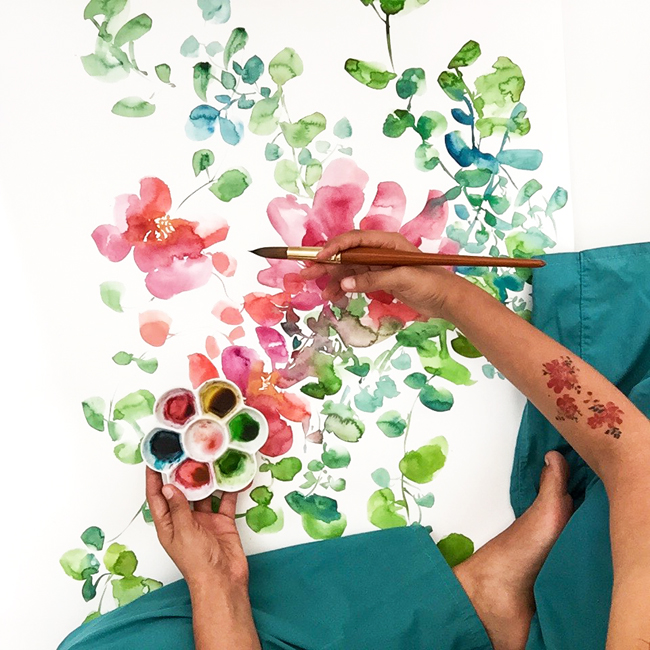 7. Where did you study?
I studied Information Design in Mexico (Universidad de las Americas, Puebla), followed by a Masters in Book Publishing in Spain (Universitat Pompeu Fabra, Barcelona). Although I don't have a formal education in art, I have taken numerous workshops in various countries with different artists I admire and I am constantly researching, reading and experimenting with new materials.
8. Where do you see yourself in five years?
Painting of course, maybe working in collaboration with other artists or brands and expanding my workshops and classes.
9. What about in ten?
Still painting, with a big studio or gallery where I can invite others to share the joy of painting.
10. What do you hope to achieve with your art?
I've always painted because it makes me happy, and it seems to make others happy too, that's the biggest achievement of all. I also want people to find the artist they have inside, that's why I started teaching workshops and sharing the process of my work online, to make people curious.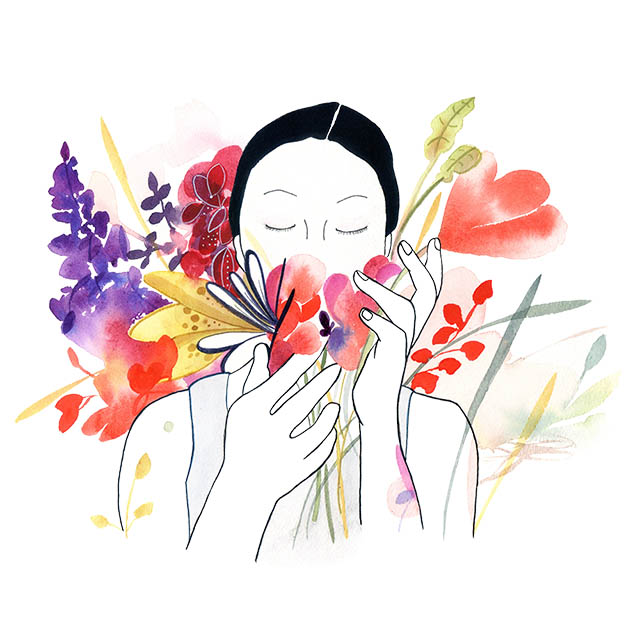 11. Now, tell us a little more about you as a person: what is your favourite food?
Type of food, Mexican or Thai. Specific food, difficult to say, but I can eat pancakes with strawberries no matter the time of the day, and I love salads!
12. Favourite book?
I don't think I can choose one book, I read so many diverse things, plus I love illustrated children books. 'Nausea' by Sartre, 'Perfume' by Patrick Suskind, 'The Diary of Frida Kahlo' were my favorites as a teenager and books that I still remember. Now I have lots of children books, being my favorites 'The Incredible Book Eating Boy' by Oliver Jeffers and 'The red tree" by Shaun Tan.
13. Favourite genre of music?
Ohh, I am very weird regarding music. It's very unusual that I listen to music at home, and if I do I like to listen to Kirtans by Krishna Das, Deva Premal, etc. I also like tangos, soul and jazz music.
14. What are your hobbies?
Taking care of my plants, traveling, learning new things.
15. If you weren't an artist, what would you be?
I am also a yoga teacher, but I don't teach, so maybe I would go for that. But if I can choose something I haven't tried, maybe a landscaper or a food stylist.