1. What's your story? Where are you from?
I am a freelance illustrator based in Cluj-Napoca (Transylvania), Romania. I currently travel between France and my hometown as much as my projects let me. I grew up as an only child and it often happened that I had to spend lots of time by myself. Creativity came very naturally to me and drawing was a way of telling things or just keeping company. I never imagine that you can make a profession out of that, especially that at school and in my family art wasn't a priority. It came much later when I resonated with the idea that you can tell visual stories and that the books I liked had their own stories that I knew I can draw.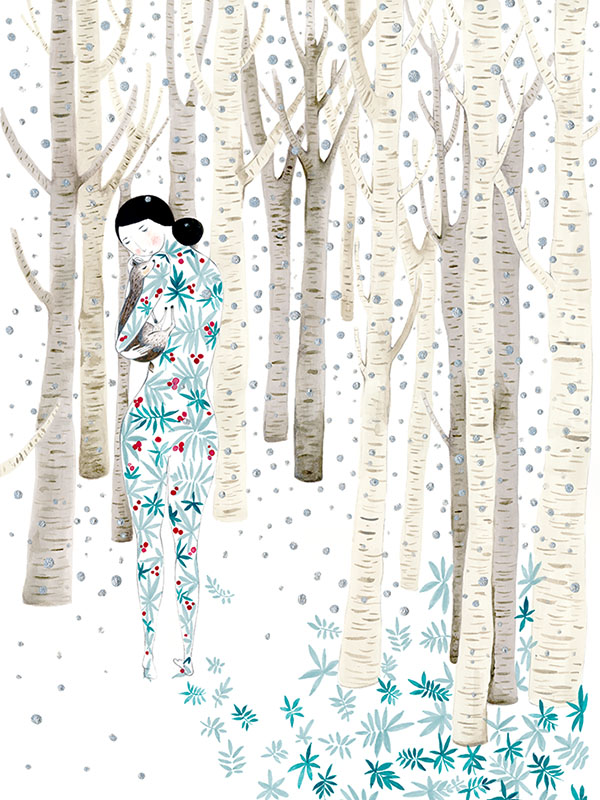 2. Tell us about your aesthetic.
Clear, feminine, simple
3. What is your favourite medium and why?
I like to play with mediums and to create layers: ink because of its intense and vibrating feeling, gouache for the velvet opaque effect, my very fine B crayon with which everything starts.
4. What is your artistic process like?
Depending on the project and client but when I am commissioned, I like to ask many questions so that I can have a better understanding of what I have to deliver, then I sketch and sometimes I research. For personal projects it all boils down to the things I want to say, the experiences and feelings I'm having and I can't communicate otherwise but with my pencils. I have a routine: always before I start a new project I clean up my workspace and put in order my things and then I try to focus my task and less on my deadline which can be sometimes a source of anxiety. I work mostly from home so I usually treat myself music breaks and a matcha tea but also with long night hours. I treasure those silent hours in the night.
5. Who and/or what inspires your work?
My everyday experiences that's for sure and I am inspired by people who are self-taught that managed to find their own artistic voice like Henri Rousseau, I am fascinated by his world and how he could paint all those lush environments without actually being in those places.
6. What role does art play in your life? How does it change the way you view the world?
It's a part of me and the way I can communicate myself. Creating is a response to my beliefs or the news I'm reading, events that happen to me or people close to me.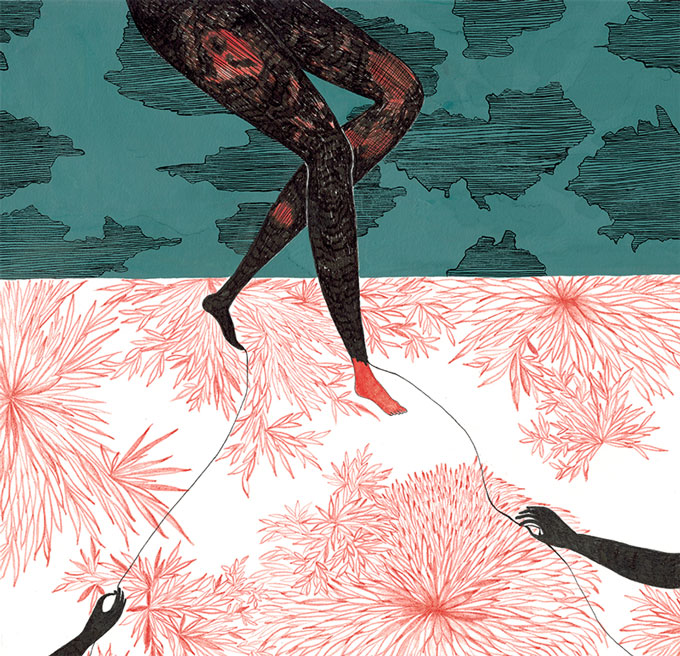 7. Where did you study?
In my hometown, then with a scholarship in The Netherlands and later on in London at UAL for a specialization.
8. Where do you see yourself in five years?
I hope I still can be a freelancer with all the insecurities and fears that come along.
9. What about in ten?
Again I hope I can work steadily and learn new things and still finding satisfaction in what I'm doing.
10. What do you hope to achieve with your art?
I am not sure if I see my work as a conscious pursuit of something but in the same time, it is important for me to say something with what I do even if it means something only to me or sometimes I react to injustice, one thing that it is hard for me to ignore. Not all the sketches will become final works because while working I might realize that I failed to put my content inside so I don't want to go on.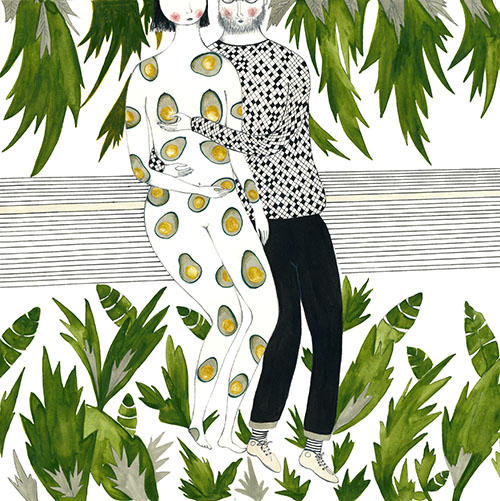 11. Now, tell us a little more about you as a person: what is your favourite food?
Hello, sushi!
12. Favourite book?
I can't settle for just one. I have read all the Haruki Murakami books and it seems like I resonate a lot with his fantastic realistic world and all those inner struggles of his characters. I wish I could visit the Japanese mountains one day and walk in a bamboo forest.
13. Favourite genre of music?
I'm into indie-rock, shoegaze, ambient, classical music
14. What are your hobbies?
Ceramic is my other creative side, I simply like how my ideas came to life as real objects that you can touch and use and make wearable objects.
15. If you weren't an artist, what would you be?
A photographer using analog cameras, working in a studio, developing my own films and making prints in a dark room. But this is still artistic but to step away from the artistic field, I would like to do something with my hands.