Instagram:
@cs_salgueiro
Twitter:
@cs_salgueiro
Tumblr:
claudiasalgueiro-wip.tumblr.com
Society6:
www.society6.com/cs_salgueiro
1. What's your story? Where are you from?
Hi, my name is Cláudia and I'm 26. I grew up in a little town in the middle of Portugal known as "Land of Phenomena". A regular and quite place where strange things once happened… trees with three different types of fruit, white blackbirds, sheep with four horns, giant vegetables, among others… This magical place is really close to the countryside where through my childhood I used to go with my family all the time. I always have been in love with drawing and I always had desire to be an artist, so when the time came I traveled to Lisbon to study Fine-Arts. Para começar o meu nome é Cláudia e tenho 26 anos. Cresci no Entroncamento, uma pequena cidade no centro de Portugal à qual gostamos de chamar terra dos fenómenos. É um lugar calmo e sossegado onde segundo consta coisas estranhas acontecem… árvores com três tipos de fruta, melros brancos, ovelhas com quatro cornos, legumes gigantes, etc… no meio do Ribatejo e no meio do espaço rural este lugar proporcionou, durante a infância, muitos fins-de-semana no campo e em família. Sempre gostei de desenhar e quando a altura chegou rumei a Lisboa para ingressar na Faculdade de Belas-Artes.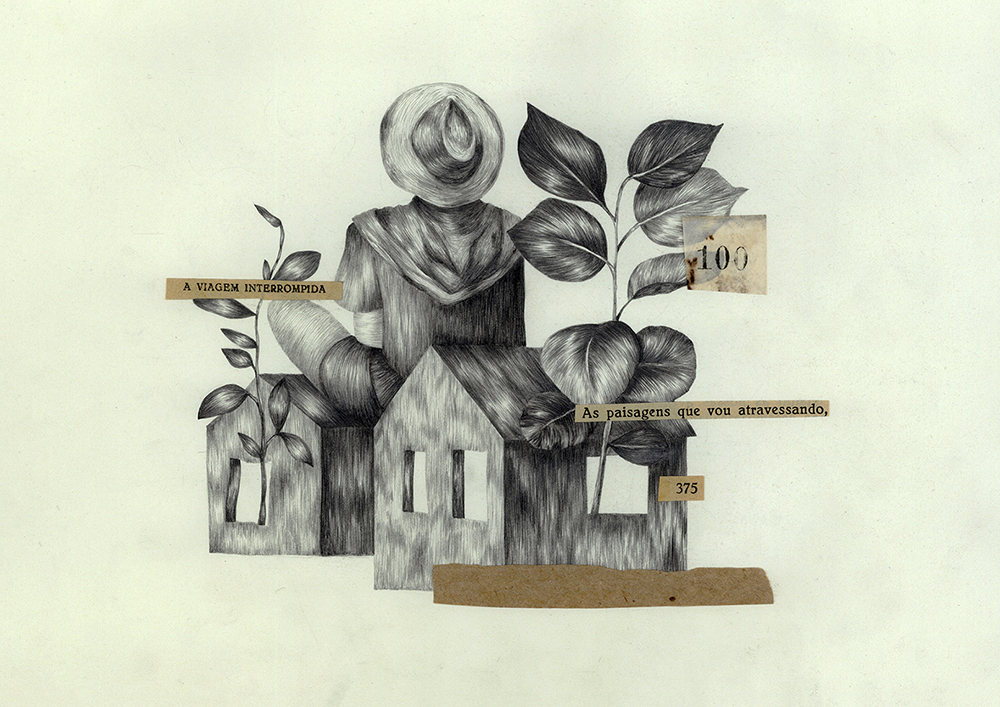 2. Tell us about your aesthetic.
My work is mostly about time, memories, nature and society. I like to use old paper and think about the life it had before came to my hands. Not long ago someone said to me that my work has a lot to do with the Portuguese term "saudade", probably because of the nostalgia feeling in some of the illustrations. I'm not sure about that, but it kept me thinking… O meu trabalho é sobretudo sobre o tempo, memórias, natureza e sociedade. Gosto de usar papéis antigos e amarelados e pensar e reflectir na vida que estes tiveram antes de chegar às minhas mãos. Há pouco tempo alguém me disse que o meu trabalho lhe parecia muito associado a essa eterna "saudade portuguesa", talvez pela nostalgia que alguns desenhos têm em si. Não é uma coisa intencional, traz-me certezas e incertezas mas fez-me pensar…
3. What is your favourite medium and why?
Nowadays I draw mainly with graphite pencils. It's a simple medium I can carry all everywhere and it's really versatile. Sometimes I paint my illustrations with digital color… I believe it's a good solution since I can easily change colors and light, besides that I really like how it blends with the graphite. Hoje em dia desenho maioritariamente com lápis de grafite. É um meio simples, bastante versátil, de acesso fácil e passível de transportar em qualquer altura. Por vezes faço uma coloração digital posterior, tem-se revelado uma boa solução para corrigir detalhes, fazer estudos de cor e luz, pensar e re-pensar sobre o próprio desenho. Para além disso tem-me interessado bastante a forma como as cores sólidas provenientes do digital se misturam e relacionam com as manchas de grafite.
4. What is your artistic process like?
Usually I start sketching on my notebook experimenting with new ideas. When I find a good enough idea, I start with lines defining the final shape and then start rendering carefully with graphite. After that, sometimes, I use collage or digital color on top of the drawing. Normalmente começo a esboçar ideias num caderno, para depois, quando encontro aquilo que procuro, começar por pegar numa folha e delinear as formas finais. É então que começo a desenhar e criar volumes com a grafite. Algumas vezes faço colagens sobre os desenhos com pequenos textos ou passo à pintura digital como referi acima.
5. Who and/or what inspires your work?
People like Oliver Jeffers, Joanna Concejo, Sara Fanelli, Shaun Taun, H. Thoreau or John Muir. Places like mountains, lakes and beaches… Simple things like stones, trees and clouds… Pessoas como o Oliver Jeffers, a Joanna Concejo, a Sara Fanelli, o Shaun Taun, o H. Thoreau or o John Muir… Lugares como montanhas, lagos ou praias… Pequenas coisas como pedras, árvores ou nuvens…
6. What role does art play in your life? How does it change the way you view the world?
Art has been my shelter since childhood. It helps me to tell things I can express by words…It's a friend, a companion and it shows me new ways to look at the world. When you learn about drawing and art you start to see things more carefully, to pay more attention to details, shapes and colors. It gives you the power to see beauty in everything… Talvez diga que desde pequena tem sido um refúgio, ajudando a dizer coisa que são difíceis de expressar por palavras… é como uma companhia que me mostra como ver o mundo. Quando estudas arte e desenho em particular, começas a olhar com mais atenção para o que te rodeia, a dar mais atenção aos detalhes, formas e cores. Dá-te o poder de ver a beleza nas coisas mais "insignificantes".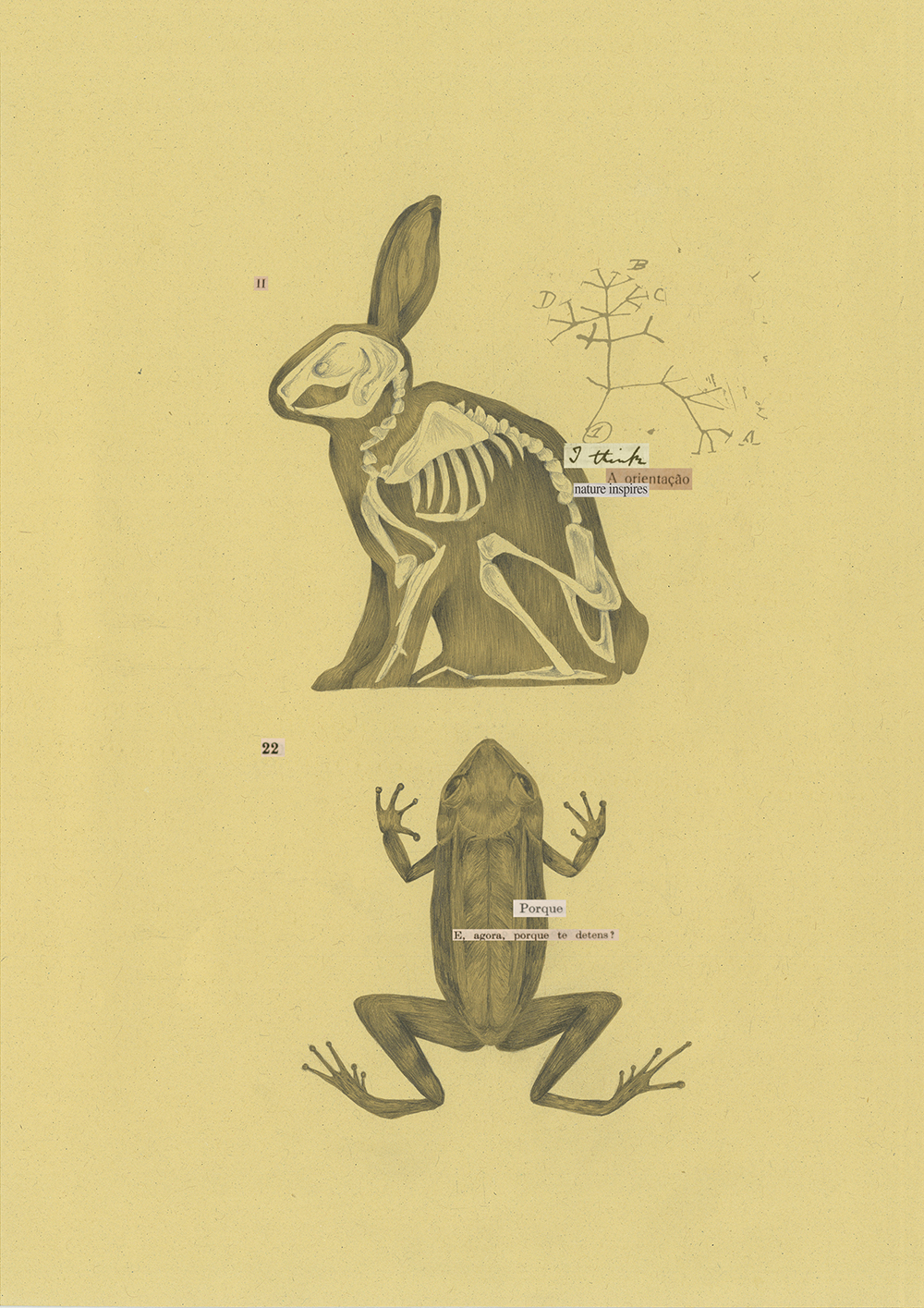 7. Where did you study?
I started in the "School of Fine Arts – University of Lisbon" studying Product Design but one year after I moved to the "School of Fine Arts – University of Oporto" to study Graphic Design. Comecei por estudar um ano de Design de Equipamento na Faculdade de Belas-Artes da Universidade de Lisboa, para depois terminar o curso em Design de Comunicação na Faculdade de Belas-Artes da Universidade do Porto.
8. Where do you see yourself in five years?
Usually I don't like to make big plans for the future… I prefer live the present, think one thing at the time and enjoy every moment. However, to answer your question, it would be great to make a living from my drawings and design work. Beyond that I would also like to be able publish a book or two, to have my work appear in a gallery… and travel a lot around the world! Normalmente não faço grandes planos para o futuro… prefiro viver um dia de cada vez e aproveitar todas as oportunidades. No entanto, se tivesse de responder alguma coisa seria bom conseguir viver do desenho e do design, publicar um ou dois livros, realizar algumas exposições e viajar muito!
9. What about in ten?
Probably the same above. Provavelmente o mesmo de cima.
10. What do you hope to achieve with your art?
I would like to be a good storyteller… to make people think about our relationships with time and nature and how nowadays we live in a hurry and don't enjoy the little things…I would like to make a people a little bit more happy somehow… Gostava de conseguir contar boas histórias… de fazer as pessoas pensar na relação que temos com o tempo e a natureza e de como presentemente vivemos com pressa para fazer tudo e nada, sem parar para aproveitar as pequenas coisas… gostava de de alguma maneira fazer as pessoas sorrir e serem mais felizes…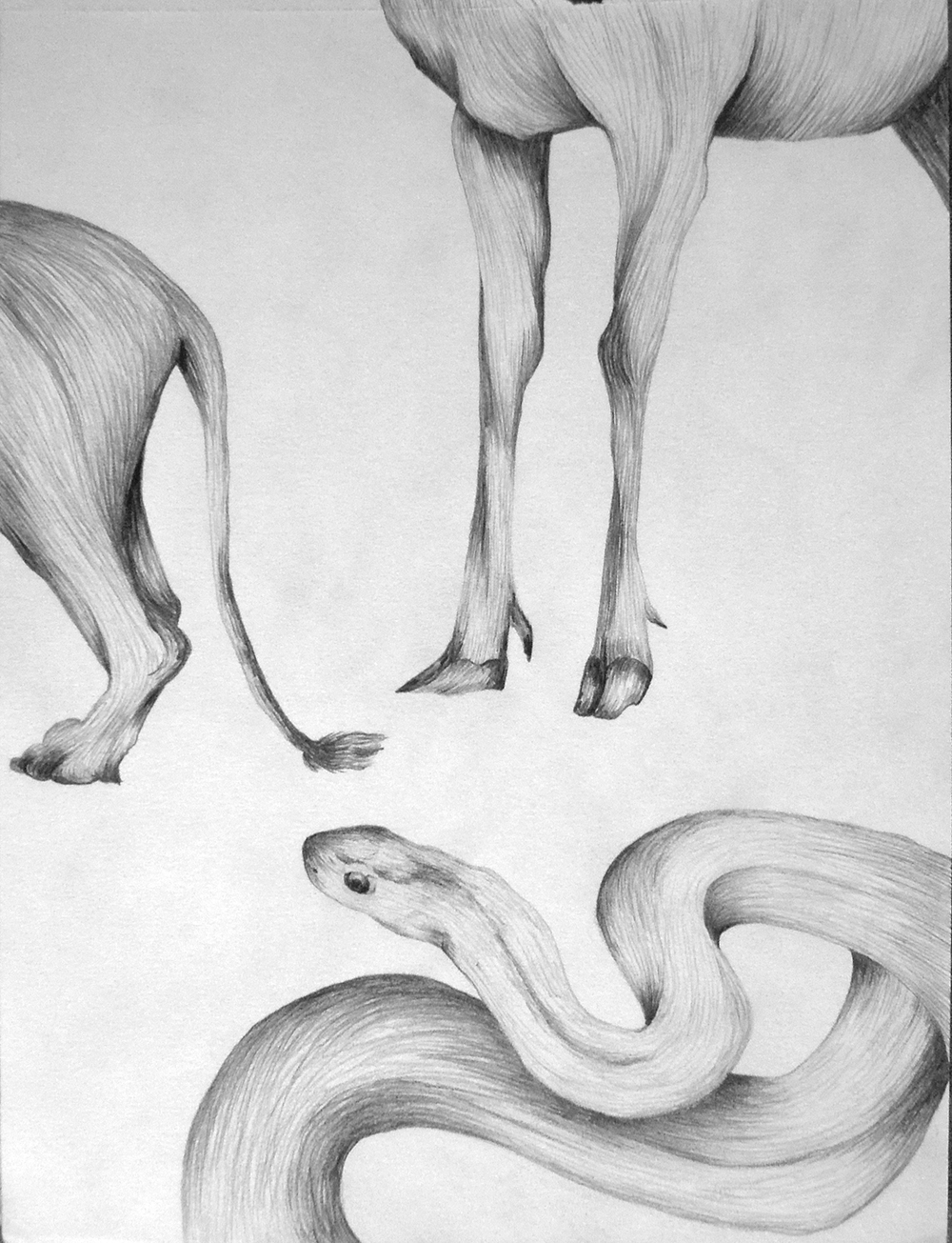 11. Now, tell us a little more about you as a person: what is your favourite food?
I love octopus, specially a portuguese dish called "Polvo à Lagareiro" . Polvo, especialmente o tradicional "Polvo à Lagareiro".
12. Favourite book?
Fahrenheit 451 by Ray Bradbury Walden by Henry D. Thoreau Book of Disquiet by Fernando Pessoa Fahrenheit 451 por Ray Bradbury Walden por Henry D. Thoreau Livro do Desassossego por Fernando Pessoa
13. Favourite genre of music?
Instrumental and indie-folk. Instrumental e indie-folk.
14. What are your hobbies?
Besides drawing… I like to go hiking and camping, watch movies by night, go out with friends and visit museums. Para além de desenhar gosto sobretudo de caminhar e acampar, de ver filmes antes de dormir e sair com amigos e visitar museus.
15. If you weren't an artist, what would you be?
If I couldn't be in any way related to art or design…maybe I'd became an astronomer. Se não pudesse ter nada a ver com arte ou design… talvez tivesse seguido astronomia.