Instagram: @cszhu_art
Website: www.christinazhu.de
1. What's your story? Where are you from?
Hello, my name is Christina and I'm an illustrator from Germany. I mainly work in editorial and publishing illustration, but am interested in many illustration fields. I'm particularly fond of translating complex topics – such as identity politics, racism, and psychology – into sensible and appropriate visual art.
Hallo, mein Name ist Christina und ich bin eine Illustratorin aus Deutschland. Großteils arbeite ich in den Bereichen Editorial und Verlagswesen, doch bin für alle Illustrationsfelder und Herausforderungen offen. Besonders spzialisiert habe ich mich auf darauf, komplexen Themen, wie z.B. Identitätspolitik, Rassismus oder Psychologie eine angemessene und sensible Bildsprache zu verleihen.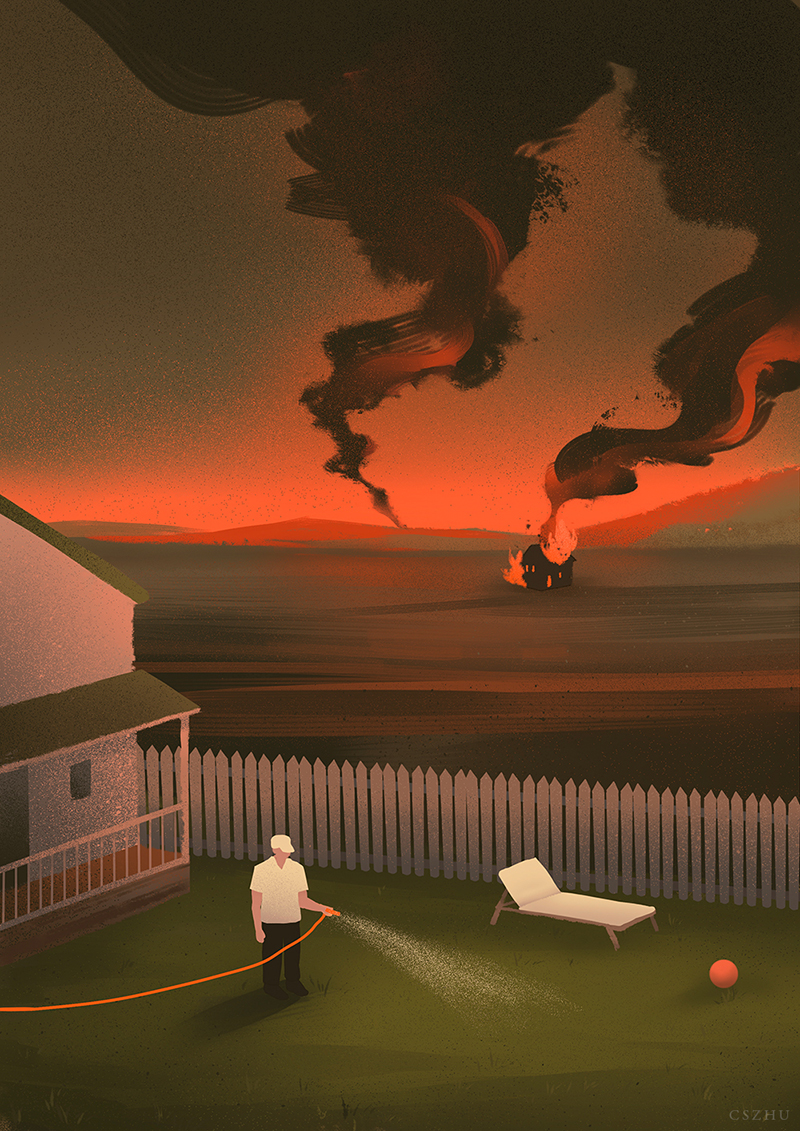 2. Tell us about your aesthetic.
My style is characterized by calm, reflective atmospheres and clear compositions. A former professor once described it as "post-romantic"; I remember this clearly to this day.
Mein eigener Stil zeichnet sich vor allem durch ruhige, nachdenkliche Atmosphären und klare Kompositionen aus. Eine ehemalige Professorin hat ihn einmal als "post-romantisch" beschrieben; das ist mir bis heute in Erinnerung geblieben.
3. What is your favourite medium and why?
I was given my first graphics tablet when I was 14. Since then, I've been working digitally: I prefer the medium because of the many ways it can be used, and because it's easy to correct afterwards. But for my free work, detached from time pressure or client requests, I also love traditional printing techniques such as linocut, woodcut, collagraph.
Mit 14 habe ich mein erstes Grafiktablett geschenkt bekommen. Seitdem arbeite ich hauptsächlich digital: Ich bevorzuge das Medium wegen der vielfältigen Möglichkeiten der Anwendung und nicht zuletzt, weil man nachträglich gut korrigieren kann. Für meine freien Arbeiten, losgelöst von Zeitdruck oder Kundenwünschen, liebe ich aber auch traditionelle Drucktechniken wie Linolschnitt, Holzschnitt, Collagraphie.
4. What is your artistic process like?
All my artworks start in my sketchbook: First, I create mindmaps and sketch small thumbnails. I never managed to digitize this step; I have to feel the pencil on paper. Next, I choose my favorite design for further processing. The process after that often goes by pretty quickly - I spend most of my time brainstorming.
A little anecdote on the side: I never get into the creative process until I'm wearing sweatpants and have a hot drink next to me.
Alle meine Werke fangen in meinem Skizzenbuch an: Zuerst erstelle ich Mindmaps und skizziere kleine Thumbnails. Ich habe es nie geschafft, diesen Schritt zu digitalisieren, sondern muss den Bleistift auf Papier spüren. Danach suche ich meinen liebsten Entwurf zur weiteren Verarbeitung aus. Die Ausarbeitung danach verläuft oft recht schnell - die meiste Zeit verbringe ich mit der Ideenfindung.
Kleine Anekdote am Rande: Ich komme nie richtig in den kreativen Prozess, bis ich eine Jogginghose trage und ein Heißgetränk neben mir habe.
5. Who and/or what inspires your work?
When I am at a loss or doubt my own abilities, I like to visit museums. Seeing other people's work, expanding my own visual repertoire, and the act of walking between artworks are always very inspiring to me. This is certainly due to actively taking the time and space to look at art.
Wenn ich ratlos bin oder an meinen eigenen Fähigkeiten zweifle, besuche ich gerne Museen. Die Arbeiten von anderen Menschen zu sehen, das eigene visuelle Repertoire zu erweitern sowie der Akt des Wandelns zwischen den Werken sind immer sehr inspirierend für mich. Das liegt sicherlich auch daran, dass man sich aktiv Zeit und Raum nimmt, um andere Werke zu betrachten.
6. What role does art play in your life? How does it change the way you view the world?
The role that art plays in my life has changed again and again over time: As a child it was fun, later it was an escape from everyday life, and always a means of expressing myself. Today, it's my job. Over all the years, however, one thing has remained the same: Art has always enriched me and also allowed me to develop as a person. After all, art makes my life worth living.
Die Rolle, die Kunst in meinem Leben spielt, hat sich über die Zeit immer wieder verändert: Als Kind war es Spaß, später eine Art Ausflucht aus dem Alltag, und immer wieder ein Mittel, mich selbst auszudrücken. Heute ist es mein Job. Über all die Jahre ist jedoch eins gleich geblieben: Kunst hat mich immer bereichert und mich selbst auch als Person weiterentwickeln lassen. Kunst macht mein Leben schließlich lebenswert.
7. Where did you study?
I hold a BA degree in design from Münster School of Design, Münster, and am currently pursuing an MA at Universität der Künste, Berlin. I also studied in Canada as an exchange student; that time period was extremely formative.
Ich habe einen BA-Abschluss in Design von der Münster School of Design, Münster, und studiere derzeit im Master an der Universität der Künste, Berlin. Außerdem habe ich eine Zeit lang als Austauschstudentin in Kanada gelebt; diese Zeit war sehr prägend für mich.
8. Where do you see yourself in five years?
That's a difficult question. I would like to be able to live independently as an illustrator and grow as an artist. I would also like to live in a place where I feel welcome and at home.
Das ist eine total schwierige Frage. Ich würde gerne selbstständig von meiner Illustrationstätigkeit leben können und als Künstlerin wachsen. Außerdem wünsche ich mir, an einem Ort zu leben, an dem ich mich willkommen und zuhause fühle.
9. What about in ten?
Dream big, right? I would love to teach and help young artists to create inclusive and thoughtful images and find their own artistic voice. It would be great if I could continue to dedicate my projects to the voices of people of color in Germany.
Dream big, right? Ich würde gerne lehren und jungen Gestalter*Innen dabei helfen, inklusive und durchdachte Werke zu schaffen sowie ihre eigene künstlerische Stimme zu finden. Es wäre schön, wenn ich mich in meinen Projekten weiterhin den Stimmen von People of Colour in Deutschland widmen könnte. I
10. What do you hope to achieve with your art?
In my work I often deal with inner processes or abstract themes that are difficult to represent visually. It is very satisfying to translate something into images, which may not be easy to put into words. Probably one goal is to inspire someone to think.
In meinen Arbeiten beschäftige ich mich häufig mit inneren Prozessen oder abstrakten Themen, die schwierig visuell darzustellen sind. Am schönsten ist es dann, sobald ich etwas in Bildern übersetze, was man vielleicht nicht leicht in Worte fassen kann. Wahrscheinlich ist ein Ziel, jemanden zum Nachdenken anzuregen.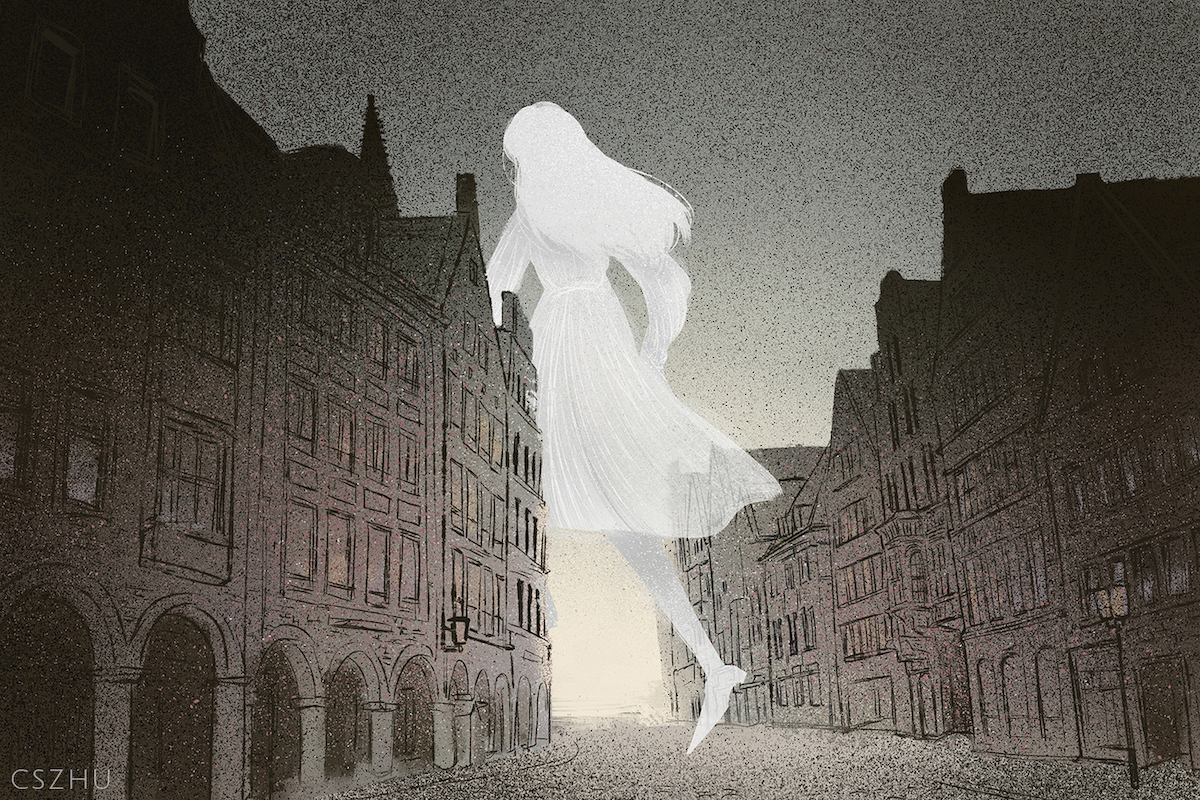 11. Now, tell us a little more about you as a person: what is your favourite food?
My favorite food is jiaozi by my mother: the dish always reminds me of my family. Generally, I love and enjoy good food very much. Very. Much.
Mein Lieblingsessen ist Jiaozi von meiner Mutter: Das Gericht erinnert mich immer an meine Familie. Generell liebe und genieße ich gutes Essen sehr. Wirklich. Sehr.
12. Favourite book?
"A Little Life" by Hanya Yanagihara.
"A Little Life" von Hanya Yanagihara.
13. Favourite genre of music?
Jazz & Classical! But I also really enjoy video game & anime soundtracks.
Jazz & Klassik! Aber ich mag auch sehr gerne Videospiel- und Anime-Soundtracks.
14. What are your hobbies?
In my free time, I really enjoy sewing, visiting museums and travelling.
Ich nähe, reise und besuche gerne Museen in meiner Freizeit.
15. If you weren't an artist, what would you be?
I'd probably be a lawyer or an art historian, who loves to enjoy art in her free time.
Wahrscheinlich wäre ich entweder Anwältin oder Kunsthistorikerin, die freizeitlich Kunst genießt und schafft.