Instagram: @dea.rtwork
1. What's your story? Where are you from?
I am a 24 years-old graphic designer, born and living in Brussels. My dad is Belgian, my mom is Mexican, and I have a younger sister. I have a very classic academic background, but have always liked to paint and draw on the side. I've had a very simple yet easy childhood and life so far.
J'ai 24 ans, je suis graphiste, née et basée à Bruxelles. Mon papa est Belge, ma maman Mexicaine, et j'ai un petite soeur. Mon parcours académique est assez classique, mais j'ai toujours aimé peindre et dessiner pendant mon temps libre. On peut dire que j'ai eu une enfance et une vie jusqu'à présent simple et plutôt facile.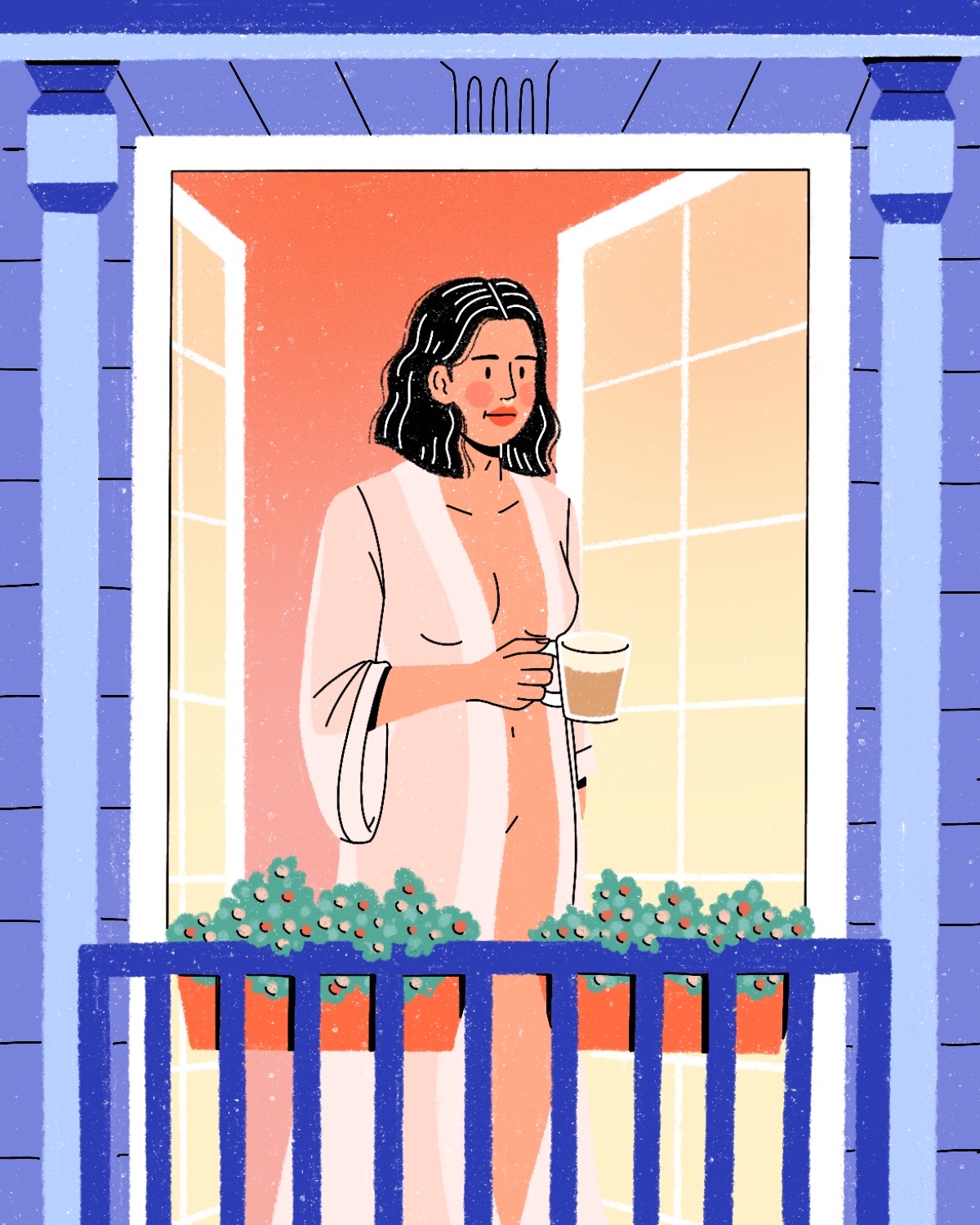 2. Tell us about your aesthetic.
It's hard to talk about what it truly is, rather than what I would like it to be. But objectively, I wan say that my style is very much inspired by comic drawing, since this is how I learned how to draw. I use mostly bright and pop colours. Regarding the subjects, I usually draw women and flowers. I like the idea of conveying a sense of innocence and sweetness in what I do.
C'est difficile de parler de mon style tel qu'il est vraiment, plutôt que tel que je voudrais qu'il soie. Mais objectivement, je peux dire qu'il est très inspiré par la bande dessinée, puisque c'est ce que j'ai appris à dessiner le plus tôt. J'utilise principalement des couleurs vives et "pop". En ce qui concerne les sujets, c'est surtout des femmes et des fleurs. J'aime l'idée de communiquer de l'innocence et de la douceur dans ce que je fais.
3. What is your favourite medium and why?
Procreate really changed my game. I used to love alcohol markers, but working with Procreate on iPad is fast, efficient, intuitive... I work as a graphic designer during the day, so I need to be able to create fast and with little material. No time to clean up when I'm done drawing. No time to prepare and mix my paints. Procreate is like having a hundred brushes into one pen. (This isn't sponsored I just love it)
Procreate a vraiment changé ma façon de travailler. J'adorais les feutres à l'alcool, mais dessiner avec Procreate sur l'iPad c'est rapide, efficace, intuitif... Je travaille comme graphiste le jour, je dois donc être capable de créer quelque chose rapidement et avec peu de moyens. Pas le temps de nettoyer mon matos quand j'ai fini. Ni de préparer mes peintures et faire toutes sortes de mélanges. Procreate, c'est comme avoir une centaine de pinceaux avec juste un stylet. (Non sponsorisé, c'est juste trop bien)
4. What is your artistic process like?
I have a list of things I'd like to draw, little ideas and collected challenges. So whenever I have time and feel like drawing, I pick from this list and start. I used to only be able to sketch on paper, now I work almost only on iPad. As the subject is found quickly, I spend more time sketching small versions, to study proportions, shape, placement... Then I make a cleaner sketch, and then start colouring. I like that it's easy and carefree. I mostly draw for fun, as a hobby you know. I also have a set of palettes ready, and a Pinterest board of images I find interesting for colour combinations. I'm all up for the easy work.
J'ai une liste de choses que j'aimerais dessiner, des petites idées et des challenges rassemblés. Du coup, dès que j'ai un peu de temps et en ressens l'envie, je choisis un sujet à partir de cette liste et je commence. Avant je ne faisais mes croquis qu'au crayon sur papier, maintenant je fais presque tout sur l'iPad. Le sujet étant vite choisi, je passe plus de temps à gribouiller en petit, à étudier les proportions, les formes, le placement... Ensuite je fais un croquis plus propre et mets au propre. J'aime que cela reste facile et sans prise de tête. Je dessine principalement pour m'amuser, comme hobby en fait. J'ai aussi mes palettes de couleurs déjà prêtes, et un tableau Pinterest avec des références de combinaisons de couleurs. Bref, j'aime le travail tranquille.
5. Who and/or what inspires your work?
Mostly graphic novels and comics. I took comic drawing classes and I believe it still influences my style. I am also very influenced by pop culture, fashion, architecture... Lately, I have a thing for 3D architectural and design models. Accounts like @peterarka and @__sitio inspire me so much for colour combinations and shapes. I also love to look at other artists' works, like Abbey Lossing, Petra Braun, Marie-Laure Cruschi (aka Cruschiform), and many more... Instagram is a great place to find all that and keep an inspiring feed.
Très certainement les romans graphiques et les bandes dessinées. Je suivais des cours de BD plus jeune et ça influence encore beaucoup mon style. Tout comme la culture pop, la mode, l'architecture... Récemment, j'ai aussi une petite passion pour les modèles 3D d'architecture et design. Des comptes tels que @peterarka et @__sitio m'inspirent énormément pour les combinaisons de couleurs et les formes. J'aime aussi beaucoup regarder le travail d'autres artistes comme Abbey Lossing, Petra Braun, Marie-Laure Cruschi (aka Cruschiform), et bien d'autres... Instagram est le meilleur endroit pour trouver et sauvegarder ces sources d'inspiration.
6. What role does art play in your life? How does it change the way you view the world?
Art for me is a perspective, a point of view of the world. A bit like an added lens in my way of looking at this world. To me, it is looking at the sky and its clouds, and seeing something else. A shape, a face, an object... And the desire to represent it and share it. Art offers me an other layer of understanding of the world in which we live in, and it affects my sensitivity to it deeply.
L'art pour moi est une perspective, un point de vue sur le monde. Comme une lentille supplémentaire dans ma façon de regarder le monde. C'est regarder le ciel et les nuages, et y voir quelque chose. Une forme, un visage, un objet... Et le désir de le représenter et de le partager. L'art m'offre une autre dimension de compréhension du monde dans lequel nous vivons, et influence ma sensibilité à celui-ci.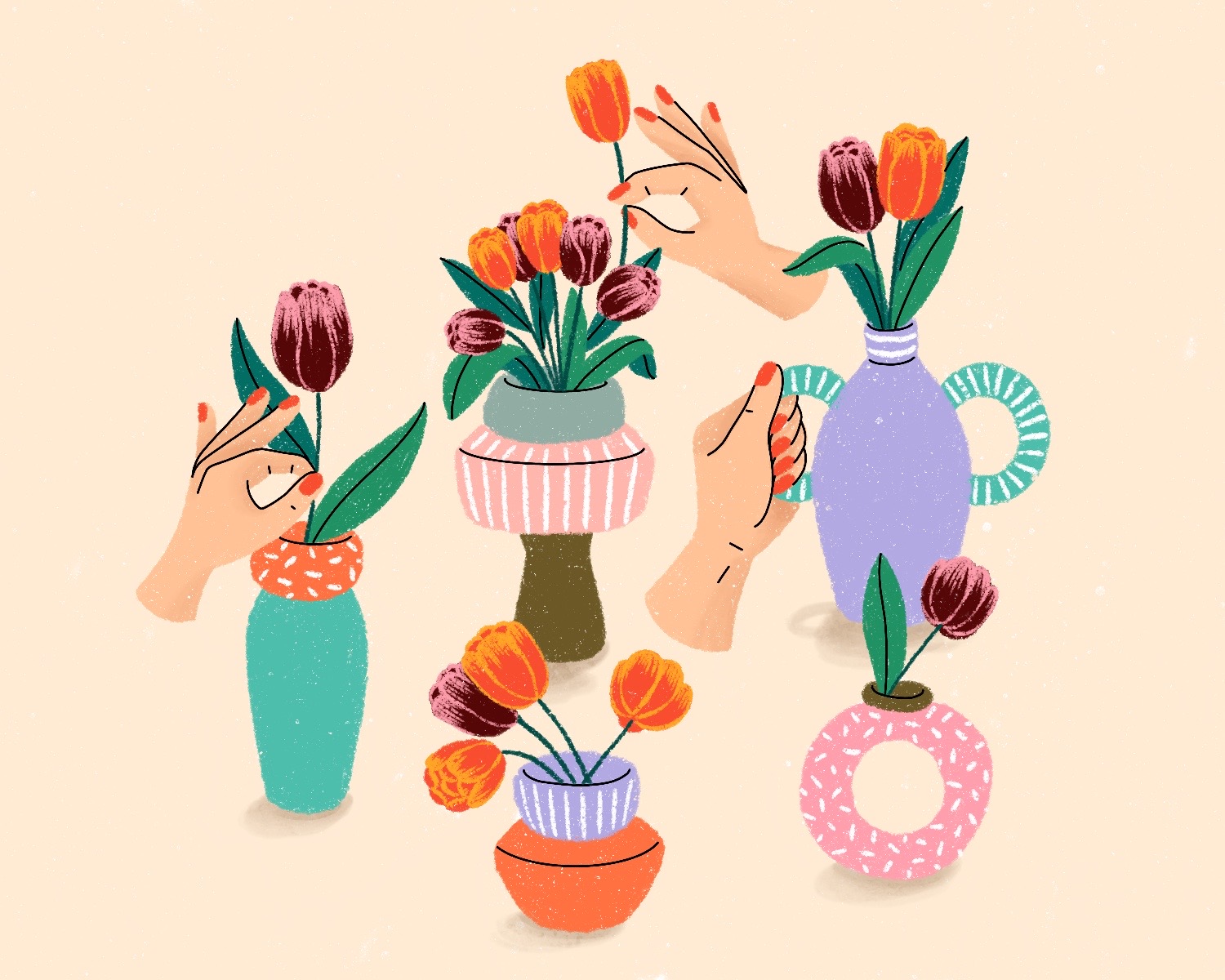 7. Where did you study?
I studied Graphic Design and Digital Creation at CAD Brussels. It is a private school for design in general, offering a teaching method based on practice rather than theory, with a very international mindset. All our teachers were professionals from the field. It was an intense but so enriching experience. I graduated from my masters degree in UX and Motion Design in 2018.
J'ai étudié le Graphisme et la Création Digitale au CAD à Bruxelles. Le CAD est une école privée enseignant plusieurs disciplines créatives, avec une méthode axée sur le pratique, dans une optique très internationale. Tous nos professeurs étaient des professionnels du milieu. C'était une expérience intense mais si enrichissante. J'ai été diplômée de mon master UX et Motion Design en 2018.
8. Where do you see yourself in five years?
I really like living in Brussels, and my current life. I don't imagine any major life change, even less regarding the situation today... But I do hope I will be able to develop an activity linked to my drawings, maybe a book or a shop to sell prints. Or maybe just becoming a freelance illustrator. It would be a big achievement for me to make a living out of my art, and I am already starting to look into it, maybe it will happen within 5 years.
J'aime beaucoup Bruxelles et mon rythme de vie actuel, je n'envisage donc pas de grand changement, encore moins vu la situation actuelle... Mais j'espère pouvoir développer une activité liée à mes dessins, peut-être un livre, ou un shop pour vendre des prints. Peut-être simplement une activité en freelance dédiée à l'illustration. Mais ce serait une grande réussite de vivre un peu de mon art, et je commence à m'en donner les moyens pour, peut-être y arriver d'ici 5 ans.
9. What about in ten?
I have other passions and interests next to illustration. And I would love to find a way to combine them all in order to develop a bigger project, that would make more sense. I hope to be able to dedicate to it full time, and to make it my main activity within 10 years. These are very practical dreams, and quite achievable in the end. I just hope that in 10 years, I will have gained enough self confidence and collected the resources to dare launching and carrying this global project.
J'ai d'autres passions à côté de l'illustration, et j'aimerais trouver un moyen de toutes les combiner pour développer quelque chose de plus grand, avec plus de sens. J'espère pouvoir me dédier à plein temps à cela et en vivre dans 10 ans. Ce sont des rêves très pragmatiques, et dans le fond réalisable. Mais j'espère aussi d'ici 10 ans avoir accumulé la confiance en moi et les moyens nécessaires pour oser lancer et porter ce projet global.
10. What do you hope to achieve with your art?
I am still figuring out my style and what to do with my drawings, so this question is particularly difficult for me to answer. At the moment, it might sound a bit selfish, but it's just for my personal pleasure. Just fun and an occupation for my free time. It's also very satisfying to see a community getting built around it, and to see it evolve. In the future though, I wish to use them as a way to communicate my vision of the world, and to be able to tell stories with it.
Je cherche encore mon style, et cette question est pour moi très difficile à ce jour. Pour l'instant, très égoïstement, juste du plaisir personnel. Du fun et une occupation pour mes temps libres. C'est aussi très satisfaisant de voir évoluer ma communauté sur les réseaux sociaux. Mais sur le long terme, j'espère que mes dessins deviendront un moyen de communication, pour transmettre ma vision du monde, et pouvoir raconter des choses à travers eux.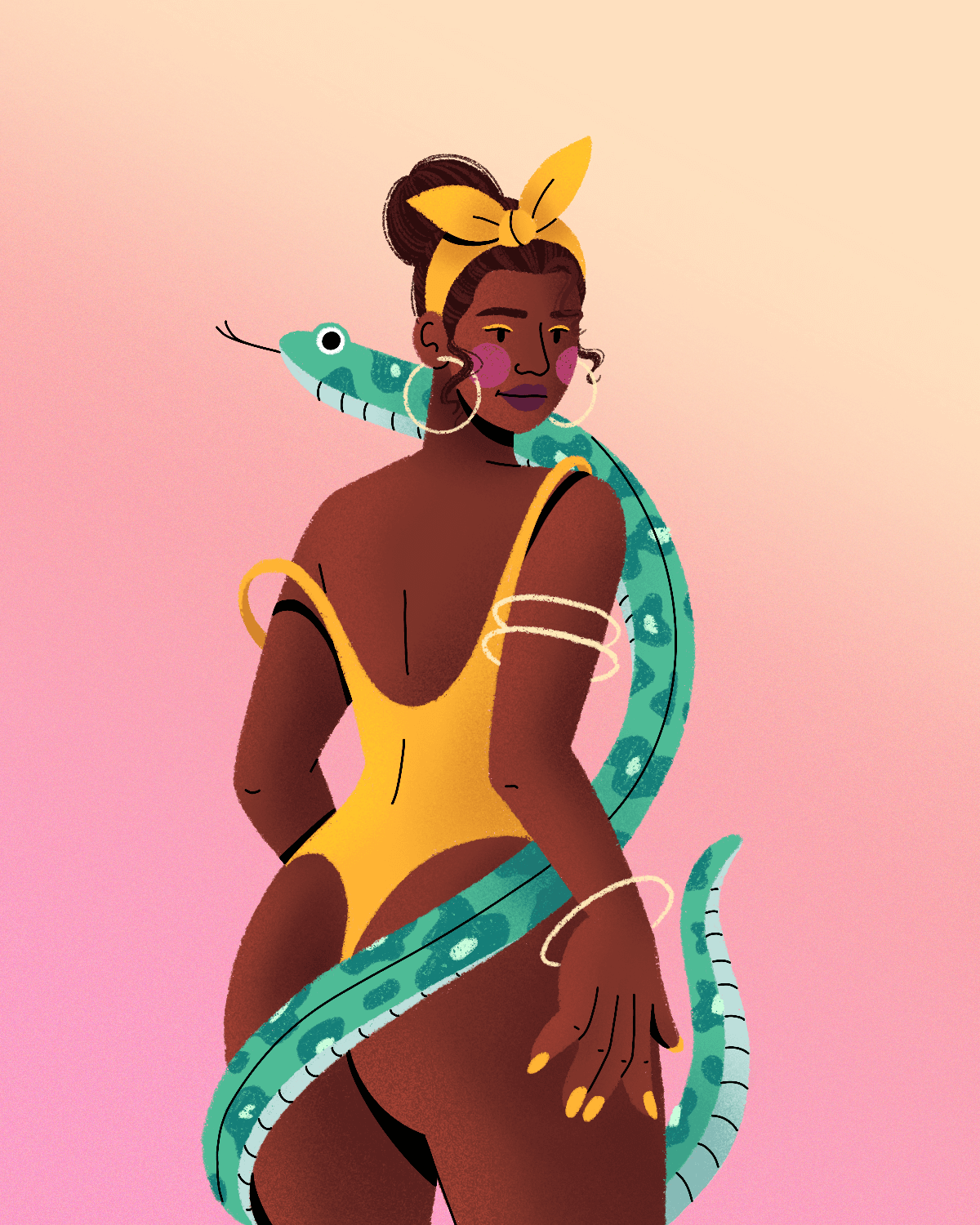 11. Now, tell us a little more about you as a person: what is your favourite food?
Tough one, I'm a major foodie... But I would say fries dipped in mayonnaise, with a Belgian beer. Very traditional in Belgium, it's really my go-to comfort food. I'm a simple person and such simple pleasures are the best in my opinion.
Bonne questions, je suis une foodie invétérée... Mais je dirais un cornet de frites avec plein de mayo, et une bière belge. C'est une spécialité de mon pays, et définitivement ma "comfort food" préférée. Je suis une personne assez simple, et les choses simples sont pour moi les meilleures.
12. Favourite book?
I don't read much, I know I should. So my favorite book is more about images than words. It's Cruschiform's "Colorama", a children colour chart book. It is composed of double pages, an illustration representing a colour and its name on the left, and an explanation about it and its origin on the right. The mainly monochromatic illustrations are beautiful, and I love learning more about colours though it.
Je ne lis pas beaucoup, je devrais. Du coup mon livre préféré est plutôt un livre d'images que de texte. Il s'agit de "Colorama" de Cruschiform. C'est un nuancier pour enfants, composé de double pages avec une illustration représentant une couleur, et en face une explication sur son origine. Les illustrations souvent monochromes sont superbes, et j'adore en apprendre plus sur la couleur.
13. Favourite genre of music?
I listen mostly to Indie / pop rock bands / alternative. I love The War on Drugs, Alt-G, Covey, Tom Rosenthal, The Killers, ... And many more.
J'écoute principalement des groupes indé / pop rock, et de l'alternative. J'adore The War on Drugs, Alt-G, Covey, Tom Rosenthal, The Killers, ... Et beaucoup d'autres.
14. What are your hobbies?
Next to drawing, I love knitting and baking. My friends laugh a lot about it, saying I'm a grandma already.
A côté du dessin, j'adore le tricot et la pâtisserie. Mes amis en rigolent beaucoup, disant que je suis mamie avant l'âge.
15. If you weren't an artist, what would you be?
Well I'm not technically an artist really, but probably a baker. I work well under pressure and would be able to manage my own little bakery/coffee shop. I have an issue with lactose and gluten intolerance, so a specialised bakery would serve me well!
Je ne suis techniquement pas une artiste, mais je dirais probablement pâtissière. Je travaille bien sous pression, et n'aurais pas de mal à tenir mon petit café proposant des pâtisseries sans lactose et sans gluten. J'ai des problèmes d'intolérance et je me dis qu'une boulangerie spécialisée ce serait pas mal!