Instagram:
@designbrit
Website:
www.britphan.com/3d
1. What's your story? Where are you from?
I'm a 22 year-old 3D artist, product designer, and developer. I grew up in the DC metro area, and I recently moved to Seattle, WA with my partner and cat. I currently work full time as a hybrid product designer and software engineer at a small software agency. I've been doing graphic design since I was a kid. I spent many years trying to learn digital art, drawing in Photoshop and then Procreate, but I never felt comfortable with it. At the beginning of the pandemic, I decided to start learning 3D, and ever since, I've been creating 3D animations and illustrations whenever I have free time.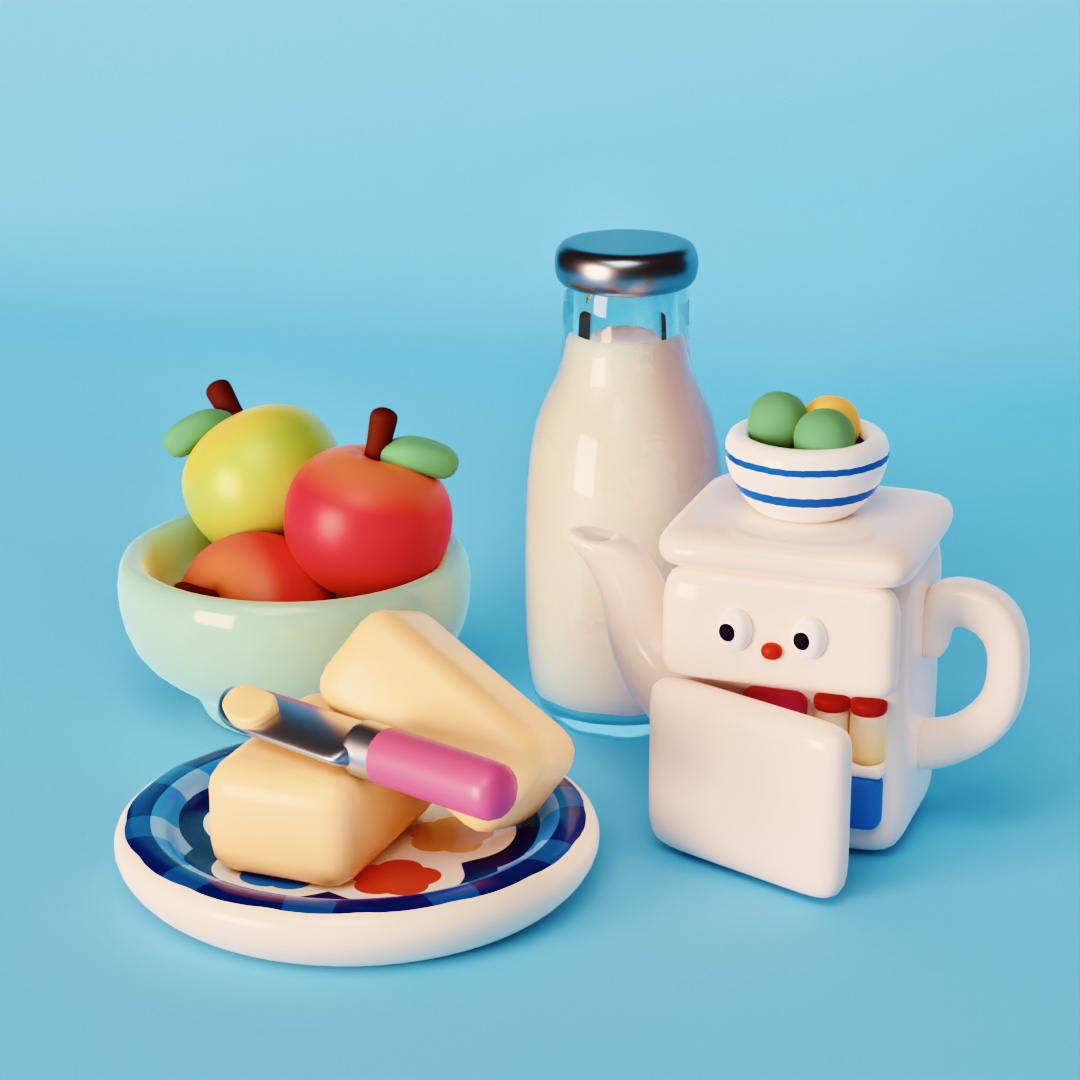 2. Tell us about your aesthetic.
I'm still trying to find my style, but I would describe my aesthetic as playful, colorful, and a little silly. I love adding a cute, fun twist on everyday scenes. I would also say that my work is very cartoonish and childlike. When I 3D model regular objects, I imagine what it would look like if it was a child's toy – softer, chubbier, and more colorful.
3. What is your favourite medium and why?
I've always loved drawing and illustrating, I just never found a medium that clicked until I started learning 3D modeling. I love 3D because it's so easy to change your mind and iterate on ideas. I spent a while trying to master digital drawing in Procreate and Photoshop, but it was so frustrating for me to spend hours rendering an illustration only to realize I hated the composition. With 3D, I can think in terms of parts of a picture, and tweak the composition as I go. I also consider 3D modeling and animation to be more of a technical art. I can just stare at vertices for hours and truly grind during the modeling process without getting burned out. Another medium I've been getting into lately is fiber art! I've been playing around with punch needling, wool felting, and embroidery and I just love all the textures and the feeling of making something with my hands.
4. What is your artistic process like?
I first try to lay out my composition on paper. It's a lot easier to draft out ideas using paper and pencil first. Sometimes I'm not even trying to come up with an idea and my doodles evolve into something I want to create in 3D. Then I'll move on to Procreate, where I find it easier to fine-tune my sketches. After that, I'll move into Blender and start 3D modeling. I'll often play around with the composition a little bit, and then start choosing colors — I spend a lot more time than I'd like to admit just picking out colors and playing with the lighting! Finally, I'll edit my renders in Photoshop or on my phone.
5. Who and/or what inspires your work?
It sounds cheesy, but I find inspiration from everywhere. I like to anthropomorphize everyday objects and give things playful personalities. Lately I've found a lot of inspiration from watching cartoons, like Adventure Time and Steven Universe. The worlds of these cartoons are so imaginative and charming, and my heart feels so full when watching them. They definitely inspire me to try and create something that evokes that feeling of warmth and joy.
6. What role does art play in your life? How does it change the way you view the world?
Art is like therapy to me. Whenever I have free time, I always want to make more art. When I started taking art more seriously, I started to look at the world differently. Art has definitely allowed me to notice and appreciate beauty in everyday life. I get inspired by random shapes and colors in nature, meals I eat, people and dogs on the street, my friends and family — just about everything. I have a very technical brain, and I think art kind of challenges that part of my brain a little. My creative side comes up with the ideas, and my technical side is like, "Great, now I have to figure out how to do this!".
7. Where did you study?
I actually studied computer science at the University of Virginia. I had pretty much zero exposure to art classes in college, except for an art history class that I ended up dropping. I learned 3D modeling, character design, and animation from tutorials and videos online. I like to diversify my learning resources, so I've learned from a mix of YouTube videos, online tutorials, reference documents, and studying other people's work.
8. Where do you see yourself in five years?
I'll probably continue working in tech full-time or part-time, just because I love the tech scene! I do want to develop my art career more though, and I'm hoping that I can make some money from my art in some way, whether it's taking on more freelance projects, opening an online store, or integrating my art with my career in tech.
9. What about in ten?
In ten years, I'll either still be working in tech or I'll be a full-time artist at a studio or freelancing. I don't know if I can completely let go of my career in tech, but I love art so much it would be great to have that be a part of my career! If I end up pursuing art full-time, I would love to open a physical studio where I can co-work with other artists.
10. What do you hope to achieve with your art?
I hope that my art brings a smile to people's faces! I'd love to work with large brands someday and reach more people. I feel like in the world of 3D, there's a lot of hyperrealism and serious 3D models and I hope that my art can make 3D a little more fun and cute. I want to show that cute and playful art isn't just for kids — many adults appreciate this kind of style, and it should be valued just as much as the rest of the art world.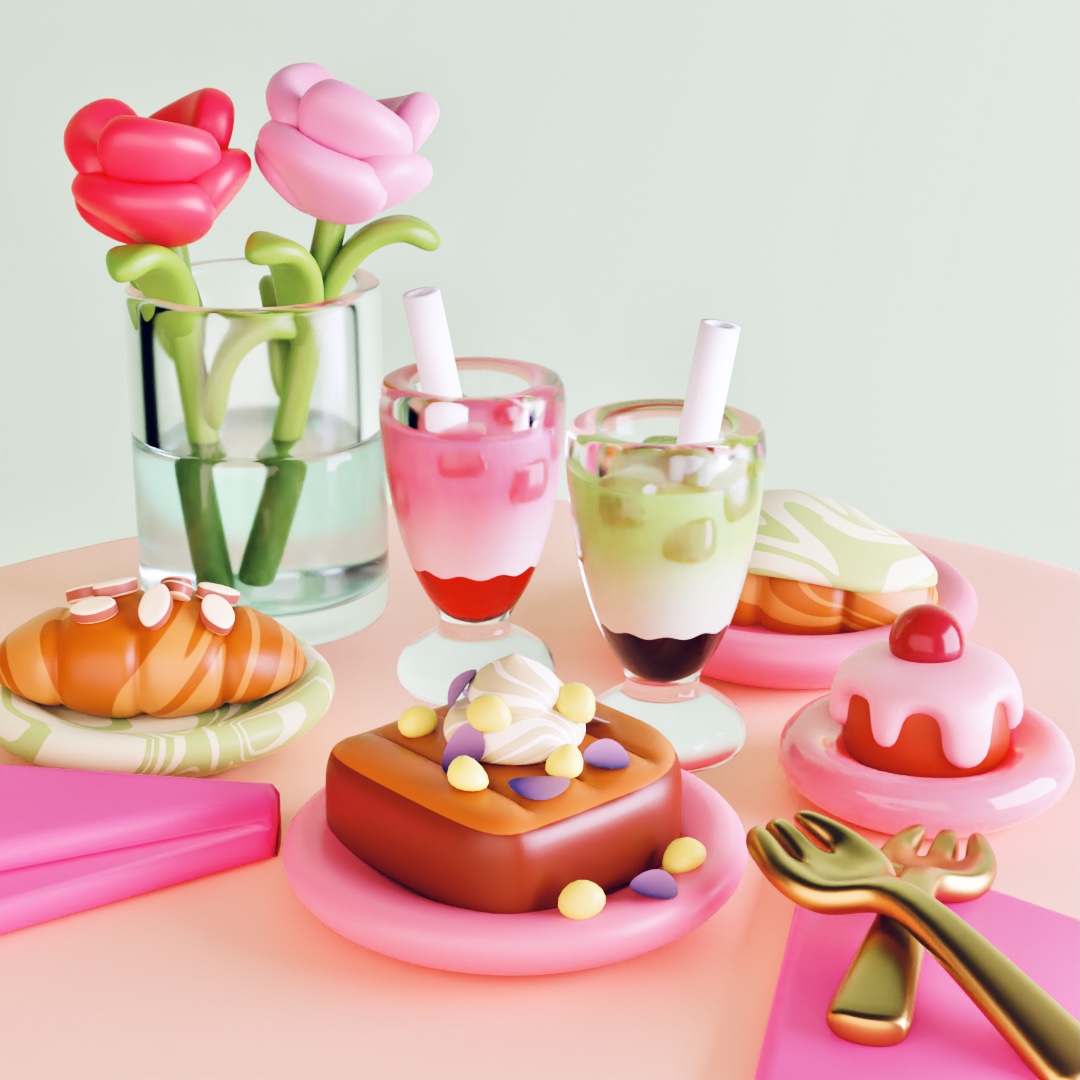 11. Now, tell us a little more about you as a person: what is your favourite food?
I have so many favorites! I love Indian food, pasta, pretty much anything with cheese, bubble tea, and Portuguese egg tarts. It's random and it'll probably change in a few weeks but that's what I'm craving right now!
12. Favourite book?
The Three Body Problem by Cixin Liu. I love how it's a sci-fi book with sociology themes. I enjoy reading anything that discusses what it means to be human.
13. Favourite genre of music?
Alternative hip-hop and indie pop.
14. What are your hobbies?
Art is pretty much a hobby for me right now since I just do it whenever I have free time! I like trying out fiber arts, last year I got super into punch needle rug making, and lately I've been trying out wool felting. I also love to cook and bake new things.
15. If you weren't an artist, what would you be?
I'd probably continue what I'm doing now, working as a product designer or developer at a tech company! I still feel like product design is still pretty creative though, so if I were to do something completely different, and I already had a ton of money, I'd probably open an ice cream shop.