Instagram:
@dk_limp
Facebook:
www.facebook.com/DKLimp
Blog:
www.intervalosalmoco.blogspot.co.uk
1. What's your story? Where are you from?
I'm 35 year-old architect turned illustrator living in one of the best cities of sunny Portugal, Torres Vedras. It's located far enough from Lisbon to feel that I live in the countryside. The only downside is that I work mostly in Lisbon and I have to spend most of my time there, but it's a beautiful place so it's not that bad ;) I worked 8 years as an architect and two years ago I moved to a big architecture firm as an architectural illustrator and I'm loving every second of it. I love the design process and the fact that I'm there at the beginning of every project is fascinating. When I see final CGI renders based on my artistic perspectives, I feel that drawing is still the most powerful tool around.

2. Tell us about your aesthetic.
It's a difficult question since my art is constantly evolving and changing in a fast pace in the last 5 years or so. But my lines though, they stay (almost) the same. I love to do an apparent uncontrolled line, with a natural and organic flow. From all aspects of my work, I believe that my lines are the main feature.
3. What is your favorite medium and why?
Sketchbook, Pen+Ink and Watercolours. Sketchbooks because it's the only way to assure that most of my work is for myself, so I feel no pressure at all. I can make the mistakes I want and learn from them; I can make new experiences and keep them to myself if I want; It's the only way I know of to keep improving day after day. Pen+Ink because I feel I'm sketching with no safe net so, no search lines before the final ones like we do with pencils. That fear of sketching straight with ink is the origin of a wild and more natural line I guess. Watercolours because I consider to be the most uncontrollable medium because you have to use great amounts of water, and water flows, no matter what. You never know how a watercolour will end even if you're a professional star. The line between a critical error or a fortunate mistake that turns your sketch into a work of art is a very thin one which turns watercolour painting into one hell of a ride!
4. What is your artistic process like?
Quite simple actually, it's basically aim and fire. ;) If I see something I like I start sketching it on location and if I have time I colour it immediately. It's that daily 40 minute to one hour window on my lunch break. Most of the times I colour at home due to lack of time or sometimes just plain laziness ;)
5. Who and/or what inspires your work?
Daily life situations and Turner's later work. I sketch all daily situations that catches my eye and then I try to figure out how to give that sketch life trough light, something Turner did like no one until now.
6. What role does art play in your life? How does it change the way you view the world?
As an architect I already have a different view of the world around me. Since I started sketching on site some years ago, everything I look at, turns into a weird perspective, a colour study, tonal values, I try to bend a street or a building with my mind trying to find something worth sketching on an ordinary place... It's a bit weird I know but, that's what makes art so interesting, it must have some degree of craziness, otherwise would be dull...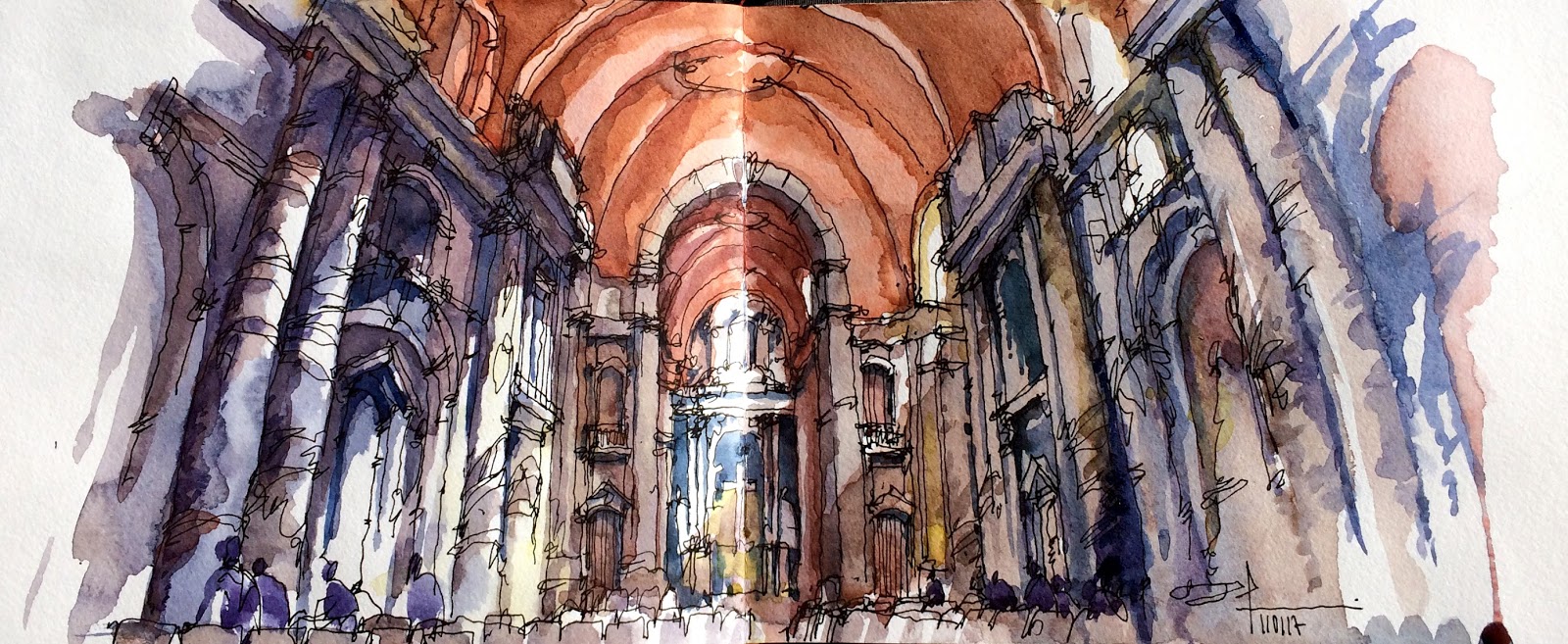 7. Where did you study?
I graduated in Urban and Regional Planning at Faculdade de Arquitectura-UTL in Lisbon, Portugal
8. Where do you see yourself in five years? Working in an agency?
In 5 years I would like to be working as one of the best architectural illustrators around. Still have a lot of work to do but I feel I'm on the right path ;)
9. What about in ten?
In ten I would like to fill sketchbooks with places from all over the world and then releasing books of it. Also would like to be a drawing teacher to pass my knowledge to others.
10. What do you hope to achieve with your art?
First of all, I want to leave a legacy to my daughter, I want her to remind me trough the pages of my sketchbooks and to do whatever she wants with them. Then I want to inspire others to sketch on site, on a daily basis like I do. Not because it's cool or trendy but simply to enjoy the ride and show my world in a far more interesting picture than a smartphone quick snap.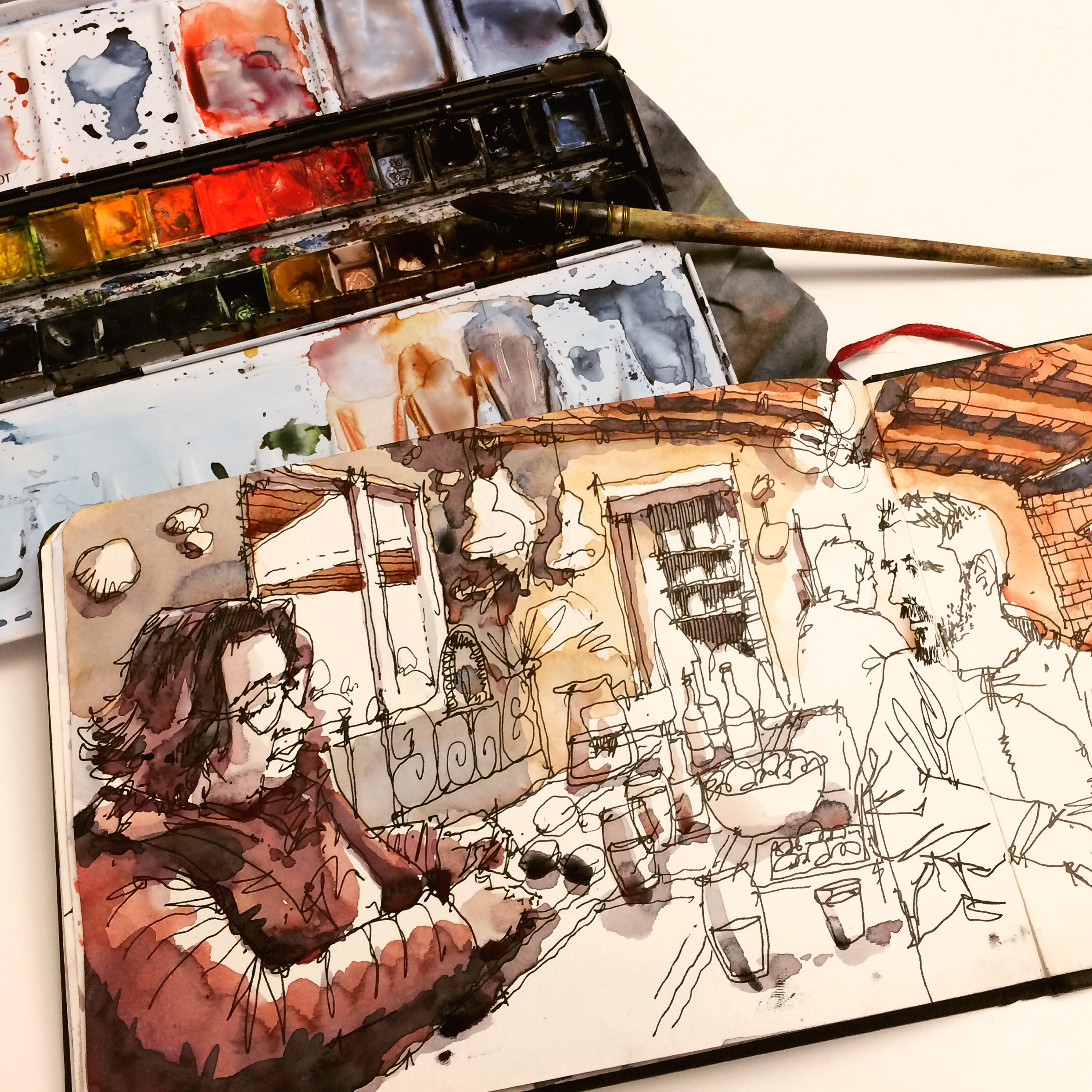 11. Now, tell us a little more about you as a person: what is your favourite food?
I like to eat everything with the exception of seafood / shellfish. But that special food would be Meatballs with spaghetti cooked by my mother. Nothing beats that... except coffee. I like coffee above all things ;)
12. Favourite book?
The only books I read recently were related to my activity as an architect and none of it could be my favorite.
13. Favourite genre of music?
Metal, especially the Nu-metal and Progressive Metal sub genres
14. What are your hobbies?
My favourite hobby is to sketch! Yes I may be a compulsive sketcher... Other hobbies include listening to music and playing videogames especially RPG's and 90's classics like Street Fighter and Streets of Rage, which I'll do as soon as I finish writing this ;)
15. If you weren't an artist, what would you be?
A Rally racing driver or a Musician / Producer specialized in Progressive Metal of course ;)