Instagram: @domikoro
1. What's your story? Where are you from?
Hi guys! I am Dominika, a tourism organisation worker by day and a digital artist by night. I come from Poland and live near a lovely city Białystok. I got diploma in graphic design and Culture Studies. I originally wanted to become a graphic designer, though what pushed me to pursue graphic design was drawing! My current job requires me to design things on daily basis, which is great, I also like to travel and wanted to try working in a place connected to this sector, so I think that what I am doing now is a great start for what I want to experience in life.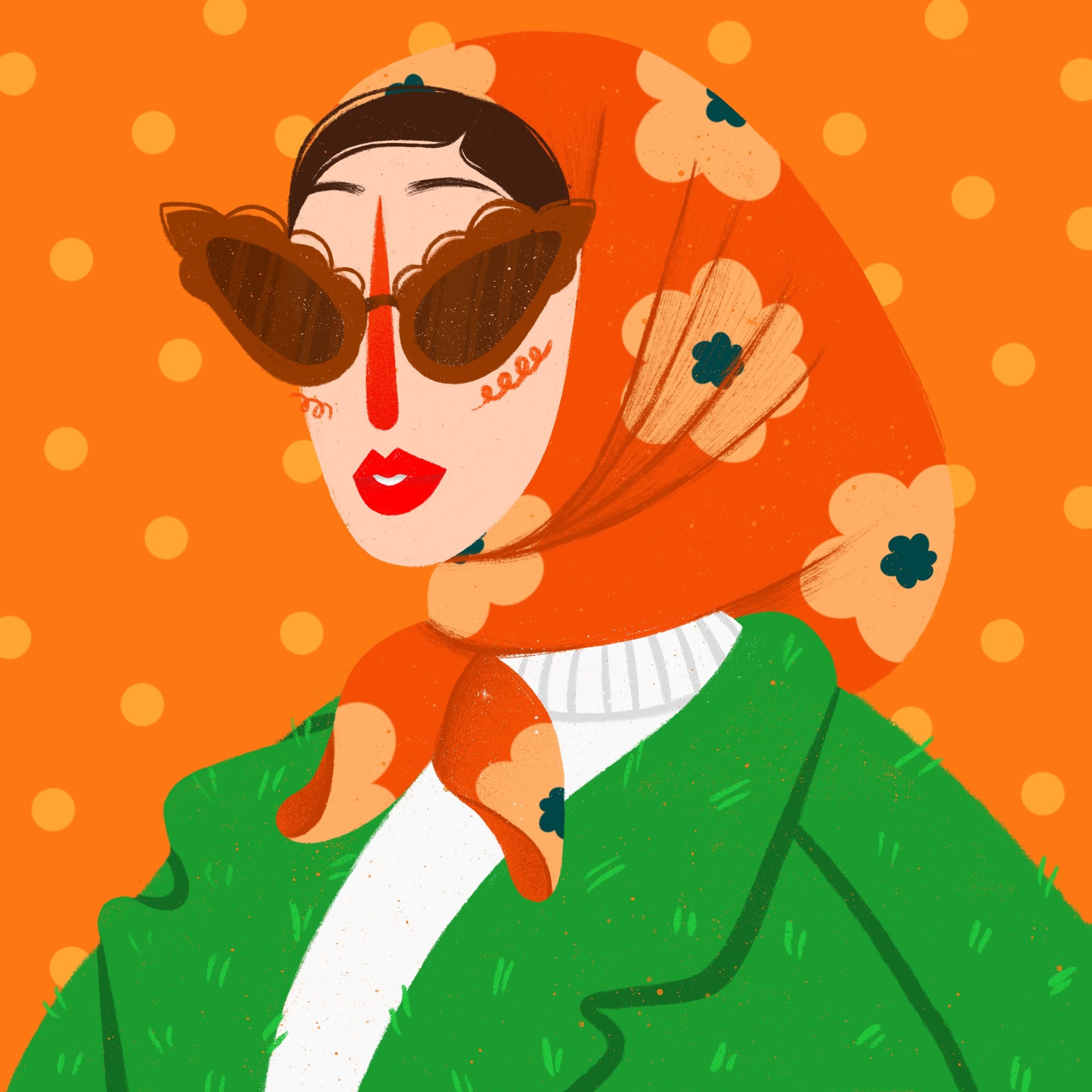 2. Tell us about your aesthetic.
I have not found the final form of my style yet, it is still developing and changing in some ways. Though, there are certain points in it, which are defining my aesthetics quite well. Firstly, it's bold color combinations - I don't have much of skill or gift for choosing colors, so I just play with them and learn with each work, what works for me and what doesn't. Secondly, I love giving my characters veeery long necks. I think that is one of the things, which helped me to develop my style to what it is now. Other factor is the way I draw hair. I like to shape them horizontally in a fluffy form, so that they would remind clouds, though I don't exactly draw them as often in this way, you can still see it's influence in my works. Also, I have that preference for drawing long hair, lashes, nails - I like extravagant things.
3. What is your favourite medium and why?
Definitely digital painting! Though, traditional art, especially pencil drawing, was my favourite thing, and that was what got me interested in art at first, now I am all in for digital art. So, why did my preferences change? When I started my drawing journey over ten years ago, I had no idea things like tablets and digital art existed. I started drawing when I was 15 and back then, I didn't have much access to the Internet and technologies. Now, I can't imagine drawing solely on paper. Digital art gives way more room for mistakes than traditional art does, you don't have to worry about drawing wrong line - double tap and it's gone. Also, you get to use tons of layers, which is a saver. And duplicating files, which is even a bigger one.
While loving digital art, I still have room in my heart for traditional art and would love to do some linocuts in the, hopefully soon, future.
4. What is your artistic process like?
When I look at my time lapses my drawing process looks very messy, and it is indeed.
What I picture in my head doesn't always look as great on "paper", so I change things till I feel it looks okay. I try to put myself in different poses to get the angles and perspective right, if I still have problems picturing or finding a pose I look at Pinterest for references. Also, I like to make notes, when I get an idea I write it down, so it won't fly away.
5. Who and/or what inspires your work?
I seek inspiration in everything. I believe I can get inspired anytime, anywhere by anyone. In other words, I seek inspiration in everyday life. When I come across something inspiring, I write it down. What else I like to do, is to scribble in my sketchbook, nowadays I just stick to scribbling in Procreate tho. I think that one thing leads to another, so even if the first sketch looks kind of shabby, it still can become a base for something awesome. Also, I enjoy observing the art environment, keeping up with what is new, what is in and what is not so cool anymore. Aside of that, I also like to make map of thoughts to get more ideas, it is less spontaneous process, but very developing in more of a 'brainy' way.
6. What role does art play in your life? How does it change the way you view the world?
Art takes a great part of my time, so it definitely plays a huge role in my life. I spend most of my free time on creating and planning my art schedule. Hence art is something I cannot omit while speaking about myself. I think that what artists create, is what defines them and in a way art can be a reflection of how they perceive the world. Art shows how different this perception can be, what is great about it is that there are no wrong answers. Living life filled with art allows me to enjoy this diversity, which I would be deprived of if I did not take interest in it.
7. Where did you study?
I kind of answered this question in my introduction, but to get more into details, my studying career was a bit longer than a regular one. After graduating high school, I applied to graphic design major, but failed the drawing exam - surprised? So, for one term I was a student of Russian Philology. It was not the worst, but I felt like my place was elsewhere, so I dropped out and started preparing for drawing exams, to apply for graphic design major once again. Luckily, I got accepted on my second try and experienced great 3 years of studying graphic design in University of Technology in Białystok, Poland. For my master degree I studied Culture Studies in University of Białystok, which was not exactly the best time of my life, but I like to believe that everything happens for a reason and that it was the time I needed.
8. Where do you see yourself in five years?
I would love to work as a graphic designer for some time, and that is where I see myself in 5 years. Working and gaining experience in that field. I would love to develop as an illustrator in the meantime.
9. What about in ten?
Ideally, I would love to become a freelance artist and travel the world with my iPad, living off art and designing. That is my biggest dream and I do hope it will become reality sooner or later. I love the idea of the freedom which it gives. I am not sure, if that is what I would want to do for life, but definitely would love to have such few-years-long episode in my life.
10. What do you hope to achieve with your art?
That is a great question! As you can see my art focus on females and I like to present them as strong, confident, bold people and I do hope that is the feeling people get while seeing my art. I want my art to help them find more confidence and beauty in themselves.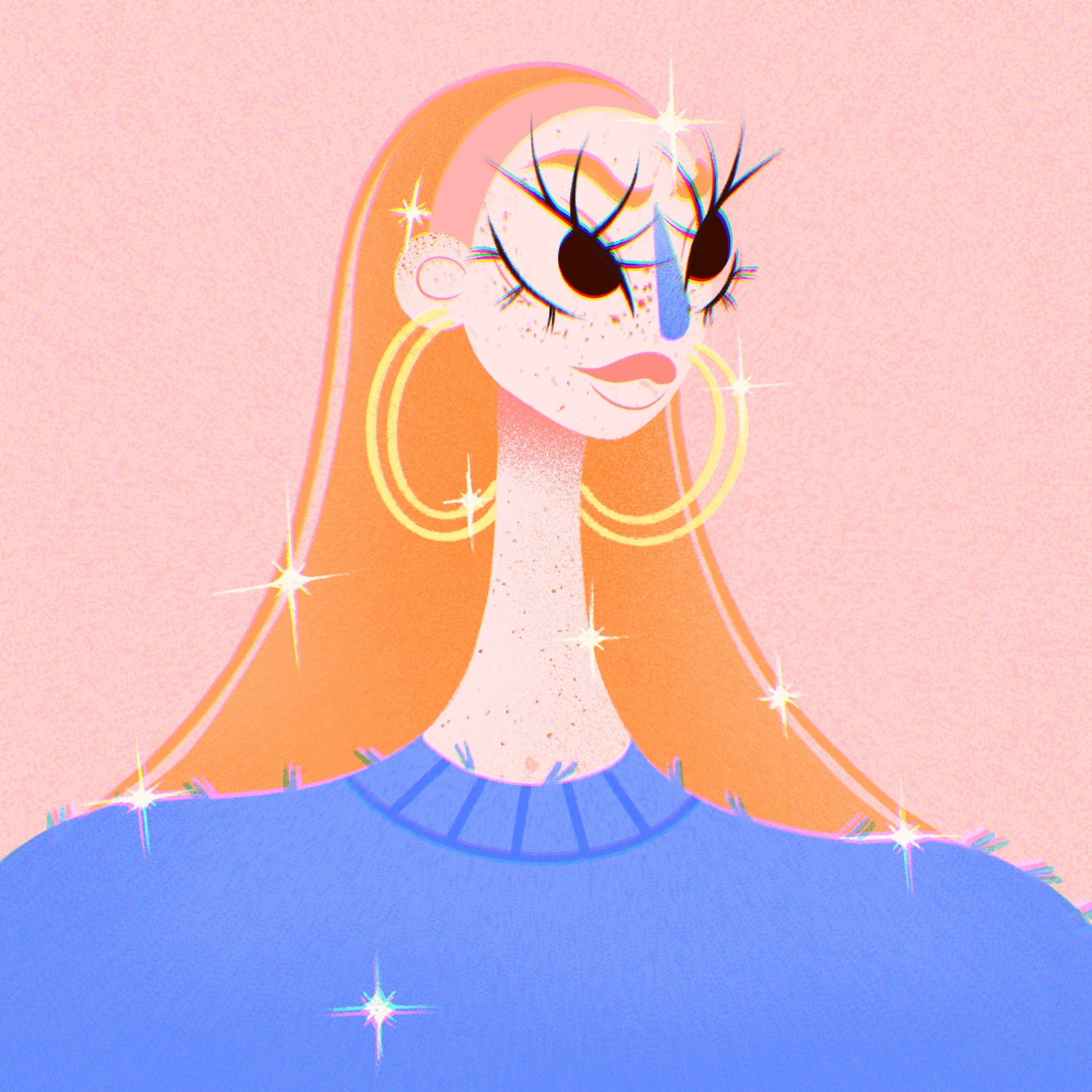 11. Now, tell us a little more about you as a person: what is your favourite food?
There are so many to name! Like most of us, I like pizza, pasta and sushi, but my absolute favourite thing to eat is cucumber, I could eat it all year round and never get sick of it. My favourite polish dish is Leczo, it is made of chicken breast and veggies such as zucchini, paprika, tomatoes, carrot and garlic, yummy! Also, I have sweet tooth, so I like most of sweets.
12. Favourite book?
I used to be a true bookworm in the past, but I don't read as much nowadays, so my favourite book up to this day is Harry Potter series. I love re-reading it every summer to feel the magical atmosphere again, it makes me feel a bit like going back in time and living my teenage life once again.
13. Favourite genre of music?
My favourite genre is k-pop, I've started listening to it over 10 years ago and still find pleasure in listening to it. I am not as up to date with newer bands, though. Aside of that, I like listening to pop and if I have to concentrate on something, as I am doing now for this interview or just need a bit of peace, then I turn to classical or greek instrumental music - they saved me when I was writing my thesis last year.
14. What are your hobbies?
No other hobbies consume as much of my time as art does. I spend great part of my free time on drawing. Aside of that, I am highly interested in South Korea. I like watching Korean dramas and listening to k-pop. I also enjoy watching movies and crime themed documentaries. As of now, I don't have much time for it, but I am highly interested in learning about interior design and analog photography. Hopefully I will find more time for it in the near future.
15. If you weren't an artist, what would you be?
Well, as of yet I don't earn off my art, so I am not sure, if this question applies to me. Though, if I still get to choose, I think, I would be a carpenter. My parents often engage me in variety of household work and among the things I've had to do, I liked building wood shelter and rabbit cages best. I also like mowing grass, not sure if there is anything like professional lawn mower, but if yes, then I could be one.