Instagram:
@dorteringtved07
Facebook:
www.facebook.com/dorte.ringtved
1. What's your story? Where are you from?
My name is Dorte Ringtved, I'm from Denmark and born in 1950. i grew up in a family of mom, dad, sister and brother in a small country village. Everyone in the family were creative in his or her own little non-professional way, and the urge to be creative has been with me all my life more or less.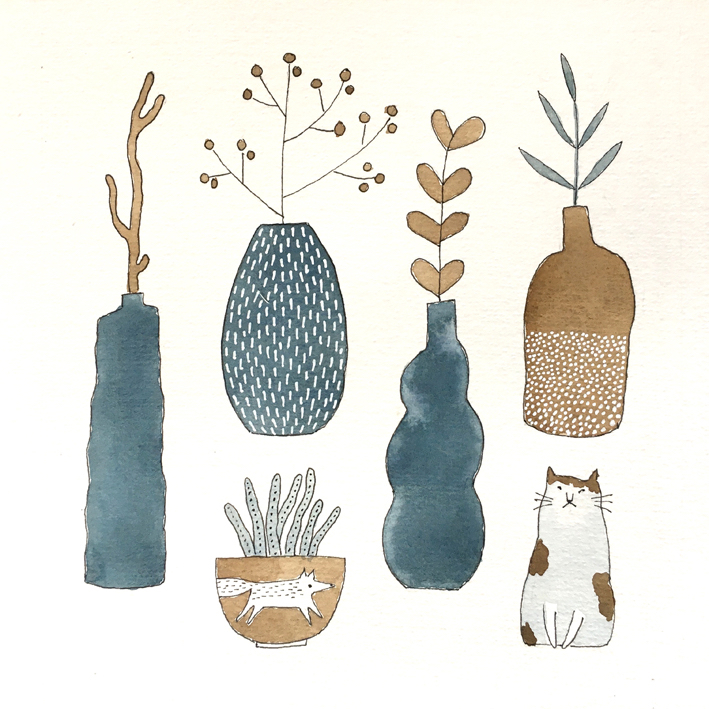 2. Tell us about your aesthetic.
I like simple pretty shapes, muted colors...(well also bright)... "Nordic / Japanese" style.
3. What is your favourite medium and why?
My favourite medium(s) are black ink pen, water color, paper cut (collages). Sometimes, I mix...
4. What is your artistic process like?
Since i don't have to live from my art, I am free to do whatever, I'm inspired to. I often have a picture of some sort in my head, and can't wait to get it out on paper...make a pencil sketch, and start working. I'm rather fussy about the result... if it's going to be featured on Instagram for instance, or as one of the postcard series I put up for sale.
5. Who and/or what inspires your work?
I'm inspired by so many things around me, the nature, books, art exhibitions in museums and galleries, flicking around on Instagram and Pinterest... As mentioned above, I love Japanese art, crafts and aesthetics on the whole, That is maybe my biggest inspiration!
6. What role does art play in your life? How does it change the way you view the world?
Art fills my life, it gives my life meaning, joy, frustration, excitement...It makes me want to look around the next corner and see what adventures are awaiting there. And actually art makes me feel, I am someone...in this chaotic world. Through art I have found dear and precious friends.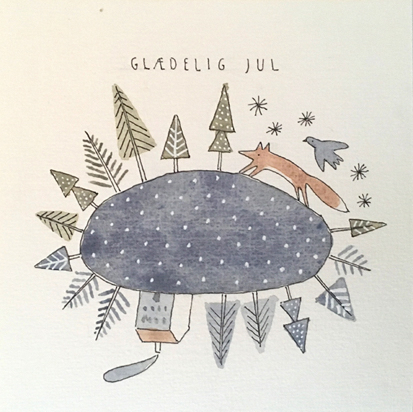 7. Where did you study?
I graduated from the former Arts And Crafts School of Copenhagen (now Design School Denmark) in 1976 as an illustrator, but never made a career of it.
8. Where do you see yourself in five years? Working in an agency?
In five years...well I hope to stay healthy and sane and be doing very much the same asI'm doing today... I hope, the small company of my son's and mine is still running, getting my work out in the world... And i hope, I have managed to travel to Japan, which is my wildest dream!
9. What about in ten?
In ten years... That's a tough one... Well, i just hope, I can keep on being creative and enjoy whatever I do!
10. What do you hope to achieve with your art?
I hope, that my art will make people happy...make them smile...maybe be inspired of what I do...just as I find inspiration in the works of so many other wonderful artists, that would be the greatest honor for me! i hope to develop my skills and my style. I hope to stay grateful and generous...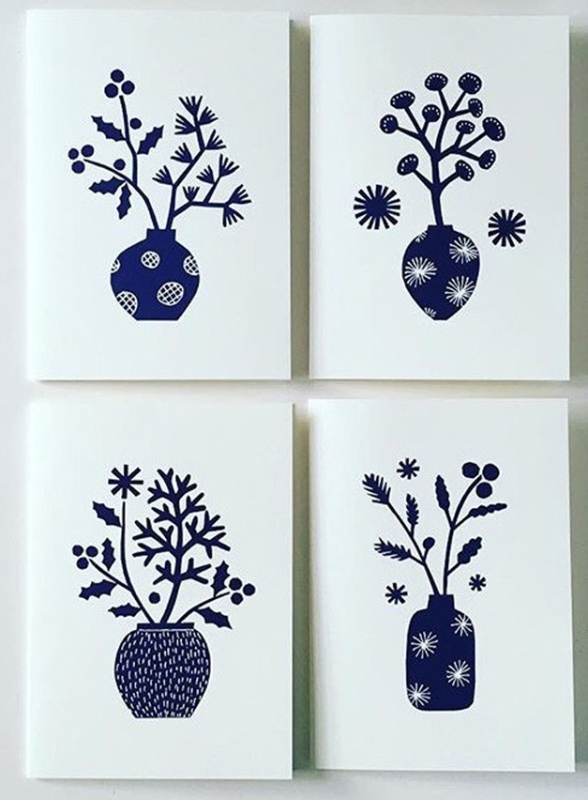 11. Now, tell us a little more about you as a person: what is your favourite food?
My favourite food ... Vegetables and fruits of any kind...and fish... And i wouldn't say no to a yummy piece of cake!
12. Favourite book?
My favorite book...oh there are so many, but if I have to mention one, it must be Antoine de Saint-Exupéry's "The Little Prince".
13. Favourite genre of music?
Favourite music... Electronic rock /pop... triphop... and much much more...
14. What are your hobbies?
Walking... strolling the streets of new, as well as familiar cities, discovering hidden secret places. As above: visiting museums and galleries. Being with family and friends!! ...And knitting tiny foxes...
15. If you weren't an artist, what would you be?
if i wasn't an artist, I would probably be an archaeologist og something concerning literature...