Instagram:
@dougjohnmiller
Website:
www.dougjohnmiller.co.uk
1. What's your story? Where are you from?
Im an architectural assistant and freelance illustrator based in London.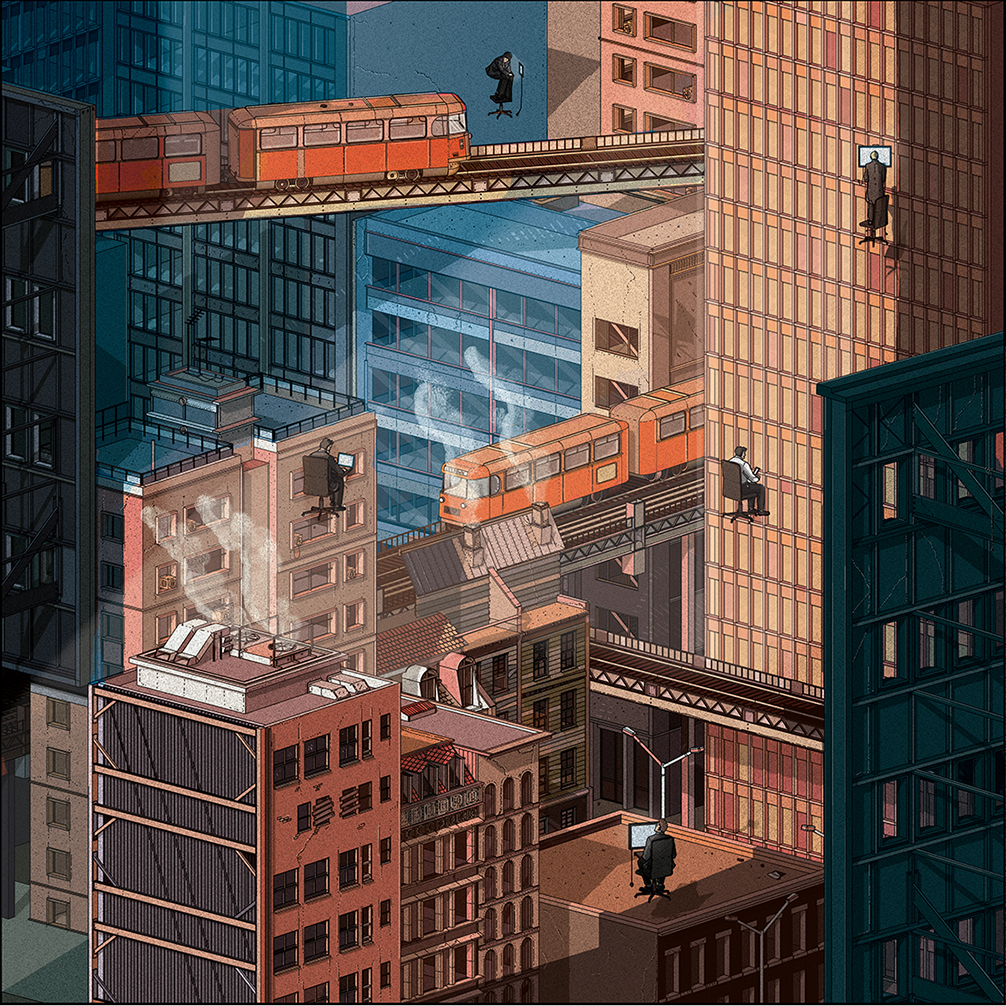 2. Tell us about your aesthetic.
I enjoy bringing a sense of the surreal to the work I do. Often Ill try and work in architecture as a backdrop as this gives me the chance to create atmospheres and human scale scenes that can be distorted through scale or detail. I also try to make my pieces have a grain and atmosphere akin to the spreads from hand drawn comics and old matte paintings from films.
3. What is your favourite medium and why?
I tend to use architectural drafting tools, such as 3d modelling combined with photoshop and illustrator. This combination gives me the freedom to make mistakes and experiment over and over. Moreover the ability to get a bit obsessive, zoom in and make tiny adjustments is something I really appreciate.
4. What is your artistic process like?
I start with loads of thumbnail sketches and notes to figure out the composition and narrative for a piece. Then I'll work like Im constructing a film set. Ill model basic forms in 3D and then take this as a guide to 2D programmes such as photoshop or illustrator and draw over the top by hand. I then spend a long time colouring - this is usually the last step and tends to make or break a drawing.
5. Who and/or what inspires your work?
I have a huge respect for Belgian comic book artists, particularly Francois Schuiten. My background is in architecture and his surreal architectural drawings and graphic novels had a huge influence on me during my time studying. His work always has incredible colour palettes with really inventive compositions.
6. What role does art play in your life? How does it change the way you view the world?
I think making drawings has made me look at normally banal, everyday things in a with renewed respect and interest, knowing that someone at some point had to dream it up.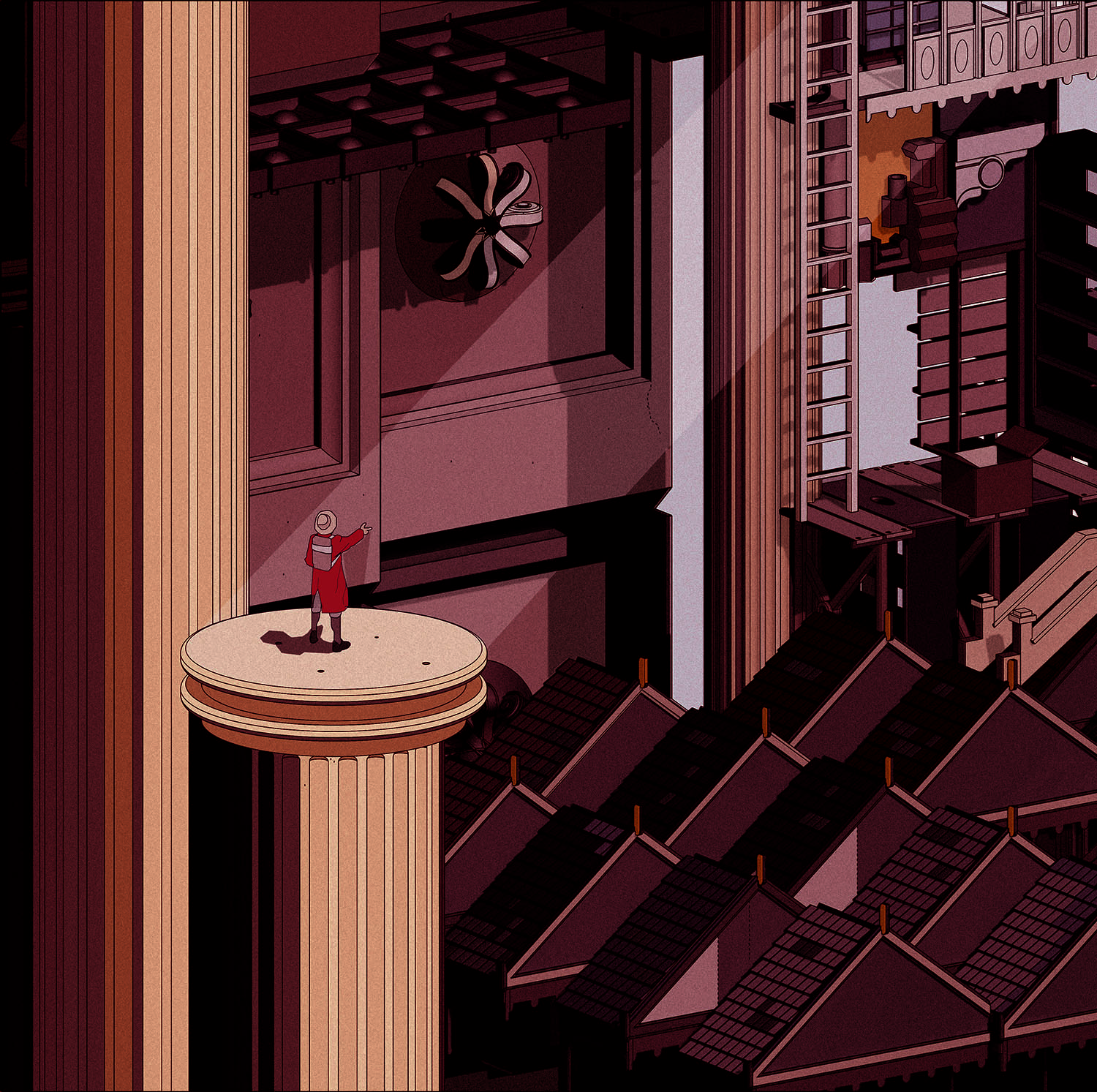 7. Where did you study?
In London at the Bartlett School of Architecture.
8. Where do you see yourself in five years? Working in an agency?
Im not sure - at the moment Im enjoying the split between architecture and illustration, which I hope continues. Im currently gearing to go back and complete my masters in architecture.
9. What about in ten?
A major goal of mine is to draw a long form graphic novel. I think I need to hone my ability to tell stories.
10. What do you hope to achieve with your art?
I have always enjoyed looking at art work that encourages you to get lost in the detail. I hope that the images I make can achieve this.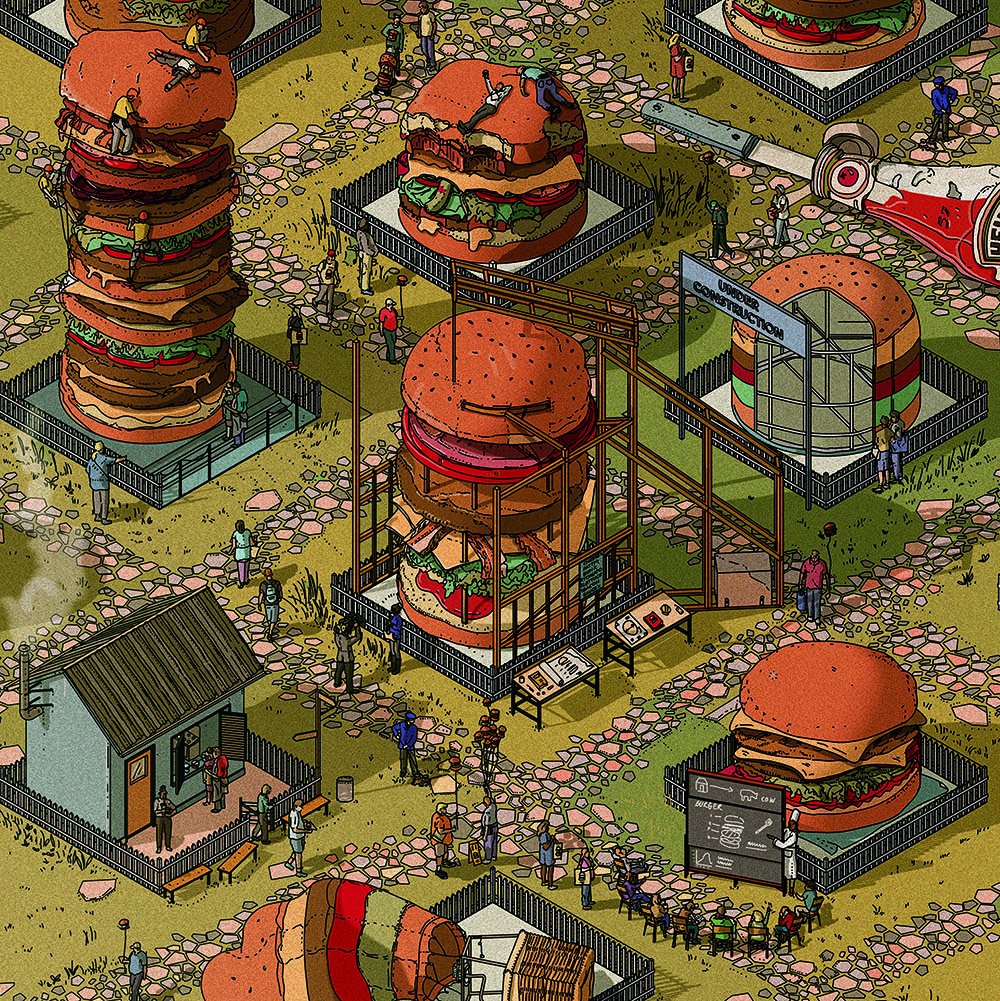 11. Now, tell us a little more about you as a person: what is your favourite food?
Full English.
12. Favourite book?
All the science fiction ever written by Ian M Banks, particularly 'The Player of Games'. Also every single Harry Potter book - like a lot of people who grew up with it has had a massive influence on me.
13. Favourite genre of music?
Whilst I work normally some sort of jazz or ambient music, as I tend to get distracted by lyrics I go for anything that will fade into the background.
14. What are your hobbies?
Im lucky enough that my hobby is my illustration!
15. If you weren't an artist, what would you be?
I have absolutely no idea!